SS Minnesota Passenger List - 1 September 1928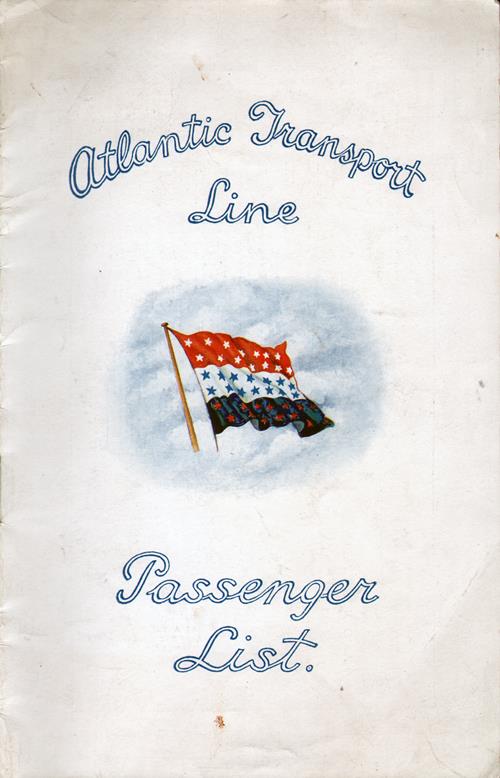 Front Cover of a Tourist Third Cabin Passenger List for the SS Minnesota of the Atlantic Transport Line, Departing 1 September 1928 from London to New York via Boulogne-sur-Mer, Commanded by Captain E. Finch, RD, RNR. GGA Image ID # 173550d598
Ships List of Executive Officers
Commander : E. Finch, R.D., R.N.R
Chief Engineer: W. C. Donald
Surgeon: H. O. Packer, M.R.C.S., L.R.C.P. (London), Col., R.A.M.C. (Retired.)
Purser: H. W. Lagden
Assistant Purser : C. Bennett
Chief Steward: W. Simkin
List of Passengers
Mr. T. Adams
Mrs. J. C. Adams
Mrs. P. Allen
Mr. G. F. Allsop
Miss E. Allyn
Mrs. V. E. Alolsh
Mr. A. Appell
Miss A. H. Arnold
Miss B. H. Arnold
Miss H. Ashworth
Miss M. Ashworth
Mrs. J. S. Ashworth
Miss E. A. Augustin
Mr. J. B. Austin
Miss S. A. Bachofen
Mr. L. Bacon
Mrs. Bacon
Miss A. Ballish
Mr. C. Barnes
Mr. G. Barnes
Mrs. L. Barnes
Mrs. M. R. Barrett
Mr. J. Barron
Miss S. Barsky
Mr. E. S. Basford
Mr. T. W. Bayley
Mrs. J. Bayley
Master J. P. Beardsley
Master R. H. Beardsley
Miss M. L. Beardsley
Mrs. L. P. Beardsley
Mrs. M. L. Becker
Mrs. M. Berger
Mr. J. Berthell
Mrs. R. Berthell
Mr. A. Biebl
Miss E. Blood
Miss J. Blum
Miss A. Boughton
Miss H. Boughton
Mrs. E. F. Boughton
Miss J. Bowen
Rev. A. J. Bowen
Mrs. G. Bowers
Mr. W. Bowes
Miss C. Boyce
Miss L. Braumer
Miss L. M. Braumer
Prof. R. W. Brink
Mrs. D. D. Bromley
Dr. J. H. Broomell
Miss E. Brown
Miss P. Brown
Mr. J. Brown
Mr. M. Brown
Mrs. E. J. Brown
Miss I. Brugada
Mrs. M. O. Burnett
Mr. H. Burr
Mrs. M. A. Butcher
Mr. J. A. Butler
Miss A. Byrnes
Prof. H. G. Campbell
Miss E. Carpenter
Miss L. Carpenter
Miss V. Carroll
Mrs. R. Carroll
Mr. C. Carvalho
Miss A. Castle
Miss E. Castle
Master G. Cattermole
Mrs. E. Cattermole
Miss L. J. Chambers
Mr. D. C. Chernow
Mr. M. Cohen
Mr. G. Cohn, Jr.
Miss E. Cole
Mrs. A. E. Cole
Miss A. L. Compton
Mr. A. Cooley
Miss M. Copeland
Miss R. D. Cornelius
Mr. D. Costello
Miss E. G. Cummings
Miss H. A. Cummings
H. M. Curtis
Miss M. Cutting
Miss M. Cyon
Miss H. Davis
Mrs. R. Davis
Miss J. Daw
Mr. E. W. Daw
Miss K. Dayton
Miss A. G. Dean
Mr. C. A. Dean
Miss A. S. Dechant
Miss E. Derren Bacher
Miss J. Diggins
Miss E. Douglas
Mr. M. L. Doust
Miss K. Dowling
Mr. G. Drescher
Miss G. Dufaur
Master W. Duffy
Mr. A. Duffy
Mr. B. Duffy
Mr. W. L. Duffy
Mrs. E. Duffy
Miss C. F. Eastman
Miss M. O. Eckford
Mr. L. A. Edelblute
Mrs. K. Edholm
Miss L. Elmerdorf
Miss B. Emery
Miss M. Empfenzender
Miss M. N. Erskine
Mrs. M. Erskine
Mr. H. Ewetz
Mr. D. Fairchild
Mrs. D. S. Fairchild
Mr. F. E. Farley
Mrs. A. E. Farley
Dr. E. A. Farrington
Mr. S. S. Fechon
Mr. P. Feinberg
Master G. Feller
Mrs. A. Feller
Miss H. Fellows
Miss E. Ferguson
Mrs. D. Ferguson
Mr. M. Fiebiger
Mrs. M. L. S. Fiebiger
Mrs. S. Fiery
Master G. Fisher
Miss A. Fisher
Mr. T. Fisher
Mrs. R. Fisher
Mr. W. W. Flitcratt
Miss O. Foley
Miss E. Foote
Miss F. Foote
Mr. R. Forman
Miss E. Foster
Mr. P. N. Fox
Mr. C. Francis
Master H. Fraser
Miss S. J. Fraser
Mr. H. F. Fraser
Mrs. I. Fraser
Mrs. T. Fraser
Miss L. L. Fuller
Miss B. Galbrum
Mr. G. Galbrun
Miss A. Gall
Miss M. L. Gemot
Mr. A. S. Gibson
Mrs. M. W. Goldman
Mr. D. Goodfriend
Miss L. S. Gordon
Miss E. Graham
Mr. A. W. Gregory
Miss G. M. Griffiths
Miss M. E. Grosjean
Miss N. Grosjean
Mrs. D. Guthrie
Dr. A. Haas
Mr. D. B. Hand
Miss J. Harding
Miss P. R. Harding
Mrs. N. Harding
Miss M. Hardy
Miss L. A. Harrington
Miss M. M. Harsfield
Miss E. Haswell
Mr. T. G. Hawley
Mr. J. Head, Jr.
Mr. W. R. Holbrook
Mr. F. R. Holder
Mrs. F. R. Holder
Miss L. Hood
Master A.  Houghton
Master H. Houghton
Miss A. Houghton
Miss M. Houghton
Mr. B. C. Houghton
Mrs. C. C. Houghton
Miss M. Hoyne
Miss E. R. Hubbard
Mr. W. N. Hubbard
Mr. E. W. Hubbard
Mrs. M. Hubbard
Rev. H. W. Hubbard
Miss G. M. Hubbard
Mrs. H. Huguets
Miss D. L. Hull
Mrs. K. Hull
Miss C. Hurliman
Mrs. E. D. Hutchinson
Mr. M. Ingenhuett
Mrs. H. Ingenhuett
Miss I. Ingersoll
Mr. S. Isaacson
Miss T. Jacobs
Miss N. E. Janes
Mrs. A. K. Jefferies
Mr. J. A. Johnson
Miss M. Johnstone
Dr. D. L. Jones
Miss A. Jones
Mr. S. P. Jones
Mr. F. Kann
Mr. H. F. Kantlehner
Mrs. K. F. Kellerman
Miss M. Kenney
Miss E. B. Key
Miss S. A. Key
Miss J. Kircher
Mrs. A. M. Kircher
Koister
Master J. G. Korner
Mrs. J. Korner
Miss A. Kriener
Mr. S. La Du
Mrs. E. T. Lamberton
Miss C. B. Lancy
Miss M. E. Lane
Miss S. Lane
Miss M. E. Lanfare
Miss E. Laurence
Mr. J. L. Lesher
Master R. Lockwood
Mr. D. P. Lockwood
Mrs. Lockwood
Miss A. Lograsso
Miss M. Loveland
Miss F. H. Lund
Prof. F. H. Lund
Mrs. M. MacGovern
Miss R. Mackey
Mr. D. D. Magee
Mr. C. S. Malor
Miss R. Mann
Master C. Marino
Mrs. M. Marino
Miss J. Maroneau
Mrs. A. McCarthy
Miss E. McCartney
Miss M. McCartney
Mr. H. McCord
Mrs. R. F. McCoy
Mr. R. McCree
Miss E. D. McDowell
Miss R. McGough
Miss M. McGuire
Miss S. McRoberts
Miss M. Melone
Miss M. L. Menten
Mrs. E. Menten
Mr. J. B. Michles
Miss D. Miller
Mr. J. S. Miller
Miss I. T. Milliken
Miss J. Millington
Master G. Milner
Mrs. B. Milner
Mr. D. F. Modre
Mrs. A. Moloney
Miss A. Moody
Mrs. A. Moones
Miss A. Moore
Miss M. I. Moore
Miss G. M. Morcotti
Mr. F. B. Morgan
Mrs. Morgan
Mr. H. Morrell
Miss V. Movins 
Mr. F. Muller
Mr. H. Muller
Mr. H. F. Muller
Mr. R. Muller
Miss I. Munro
Miss A. Munson
Mr. R. K. Murray
Miss A.  Mutch
Miss P. Mutch
Miss R.  Myers
Mr. E. W. Nash
Miss R. C. Neame
Miss A. M. Newhall
Miss M. Newhall
Mrs. M. V. Newhall
Mr. H. J. J. Noel
Miss E. Noyes
Miss K. Noyes
Mrs. J. R. Noyes
Mr. V. C. Odhner
Mr. H. Ogden
Mr. J. Ogilvie
Mrs. E. O'Neil
Onn
Miss E. Opie
Miss K. Ougham
Mr. J. B. Parfect
Dr. Y. Pebock
Miss P. Pelissier
Miss J. Pemberton
Mrs. A. M. Petrie
Miss C. Philbrook
Mr. T. Pinketon
Mr. A. G. Pohlman
Mr. N. Powell
Miss M. J. Preston
Miss E. Pritchard
Miss E. P. Purdy
Mr. C. Rae
Mr. R. B. Redfield
Miss F. Reed
Miss K. A. Regan
Miss M. Regan
Mrs. L. Reinhardt
Miss E. Renier
Miss S. Richards
Miss F. O. Riley
Mrs. C. A. Ritchie
Miss J. Rodgers
Miss V. Rodgers
Miss M. Rogus
Miss A. Rollason
Miss C. F. Roper
Miss E. Roper
Miss M. Roth
Miss O. Ruff
Miss E. Russell
Miss L. Salton
Miss 'I'. C. Saunier
Mr. L. W. Scales
Dr. N. Scott
Miss J. Scullon
Mr. W. S. Semple
Mrs. F. Shelton
Mr. M. Sheppard
Miss L. Sherrod
Miss L. Shiffer
Mr. W. Shulze
Miss L. Silverman
Mr. H. Silverman
Mr.  W. Simon
Mr. A. D. Simons
Miss E. Smedley
Miss E. C. Smith
Miss G. Smith
Miss L. Smith
Miss M. C. Smith
Miss P. Smith
Mr. F. Smith
Mrs. E. N. Smith
Mrs. R. Smith
Miss E. Spalding
Miss S. Spalding
Miss C. Stabler
Miss M. M. Stewart
Mr. H. Stewart
Mrs. H. Stewart
Mrs. E. Stormer
Miss B. Strong
Mr. A. Stultz
Mrs. L. Summercorn
Miss L. P. Tardef
Mr. G. Thackaray
Mr. E. R. G. Thomas
Miss J. Thornton
Mr. C. S. Todd
Mr. D. Tooker
Mr. C. Townsend
Mr. A. Treitz
Mrs. L. S. Tryon
Mr. C. M. Turner
Mr. H. Turney-High
Mr. A. Updegraff
Miss R. Van Messell
Mrs. I. Volonte
Mr. V. E. Walsh
Mr. A. B. Ward
Mr. J. T. Ware
Miss F. Watson
Miss M. Watson
Mr. F. M. Watson
Mrs. F. M. Watson
Miss E. B. Weber
Mr. J. Weedon
Mrs. E S. Weeks
Mrs. M. B. Weigel
Miss C. Westrope
Miss K. Westrope
Mr. T. H. Westrope
Mr. R. Whitman
Miss L. Whitney
Mrs. M. Wilkinson
Miss M. Williams
Miss S. Williams
Miss D. Williamson
Miss N. Williamson
Mr. C. Wilmer
Miss A. B. Wilson
Miss E. B. Wilson
Miss M. K. Wilson
Miss M. Wimer
Miss C. Winchester
Miss S. Winchester
Miss M. Wolcott
Mr. O. Wolcott
Mr. W. Wolcott
Mr. A. Zudeke
Mrs. A. Zudeke
London to Boulogne.
Miss P. Marion
Information for Passengers
Breakfast at 8:00 am
Lunch at 12 noon.
Dinner at 6:00 pm
Divine Service will be held on Sundays at 11:00 am
Smoking. —Passengers are kindly requested not to smoke in either the Dining Saloon or in the Reading and Writing Room.
Seats at Table.—Passengers who have not previously arranged for seats at table to be reserved should apply to the Second Steward.
Upper Berths.—Passengers occupying upper berths can obtain steps for getting in or out on applying to the Steward or Stewardess.
Medical Attendance. The Surgeon is Authorised To Make Customary Charges, Subject in Each Case To The Approval of The Commander, for Treating Passengers at Their Request for Any Illness Not Originating On The Voyage. in The Case of Sickness Originating On The Voyage No Charge WILL Be MADE, and MEDICINE WILL Be PROVIDED Free in ALL CIRCUMSTANCES.
The Purser's Office is situated on Deck B, where Letters, Cables, Telegrams and Marconigrams are received or delivered, and Postage Stamps can be purchased.
None of the ship's staff other than those on duty in the Purser's Office are authorized to accept Letters or Telegrams for despatch.
Charges Collected on Board. Passengers are requested to ask for a Receipt on the Company's Form for any additional Passage Money, Chair or Steamer Rug Hire, charges collected for Marconigrams Cablegrams or Telegrams or Freight paid on board.
Deck Chairs and Steamer Rugs can be hired on application to the Deck Steward, at a charge of $1 each for the voyage.
Valuables. For the convenience of Passengers, the Line has provided in the Purser's office a safe in which money, jewels, ornaments, documents or other valuables may be deposited by Passengers. A receipt for any articles so deposited will be issued by the Purser, but the Line does not, having regard to the ticket conditions and to the provisions of Section 502 of the Merchant Shipping Act, 1891, and of Section 4281 of the Revised Statutes of the United States, accept any responsibility for the safe custody of any such articles. Passengers are accordingly advised to protect themselves by insurance.
Exchange of Money. The Purser is prepared, for the convenience of Passengers, to exchange a limited amount of English and American money at rates which will be advised on application.
Baggage. Questions relating to Baggage should be referred to the Second Steward, who is the Ship's Baggage Master.
Wardrobe Trunks. Passengers are advised that it is not always possible to arrange for the placing of Wardrobe Trunks in the passenger accommodation in a position where they are easily accessible, also that there is frequently difficulty with regard to the landing of such packages owing to their exceptional size. They are therefore recommended to use steamer trunks in preference.
Baggage Room. For Passengers' special convenience all heavy baggage not placed into state rooms is stored in the baggage room, where it is available to the owner twice daily at hours as stated on the ship's notice board.
Dogs. Passengers are notified that dogs should be handed over to the care of the live-stock attendant, and cannot be landed in Great Britain unless a license has previously been procured from the Board of Agriculture, London. Forms of license must be obtained by direct application to the Department before the dog is taken on board.
Travellers' Cheques. I. M. M. Company's Travellers Cheques payable in all parts of Europe can be purchased at all the principal offices of the Atlantic Transport Line. These Cheques in small denominations are accepted on board Atlantic Transport steamers in part payment of accounts, but the Pursers have not sufficient funds to enable them to cash these or any other Cheques.