SS La Lorraine Archival Collection
La Lorraine (1899) French Line
Built by Cie. Gen. Transatlántica, Penhoet, St. Nazaire, France. Tonnage: 11,146. Dimensions: 563' x 60' (580' o.l.). Twin-screw, 21 knots. Triple expansion engines. Two masts and two funnels. Launched: September 20, 1899. Maiden voyage: Havre-New York, August 11, 1900. Passengers: 446 first, 116 second, 552 third. War Service: Served as armed merchant cruiser in First World War, under name Lorraine II. Post War Service: In 1919 was put back in service under her original name. Fate: Broken up for scrap at St. Nazaire, 1923. Sister ship: La Savoie.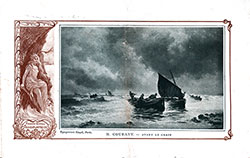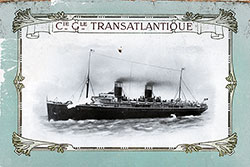 1907-04-26 SS La Lorraine Farwell Dinner Menu
Vintage Farewell Dinner Bill of Fare from 26 April 1907 on board the S.S La Lorraine of the CGT French Line featured Roast Fillet of Beef, Vol-au-vent Toulousaine, and Nougat Monté for dessert.