SS Labrador Archival Collection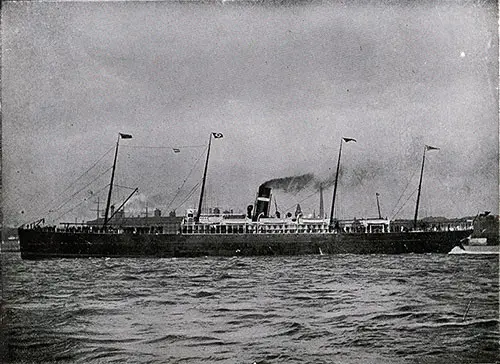 SS Labrador - Steamship of the Dominion Line. Tonnage: 5000, Length: 401 Feet, Breadth: 47 Feet. Dominion Line Brochure: Book of Views, 1900. GGA Image ID # 121bd656a2
Ephemera for the SS Labrador available may include Passenger Lists, Menus, Brochures, Sailing Schedules, Route Maps, Photographs, and more.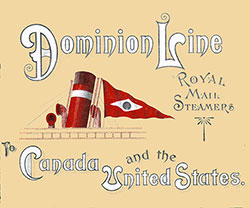 Dominion Line Book of Views - 1900
Excellent brochure from the Dominion Line circa 1900 that provided several views of their fleet of steamships, facts about their fleet, and views of their first, second, and third-class accommodations. Ships Featured: New England, Canada, Dominion, Scotsman, Vancouver, and Labrador.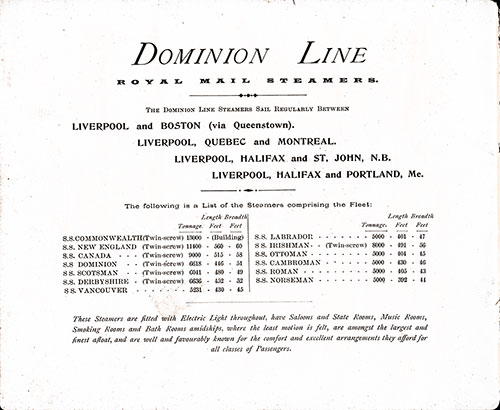 The Dominion Dine Steamers Sail Regularly Between Liverpool and Boston (Via Queenstown); Liverpool, Quebec, and Montreal; Liverpool, Halifax, St. John, NB; Liverpool, Halifax, and Portland, Me. The Following Is a List of the Steamers Comprising the Fleet: SS Commonwealth, SS New England, SS Canada, SS Dominion, SS Scotsman, SS Derbyshire, SS Vancouver, SS Labrador, SS Irishman, SS Ottoman, SS Cambroman, SS Roman, and SS Norseman. These Steamers Are Fitted with Electric Light Throughout, Have Saloons and State Rooms, Music Rooms, Smoking Rooms, and Bath Rooms Amidships, Where the Slightest Motion Is Felt, Are Amongst the Largest and Finest Afloat, and Arc Well and Favorably Known for the Comfort and Excellent Arrangements They Afford for All Classes of Passengers. Book of Views, 1900. GGA Image ID # 1f061f5e11
SS " LABRADOR,"
An old Traveller—writing on board the Steamer to the Editor of the Morning Chronicle—said "The 'Labrador' is not only a fast steamer but one of the most comfortable vessels I ever crossed in—exceptional, large, airy staterooms—without doubt surpassing that of any other steamship sailing from our ports."
Lord Aberdeen, when responding to the toast proposed by the Lord Mayor at the Banquet given at the Liverpool Town Hall, on Tuesday, November 22nd, 1898, in honor of Lord and Lady Aberdeen's return from Canada, said:—" We have arrived here under the most pleasant circumstances.
We had a voyage on the good ship ' Labrador,' of a most pleasant and satisfactory kind; in fact, I do not think anyone could wish to be better housed, if I may say so, than we were on that vessel, securing the highest amount of safety, comfort, and convenience for the time being."
-- Dominion Line Brochure: Book of Views, 1900.