SS Laurentian Collection
Ephemera for the SS Laurentian are available at the GG Archives, including Passenger Lists, Menus, Brochures, Event Programs, and more.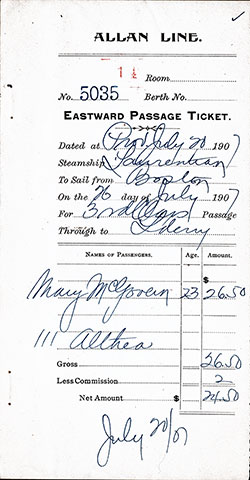 1907-07-20 Agent's Record - Boston to Londonderry
Agent's Record of a Passenger Ticket for a 23-year-old woman booked on the Allan Line Steamship Laurentian in 3rd Class from Boston to Londonderry leaving on 26 July 1907. The transaction was recorded and includes the amount of commission earned on this ticket.