Donaldson Line Archival Collection
Established in Glasgow in 1854 by Donaldson Brothers, who started the business with the little wooden bark Joan Taylor, of 229 tons, trading between Glasgow and the River Plate.
Their first iron vessel was the bark Miami, built in 1867, and their first steamer the Astarle, 863 tons, built 1870. They now have a large fleet, which regularly trades between Glasgow and St. John, N.B., Quebec, Montreal, Baltimore, Norfolk, and Newport News, and make a specialty of livestock and frozen cargoes, their primary steamers being fitted with cold storage on Hall's principle.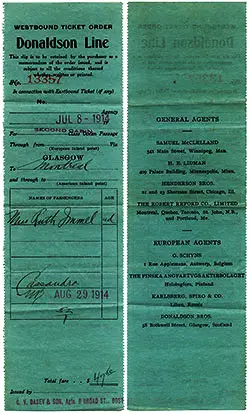 SS Cassandra Westbound Ticket Order - 8 July 1914
Westbound Ticket Order dated 8 July 1914 from the Donaldson Line for Second Cabin Passenger Miss Ruth Immel, departing on the SS Cassandra from Glasgow to Montreal, Issued by C.V. Dasey & Son, Boston.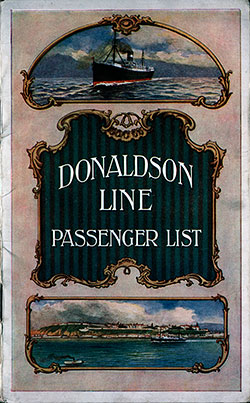 Donaldson Line Fleet (1911)
Alcides
Almora
Athenia
Cassandra
Concordia
Hestia
Indrani
Kastalia
Lahonia
Marina
Orlhia
Parthenia
Salacia
Saturnia
Tritonia
65,000 Gross Tonnage
Donaldson Line Rates of Passage (1915)
MONTREAL TO GLASGOW. Cabin (called second), $47.50 and up. British third class, East, $31.25; prepaid West, $31.25.