Vanderbilt European Steamship Line History and Ephemera
The Vanderbilt European Steamship Line plied between New York, Southampton, Le Havre, and Bremen. The Ships included the SS North Star and SS Admiral - Fast packet vessels of about 2500 tons each. The price of passage as of June 1856 was $100 for the first Cabin, $60 for Second Cabin.
The ships were constructed with six solid permanent watertight bulkheads, and in safety, comfort, and appointments are second to no vessel afloat. Steerage passengers were housed in four-berth cabins - a rather luxurious arrangement for that era. Cornelius Vanderbilt (May 27, 1794 – January 4, 1877) was the owner of the company.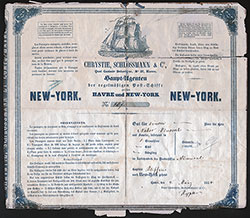 Steerage Passage Contract - Le Havre to New York - 1854
A steerage contract over years old, for one adult going from Le Havre to New York on the clipper ship "Admiral" of the Vanderbilt European Steamship Line dated 4 May 1854. Printed in French and German, a synopis of the terms and conditions along with the contract information have been translated in English.
In the 1850s, American clipper ships ranged all the seas, carrying a larger percentage of the world's trade than has ever been transported in American bottoms since. The fast packets of Vanderbilt's European Steamship Line, the United States Steamship Line, and the famous Black Ball Line were more important on the transatlantic run than the new British Cunarders.