SS Admiral Steerage Passage Contract - 4 May 1854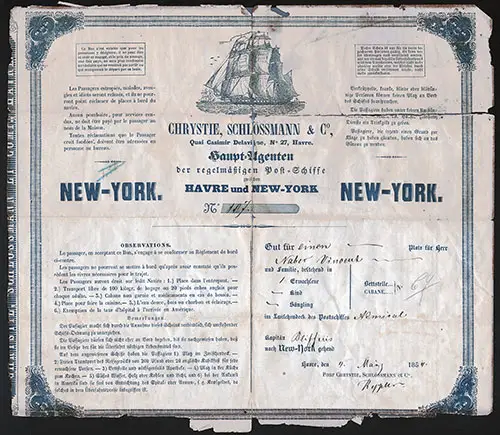 Front Side of Steerage Passage Contract from 1854, Le Havre to New York on the SS Admiral of the Vanderbilt European Steamship Line. GGA Image ID # 102808387e
Summary of Passage Contract
Date of Purchase / Voyage: 4 May 1854
Steamship Line: Vanderbilt European Steamship Line
Steamship: Clipper Ship "Admiral"
Route: Le Havre to New York
Ticket Type: Passage Contract
Voyage Class: Steerage
Name on Contract: Naber Vinceut (Vincerot?)
Etnicity of Passenger(s): French
Contract Terms: Translated from French to English
Cost of Voyage: Not Stated
A steerage contract over years old, for one adult going from Le Havre to New York on the clipper ship "Admiral" of the Vanderbilt European Steamship Line dated 4 May 1854. Printed in French and German, a synopsis of the terms and conditions along with the contract information have been translated in English.
The French text is provided first followed by the English translation.
Original French Text of 1854 Passage Ticket
Ce Bon n'est valable que pour les personnes désignées; il ne peul être ni cédé ni engagé, et le prix du passage, une fois payé, ne sera plus remboursé au titulaire qui ne voudrait pas partir ou qui manquerait le départ par sa faute.
Les Passagers estropiés, malades, aveugles et idiots seront refusés, et ils ne pourront point réclamer de places a bord du navire.
Aucun pourboire, pour services rendus, ne doit être payé par le passager au nom de la Maison.
Toutes réclamations que le Passager croit fondées, doivent être adressées en personne au bureau.
OBSERVATIONS.
Le passager, en acceptant ce Bon, s'engage à se conformer au Règlement de bord ci-contre.
Les passagers ne pourront se mettre à bord qu'après avoir constaté qu'ils possèdent les vivres nécessaires pour le trajet.
Les Passagers auront droit sur ledit Navire : 1.) Place dans l'entrepont. — 2.) Transport libre de 100 kilogr. de bagage ou 20 pieds cubes anglais pour chaque adulte. — 5.) Cabane non garnie et médicaments en cas de besoin. — 4.) Place pour faire la cuisine.— 5.) L'eau douce, bois ou charbon et éclairage.— G.) Exemption de la taxe d'hôpital a l'arrivée en Amérique.
English Translation of 1854 Passage Ticket
This voucher is only valid for the registered persons; it cannot be assigned or transferred, and the price of the passage, once paid, will not be refunded to the holder should he/she decide not to leave or miss the departure of the vessel.
Crippled, sick, blind and idiotic Passengers will be declined, and they will not be able to claim seats on the ship.
No tip, for services rendered, shall be paid by the passenger on behalf of the House.
Any claims that the Passenger believes are justified, must be addressed in person to the office.
NOTES:
By accepting this voucher, the Passenger agrees to comply with the following on-board Regulations.
Passengers will not be able to board until they have found that they have enough food for the journey.
Passengers will be entitled to have onboard the said Ship:
1.) A place in steerage.
2.) Free carriage for each adult of 100 kilograms of luggage or 20 English cubic feet.
3.) Empty cabin space and medications in case of emergency.
4.) Place for cooking.
5.) Fresh water, wood or coal and lighting.
6.) Exemption from hospital tax upon arrival in America.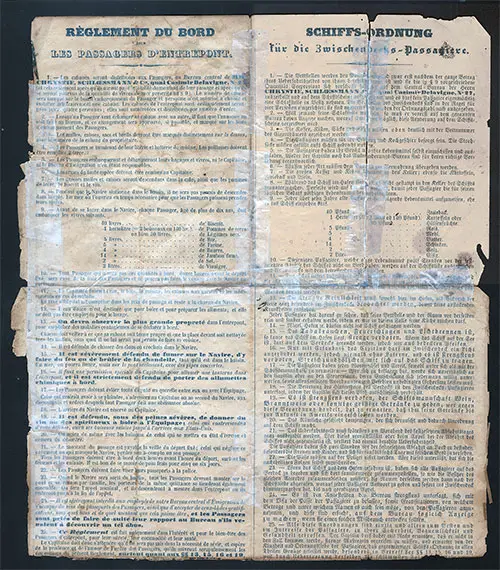 Regulations Governing Steerage Passage Contract in 1854. SS Admiral of the Vanderbilt European Steamship Line. GGA Image ID # 10280b563d
Original French Language Terms of Passage Contract
Les Passagers d'Entrepont
Les cabanes seront distribuées aux Passagers, au Bureau central de MM. CHRISTIE, SCHOESSMANN & CIE., quai Casimir Delavigne, No. 27, et cela seulement après qu'ils auront payé la totalité du montant de leur passage et après qu'ils se seront pourvus de la quantité de vivres de mer prescrite au § 9). Le numéro de cabane sera marqué sur le bon d'Embarquement du Passager et personne n'est autorisé à choisir et installer arbitrairement une cabane. Les cabanes de l'Entrepont sont ordinairement arrangées pour quatre personnes; elles sont numérotées et distribuées par numéro d'ordre.
Lorsqu'un Passager veut échanger sa cabane avec un autre, il faut que l'annonce soit faite au Bureau, et ce changement sera approuvé, si possible, et marqué sur les bons d'Embarquement des Passagers.
Les malles, caisses, sacs et barils devront être marqués distinctement sur le dessus avec le numéro de la cabane du propriétaire.
Les Passagers se muniront de leur literie et batterie de cuisine. Les paillasses doivent être remplies à terre.
Les Passagers embarqueront et débarqueront leurs bagages et vivres, ni le Capitaine, ni le Bureau d'Émigration n'en étant responsables.
Les armes de toute espèce doivent être remises au Capitaine.
Les grosses malles et caisses seront descendues dans la cale, ainsi que les pommes terre, le biscuit et le vin.
Pendant que le. Navire stationne dans le bassin, il ne sera pas permis de descendre dans la cale. En mer on l'ouvrira en temps nécessaire pour que les Passagers puissent prendre leurs vivres.
Avant de se loger dans le Navire, chaque Passager, âgé de plus de dix ans, doit
embarquer les vivres suivants.
livres de Biscuit.
1 hectolitre (= 2 boisseaux ou 140 liv.) de Pommes de terre Ou bien 30 livres de Légumes secs.
5 livres de Riz.
5 livres de Farine.
4 livres de Beurre.
14 livres de Jambon fumé.
2 livres de Sel.
2 litres de Vinaigre.
Tout Passager qui n'aura pas ces quantités à bord, douze heures avant le départ fixé, sera rayé de la liste des Passagers et ne pourra pas faire le voyage avec le Navire en partance.
Le Capitaine fournit l'eau, le bois, la cuisine, les cabanes non garnies et les médicaments en cas de maladie. La taxe d'hôpital est comprise dans les prix de passage et reste à la charge du Navire.
L'eau douce n'est destinée que pour boire et pour préparer les aliments; et elle ne doit pas être employée pour le lavage.
On devra observer la plus grande propreté dans l'entrepont, pour empêcher des maladies contagieuses de se déclarer à bord. Chacun doit veiller à ce que sa cabane soit tenue propre et que la place devant soit nettoyée ions les matins, sans quoi il ne lui serait pas permis de faire sa cuisine.
Il est défendu de chasser des clous ou crochets dans le Navire.
Il est sévèrement défendu de fumer sur le Navire, d'y faire du feu ou de bruler de la chandelle, tant qu'il est dans le bassin. En mer, on pourra fumer, mais sur le pont seulement, avec des pipes couvertes.
Il faut une permission spéciale du Capitaine pour allumer une lanterne dans l'entrepont, et il est strictement défendu de porter des allumettes chimiques à bord.
Les Passagers doivent éviter toute dispute ou querelle entre eux ou avec l'Équipage. Celui qui croirait avoir à se plaindre, s'adressera au Capitaine ou au Second du Navire, aux dispositions et ordres desquels tout Passager doit une obéissance absolue.
L'arrière du Navire est réservé au Capitaine.
Il est défendu, sous des peines sévères, de donner du vin ou des spiritueux à boire à l'équipage; celui qui contreviendra à cette défense, aura ses boissons saisies jusqu'à l'arrivée aux États-Unis.
On agira de même avec les boissons de celui qui se mettra en état d'ivresse et causera du désordre.
Le montant du passage est payable la veille du départ fixé; celui qui néglige ce payement ou qui manque le Navire, perdra son à-compte ou son passage. Tous les Passagers doivent être à bord deux heures avant l'heure du départ, surtout les femmes et les enfants. II est bon de se munir de pain frais pour cinq ou six jours.
Les Passagers doivent faire viser leurs passeports à la police.
Quand le Navire sera sorti du bassin, tous les Passagers devront monter sur le pont et se réunir par famille, les porteurs de la même quittance se tiendront également ensemble. On fera l'appel nominal, et ils descendront à mesure dans l'entrepont où ils resteront jusqu'à la fin de l'appel.
Il est sévèrement interdit aux employés de notre Bureau central d'Émigration de s'occuper du visa des passeports des Passagers, ainsi que d'accepter de ceux-là des gratifications, sous quel nom et de quel montant que cela puisse être, et les Passagers sont priés de faire de suite leur rapport au Bureau s'ils venaient à découvrir un tel abus.
Ce Règlement est fait uniquement dans l'intérêt et pour le bien-être des Passagers d'entrepont, pour leur sûreté/ leur commodité et leur santé. Le Capitaine doit donc s'attendre qu'il ne sera pas mis dans la nécessité de sévir, et espère de la prudence et de l'amour de l'ordre des Passagers, qu'ils suivront scrupuleusement les dispositions, du présent Règlement, surtout quant aux §§ 13, 15, 16 et 19 (bottom of page is missing)
English Translation of Terms of the Contract for Passage
Steerage Passengers
1. The cabin space pace will be assigned to Passengers, at the Central Office of  MM. CHRISTIE, SCHOESSMANN & CIE., Quai Casimir Delavigne, No. 27, and this only after they have paid the full amount of their passage and after they have made use of the quantity of sea food prescribed in § 9 ).
The cabin space number will be indicated on the Passenger Boarding Pass and no one is allowed to arbitrarily choose and occupy a space. The cabins of Steerage ordinarily accommodate four persons; they are numbered and assigned by serial number.
2. When a Passenger wants to exchange his/her cabin space with another passenger, the request must be made to the Bureau, and this change must be approved if possible, and marked on the Passenger Boarding vouchers.
3. Trunks, crates, bags and barrels must be clearly marked on the top with the number of the owner's cabin space.
4. Passengers must bring their bedding and cooking utensils. The benches must be filled on land.
5. Passengers must load and unload their baggage and food, neither the Captain nor the Emigration Office being responsible for such tasks.
6. Weapons of all kinds must be surrendered to the Captain.
7. The large trunks and crates will be lowered in the hold, as well as the potatoes, biscuits and wine.
8. While the Ship is at dockside, it is not allowed to go down into the hold. At sea, the hold will be opened at necessary time for Passengers to access their food.
9. Before boarding the Ship, each Passenger over the age of ten, shall load the following food.
40 pounds of biscuits.
1 hectoliter (= 2 bushels or 140 lb.) of potatoes or 30 pounds of dry vegetables.
5 pounds of Rice.
5 pounds of Flour.
4 pounds of butter.
14 pounds of smoked ham.
2 pounds of salt.
2 liters of Vinegar.

10. Any Passenger who does not have these quantities on board, twelve hours before departure fixed, will be removed from the list of Passengers and will not be able to travel with the departing Ship.
11. The Captain provides water, wood, kitchen, unfurnished cabin space (*) and medicines in case of illness. The hospital tax is included in the price of passage and remains the responsibility of the Ship.
12. Fresh water is only for drinking and for preparing food; and should not be used for washing.
13. The utmost cleanliness should be observed in the steerage to prevent contagious diseases from occurring on board. Everyone must ensure that their space is kept clean as well as the area in the front every morning, otherwise he/she would not be allowed to cook.
14. It is forbidden to hunt for nails or hooks from the Vessel.
15. It is strictly forbidden to smoke on the ship, to make fire, or to burn candles while the vessel is at dock. At sea, smoking is permitted, but only on the deck and with covered pipes.
16. Special captain's permission is required to light a lantern in the steerage, and it is strictly forbidden to carry chemical matches on board.
17. Passengers must avoid any dispute or quarrel among themselves or with the Crew. Anyone who thinks he has cause to complain will address himself to the captain or second of the ship, to the provisions and orders of which every passenger owes absolute obedience.
18. The stern of the ship is reserved for the captain.
19. It is forbidden, under severe penalties, to give wine or spirits to drink to the crew; passenger who disregard this security, will have his/her drinks seized until the arrival in the United States.
20. The same penalty shall be done to passenger with signs of drunkenness and cause disorder on the ship.
21. The amount of the passage is payable the day before the fixed departure; whoever neglects this payment or who misses the ship, will lose his account or his passage. All Passengers must be on board two hours before departure time, especially women and children. It is advisable to bring fresh bread for five or six days.
22. Passengers must have their passports stamped by the police.
23. When the Ship is out of the dock, all Passengers must get on deck and meet by family together with all members from the same receipt.  Roll call will be made, and all will be dismissed to the steerage until the end of the call.
24. The employees of our Central Emigration Bureau are strictly forbidden to take care of Passengers' Passport visas, and to accept any gratuities, regardless of which name and amount, and Passengers are asked to report back to the Bureau immediately if they discover such abuse.
25. These Regulations are made solely for the benefit and well-being of the steerage passengers for their safety, convenience and health.
The Captain expects that he will not be put in a position of ire, and hopes that passengers will follow scrupulously the dispositions of this Regulation, especially as to §§ 13, 15, 16 and 19.
This 1854 Passage Contract was made possible by the enthusiastic efforts of Mme. Evelyne Blanc Gjenvick, who formerly called Paris, France her home. Because of the language used in the contract, some latitudes were made as a direct translation from French to English either did not make sense or would not be understood by today's reader.