SS New York and SS Bremen Passage Receipt - 22 February 1936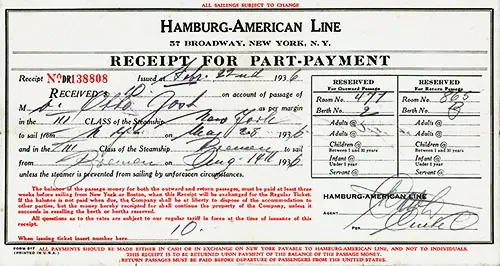 Hamburg America Line Receipt for Part-Payment for Third Class Passage on the SS New York, Departing from From New York for Bremen (1936-05-28) and Bremen to New York on the SS Bremen (1936-08-14) Dated 22 February 1936. GGA Image ID # 12d1ce947e
Summary of Receipt for Part-Payment
Date of Purchase / Voyage: 22 February 1936 / 28 May 1936
Steamship Line: Hamburg America Line
Steamship: SS New York - Eastbound and the SS Bremen - Westbound
Route: New York to Bremen
Ticket Type: Receipt for Part-Payment
Voyage Class: Third Class
Name on Contract: Mr. Otto JOSH
Etnicity of Passenger(s): Unknown
Contract Terms: Transcribed
Cost of Ticket: Not Stated
Receipt for Part-Payment Details
Receipt for partial payment for third class passage on the SS New York - Eastbound and the SS Bremen - Westbound for a round-trip voyages between New York and Bremen on the Hamburg America Line.
ALL SAILINGS SUBJECT TO CHANGE
Hamburg America Line
55 Broadway, New York NY
RECEIPT FOR PART-PAYMENT
RECEIPT No. 138808 - Issued February 22nd, 1936
Received $10.00
On account of passage of Mr. Otto JOSH as per margin
In the III Class of the Steamship NEW YORK
To sail from: New York
On May 28th , 1936
and
In the III Class of the Steamship BREMEN
To sail from: Bremen
On Aug. 14th, 1936
unless the steamer is prevented from sailing by unforeseen circumstances.
Reserved for Outward Passage: Room No. 477 – Berth No. 2
Reserved for Return Passage: Room No. 865 – Berth No. 22
The balance of the passage money for both the outward and return passages, must be paid at least three weeks before sailing from New York or Boston, when this Receipt will be exchanged for the Regular Ticket. If the balance is not paid when due, the Company shall be at liberty to dispose of the accommodation to other parties, but the money hereby receipted for shall continue the property of the Company, unless it succeeds in reselling the berth or berths reserved.
All questions as to the rates are subject to our regular tariff in force at the time of issuance of this receipt.
When issuing ticket insert number here: 10                
ALL PAYMENTS SHOULD BE MADE EITHER IN CASH OR IN EXCHANGE ON NEW YORK PAYABLE TO HAMBURG-AMERICAN LINE, AND NOT TO INDIVIDUALS.
THIS RECEIPT TO BE RETURNED UPON PAYMENT OF THE BALANCE OF THE PASSAGE MONEY.
RETURN PASSAGES MUST BE PAID BEFORE DEPARTURE OF PASSENGERS FROM THE UNITED STATES.