SS Marine Phoenix Contract Ticket ID Check - 16 September 1947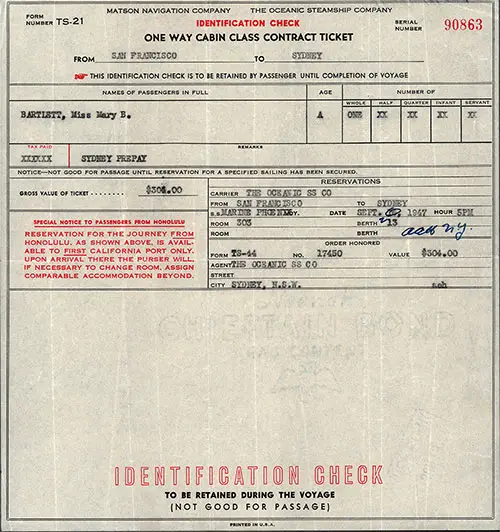 Oceanic Steamship Company One Way Cabin Class Contract Ticket for Passage on the SS Marine Phoenix, Departing from San Francisco for Sydney, Dated 16 September 1947. GGA Image ID # 12d1b14990
Summary of Contract Ticket ID Check
Date of Purchase / Voyage: 16 September 1947 / 20 September 1947
Steamship Line: Oceanic Steamship Company
Steamship: SS Marine Phoenix
Route: San Francisco to Sydney
Ticket Type: Contract Ticket ID Check
Voyage Class: Cabin Class
Name on Contract: Miss Mary B. BARTLETT
Etnicity of Passenger(s): Not Stated
Contract Terms: Transcribed
Cost of Ticket: $304.00 / $3,520.00 USD in 2020
Contract Ticket ID Check Details
Unique cabin class passage ticket San Francisco to Sydney on USN troop transport Marine Phoenix leased by the Oceanic Steamship Company and Operated by Matson Navigation Company for this and other voyages during 1947-1949.
MATSON NAVIGATION COMPANY - THE OCEANIC STEAMSHIP COMPANY
FORM NUMBER TS-21 – SERIAL NUMBER 90863
IDENTIFICATION CHECK
ONE WAY CABIN CLASS CONTRACT TICKET: FROM SYDNEY – TO SAN FRANCISCO
THIS IDENTIFICATION CHECK IS TO BE RETAINED BY PASSENGER UNTIL COMPLETION OF VOYAGE
NAME OF PASSENGERS IN FULL: Miss Mary B. BARTLETT
AGE: A (Adult)
NUMBER OF:
WHOLE: ONE
HALF: XX
QUARTER: XX
INFANT: XX
SERVANT: XX.
TAX PAID: XXXXXX
REMARKS: SYDNEY PREPAY
NOTICE—NOT GOOD FOR PASSAGE UNTIL RESERVATION FOR A SPECIFIED SAILING HAS BEEN SECURED.
GROSS VALUE OF TICKET: $304.00
RESERVATIONS
CARRIER: THE OCEANIC SS CO        
FROM: SAN FRANCISCO to SYDNEY
[SHIP]: S.S. MARINE PHOENIX
DATE: SEPT 20, 1947 – HOUR: 5 PM
ROOM: 303  - BERTH: 13
ORDER HONORED
FORM TS-44 - NO. 17450 - VALUE $304.00
AGENT: THE OCEANIC SS CO
CITY: SYDNEY, N.S.W.
IDENTIFICATION CHECK TO BE RETAINED DURING THE VOYAGE - (NOT GOOD FOR PASSAGE)
SPECIAL NOTICE TO PASSENGERS FROM HONOLULU
RESERVATION FOR THE JOURNEY FROM HONOLULU, AS SHOWN ABOVE, IS AVAILABLE TO FIRST CALIFORNIA PORT ONLY. UPON ARRIVAL THERE THE PURSER WILL, IF NECESSARY TO CHANGE ROOM, ASSIGN COMPARABLE ACCOMMODATION BEYOND.
Relative Cost of Passage Ticket in Today's Currency Value
In 2020, the relative values of $304.00 from 1947 ranges from $2,820.00 to $25,400.00.
A simple Purchasing Power Calculator would say the relative value is $3,520.00. This answer is obtained by multiplying $304 by the percentage increase in the CPI from 1947 to 2020.
This may not be the best answer.
The best measure of the relative value over time depends on if you are interested in comparing the cost or value of a Commodity, Income or Wealth, or a Project.
If you want to compare the value of a $304.00 Commodity in 1947 there are four choices. In 2020 the relative:
real price of that commodity is $3,520.00
real value in consumption of that commodity is $5,450.00
labor value of that commodity is $7,030.00 (using the unskilled wage) or $7,610.00 (using production worker compensation)
income value of that commodity is $11,100.00
economic share of that commodity is $25,400.00
If you want to compare the value of a $304.00 Income or Wealth, in 1947 there are five choices. In 2020 the relative:
real wage or real wealth value of that income or wealth is $3,520.00
household purchasing power value of that income or wealth is $5,450.00
relative labor earnings of that commodity are $7,030.00 (using the unskilled wage) or $7,610.00 (using production worker compensation)
relative income value of that income or wealth is $11,100.00
relative output value of that income or wealth is $25,400.00
If you want to compare the value of a $304.00 Project in 1947 there are four choices. In 2020 the relative:
real cost of that project is $2,820.00
household cost of that project is $5,450.00
labor cost of that project is $7,030.00 (using the unskilled wage) or $7,610.00 (using production worker compensation)
relative cost of that project is $11,100.00
economy cost of that project is $25,400.00
Samuel H. Williamson, "Seven Ways to Compute the Relative Value of a U.S. Dollar Amount, 1790 to present," MeasuringWorth, 2022.URL: www.measuringworth.com/uscompare/