SS Vulcania Passage Contract - 15 May 1956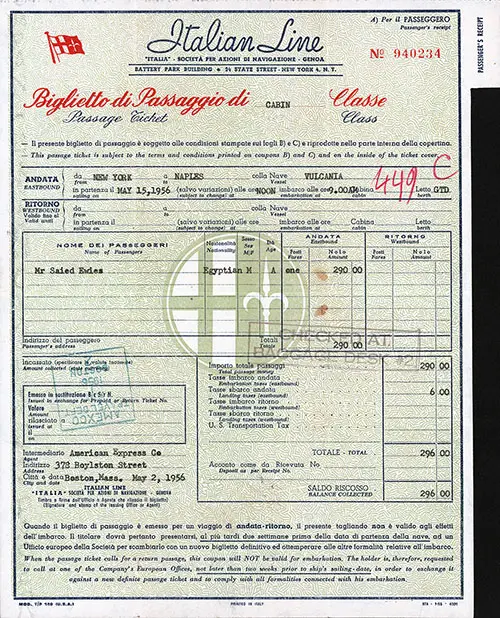 Passenger's Receipt, Italian Line Passage Ticket Contract for Passage on the SS Vulcania, Departing from New York for Naples Dated 15 May 1956. GGA Image ID # 1ecf1436ee
Passage Ticket, Cabin Class
This passage ticket is subject to the terms and conditions printed on coupons B) and C) and on the inside of the ticket cover.
Eastbound from New York to Naples on the SS Vulcania, Sailing on 15 May 1956 at Noon, embarkation at 9:00 am, Cabin 449C, berth GTD
Name of Passenger: Mr. Saied Ewies, Egyptian, Male, One Adult Fare $290.00
Total Passage Money $290.00
Eastbound Landing Taxes $6.00
Total $296.00
American Express Co., 378 Boylston Street, Boston, MA 2 May 1956
Agent for the Italian Line, "Italia" Societa per Azoioni di Navigazione, Genova.
Historical Passage Contract Cost in Today's US Dollars
In 2022, the relative price worth of $296.00 from 1956 is:
$3,190.00 using the Consumer Price Index
$2,460.00 using the GDP deflator
In 2022, the relative wage or income worth of $296.00 from 1956 is:
$4,580.00 using the unskilled wage
$4,760.00 using the Production Worker Compensation
$8,460.00 using the nominal GDP per capita
In 2022, the relative output worth of $296.00 from 1956 is:
$16,800.00 using the relative share of GDP
Samuel H. Williamson, "Seven Ways to Compute the Relative Value of a U.S. Dollar Amount, 1790 to present," MeasuringWorth, April 2023.