RMS Queen Mary Passage Ticket - 7 February 1953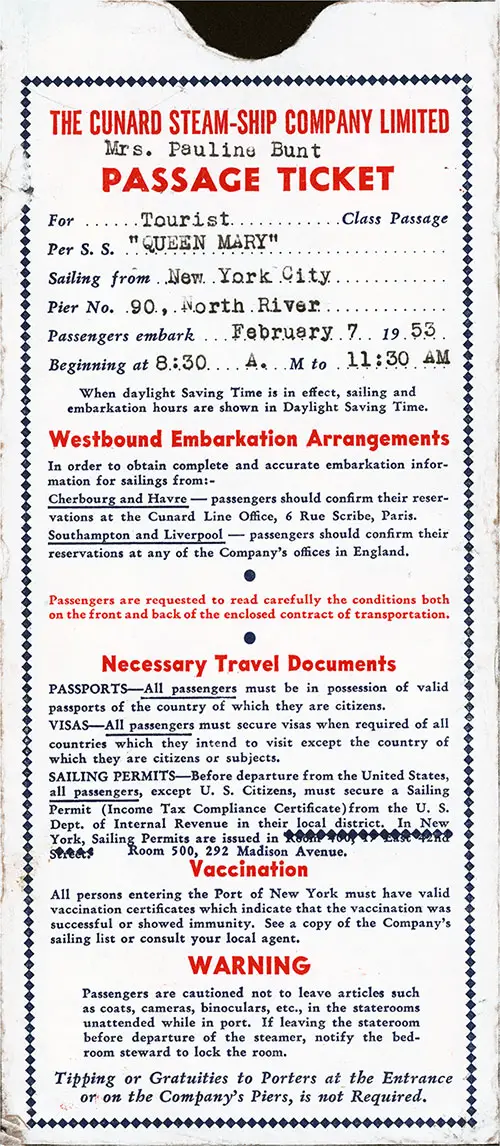 Front Side, Cunard Line Tourist Class Passage Ticket for Passage on the RMS Queen Mary, Departing from New York for Southampton Dated 7 February 1953. GGA Image ID # 12ce4e106b
Summary of Passage Ticket
Date of Purchase / Voyage: 7 February 1953
Steamship Line: Cunard Line
Steamship: RMS Queen Mary
Route: New York to Southampton
Ticket Type: Passage Ticket
Voyage Class: Tourist Class
Name on Contract: Mrs. Pauline Bunt
Etnicity of Passenger(s): American
Contract Terms: Transcribed
Cost of Ticket: Not Stated
Passage Ticket Details
Tourist Class passage ticket on the Cunard Line RMS Queen Mary, sailing from New York to Southampton on 7 February 1953 on Pier 90, North River where passengers embarked between 8:30 and 11:30 am for this voyage.
THE CUNARD STEAM-SHIP COMPANY LIMITED
Mrs. Pauline Bunt
PASSAGE TICKET
For Tourist Class Passage
Per S. S. "QUEEN MARY"
Sailing from: New York City
Pier No. 90, North River    
Passengers embark: February 7, 1953
Beginning at 8.30 A.M.  to 11.30 A.M.
When daylight Saving Time is in effect, sailing and embarkation hours are shown in Daylight Saving Time.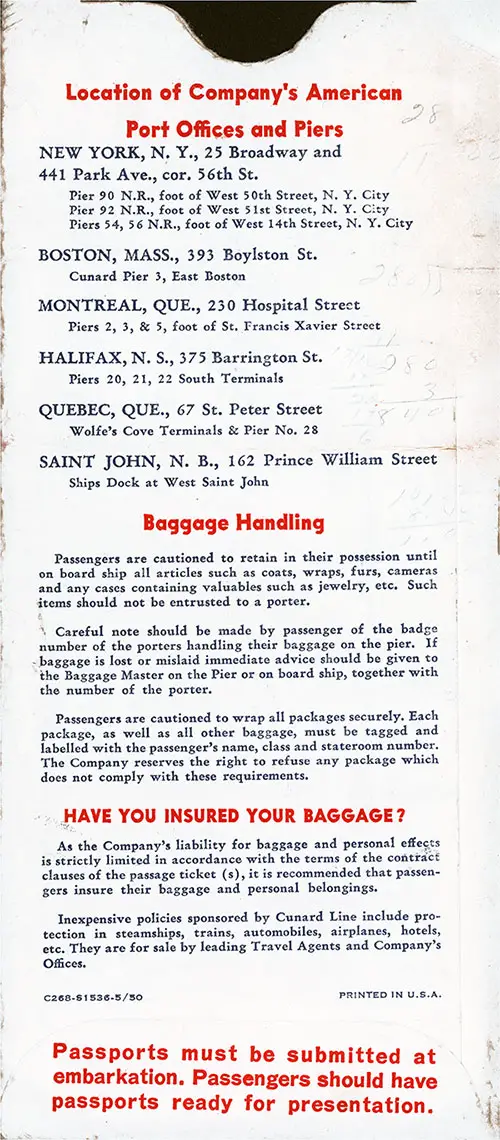 Back Side, Cunard Line Tourist Class Passage Ticket for Passage on the RMS Queen Mary, Departing from New York for Southampton Dated 7 February 1953. GGA Image ID # 12ce646337
Westbound Embarkation Arrangements
In order to obtain complete and accurate embarkation information for sailings from:
Cherbourg and Havre: passengers should confirm their reservations at the Cunard Line Office, 6 Rue Scribe, Paris
Southampton and Liverpool:  passengers should confirm their reservations at any of the Company's offices in England.
Passengers are requested to read carefully the conditions both on the front and back of the enclosed contract of transportation.
Necessary Travel Documents
PASSPORTS: All passengers must be in possession of valid passports of the country of which they are citizens.
VISAS: All passengers must secure visas when required of all countries which they intend to visit except the country of which they are citizens or subjects.
SAILING PERMITS :Before departure from the United States, all passengers, except U. S. Citizens, must secure a Sailing Permit (Income Tax Compliance  Certificate) from the U. S. Dept, of Internal Revenue in their local district.  In New York, Sailing Permits are issued in Room 500, 292 Madison Avenue.
VACCINATION: All persons entering the Port of New York must have valid vaccination certificates which indicate that the vaccination was successful or showed immunity. See a copy of the Company's sailing list or consult your local agent.
WARNING: Passengers are cautioned not to leave articles such as coats, cameras, binoculars, etc., in the staterooms unattended while in port. If leaving the stateroom before departure of the steamer, notify the bedroom steward to lock the room.
Tipping or Gratuities to Porters at the Entrance or on the Company's Piers, is not required.
Location of Company's American Port Offices and Piers
NEW YORK, N. Y., 25 Broadway and
441 Park Ave., cor. 56th St. 
Pier 90 N.R., foot of West 50th Street, N. Y. City
Pier 92 N.R., foot of West 51st Street, N. Y. City
Piers 54, 55 N.R., foot of West 14th Street, N. Y. City
BOSTON, MASS., 393 Boylston St.
Cunard Pier 3, East Boston
MONTREAL, QUE., 230 Hospital Street
Piers 2, 3, & 5, foot of St. Francis Xavier Street
HALIFAX, N. S., 375 Barrington St.
Piers 20, 21, 22 South Terminals
QUEBEC, QUE., 67 St. Peter Street
Wolfe's Cove Terminals & Pier No. 28
SAINT JOHN, N. B., 162 Prince William Street
Ships Dock at West Saint John
Baggage Handling
Passengers are cautioned to retain in their possession until on board ship all articles such as coats, wraps, furs, cameras and any cases containing valuables such as jewelry, etc. Such items should not be entrusted to a porter.
Careful note should be made by passenger of the badge number of the porters handling their baggage on the pier. If baggage is lost or mislaid immediate advice should be given to the Baggage Master on the Pier or on board ship, together with the number of the porter.
Passengers are cautioned to wrap all packages securely. Each package, as well as all other baggage, must be tagged and labelled with the passenger's name, class and stateroom number. The Company reserves the right to refuse any package which does not comply with these requirements.
HAVE YOU INSURED YOUR BAGGAGE?
As the Company's liability for baggage and personal effects is strictly limited in accordance with the terms of the contract clauses of the passage ticket (s), it is recommended that passengers insure their baggage and personal belongings.
Inexpensive policies sponsored by Cunard Line include protection in steamships, trains, automobiles, airplanes, hotels, etc. They are for sale by leading Travel Agents and
Company's Offices.
C2C0-6 1 830-5/50
PRINTED IN U.S.A.
Passports must be submitted at embarkation. Passengers should have passports ready for presentation.
US Departing Passenger and Crew Lists, 1914-1966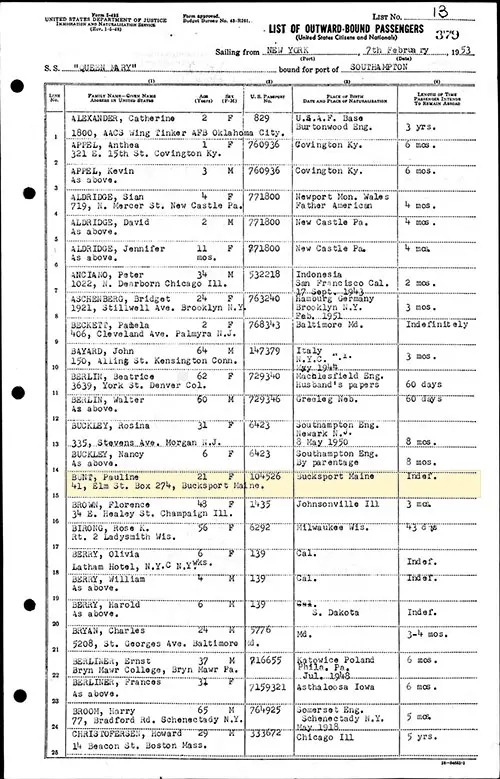 List of Outward-Bound Passengers (United States Citizens and Nationals), Form I-435 US Department of Justice, Immigration and Naturalization Service, P. 379, List No. 13, Sailing from New York, 7 February 1953 on the SS Queen Mary bound for the Port of Southampton. Line 15 Pauline Bunt, 21 YO Female from Bucksport, Maine on Indefinate leave. A4169-NewYork,1948-1956-201. GGA Image ID # 1a1d677e8d
Name: Pauline Bunt
Gender: Female
Departure Age: 21
Birth Date: abt 1932
Birth Place: Bucksport Maine
Departure Date: 7 Feb 1953
Departure Place: New York, New York, USA
Ship: QUEEN MARY
The National Archives at Washington, D.C.; Washington, D.C.; Series Title: Passenger and Crew Lists of Vessels and Airplanes Departing from New York, New York, 07/01/1948-12/31/1956; NAI Number: 3335533; Record Group Title: Records of the Immigration and Naturalization Service, 1787-2004; Record Group Number: 85; Series Number: A4169; NARA Roll Number: 201.