SS Roma Passage Contract (Quota) - 18 September 1928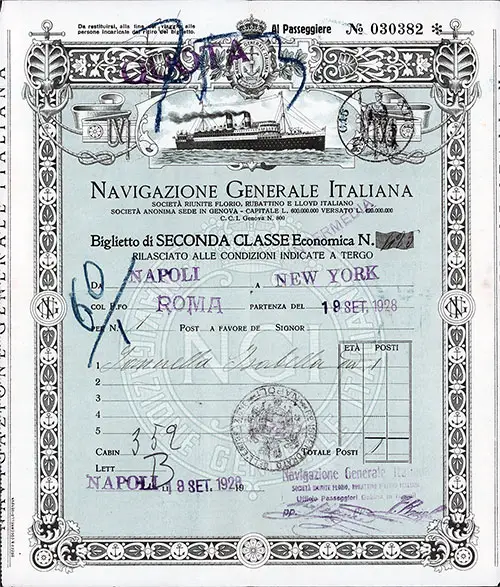 Front Side, Navigazione Generale Italiana Second Class Passage Contract for Passage on the SS Roma, Departing from Naples to New York Dated 18 September 1928. GGA Image ID # 131cd5c085
Summary of Passage Contract (Quota)
Date of Purchase / Voyage: 18 September 1928
Steamship Line: Navigazione Generale Italiana
Steamship: SS Roma
Route: Naples to New York
Ticket Type: Passage Contract (Quota)
Voyage Class: Second Class
Name on Contract: Illegible
Etnicity of Passenger(s): Italian
Contract Terms: Not Translated
Cost of Ticket: Not Stated
Passage Contract (Quota) Details
Italian Immigrant was one of the 4,000 Quota immigrants from Italy in 1928 under the Immigration Act of 1924. The contract is stamped "Quota" in large letters. Second Class passage contract from Naples to New York on the SS Roma of the Navigazione Generale Italiana Line.
Passenger Contract No. 030382
Navigazione Generale Italiana
SOCIETÀ RIUNITE FLORIO, RUBATTINO E LLOYD ITALIANO
SOCIETÀ ANONIMA SEDE IN GENOVA - CAPITALE L. 600.000.000 VERSAJO L. 420.000.000
C. C. I. Genova N. 800
Biglietto di SECONDA CLASSE Economica N. 625
RILASCIATO ALLE CONDIZIONI INDICATE A TERGO

Passenger's Name. Let us know if you can read this handwriting and provide us with the passenger's name. Thanks!
From Naples to New York Onboard the ROMA departing 19 September 1928
Cabin 359-B
Naples 18 September 1928
Signed by NGI Agent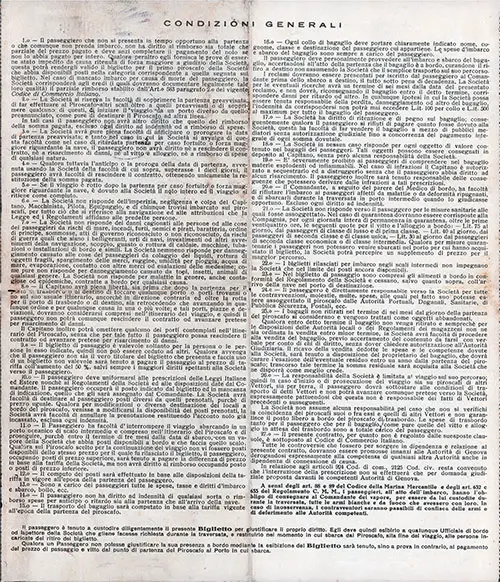 Back Side, Navigazione Generale Italiana Second Class Passage Contract Terms for Passage on the SS Roma, Departing from Naples to New York Dated 18 September 1928. GGA Image ID # 131ce0fcbe
Contract Terms in Italian. Not translated.