SS Chicago Passage Contract - 12 October 1910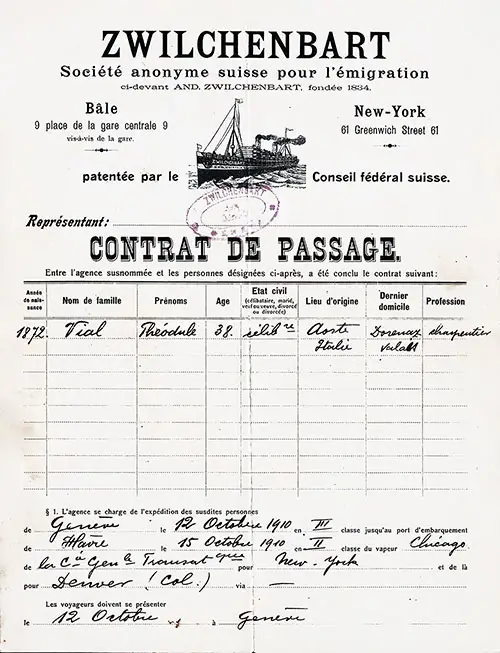 CGT French Line's SS Chicago Contract for Passage, Le Havre to New York, 12 October 1910. GGA Image ID # 1fa0080922
Passage Contract Summary
Date of Purchase / Voyage: 3 July 1910 / 12 October 1910
Steamship Line: CGT French Line
Steamship: SS Chicago
Route: Le Havre to New York
Ticket Type: Passage Contract
Voyage Class: Third Class
Name on Contract: Théodule Vial
Etnicity of Passenger(s): Italian
Contract Terms: Translated from French
Cost of Ticket: 580.00 Fr + $39.60 USD / $4,250.00 USD in 2021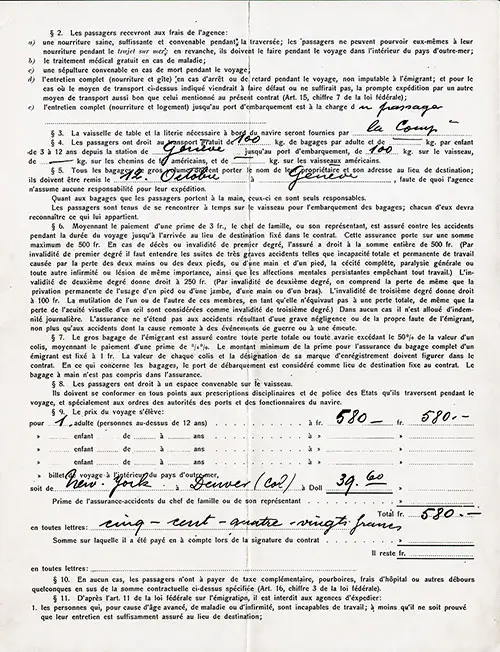 SS Chicago of the CGT French Line, Passage Contract from Geneva to New York, 12 October 1910, Part 2 of 4. GGA Image ID # 1fa011dfc5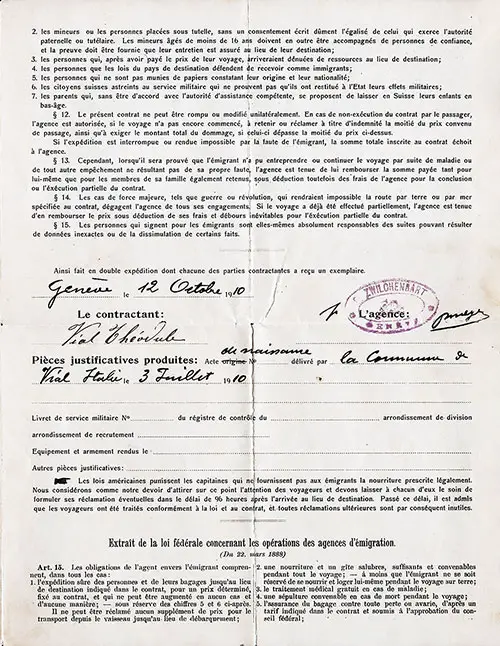 SS Chicago of the CGT French Line, Passage Contract from Geneva to New York, 12 October 1910, Part 3 of 4. GGA Image ID # 1fa023e5c0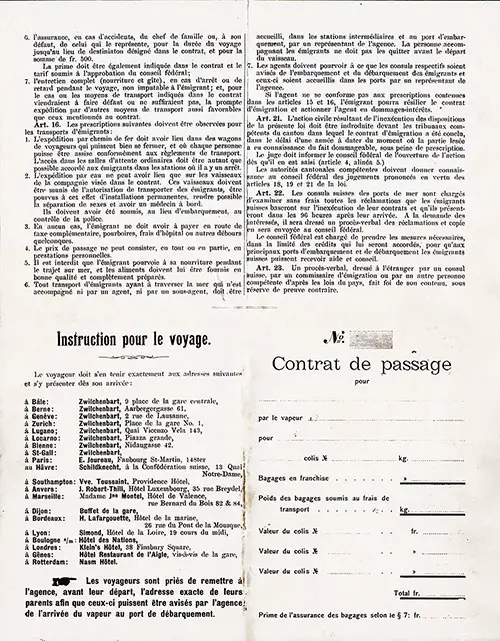 SS Chicago of the CGT French Line, Passage Contract from Geneva to New York, 12 October 1910, Part 4 of 4. GGA Image ID # 1fa03c4c6a
Passage Contract Details
This is a Third Class passage contract for a 38 year old Italian immigrant from Aoste, Italy for a voyage to the United States in October 1910 on the SS Chicago of the CGT French Line. The contract was written by a Swiss Agency (Zwilchenbart) and is entirely in French with an English translation following in part.
ZWILCHENBART
Swiss company for emigration
AND heretofore. ZWILCHENBART, founded in 1834.
New-York
61 Greenwich Street 61
Bâle
9 place de la gare centrale 9
vis-a-vis de la gare.
patented by the Swiss Federal Council.
representative:
CONTRACT OF PASSAGE.
And between AGENCY aforementioned persons designated below, the contract was concluded
Année de naissance / Year of birth: 1872
Nom de famille / Last name: Vial
Prénoms / names: Théodule
Age: 38
Etat civil (célibataire, marié, veuf ou veuve, divorcé ou divorcée) / Marital status (single, married, widowed, or divorced) : célibataire/single
Lieu d'origine / Place of origin: Aoste Italie / Aoste, Isère
Dernier domicile / Last home: Rhône-Alpes, France
Profession: charpentier / carpenter
§ 1. The agency is responsible for the shipping of the above persons in Geneva on 12 October 1910 in class III to the port of Havre October 15, 1910 in Chicago II class steam the Compagnie Générale Transatlantique to New York and from there to Denver, Colorado via ----
Travelers must appear October 12 in Geneva
Les passagers recevront aux frais de l'agence:
a) ENOUGH healthy food, and suitable for the crossing, passengers can not provide themselves with food during their journey on sea, however, they must do so while traveling in the country overseas;
b) free medical treatment in case of illness;
c) a proper burial in case of death during the voyage;
d) full maintenance (food and lodging): if stop or, during the trip delay, not attributable to the emigrant, and where the means of transport indicated above would be lacking or not enough not the speedy dispatch by other means of transport as good as in this contract (Art. 15, Section 7 of the Federal Law);
e) full maintenance (food and shelter) to the port of Ia is responsible for passing
Tableware and bedding bor necessary the ship shall be provided by the Corsey
§ 4. Passengers are entitled to free transportation of 100 kg. luggage per adult and ___ kg. per child aged 3 to 12 from the station to the port of Geneva embarkment of 100 kg. the ship, of ___ kg. on American railroads, and ___ kg. on American vessels.
§ 5. All baggage must be large volume IOR owner name and address at place of destination and must be returned to Geneva on October 12, failing which the Agency assumes no responsibility for their expedition.
As for luggage that the passengers are in hand, they are solely responsible.
Passengers are required to meet the ship in time for boarding luggage each will recognize what belongs to him.
§ 6. The payment of a premium of 3 fr. the head of the family, or his representative, shall insure against accidents during travel time until Ia arrival at the destination specified in the contract.

This insurance covers a maximum amount of 500 fr. In case of death or disability of first degree ('provides a right to the whole sum of 500 francs. (For first degree disability it means suites serious accidents such as total and permanent incapacity for work caused by loss Ia both hands or both feet, or one hand and one foot, blindness, paralysis or general infirmity or any other lesion of the same size and persistent mental disorders preventing any work.)

The invalidity of second degree entitles to 250 fr. (For second-degree disability, we understand that the loss of even the permanent deprivation of the use of a foot or a leg with one hand or arm).

The third degree of disability entitles you to 100 francs. I'un mutilation of either of these members, as it does not amount to a total loss, as the loss of visual acuity in one eye are considered third degree disability .)

In any case it is allocated allowance, daily. The insurance does not cover accidents caused by gross negligence or UUE's own fault of the emigrant, not only to accidents which cause back to the events of war or riot.
§ 7. The heavy baggage of the emigrant is insured against any damage or total loss exceeding 50% of the value of a parcel Ia, upon payment of a premium of 3/4%. Ia the minimum premium for the insurance of luggage full of an emigrant is fixed 1 fr. The value of each parcel and its designation Ia Check-mark must be included in the contract. Regarding luggage, the port of disembarkation is considered destination fixed in the contract. Hand luggage is not included in insurance.
§ 8. Passengers are entitled to a suitable space on the ship.
Its must comply in all respects with the requirements disciplinary and police states to pass during the journey, and specially the orders of the authorities and port officials ship.
§ 9. The fare rises: fr.

for 1 adult (persons above 12 years) fr. 580. - Fr. 580. -

ticket to travel within the country overseas, from New York to Denver (Col.) to 39.60 Dollars

Premium for accident insurance of the household head or his representative

Total fr. 580. -

in words: five hundred eighty francs

Amount on which it was countries to consider when signing the contract

in words:
§ 10. In any case, passengers have to pay additional tax, gratuities, or other hospital expenses whatsoever in addition to the contract sum specified above (Art. 16, point 3 of Ia federal law).
§ 11. According to art. 11 of the Federal Law on migration, it is prohibited to ship agencies:
1. persons who, because of age, illness or infirmity, are unable to work unless they can be proven that maintenance is adequately insured to destination;
2. minors or persons under guardianship, without the written consent duly equalized person who exercises parental authority or guardianship. Minors under 16 must also be accompanied by trustworthy people, and the evidence must be provided that maintenance is provided in place of their destination;
3. people who, after having paid the price of their journey, devoid of resources arrive at the destination;
4. people that the laws of the destination country to receive as defending immigrants;
5. people who are not equipped papers noting their origin and nationality;
6. Swiss citizens liable to military service does not prove that they have returned to their state military effects;
7. parents who are not in agreement with the competent authority assistance, intend to leave their children in Switzerland in infancy.
§ 12. This contract may be terminated or modified unilaterally. In case of non-fulfillment by the passenger, the Agency is authorized, if the trip has not yet begun, retain or claim as compensation half the agreed price of passage, as well as require the total amount of damage, if it exceeds half the above prices.
If the shipment is interrupted or rendered impossible by the fault of the emigrant, the total amount listed in the contract expires at the agency.
§ 13. However, when it is proved that the emigrant was unable to undertake or continue the trip due to illness or any other cause not the result of his own fault, the agency is required to reimburse the amount paid to both himself and for the members of his family also retained; under, less, however, agency fees for partial conclusion or the execution of the contract.
§ 14. Cases of force majeure, such as war or revolution, which would make it impossible Ia journey by land or sea specified in the contract, emit agency all its commitments. If the trip has already been partially performed, the agency is obliged to refund the purchase price after deducting its fees and disbursements for the inevitable partial execution of the contract.
§ 15. People who sign up for the emigrants themselves are absolutely responsible for the consequences that may result from inaccurate data or concealment of certain facts.
And is double shipping each Contracting Party has received a copy.
Geneva October 12, 1910

The contractor:

/ s / Vial Theodule

Documents produced: Act or birth certificate issued by the Commissioner

Vial Italy July 3, 1910
U.S. laws punish the captains who do not provide food emigrants legally prescribed. We consider it our duty to bring this to the attention of travelers and must allow each of them the task of formulating its potential claim within 96 hours after arrival at the destination. After this time, it is recognized that travelers were treated in accordance with law and Ia contract, all further claims are therefore unnecessary.
Extract the Federal Act on agency operations emigration.
(From 22. March 1888)
Art. 15. The obligations of the agent to include the emigrant in every case:
1. safe shipping people and their luggage to the destination specified in the contract for one fixed price fixed in the contract, and that pent be increased under any circumstances and in any way - subject to numbers 5 and 6 below.

It can not be claimed no extra cost for transportation from the ship to the landing location;
2. food and lodging safe, sufficient and suitable for the entire trip - unless the emigrant has reserved to feed and house himself for the journey on land;
3. free medical treatment in case of illness;
4. a proper burial in case of death during the voyage;
5. Insurance against the luggage, loss or damage, according to a tariff indicated in the contract and subject to the approval of the Federal Council;
6 insurance in case of accidents, the head of the family or, in his absence, the one who represents, for the duration of the journey to the place designated in the contract destiniaton, and Ia sum of fr. 500.

The premium must also be specified in the contract and the price subject to the approval of the Federal Council;
7. full maintenance (food and lodging), if we stop during the trip delay, not attributable to the emigrant, and for the case where the transport specified in the contract would be lacking sufficient or not the speedy dispatch by other means of transport as favorable as those mentioned year contract.
Art 16. The following requirements must be observed for the transport of emigrants :
The shipment by rail must take place in passenger cars that can close properly, and oil each person can be seated in accordance with regulations of transport. The access in the common waiting rooms as much as possible should be given to immigrants in the stations where he will stop.
Shipping by water can not take place on the vessels of the company referred to in the contract. These vessels must have authorization to transport emigrants be provided for this purpose permanent facilities make possible the separation of sexes and have a doctor on board.

They must have been subjected, instead of boarding. control of the police.
In any case, the migrant should have to pay additional road tax, gratuities, hospital or other expenses whatsoever.
Passage money can not consist, in whole or in part, by personal service.
It is not that the emigrant can provide for his food during the journey to the sea, and food must be provided in good quality and fully prepared.
Any movement of emigrants who cross the sea which is accompanied by either an agent or a subagent must be received in the intermediate stations and the port of shipment by a representative of the agency. The person accompanying the emigrants MUST NOT leave before the departure of the vessel.
Agents must provide that the respective consuls be notified of the embarkation and disembarkation of migrants and they are welcomed in ports by a representative of the agency.

If the agent does not comply with the requirements contained in Articles 15 and 16, the emigrant may terminate the contract and activate the emigration agent for damages interests.
Art. 21.Civil action arising from the breach of the provisions lie in this Act shall be brought before the competent courts of the canton in which the contract was concluded emigration, within a year from the time the injured party aware of the harmful under barred.
The judge must inform the Federal Council of the opening of the action when it is seized (Article 4, paragraph 5.)
The cantonal authorities must give KNOWLEDGE year Federal Council of judgments under Articles 18, 19 and 21 of the Act.
Art. 22. Swiss consuls seaports are free to examine all claims Swiss emigrants be based on the breach of their contracts and their present-erout within 96 hours after arrival. At the request of interested parties, it will be compiled a record of complaints and a copy will be sent to the Federal Council.
The Federal Council is responsible for taking steps lea, in the limited funds which will be granted, for as the main ports of embarkation and disembarkation Swiss emigrants can receive help and advice.
Art. 23. A report, prepared by a foreign consul Swiss emigration by a commissioner or other person competent under the laws of the country, is proof of its contend, subject to proof to the contrary.
Instruction pour le voyage.
Instruction for the trip.
The traveler must adhere strictly to the following addresses. and to present upon arrival:
à Bâle: Zwilchenbart, 9 place de in gare centrale,
à Berne: Zwilchenbart, Aarbergergasse 61,
à Genève: Zwilchenbart, 2 rue de Lausanne,
à Zurich : Zwilchenbart, Place de la, gare No. 1,
à Lugano; Zwilchenbart, Quai Vicenzo Vela 143,
à Locarno: Zwilchenbart, Piazza grande,
à Bienne : Zwilchenbart, Nidaugasse 42,
à St-Gall : Zwilchenbart,
à Paris: E. Joureau, Faubourg St-Martin, 148ter
au Hâvre: Schildknecht, a In Confédération suisse, 13 Quai Notre-Dame,
à Southampton: Vve. Toussaint, Providence Hôtel,
à Anvers: J. Robert-Thill, Hôtel Luxembourg, 35 rue Breydel,
à Marseille: Madame Jne Montel, Hôtel de Valence, rue Bernard du Bois 82 & 84,
à Dijon: Buffet de Ia gare,
à Bordeaux: H. Lafargouette, Hôtel de in marine, 26 rue du Pont de la Mousque,
à Lyon: Simond, Betel de Ia Loire, 19 tours du midi,
à Boulogne s/m: Hôtel des Nations,
à Londres: Klein's Hôtel, 38 Finsbury Square,
à Genes: Hôtel Restaurant de I'Aigle, vis-a-vis de la gare,
à Rotterdam: Nasm Hôtel.
Travelers are asked to submit to AGENCY prior to their departure, I'adresse exact their parents so that they can be notified by AGENCY of the steamer at the port of disembarkation.
Arrival Records
Name: Theodule Vial
Arrival Date: 26 Oct 1910
Birth Year: about 1872
Birth Location: Italy
Birth Location Other: ims
Age: 38
Gender: Male
Ethnicity/Race/Nationality: Italian (North Italian)
Port of Departure: Havre
Port of Arrival: New York, New York
Ship Name: Chicago
Source Citation: Year: 1910;  Microfilm Serial: T715; Microfilm Roll: T715_1584; Line: 25; Page Number: 96.
Name: Theodule Vial
Gender: männlich (Male)
Birth Year: 1872
Place of Origin: Aoste, Italien (Italy)
Last Residence: Dorenag; St M, Wallis (Valais), Schweiz (Switzerland)
Departure Date: Okt 1910 (Oct 1910)
Port of Departure: Le Havre
Port of Arrival: New York
Source: Auswanderungsamt und Auswanderungsbüro. Überseeische Auswanderungen aus der Schweiz, 1910-1953. Schweizerisches Bundesarchiv. E 2175 - 2, Band 2.
First Name: Theodule
Last Name: Vial
Ethnicity: Italy, Italian North
Last Place of Residence: Dorenax, Italy
Date of Arrival: Oct 25, 1910
Age at Arrival: 38 y
Gender: Male
Marital Status: Single
Ship of Travel: Chicago
Port of Departure: Le Havre
Manifest Line Number: 0025
Note: In the 1930 Census, Theodule Vial was a Hotel Cook in Arkansas.
1930 Census Record Extract
Birth Year: about 1872
Birthplace: Italy
Race: White
Home in 1930: Hot Springs, Garland, Arkansas
Marital Status: Single
Immigration Year: 1910
Relation to Head of House: Employee
Father's Birthplace: Italy
Mother's Birthplace: Italy
Relative Cost of Passage Ticket in Today's Currency Value
580 French franc [1795-1960] in year 1910 could buy the same amount of consumer goods and services in Sweden as 111.80703375627321 US dollar [1791-2015] could buy in Sweden in year 1910. This comparison should be used if the purpose of the analysis is to compare absolute worth over time rather than relative worth. Historical currency converter
$111.81+$39.60=$151.41
In 2020, the relative values of $151.41 from 1910 ranges from $3,090.00 to $93,700.00.
A simple Purchasing Power Calculator would say the relative value is $4,250.00. This answer is obtained by multiplying $151.41 by the percentage increase in the CPI from 1910 to 2020.
This may not be the best answer.
The best measure of the relative value over time depends on if you are interested in comparing the cost or value of a Commodity, Income or Wealth, or a Project.
If you want to compare the value of a $151.41 Commodity in 1910 there are four choices. In 2020 the relative:
real price of that commodity is $4,250.00
real value in consumption of that commodity is $8,800.00
labor value of that commodity is $20,700.00 (using the unskilled wage) or $28,200.00 (using production worker compensation)
income value of that commodity is $26,200.00
economic share of that commodity is $93,700.00
If you want to compare the value of a $151.41 Income or Wealth, in 1910 there are five choices. In 2020 the relative:
real wage or real wealth value of that income or wealth is $4,250.00
household purchasing power value of that income or wealth is $8,800.00
relative labor earnings of that commodity are $20,700.00 (using the unskilled wage) or $28,200.00 (using production worker compensation)
relative income value of that income or wealth is $26,200.00
relative output value of that income or wealth is $93,700.00
If you want to compare the value of a $151.41 Project in 1910 there are four choices. In 2020 the relative:
real cost of that project is $3,090.00
household cost of that project is $8,800.00
labor cost of that project is $20,700.00 (using the unskilled wage) or $28,200.00 (using production worker compensation)
relative cost of that project is $26,200.00
economy cost of that project is $93,700.00
Source: www.measuringworth.com Samuel H. Williamson, "Seven Ways to Compute the Relative Value of a U.S. Dollar Amount, 1790 to present," MeasuringWorth, 2022.