RMS Campania Passage Contract - 7 April 1897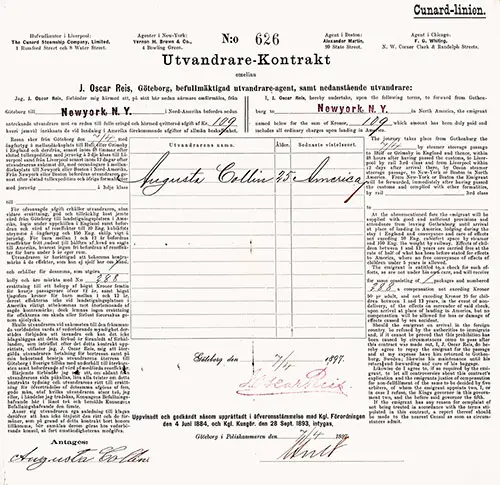 RMS Campania of the Cunard Line 1897 Immigrant Passage Contract - Sweden to New York. GGA Image ID # 1f9b025570
Passage Contract Summary
Date of Purchase / Voyage: 7 April 1897
Steamship Line: Cunard Steamship Company
Steamship: RMS Campania
Route: Gothenburg to New York via Hull and Liverpool
Ticket Type: Passage Contract
Voyage Class: Steerage
Name on Contract: Augusta Collin
Etnicity of Passenger(s): Swedish
Contract Terms: Translated from Swedish
Cost of Ticket: Not Stated
Steamship steerage passage contract for a 25 year-old Swedish servant, immigrating to America from Gothenburg, Sweden on 7 April 1897. She took a small coastal steamer from Gothenburg to Grimsby, England, a train from Hull to Liverpool and boarded the Cunard steamship Campania for the voyage to New York arriving on 17 April 1897.
Hufvudkontor i Liverpool: The Cunard Steamship Company, Limited, 1 Rumford Street och 8 Water Street.
Agenter i New-York: Vernon H. Brown & Co., 4 Bowling Green
Agent i Boston: Alexander Martin, 99 State Street.
Agent i Chicago: F. G. Whiting, N. W. Corner Clark & Randolph Streets.
Cunard-linien N:o 626 Utvandrare-Kontrakt
emellan
J. Oscar Reis, Giiteborg, befullmaktigad utvandrare-agent, samt nedanstaende utvandrare:
I. Oscar Reis, hereby undertake, upon the following terms, to forward from Gothenburg to New York in North America, the emigrant named below for the sum of 109 Kronor, which amount has been duly paid and includes all ordinary charges upon landing in America.
Name of Immigrant: Augusta Collin
Age: 25
Destination: America
The journey takes place from Gothenburg the 7 April 1897 by steamer steerage passage to or Grimsby in England and thence, within 48 hours after having passed the customs, to Liverpool by rail 3:rd class and from Liverpool within 12 days after arrival there, by Ocean steamer steerage passage, to New-York or Boston in North America. From New-York or Boston the Emigrant will be forwarded, immediately after having passed the customs and complied with other formalities,
by rail ______ 3:rd class to __________ .
At the above-mentioned fare the emigrant will be supplied with good and sufficient provisions and attendance from leaving Gothenburg until arrival at place of landing in America, lodging during the stay i England and conveyance and care of effects not exceeding 10 English cubic feet space by steamer and HO English pounds weight by railway.
Effects of children between 1 and 12 years are carried free at the rate of half of what has been before stated for effects to America, where no free conveyance of effects of children under 5 years is allowed.
The emigrant is entitled to a check for such effects, as are not under his own care, and will receive for same consisting of 1 packages and numbered 388 a compensation not exceeding Kronor 50 per adult, and not exceeding Kronor 25 for children between 1 and 12 years, in the event of nondelivery, of the effects on surrender of said check, upon arrival at place of landing in America, but no compensation will be allowed for loss or damage of effects caused by sea accident.
Should the emigrant on arrival in the foreign country be refused by the authorities to immigrate and, if it cannot be proved that this prohibition has been caused by circumstances come to pass after this contract was made out, I, J. Oscar Reis, do hereby agree to repay the emigrant for the passage and at my expense have him returned to Gothenburg, Sweden; likewise his maintenance until his return and forwarding ai4 care of his baggage.
Likewise do I agree to, if so required by the emigrant, to let all controversies about this contract's explication and the emigrants justice of compensation for nonfulfillment of the same to be decided by five arbiters, of whom the emigrant appoints two, I, or in case I refuse, the Kings governor in this government two, and the before said governor the fifth.
If the emigrant has any reason for complaint of not being treated in accordance with the terms stipulated in this contract, a report thereof should be made to the nearest Consul as soon as circumstances admit.
Shown and approved as prepared in compliance with KGI. Regulation as June 4, 1884, and Royal. Announcement. , 28 September 1893, to certify Gothenburg at the Police House on 7/4 1897.
Reverse Side of Passage Contract

Revers Side of Swedish Passage Contract, RMS Campania of the Cunard Line for 7 April 1897. GGA Image ID # 1f9b6ff522
Read carefully before my departure from Gothenburg!
According to the American Immigration Act approval from the April 1, 1893 are the following classes of strangers refused to trade to the United States, viz;
1: o) Persons who are idiots or insane.
2: o) Persons who suffer from a contagious disease.
3: o) Persons who by law are doomed for familiar sparkling forbrytelser, evidence of moral decay. This, however, are not included, the accused political offenses
4: o) those events like marriage. (Mormons).
5: o) Persons who agreed to perform work in the United States.
6: o) Persons who have benefited from poor meal, are working inept or in said destitute of teeth, if it is foreseeable that the arrival at their destination seem the general to load. In this section are also inbegripne: aged man and women, orphans, maimed, or deformed, hafvande unmarried woman, unmarried woman carrying illegitimate children, and widows who bring young children, but those in the additions to the point
6: o) listed people may, however, have a landing in America on the inside have to light up evidence "utfärdadt" by the competent authority derstades, which evidence must be presented a Cunard Line office present their departure from Gothenburg.
Additional Information from Immigration Records
Name: Augusta Collin
Ethnicity: Sweden, Swedish
Date of Arrival: April 17, 1897
Age at Arrival:  25y
Gender:  Female
Marital Status: Single
Occupation: Servant
Ship of Travel: Campania
Port of Departure: Liverpool
Manifest Line Number: 0264
Evidence of First Leg of Swedish Emigrant's Journey to America
Original data: EMIGRANTEN POPULÄR 2006 is a coproduction between Emigrantregistret in Karlstad and Göteborgs-Emigranten in Göteborg.
Name:

Augusta

Collin

Departure Date: 7 April 1897
Ship Name: Cameo
Birth Date: about 1872
Birth Place: Amerika (USA)
Age: 25
Destination: Grimsby
Source Information:
Ancestry.com. Gothenburg, Sweden, Passenger Lists, 1869-1951 [database on-line]. Provo, UT, USA: Ancestry.com Operations, Inc., 2010. Original data: Göteborgs Poliskammare, EIX 1-143, 1869–1950. Landsarkivet i Göteborg, Göteborg, Sweden.
Name:

Augusta

Collin

Birth Year: about 1872
Gender: Kvinna (Female)
Place of Origin: Amerika
Destination: New York
Record Date: 7 April 1897
Port of Departure: Göteborg
Database Name: EmiHamn
Archive Call Number: 59:298:626
Principal Person: Collin Augusta
Source Information:
Ancestry.com. Swedish Emigration Records, 1783-1951 [database on-line]. Provo, UT, USA: Ancestry.com Operations Inc, 2007.