SS Stuttgart Passage Contract - 4 September 1935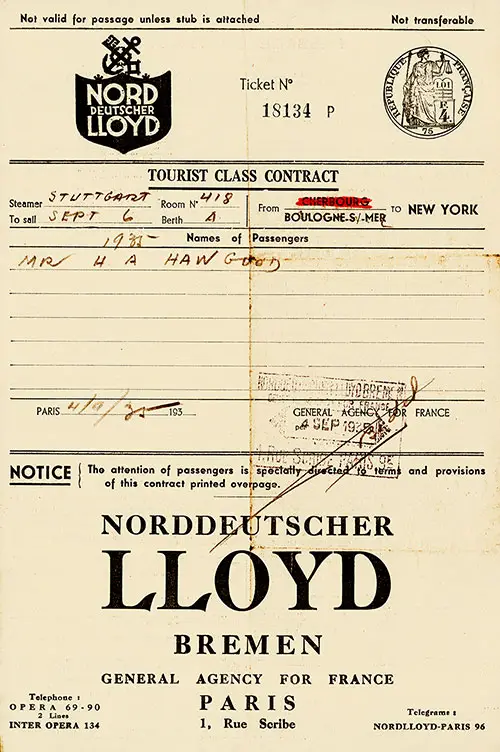 Tourist Class Contract for Passage on the SS Stuttgart of the North German Lloyd Steamship Company for a westbound voyage from Boulogne sur Mer to New York on 6 September 1935 for Mr. H. A. Hawgood. The ticket was purchased in Paris, France. GGA Image ID # 1f0187dc7d
Summary of Passage Contract
Date of Purchase / Voyage: 4 September 1935 / 6 September 1935
Steamship Line: North German Lloyd
Steamship: SS Stuttgart
Route: Boulogne-sur-Mer to New York
Ticket Type: Passage Contract
Voyage Class: Tourist Class
Name on Contract: Mr. H. A. Hawgood
Etnicity of Passenger(s): Unknown
Contract Terms: Transcribed
Cost of Ticket: Not Stated
Passage Contract Details
Not valid for passage unless stub is attached Not transferable
Ticket No 18134 P
Tourist Class Contract
Steamer Stuttgart Room No 418 Berth A
From BOULOGNE SUR MER To NEW YORK
To sail September 6, 1935
Names of Passengers: Mr. H. A. Hawgood
PARIS 4/9/1935
Rubber Stamp Seal: GENERAL AGENCY FOR FRANCE
NOTICE The attention of passengers is specially directed to terms and provisions of this contract is printed over page.
NORDDEUTSCHER LLOYD BREMEN
GENERAL AGENCY FOR FRANCE
1, Rue Scribe
PARIS
Telephone : OPERA 69 - 90
2 Lines
INTER OPERA 134
Telegrams: NORDLLOYD-PARIS 96
Terms, Exceptions, Conditions, and Limitations of Passage Contract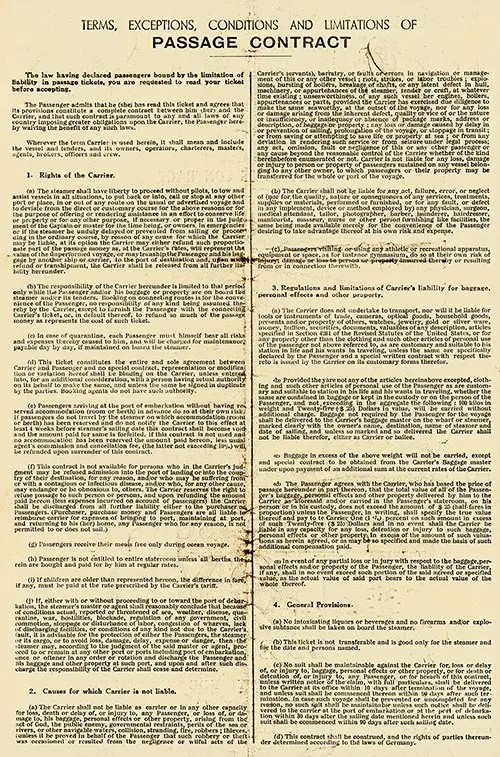 Terms and Conditions of Tourist Class Steamship Contract - 6 September 1935. GGA Image ID # 1f018d01b6
The law having declared passengers bound by the limitation of liability in passage tickets, you are requested to read your ticket before accepting,
The Passenger admits that he (she) has read this ticket and agrees that its provisions constitute a complete contract between him (her) and the Carrier, and that such contract is paramount to any and all laws of any country imposing greater obligations upon the Carrier, the Passenger hereby waiving the benefit of any such laws.
Wherever the term Carrier is used herein, it shall mean and include the vessel and tenders, and its owners, operators, charterers, masters, agents, In brokers, officers and crew.
1. Rights of the Carrier.
(a) The steamer shall have liberty to proceed without pilots, to tow and assist vessels in all situations, to put buck or into, call or stop at any other port or place, in or out of any route on the usual or advertised voyage and to deviate from the direct or customary course for the above reasons or for the purpose of offering or rendering assistance in an effort to conserve life or properly or for any other purpose, if necessary or proper in the judgment of the Captain or master for the time being, or owners.
In emergencies or if the steamer be unduly delayed or prevented front sailing or proceeding in the ordinary course, by reason of any cause for which the Carrier may be liable, at its option the Carrier may either refund such proportionate part of the passage money as, at the Carrier's rates, will represent the value of the unperformed voyage, or may tranship the Passenger and his baggage by another ship or carrier, to the port of destination and, upon such refund or transhipment, the Carrier shall be released from all further liability hereunder.
(b)The responsibility of the Carrier hereunder is limited to that period only while the Passenger and/or his baggage or property are on board the steamer and/or its tenders.
Booking on connecting routes is tor the convenience of the Passenger, no responsibility of any kind being assumed thereby by the Carrier, except to furnish the Passenger with the connecting,. Carrier's ticket, or, in default thereof, to refund so much of the passage money as represents the cost of such ticket.
(c) In case of quarantine, each Passenger must himself bear all risks and expenses thereby caused to him, anti will be charged for maintenance;. payable day by day, if maintained on board the steamer.
(d) This ticket constitutes the entire and sole agreement between Carrier and Passenger and no special contract, representation or modifica; lion or variation hereof shall he binding on the Carrier, unless ernes into, for an additional consideration, with a person having actual authority on its behalf to make the same, and unless the same be signed in duplicate by the parties. Booking agents do not have such authority.
(e) Passengers striving at the port of embarkation without having re- served accommodation (room or berth) in advance do so at their own risk: If passengers do not travel by the steamer on which accommodation (room or berth) has been reserved and do not notify the Carrier to this effect at least 4 weeks before steamer's sailing date this contract shall become And the amount paid for same la forfeited.
If this contract is not used and no accommodation has been reserved the amount paid hereon, less usual agent's commission and cancellation fee, (the latter not exceeding 10%) be refunded upon surrender of this contract,
(f) This contract is not available for persons who in the Carrier's judgment may be refused admission into the port of landing or into the country of their destination, for any reason, and/or who may he suffering fronier with a contagious or Infectious disease, and/or who, tor any other cause, may endanger or be obnoxious to, others.
The Carrier reserves the right to refuse passage to such person or persons, and upon refunding the amount paid hereon (less expenses incurred on account of passengers) the Carrier shall be discharged from all further liability either to the purchaser or Passengers.
Purchaser, purchase money and Passengers are all liable to reimburse carrier for expenses of bringing to port, maintaining at port, . and returning to his (her) home, any Passenger who for any reason, is not permitted to or does not sail.)
(g) Passengers receive their meals tree only during ocean voyage.
(h) Passenger is not entitled to entire stateroom unless all berths the-s, rein are bought and paid for by him at regular rates.
(i) If children are older than represented hereon, the difference in fare if any, must be paid at the rate prescribed by the Carrier's tariff.
(j) if, either with or without proceeding to or toward the port of debar-. kation, the steamer's master or agent shall reasonably conclude that because of conditions actual, reported or threatened of sea, weather, disease, quarantine, war, hostilities, blockade, refutation of any government, civil - commotion, stoppage or disturbance of labor, congestion of wharves, lack if discharging facilities, or conditions of any kind not due to the Carrier's, fault, it is advisable for the protection of either the Passengers, the steamer or its cargo, or to avoid loss, damage, delay, expense-or danger, then the teenier may, according to the judgment of the said master or agent, proceed to or remain at any other port or ports including port of embarkation,, once or oftener in any order or rotation and discharge tile Passenger and his baggage and other property at such port, and upon and after such discharge the responsibility of the Carrier shall cease and determine.
2. Causes for which Carrier is not liable.
(a) The Carrier shall not be liable as carrier or in any other capacity for loss, death or delay of, or injury to, any Passenger, or loss of, or damage to, his baggage, personal effects or other property, arising front the act of God, the public enemy, governmental restraints, perils of the sea or rivers, or other navigable waters, collision, stranding, fire, robbers; thieves,- unless it he preyed in behalf of the Passenger that such robbery or theft, sane occasioned e i t suited from the negligence or a wilful acts of the
Carrier's servants, barratry, or faults or errors in navigation or management of this or any other vessel; riots, strikes, or labor troubles; explosions, bursting of boilers, breakage of shafts, or any latent defect in hull, machinery, or appurtenances of the steamer, tender or craft, at whatever time existing; unseaworthiness, of any such vessel her engines, boilers, appurtenances or parts, provided the Carrier has exercised due diligence to make the same seaworthy, at the outset of the voyage, nor for any loss or damage arising from the inherent defect, quality or vice of or the nature or insufficiency, or inadequacy or absence of package marks, address or description, of baggage or property; any loss or damage caused by delay in .or prevention of sailing, prolongation the voyage, or stoppage in transit; or from saving or attempting to save life or property at sea; or front any deviation in rendering such service or from seizure under legal process; any act, omission, fault or negligence of this or any other passenger or any cause beyond the reasonable control of the Carrier whether of the kind hereinbefore enumerated or not.
Carrier is not liable for any loss, damage or injury to person or property of passengers sustained on any vessel belong- to any other owner, to which passengers or their property may be transferred for the whole or part of the voyage.
(b) The Carrier shall not be liable for any act, failure, error, or neglect of (nor for, the quality, nature or consequences of 'any services, treatments, supplies or materials, performed or furnished, or for any fault, or defect ill any implement, device or method employed by any physician, surgeon, medical attendant, tailor, photographer, barber, launderer, hairdresser, manicurist, masseur, nurse or other person furnishing like facilities, the same being made available merely, for the convenience of the Passenger desiring to take advantage thereof at his own risk and expense.
(c).Passengers visiting or using any athletic or recreational apparatus, equipment or space, as for instance gymnasium, do so at their own risk of injury, damage or or loss to person or property incurred thereby or resulting from or in connection therewith.
3. Regulations and limitations of Carrier's liability for baggage, personal effects and other property.
(a) The Carrier does not undertake to transport, nor will it be liable for tools or instruments of trade, cameras, optical goods, household goods, presents and/or property of others, watches, jewelry, gold or silver ware, money, bullion, securities, documents, valuables of any description, articles specified in Section 4281 of the Revised Statutes of the United Stales, or for any property other than the clothing and such other articles of personal use of the passenger not above referred to, as are customary and suitable to his station in life and his wants in traveling, unless the same are specifically declared by the Passenger and a special written contract with respect thereto is issued by the Carrier on its customary forms therefore
(b) Provided the yare not any of the articles hereinabove excepted, clothing and such other articles of personal use of the Passenger as are customary and suitable to station in his life and his wants in traveling, whether the same are contained in baggage or kept in the custody or on the person of the Passenger, and not, exceeding in the aggregate the following : 100 kilos in weight and Twenty-five ($.25) Dollars in value, will be carried without additional charge. Baggage not required by the Passenger for the voyage shall be delivered to the Carriers baggage master on the wharf or steamer, marked clearly with the owner's name, destination, name of steamer and date of sailing, and unless so marked and so delivered the Carrier shall not be liable therefor, either as Carrier or bailee.
(c), Baggage in excess of the above weight will not be carried, except and special contract to be obtained front the Carrier's Baggage master under upon payment of an additional sum at the current rates of the Carrier.
(d), The Passenger agrees, with the Carrier, who has based the price of passage hereunder in part thereon, that the total value of all of the Passengers baggage, personal effects and other property delivered by him to the Carrier as. 'aforesaid and/or carried in the Passenger's stateroom, on his person or in his custody, does not exceed the amount of $ 25 (half-fares in proportion) unless the Passenger, in writing, shall specify the true value thereof and pay to to Carrier One (1 %) percent on such amount in excess of such Twenty-five ($ 25) Dollars and in no event shall the Carrier be liable in any capacity for any loss, detention or injury to such baggage, personal effects or other property, In excess of the amount of such valuations as herein agreed, or as may be so specified and made the basis of such additional compensation paid.
(e), In event of any partial loss or in jury with respect to the baggage, personal effects and/or property of the Passenger, the liability of the Carrier, if any, shall in no event exceed such portion of the said agreed or specified value, as the actual value of said part bears to the actual value of the whole thereof.
4. General Provisions.
(a) No intoxicating liquors or beverages and no firearms and/or explosive substance shall be taken on board the steamer.
(b) This ticket is not transferable and is good only for the steamer and for• the date and persons named.
(c) No suit shall be maintainable against the Carrier for, loss or delay of, or injury to, baggage, personal effects or other property, or for death or detention of, or injury to, any Passenger, or for breach of this contract, unless written notice of the chum, with full particulars, shall be delivered to the Carrier at its office within 10 stays after termination of the voyage, and unless suit shall be commenced thereon within 90 days after such, ter. Initiation.
In each-such voyage shall be prevented or uncompleted for any reason, no such spit shall be maintainable unless such notice shall be delivered to the carrier at the port of embarkation or at the pert of debarkation within 30 days alter the sailing date mentioned herein and unless such suit shall be commenced within 90 days after such sailing date.
(d) This contract shall be construed, and the rights of parties thereunder determined accenting to the laws of Germany.