Blue Star Line Saloon Passage Ticket - 14 December 1943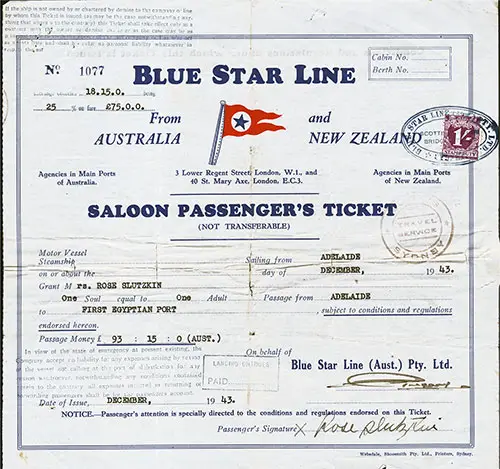 Front Cover, Blue Star Line Saloon Passenger's Ticket for Passage During World War II From Adelaide to an Egyptian Port, Departing from Adeline for the First Egyptian Port Dated December 1943. GGA Image ID # 158b906589
Summary of Saloon Passenger's Ticket
Date of Purchase / Voyage: 14 December 1943
Steamship Line: Blue Star Line
Steamship: Not Stated
Route: Adelaide to First Egyptian Port
Ticket Type: Saloon Passenger's Ticket
Voyage Class: Saloon
Name on Contract: Mrs. Rose Slutzkin
Etnicity of Passenger(s): Not Stated
Contract Terms: Transcribed
Cost of Ticket: AU£93 15s 0d / $5,528.00 AUD in 2020
Saloon Passenger's Ticket Details
Blue Star Line From Australia and New Zealand
Ticket No. 1077
£18.15.0. Being 25% on Fare £75.0.0
New South Wales Duty Stamp 1'-
Stamp of Cook's Travel Service, Sydney
Saloon Passenger's Ticket (Not Transferable)
Moter Vessel Steamship __________ Sailing from Adelaide on or about the _____ day of December 1943.
Grant Mrs. Rose Slutzkin, One Soul equal to One Adult Passage from Adelaide to First Egyptian Port, subject to conditions and regulations endorsed hereon.
Passage Money £93:15s:0d (AU)
AU£93 15s 0d / $5,528.00 AUD in 2020
In view of the state of emeregency at present existing, the Company accept no liability to any expenses arising by reason of the vessel not calling at the port of debarkation for any reason whatsoever, not withstanding any conditions contained herein to the contrary, all expenses incurred in returning or forwarding passengers shall be for the passengers account.
On behalf of Blue Star Line (Aust.) Pty. Ltd.
/s/ Illegible
Date of Issue, December 1943
NOTICE:- Passenger's attention is specially directed to the conditions and regulations endorsed on this ticket.
Passenger's Signature X /s/ Rose Slutzkin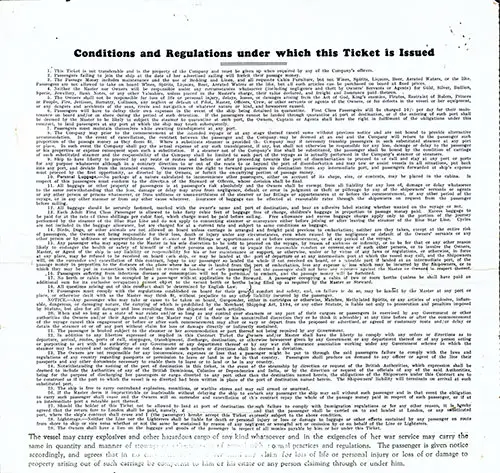 Conditions and Regulations, Blue Star Line Saloon Passenger's Ticket for Passage During World War II From Adelaide to an Egyptian Port, Departing from Adeline for the First Egyptian Port Dated December 1943. GGA Image ID # 158b95f044
Conditions and Regulations under which this Ticket is Issued
This Ticket is not transferable and is the property of the Company and must be given up when required by any of the Company's officers.
passengers failing to join the ship at the date of her advertised sailing will forfeit their passage money.
The Passage Money includes maintenance and the use of Bedding and Linen, and all requisite Cabin Furniture, but not Wines, Spirits, Liquors, Beer, Aerated Waters, or the like.
Passengers are not allowed to take on board Wines, Spirits, Liquors, Beer, Aerated Waters or the like, but all such articles can be purchased on board at fixed prices.
Neither the Master nor Owners will be responsible under any circumstances whatsoever (including negligence and theft by Owners' Servants or Agents) for Gold, Silver, Bullion, Specie, Jewelery, Bank Notes, or any other Valuables, unless placed in the Master's charge, their value declared, and freight and Insurance paid *thereon. *
The Owners shall not be responsible for loss of life or personal injury, delays, losses, or damages arising from the Act of God, King's enemies, Pirates, Restraint of Rulers, Princes or People, Fire, Jettison, Barratry, Collision, any neglect or default of Pilot, Master, Officers, Crew, or other servants or agents of the Owners, or for defects in the vessel or her equipment, or any dangers and accidents of the seas, rivers and navigation of whatever nature or kind, and howsoever caused.
Passengers will have to defray their own expenses in the event of the ship being detained in quarantine. First Class PassengeVs will ße charged 10/- per day for their maintenance on board and/or on shore during the period of such detention. If the passengers cannot be landed through quarantine at port of destination, or if the entering of such port shall be deemed by the Master to be likely to subject the steamer to quarantine at such port, the Owners, Captain or Agents shall have the right in fulfilment of the obligations under this contract, to land passengers at any port at which the ship may touch subsequently.
Passengers must maintain themselves while awaiting transhipment at any port.
The Company may prior to the commencement of the intended voyage or at any stage thereof cancel same without previous notice and are not bound to provide alternative accommodation. In the event of cancellation, the contract between the passenger and the Company may be deemed at an end and the Company will return to the passenger such proportion of the passage money as they deem fit. Where a substitute steamer is provided the Ccmpany may if necessary tranship passengers in such substituted steamer at any port or place. In such event the Company shall pay the actual expense of any such transhipment, if any, but shall not otherwise be responsible for any loss, damage or delay to the passenger or his properties or expense consequent upon such a substitution. If a steamer not of the Company's line shall be substituted, the passenger shall be bound by the condition of carriage of such substituted steamer and the responsibility of the Company shall be limited to such part of the voyage as is actually performed in the Company's steamer or steamers.
Ship to have liberty to proceed by any route or routes and before or after proceeding towards the port of disembarkation to proceed to or call and stay at any port or ports for any purpose whatsoever although in a contrary direction to or out of the route to or beyond the port of disembarkation and may tow or assist vessels in all situations, put back
into any port, and deviate from the intended course. Owners reserve the right to forward passengers to destination from any intermediate port, and passengers forwarded at ship's expense must proceed by the first opportunity, as directed by the Owners, or forfeit the on-carrying portion of passage money.
Personal Luggage.—No package of a nature calculated to inconvenience other passengers, either on account of its shape, size, or contents, may be placed in the cabins. In respect of this passengers must conform to the direction of the Steward or Officers, whose decision shall be final.
All baggage or other property of passengers is at passenger's risk absolutely and the Owners shall be exempt from all liability for any loss of, damage or delay whatsoever to the same .notwithstanding that the loss, damage or delay may arise from negligence, default or error in judgment or theft or pilferage by any of the shipowners' servants or agents
or any other person or persons whatsoever, or from unfitness or unseavvorthiness of the steamer or her fittings or appurtenances at or before the commencement, or any other period of the voyage, or in any other manner or from any other cause whatever. Insurance of baggage can be effected at reasonable rates through the shipowners on request from the passenger before sailing.
All baggage should be securely fastened, marked with the owner's name and port of destination, and bear an adhesive label stating whether wanted on the voyage or not.
Each Adult First Class Passenger is allowed to take forty cubic feet of baggage free of charge, children's baggage in proportion to passage money paid. Excess baggage to be paid for at the rate of three shillings per cubic foot, which charge must be paid before sailing. Free allowance and excess baggage charge apply only to the portion of the journey
performed by the steamer of the Blue Star Line and do not apply to connecting steamer or conveyance either before joining or after leaving the steamer of the Blue Star Line. Cycles are not included in the baggage allowance, but are charged for at a current rate and subject to same conditions as baggage.
Birds, Dogs, or other animals are not allowed on board unless carriage is arranged and freight? paid previous to embarkation; neither are they taken, except at the entire risk of passengers, the Owners not being responsible for their loss, death or injury under any circumstances, even when caused by the negligence or default of the Owners' servants or any
other person or by unfitness or unseaworthiness of the st a in er or her fittings or appurtenances at or before commencement, or at an period of the voyage.
Any passenger who may appear to the Master in his sole discretion to be unfit to proceed on the voyage, by reason of sickness or infirmity, or to be for that or any other reason likely to endanger the health or safety of himself or of other persons on board, or to impair the reasonable comfort or convenience of such other persons, or to involve the Owners, Master, or Agent of the ship in any liability or responsibility for his or her maintenance or support, or otherwise, under or by virtue of any laws or regulations, or otherwise, in force at any place, may be refused to be received on board .\uch ship, or may be landed at th* port of departure or at any intermediate port at which the vessel may call, and the Shipowners
will, on the surrender and cancellation of this contract, repay to any passenger so landed tljie whole if not received on board, or a rateable part if landed at an intermediate port, of the passage ?? ?? proportion to of the place: where he or she is landed from the port of embarkation, less any expense or loss which may be incurred by the Shipowners, or to
which they may be put in connection with refusal to receive or landing of such passenger! but the passenger snail not have ?? against the ??
Passengers suffering from infectious diseases or consumption will not be permitted* to embark, and the passage money will' be forfeited.
No berth or cabin is to be occupied by a passenger without application to the Steward. A passenger occupying a cabin of two or more berths (unless he shall have paid an additional sum for its exclusive occupation) cannot object to the vacant berth or berths being filled up as required by the Master or Steward.
All questions arising out of this contract shall be determined by English Law.
Passengers must comply with the regulations established on board for their general comfort and safety, and, on failure tc do so, may be landed by the Master at any port or place, or otherwise dealt with as the Master may think fit, without prejudice to any other liability incurred by the passenger.
NOTICE. Any passenger who may take or cause to be taken on board, Gunpowder, either in cartridges or otherwise, Matches, Methylated Spirits, or any articles of explosive, inflammable, dangerous, or damaging nature, the carrying of which is prohibited by the Merchant /Shipping Act, 1894, or any other Statute, is liable not only to prosecution and penalties imposed by Statute, but also for all damage and loss resulting from the shipment of such articles.
When and so long as a state of war exists and/or so long as any control over steamers or any part of their cargoes or passengers is exercised by any Government or other authorities the Owners and/or their Agents and/or the Master may (if in their or his uncontrolled discretion they or he think it advisable) at any time before or after the commencement of the voyage cancel this engagement or before or after such commencement may alter or vary or depart from the proposed or advertised, or agreed or customary route and/or delay or detain the steamer at or off any port without claim for loss or damage directly or indirectly sustained.
The passenger is booked subject to the steamer or her accommodation or part thereof not being required by any Government.
In addition to any liberties expressed or implied in this Contract Ticket the Owners and/or Master shall have the liberty to comply with any orders or directions as to departure, arrival, routes, ports of call, stoppages, transshipment, discharge* destination, or otherwise howsoever given by any Government or any department thereof or of any person acting
or purporting to act with the authority of any Government or any department thereof or by any war risk insurance association working under any Government scheme in which the steamer may be entered and nothing done or not done under such orders or directions shall be deemed a deviation.
The Owners are not responsible for any inconvenience, expenses or loss that a passenger might be put to through the said passengers failure to comply with the laws and regulations of any country regarding passports or permission to leave or land in or be in that country. Passengers shall produce on demand to any officer or agent of the line their passports and any other documents necessary to enable them to leave or to land or be in any country.
Notwithstanding the naming of the port of destination in this ticket, in the event of the steamship by direction or request of the British Authorities, which expression shall be deemed to include the Authorities of any of the British Dominions, Colonies or Dependencies and India, or by the direction or request of the officials of any of the said Authorities,
being for the purpose of discharging her passengers or cargo diverted to any port other than the destination named herein, the obligations of the Shipowners under this Contract are to be construed as if the port to which the vessel is so diverted had been written in place of the port of destination named herein. The Shipowners' liability will terminate on arrival at such substituted port.
The ship is free to carry contraband explosives, munitions, or warlike stores and may sail armed or unarmed.
If the Master deem it impracticable or inadvisable without delaying the ship to embark any passenger the ship may sail without such passenger and in that event the obligation to carry such passenger shall cease and the Owners will on surrender and cancellation of this contract repay the whole of the passage money paid in respect of such passenger, or if at an intermediate port a rateable part thereof.
Should the holder of this Ticket not be allowed to land at port of destination through 'failure to comply with Immigration regulations or for any other reason, it is hereby agreed that the return fare to London shall be paid, namely, £ and that the passenger shall be carried on to and landed at London, or any substituted port, where the ship's contract shall cease and I (the passenger) hereby accept this Ticket expressly subject to the above condition.
Lighterage. Neither the Line nor the Lighterers shall be liable for death or personal injury or loss or damage to luggage or other effects sustained by any passenger en route from shore to ship or vice versa whether or not the same be sustained by reason of any negl:gent or wrongful act or omission by or on behalf of the Line or Lighterers.
The Owners shall have a lien on the luggage and goods of the passenger in respect of all monies payable by him or her under this Ticket.
The vessel may carry explosives and other hazardous cargo of any kind whatsoever and in the exigencies of her war service may carry the same in quantity and manner of stowage or otherwise out of accord with normal practices and regulations. The passenger is given notice accordingly, and agrees that in no circumstances whatsoever shall any claim for loss of life or personal injury or loss of or damage to property arising out of such carriage be competent to him or his estate or any person claiming through or under him.
Customs Application for an Ordinary Licence to Export Goods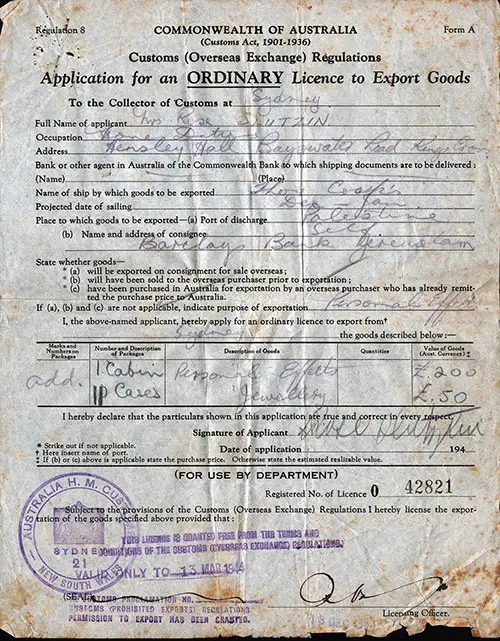 Regulation 8, Form A, Commonwealth of Australia (Customs Act, 1901-1936) Customs (Overseas Exchange) Regulations, Application for an Ordinary Licence to Export Goods, Applicant Mrs. Rose Slutzin, Personal Effects, 11 Cases, Personal Effects AU£200, Jewellery AU£50, Registered No. of Licence, Series 0 No. 42821, Valid Only to 13 March 1944. Australian H. M. Customs -- New South Wales. GGA Image ID # 1a1d41d728
Baggage Insurance Policy from Lloyd's of London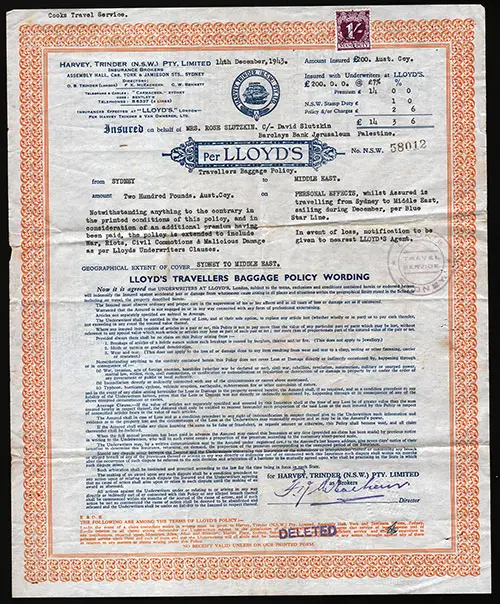 Certificate of Baggage Insurance Purchased for this Voyage on 14 December 1943 from Lloyd's. GGA Image ID # 1a1cd04e3e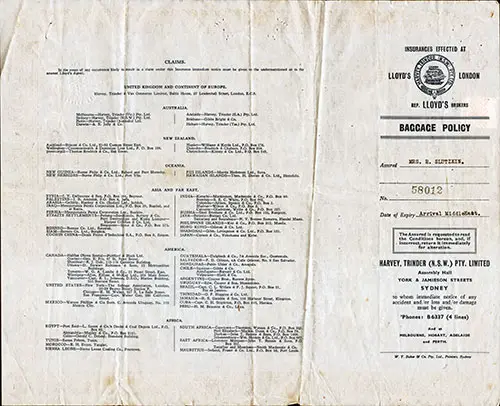 Enclosure of Baggage Policy No. 58012 Issued by Lloyd's of London to Mrs. R. Slutzkin. GGA Image ID # 1a1d2c59e4
Relative Cost of Passage Ticket in Today's Currency Value
In 2020, the relative value of AU£93 15s 0d from 1948 ranges from AU$5,528.00 to AU$82,520.00.
A simple Purchasing Power Calculator would say the relative value is AU$5,528.00. This answer is obtained by multiplying AU£93 15s 0d by the percentage increase in the CPI from 1948 to 2020.
This may not be the best answer.
The best measure of the relative value over time depends on if you are interested in comparing the cost or value of a Commodity, Income or Wealth, or a Project .For more discussion on how to pick the best measure, consult the Tutorials.
If you want to compare the value of a £93 15s 0d Commodity in 1948 there are four choices. In 2020 the relative:
real price of that commodity is $5,528.00
labour value of that commodity is $18,970.00 (using average weekly earnings) or $11,880.00 (using the national minimum wage)
income value of that commodity is $25,020.00
economic share of that commodity is $82,520.00
If you want to compare the value of a £93 15s 0d Income or Wealth, in 1948 there are four choices. In 2020 the relative:
real wage or real wealth value of that income or wealth is $5,528.00
relative labour earnings value of that income or wealth is $18,970.00 (using average weekly earnings) or $11,880.00 (using the national minimum wage)
relative income value of that income or wealth is $25,020.00
relative output value of that income or wealth is $82,520.00
If you want to compare the value of a £93 15s 0d Project in 1948 there are three choices. In 2020 the relative:
real cost of that project is $6,602.00
labour cost of that commodity is $18,970.00 (using average weekly earnings) or $11,880.00 (using the national minimum wage)
economy cost of that project is $82,520.00
Diane Hutchinson and Florian Ploeckl, "Five Ways to Compute the Relative Value of Australian Amounts, 1828 to the Present", MeasuringWorth, 2022 URL: www.measuringworth.com/australiacompare