SS Werra Passage Contract - 30 May 1933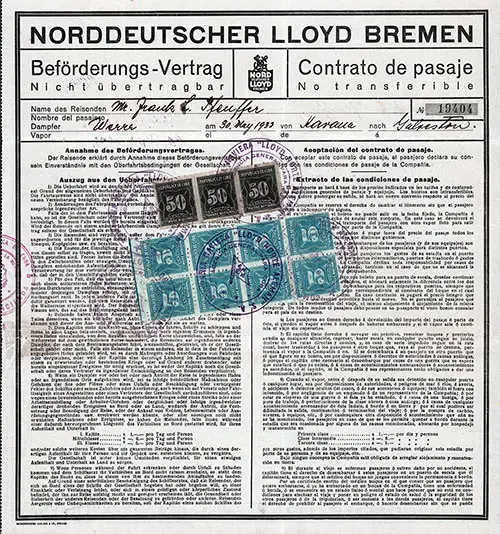 Norddeutscher Lloyd Bremen Passage Contract for Passage on the SS Werra, Departing from Havana to Galveston Dated 30 May 1933. GGA Image ID # 1a1c4f43b9
Summary of Passage Contract
Date of Purchase / Voyage: 30 May 1933
Steamship Line: Norddeutscher Lloyd Bremen
Steamship: SS Werra
Route: Havana to Galveston
Ticket Type: Contract for Passage
Voyage Class: Unknown
Name on Contract: Mr. Frauk L. Pfeuffer
Etnicity of Passenger(s): German
Contract Terms: Not Translated / Transcribed
Cost of Ticket: Not Stated
Passage Contract Details
Passage Contract for Passage for Mr. Frauk L. Pfeuffer on the SS Werra of Norddeutscher Lloyd Bremen, Departing from Havana for Galveston Dated 30 May 1933.
Contract of Carriage (Not transferable) No. 19404
Traveler's name: Mr. Frauk L. Pfeuffer
Steamship: Werra
Date: 30 May 1933
Route: from Havana to Galvaston
Republic of Cuba Revenue Stamps: 190
Revenue Stamps Obfuscated the First Page of the Passage Contract. The Second Page is not translated.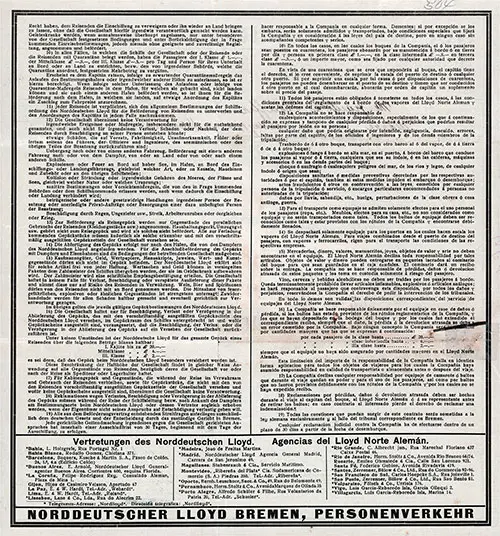 Terms and Conditions, Norddeutscher Lloyd Bremen Passage Contract for Passage on the SS Werra, Departing from Havana to Galveston Dated 30 May 1933. GGA Image ID # 1a1c80af02