SS Persic Passage Contract - 21 December 1910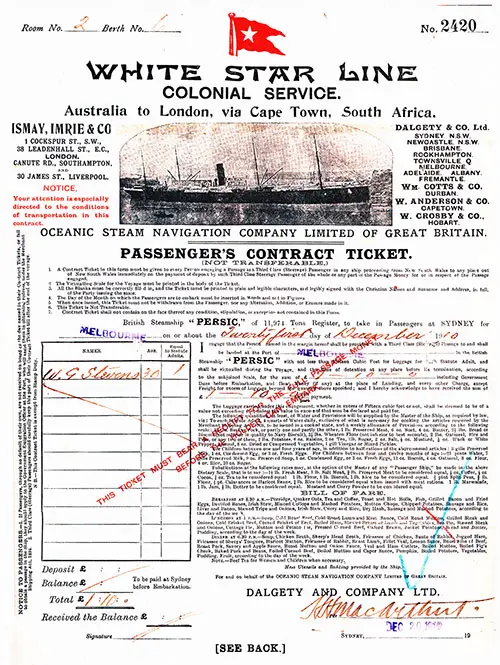 Third Class Passenger's Contract Ticket for a voyage on the SS Persic of the White Star Line from Sydney to Melbourne, Australia. GGA Image ID # 1fa06dfb5e
Passage Contract Summary
Date of Purchase / Voyage: 21 December 1910
Steamship Line: White Star Line
Steamship: SS Persic
Route: Sydney to Melbourne, Australia
Ticket Type: Passage Contract
Voyage Class: Third Class
Name on Contract: W. G. Stevens
Etnicity of Passenger(s): Australian
Contract Terms: Transcribed
Cost of Ticket: £1 10s 0d / £156.50 GBP in 2020
Passage Contract Details
Room No. 2 Berth No. 6 No.2420
WHITE STAR LINE
COLONIAL SERVICE.
Australia to London, via Cape Town, South Africa.
ISMAY, IMRIE & CO
1 COCKSPUR ST., S.W.,
38 LEADENHALL ST., E.C.,
LONDON.
CANUTE RD., SOUTHAMPTON,
AND
30 JAMES ST., LIVERPOOL.
NOTICE,
Your attention is especially directed to the conditions of transportation in this contract.
DALGETY & CO. Ltd. : SYDNEY. N.S.W., NEWCASTLE, N.S.W., BRISBANE., ROCKHAMPTON., TOWNSVILLE, Q., MELBOURNE., ADELAIDE., ALBANY., FREMANTLE.
WM. COTTS & CO. : DURBAN.
W. ANDERSON & CO. : CAPETOWN.
W. CROSBY & CO., : HOBART.
OCEANIC STEAM NAVIGATION COMPANY LIMITED OF GREAT BRITAIN.
PASSENGER'S CONTRACT TICKET.
(NOT TRANSFERABLE)
1. A Contract Ticket in this form must be given to every Perron engaging a Passage as a Third lass (Steerage) Passenger in any ship proceeding from New South Wales to any place out of New South Wales immediately on the payment of deposit by such Third Class Steerage Passenger of the whole or any part of the Passage Money for or in respect of the Passage engaged.
2 The Victualling Scale for the Voyage must be printed in the Ticket's body.
3. All the Blanks must be correctly filled in, and the Ticket must be printed in plain and legible characters and legibly signed with the Christian Names and Surname and Address, in total, of the Party issuing the same.
4. The ticket agent must insert the Day of the Month on which the Passengers embark in Words and net in Figures.
5. Once issued, the ticket agent must not withdraw this Ticket from the Passenger, nor any Alteration, Addition, or Erasure made in it.
6. This Ticket is Not Transferable.
7. Contract Ticket shall not contain on the face thereof any condition, stipulation, or exception not included in this Form.
British Steamship " PERSIC," of 11,974, Tons Register, to take in Passengers at SYDNEY for MELBOURNE on or about the Twenty-first day of December 1910
To be paid at Sydney before Embarkation.
Received the Balance
Deposit Balance
Total transfer,
NAMES, AGE, Equal to Statute Adults.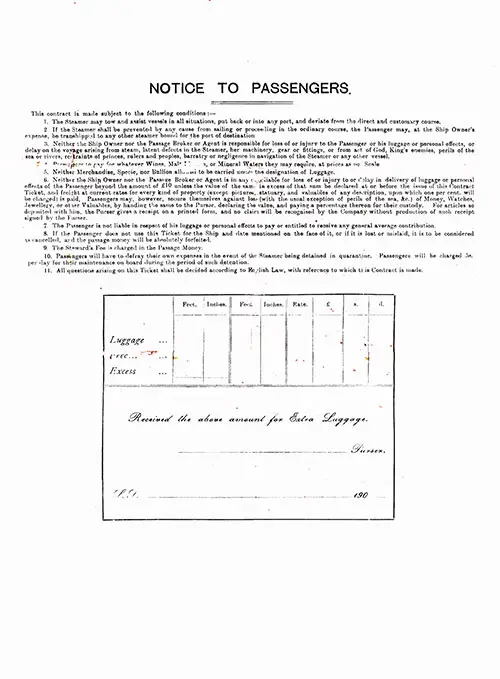 White Star Line's SS Persice Steerage Passage Contract Terms and Conditions, 20 December 1910. GGA Image ID # 1fa07e833d
NOTICE TO PASSENGERS.
This contract is made subject to the following conditions :—
1. The Steamer may tow and assist vessels in all situations, put back or into any port, and deviate from the direct and customary course.
2 Suppose any cause prevents the Steamer from sailing or proceeding in the ordinary course. In that case, the Passenger may be transhipped to any other steamer bound for the port of destination at the Ship Owner's expense.
3. Neither the Ship Owner nor the Passage Broker or Agent is responsible for loss of or injury to the Passenger or his luggage or personal effects, or delay on the voyage arising from steam, latent defects in the Steamer, her machinery, gear or fittings, or from an act, of God, King's enemies, perils of the sea or rivers, restraints of princes, rulers and peoples, barratry or negligence in the navigation of the Steamer or any other vessel.
4. illegible
5. Neither Merchandise, Specie, nor Bullion allowed being carried mute, the designation of Luggage.
6. Neither the Ship Owner nor the Passage Broker or Agent is in any for loss of or injury to or delay in delivery of luggage or personal effects of the Passenger beyond the amount of £10 unless the value of the sam, more than that sum be declared at or before the issue of this Contract Ticket, and freight at current rates for every kind of property (except pictures, statuary, and valuables of any description, upon which the steamship line will charge one percent) is paid, Passengers may, however, secure themselves against loss (with the usual exception of perils of the sea, &c.) of Money, Watches, Jewelry, or other Valuables, by handing the same to the Purser, declaring the value, and paying a percentage thereon for their custody. For articles so deposited with him, the Purser gives a receipt on a printed form, and the Company will recognize no claim without production of such receipt signed by the Purser.
7 The Passenger is not liable for his luggage or personal effects to pay or entitled to receive any average general contribution.
8. If the Passenger does not use this Ticket for the Ship and date mentioned on its face or is lost or mislaid, it is to be considered canceled, and the passage money will be forfeited.
9. The Steward's Fee is charged in the Passage Money.
10. Passengers will have to defray their expenses in the event of the Steamer being detained in quarantine. Passengers will be charged 5s. per day for their maintenance on board during the period of such detention.
11. This steamship line shall decide all questions arising on this ticket according to British Law.
BREAKFAST AT 8:30 A.M.—Porridge, Quaker Oats, Tea and Coffee, Toast and Hot Rolls, Fish, Grilled con and Fried Eggs, Devilled Bones, Irish Stew, Minced Collops and Mashed Potatoes, Mutton Chops, Chipped potatoes, usage and Rice, Liver and Bacon; Stewed Tripe and Onions, Irish Stew, Curry and Rice, Dry Hash, Sausage and Mashed Potatoes, according to the day of the week.
LUNCHEON AT 1 p.m.—Soup, Cold Roast Rest, Cold Roast Lamb and Mint Sauce, Cold Roast Mt Grilled Steak and Onions, Cold Brisket Beef, Corned Brisket of Beef, Boiled Ham, Stewed Breast of Lamb and Vegetables, Pie, Stewed Steak and Onions, Cottage Pie, Mutton and Potato lie, Pressed Corned Beef, Oxford Brawn, Jacket Potato read and Butter, Pudding, according to the day of the week.
DINNER AT 6.30 p.m.—Soup, Chicken Broth, Sheep's Head Broth, Fricassee of Chicken, Sauté, and Jugged Hare, Fricassee of Sheeps' Tongues, Haricot Mutton, Fricassee of Rabbit, Roast Lamb, Fillet Veal, Lemon S e, Roes Bibs of Beef, Roast Pork, Savory and Apple Sauce, Roast Mutton and Onion Sauce, Veal and Ham Cutlets, Boiled Mutton, Boiled Pig's Cheek, Baked Pork and Beans, Roiled Corned Beef, Boiled Mutton and Caper Sauce, Pumpkin, Boiled Potatoes, Vegetables, Pudding, Fruit, according to the day of the week.
Mess Utensils and Bedding provided by the Ship
[Note: We were unable to read portions of this contract. Consequently, the above information is incomplete.]
Relative Cost of Passage Ticket in Today's Currency Value
In 2020, the relative value of £1 10s 0d from 1910 ranges from £156.50 to £1,482.00.
A simple Purchasing Power Calculator would say the relative value is £156.50. This answer is obtained by multiplying £1.50 by the percentage increase in the RPI from 1910 to 2020.
This may not be the best answer.
The best measure of the relative value over time depends on if you are interested in comparing the cost or value of a Commodity , Income or Wealth, or a Project. For more discussion on how to pick the best measure, consult the Tutorials.
If you want to compare the value of a £1 10s 0d Commodity in 1910 there are four choices. In 2020 the relative:
real price of that commodity is £156.50
labour value of that commodity is £602.70
income value of that commodity is £922.60
economic share of that commodity is £1,482.00
If you want to compare the value of a £1 10s 0d Income or Wealth , in 1910 there are four choices. In 2020 the relative:
real wage or real wealth value of that income or wealth is £156.50
labour earnings of that income or wealth is £602.70
relative income value of that income or wealth is £922.60
relative output value of that income or wealth is £1,482.00
If you want to compare the value of a £1 10s 0d Project in 1910 there are three choices. In 2020 the relative:
real cost of that project is £166.70
labour cost of that project is £602.70
economic cost of that project is £1,482.00