RMS Laconia Passage Contract - 5 June 1913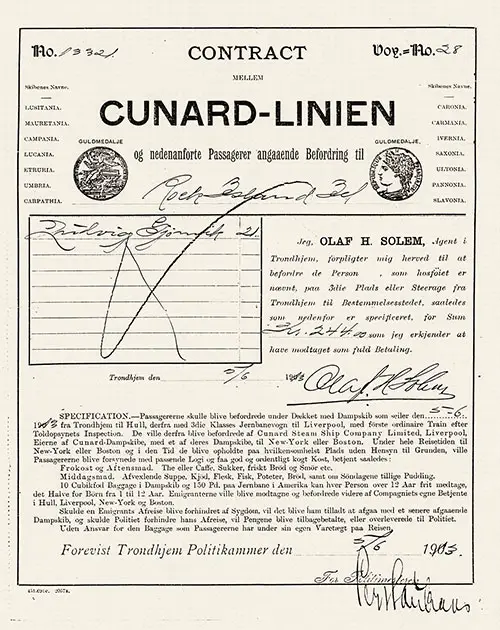 Norwegian Immigrant Third-Class Steerage Contract for Passage From Trondhjem to New York or Boston - 5 June 1913. GGA Image ID # 1e9d6ef5cf
Summary of Passage Contract
Date of Purchase / Voyage: 5 June 1913
Steamship Line: Cunard Line
Steamship: RMS Laconia
Route: Trondhjem to Boston via Hull and Liverpool
Ticket Type: Passage Contract
Voyage Class: Third class or Steerage
Name on Contract: Ludvig Kristian Gjønvik
Etnicity of Passenger(s): Norwegian
Contract Terms: Translated from Norwegian
Cost of Ticket: 244.00 NOK / $1,690.00 USD in 2020
Passage Contract Details
Ludvig Gjønvik was a Norwegian Immigrant to the United States in June 1913, arriving in Boston on board the RMS Laconia (I) as a passenger in Steerage - Third Class. Ludvig purchased This contract of passage from Olaf H. Solem, the Agent for the Cunard Line in Trondheim, Norway.
Ludvig was booked on the Wilson Line Aaro that took him from Trondhjem to Hull, England. He then took a train from Hull to Liverpool, where he boarded the Cunard Ship Laconia on 10 June 1913 for the transatlantic portion of his Journey, arriving at the Port of Boston on 19 June 1913.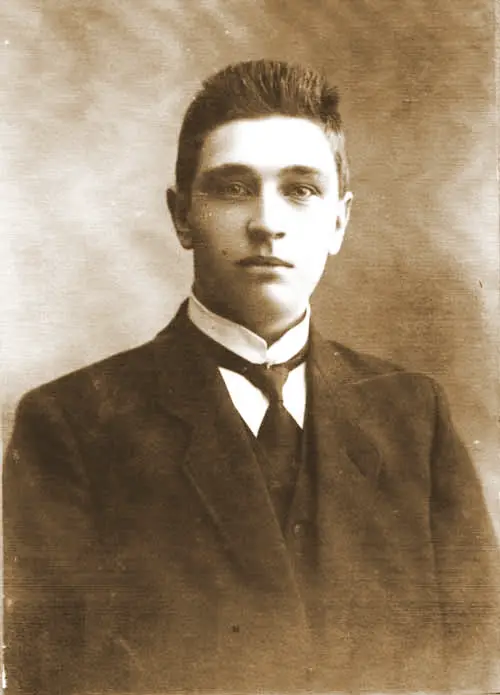 Norwegian Immigrant, Ludvig Kristian Gjønvik from Trondheim Norway. Photo circa 1912 (~20 Years Old). GGA Image ID # 1e9d979676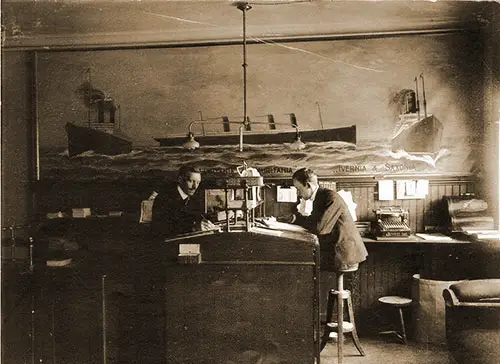 The Olaf H. Solem Cunard Line Steamship Company Agency in Trondheim, Norway circa 1910. Olaf H. Solem is pictured above on the left. Photo courtesy of Børge Solem. GGA Image ID # 14c7bcc2e7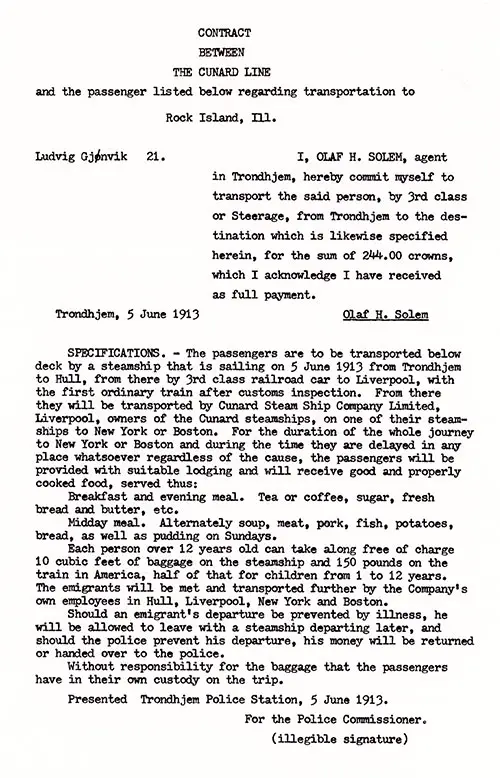 Translation of the Norwegian Text of the RMS Laconia Passage Contract, 5 June 1913. GGA Image ID # 1fa7cc2c1a
CONTRACT
Between
THE CUNARD LINE
And the passenger listed below regarding transportation to
Rock Island, Ill.
I, OLAF H. SOLEM, agent in Trondhjem, hereby commit myself to transport the said person, by 3rd class or Steerage, from Trondhjem to the destination which is likewise specified herein, for the sum of 244.00 crowns, which I acknowledge I have received as full payment.
/s/ Olaf H. Solem
Trondhjem, 5 June 1913
Specifications - The passengers are to be transported below deck by a steamship that is sailing on 5 June 1913 from Trondhjem to Hull, from there by 3rd class railroad car to Liverpool, with the first ordinary train after customs inspection. From there they will be transported by Cunard Steam Ship Company Limited, Liverpool, owners of the Cunard steamships, on one of their steam-ships to New York or Boston. For the duration of the whole journey to New York or Boston and during the time they are delayed in any place whatsoever regardless of the cause, the passengers will be provided with suitable lodging and will receive good and properly cooked food, served thus:
Breakfast and evening meal. Tea or coffee, sugar, fresh bread and butter, etc.
Midday Meal. Alternately soup, meat, pork, fish, potatoes, bread, as well as pudding on Sundays.
Each person over 12 years old can take along free of charge 10 cubic feet of baggage on the steamship and 150 pounds on the train in America, half of that for children from 1 to 12 years. The emigrants will be met and transported further by the Company' s own employees in Hull, Liverpool, New York and Boston.
Should an emigrant's departure be prevented by illness, he will be allowed to leave with a steamship departing later, and should the police prevent his departure, his money will be returned or handed over to the police.
Without responsibility for the baggage that the passengers have in their own custody on the trip.
Presented Trondhjem Police Station, 5 June 1913. (Note 1)
For the Police Commissioner.
(illegible signature)
Børge Solem and I first corresponded in 2000, when I purchased some items for the Gjenvick-Gjønvik Archives from him.  It turned out that he was the great-grandson of Olaf H. Solem who had sold the ticket to my grandfather in 1913.  This would have been the office of the Cunard Steamship Line Trondhjem agency, The Cunard Steam Ship Co., Ltd. (Olaf H. Solem) located on Søndre Gate 26, Trondhjem, Norge.
Note 1: Norwegian Emigrants were required to register with the Police. See the Norwegian Emigration Law of 1867
Arrival Records
List or Manifest of Alien Passengers for the United States Immigration Officer at Port of Arrival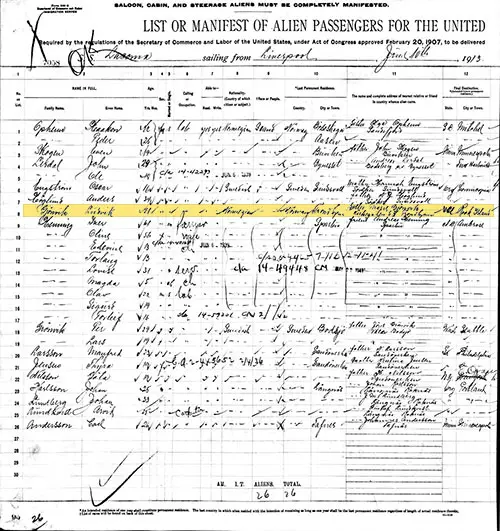 Steerage Passenger Manifest, RMS Laconia of the Cunard Line, From Liverpool to Boston Arriving 19 June 1913. List 184 Left. Ludvig Gjønvik Appears on Line 8. GGA Image ID # 1a1d7d7b42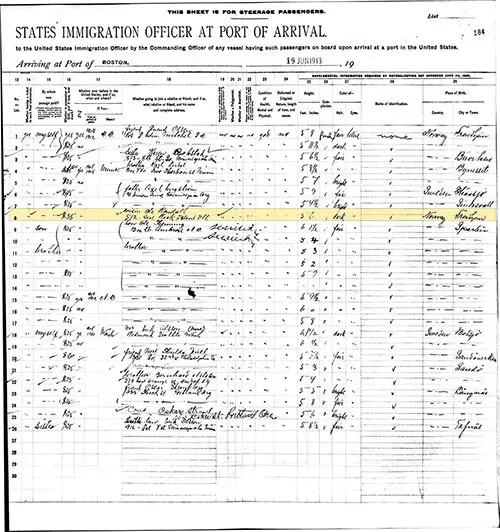 Steerage Passenger Manifest, RMS Laconia of the Cunard Line, From Liverpool to Boston Arriving 19 June 1913. List 184 Right. Ludvig Gjønvik Appears on Line 8. GGA Image ID # 1a1dfcee60
Relative Cost of Passage Ticket in Today's Currency Value
The first section converts NOK of 1913 to NOK in 2021 and converting the 1921 NOK to USD. A second option was to locate the actual exchage rate in 1913. 1914 was the closest found. The rate did not change materially betwen 1913 and 1914. The second section takes the 1914 equivalent in USD and determines the current value as of 2021.
In 2020, the relative values of $63.21 from 1914 ranges from $1,230.00 to $35,900.00.
A simple Purchasing Power Calculator would say the relative value is $1,690.00. This answer is obtained by multiplying $63.21 by the percentage increase in the CPI from 1914 to 2020.
This may not be the best answer.
The best measure of the relative value over time depends on if you are interested in comparing the cost or value of a Commodity, Income or Wealth, or a Project.
If you want to compare the value of a $63.21 Commodity in 1914 there are four choices. In 2020 the relative:
real price of that commodity is $1,690.00
real value in consumption of that commodity is $3,460.00
labor value of that commodity is $8,250.00 (using the unskilled wage) or $10,300.00 (using production worker compensation)
income value of that commodity is $10,800.00
economic share of that commodity is $35,900.00
If you want to compare the value of a $63.21 Income or Wealth, in 1914 there are five choices. In 2020 the relative:
real wage or real wealth value of that income or wealth is $1,690.00
household purchasing power value of that income or wealth is $3,460.00
relative labor earnings of that commodity are $8,250.00 (using the unskilled wage) or $10,300.00 (using production worker compensation)
relative income value of that income or wealth is $10,800.00
relative output value of that income or wealth is $35,900.00
If you want to compare the value of a $63.21 Project in 1914 there are four choices. In 2020 the relative:
real cost of that project is $1,230.00
household cost of that project is $3,460.00
labor cost of that project is $8,250.00 (using the unskilled wage) or $10,300.00 (using production worker compensation)
relative cost of that project is $10,800.00
economy cost of that project is $35,900.00