Unknown Class Passage Contracts and Tickets
All Unknown Class Passage Contracts and Tickets available at the GG Archives. These unique contracts represent primary source documents of the voyage of many immigrants. Our collection includes a variety of types and classes and provides an invaluable account of the cost of passage.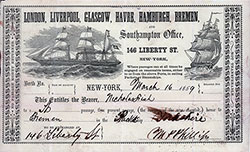 SS Yorkshire Passage Contract - 16 March 1859
Nicholas Fish used this well-preserved 1859 Ticket for Passage on the Black Ball Line Packet Ship Yorkshire. he was a famous American (1846-1902) from a distinguished American family.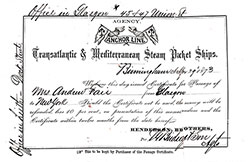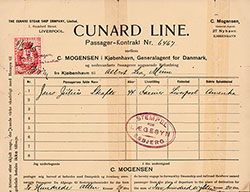 RMS Ivernia Passage Contract - 11 March 1905
Passenger Contract for Jens Julius Skafte of Denmark for a 1905 voyage to America on the Cunard Line. The contract indicated that he was headed for Albert Lea, Minnesota as his final destination.