Royal Netherlands Steamship Company (KNSM) History and Ephemera
Royal Netherlands Steamship Co. / Koninklijke Nederlandsche Stoomboot Maatschappij, Amsterdam (KNSM )
This long-established Dutch shipping company was one of the really great Caribbean, Central American and South American traders with a vast fleet. Koninklijke Nederlandsche Stoomboot Maats (KNSM) was founded on 1st October 1856 by a group of Dutch entrepreneurs. KNSM provided cargo and passenger services from Northern Europe to the West Indies, Central, and South America.
Royal Netherlands KNSM Ephemera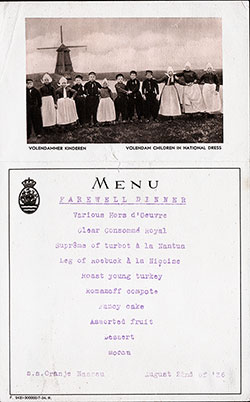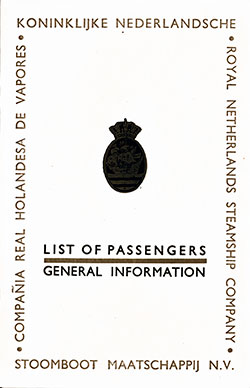 History of the Royal Netherlands Steamship Co.
Established in July 1856. Commenced operations with a few steamers, and from time to time gradually extended the service by the formation of new lines, and enlarged the fleet, until at the present time they own 37 modern vessels, with a gross tonnage of about 60,000.
To facilitate the present-day traffic to the Rhine via Amsterdam, the company inaugurated the Nieuwe Rijnvaart Maatschappij (The New Rhine Navigation Co.), which now comprises 10 cargo steamers.
The company has its head offices in Amsterdam, and the present share capital is 5,000,000 gilders, and that of the New Rhine Navigation Co. 500,000 gilders.
Regular services are maintained between Amsterdam, Rotterdam, and North and South Europe; from Amsterdam to Alexandria, Caiffa, Beyrout, Alexandretta, Mersina, Malta, Piraeus, Salonica, Constantinople, Smyrna, Patras, Genoa, Leghorn, Naples, Catania, Messina, Palermo, Venice, Trieste, Fiume, Cadiz, Malaga, Carthagena, Alicante, Tarragona Valencia, Benicarlo, Seville, Tangier, Gibraltar, Lisbon, Bordeaux, La Pallice, Hamburg, Copenhagen, Stettin, Danzig, Konigsberg, Riga, Libau, Windau, Reval, St. Petersburg, Moscow; from Rotterdam to Alexandria, Caiffa, Beyrout, Alexandretta, Mersina, Italy, Spain, Tangier, and Gibraltar.
Fleet (1908)
Achilles
Adonis
Apollo
Atlas
Aurora
Castor
Clio
Danae
Diana
Euterpe
Flora
Hebe
Helena
Iris
Leii
Mars
Mercurius
Minerva
Neptunus
Nereus
Niobe
Oberon
Orion
Planet
Pluto
Pollux
Pomona
Saturnus
Stella
Tellus
Themis
Titan
Uranus
Venus
Vesta
Vulcanus
Zeus
Herbert B. Mason, Editor, "Royal Netherlands Steamship Co.," Encyclopaedia of Ships and Shipping, London: W. H. Smith & Son, Printers, 1908 p. 552
The Royal Netherlands West India Mail line announces the inauguration of a fortnightly passenger and freight service to Plymouth, Havre and Amsterdam
from Trinidad, Venezuela, the Dutch West Indies, Colombia, Costa Rica and
Colon, Panama Canal Zone. - The Nautical Gazette, 8 January 1921