Furness Bermuda Line History and Ephemera
The Furness Bermuda Line operated a fleet of steamships that operated primarily between New York and the Bermuda Islands.
The Furness Bermuda Line was a British shipping line that operated during the 20th century. Affiliated with the Furness Withy conglomerate, it ran cruises from New York City primarily to the British territory of Bermuda. Furness Bermuda began operations in 1919 with a single ship, Fort Hamilton.
Furness Bermuda Line steamers for Bermuda sail from Pier 95, North River (foot of West 55th Street), New York. The Furness-Bermuda Line (British) provides a rapid and regular twice-a-week service in each direction between New York and Bermuda, operating two quadruple-screw electro-turbine vessels.
The Furness Bermuda Line conducts unusually attractive tours from New York to the West Indies. Cruises of 21 days round trip via the Nerissa and Dominica, with visits to the islands of St. Thomas, St. Croix, St. Kitts, Antigua, Guadeloupe, and others.
Furness Bermuda Line Ephemera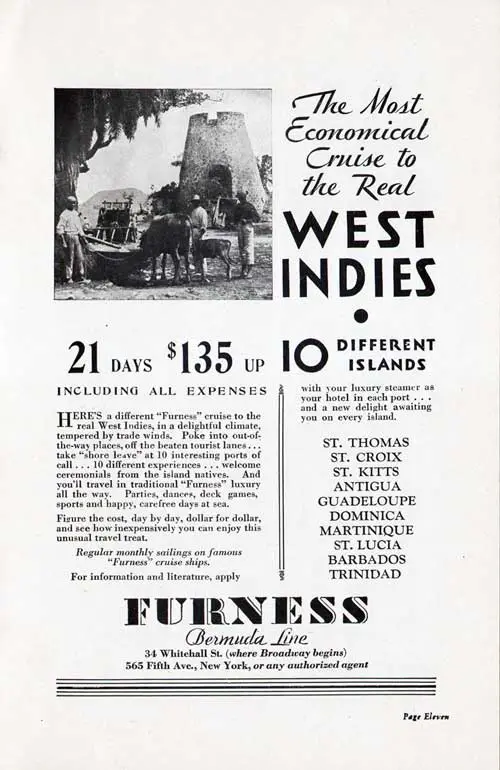 1931 Advertisement, Furness Bermuda Line: The Most Economical Cruise to the Real West Indies: 21 Days $135 Up, 10 Different Islands. GGA Image ID # 1db5a6e47c