TSS Franconia Passenger List - 17 October 1931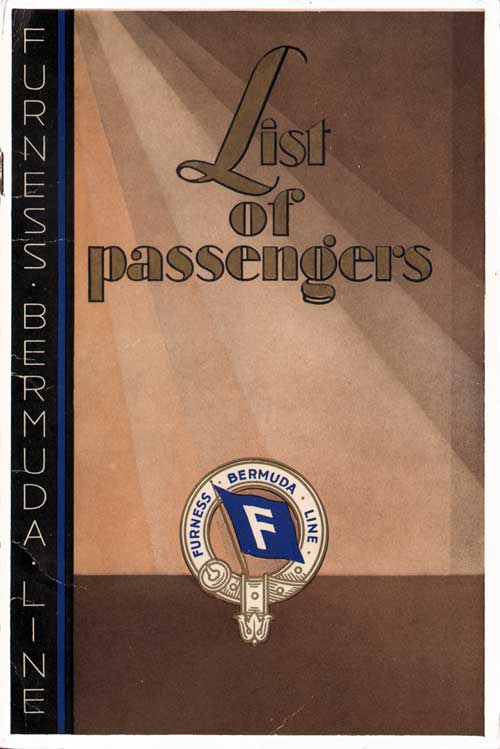 Front Cover, Passenger List for the TSS Franconia of the Furness-Bermuda Line, Sailing from New York to Bermuda on 17 October 1931, Commanded by Captain G. Gibbons, RD, RNR.
Senior Officers and Staff
Captain G. Gibbons, R.D., R.N.R
Chief Engineer W. Sutcliffe
Surgeon H. Scudamore
Purser T. H. Cullum, R.D., R.N.R
Senior Assistant Purser A. E. Martin
Chief Steward A. E. Jones
Furness Bermuda Line Staff Representative
Captain L. F. Banyard
R. Pushie, Purser's Dep't
The above officers are on board in the interest of Passengers, and may be communicated with in case of any dissatisfaction or any difficulties which may arise.
List of Passengers
Mr. L. Atherton
Mr. Lee Ashcroft
Mrs. Ashcroft
Mrs. C. R. Alleyne
Mr. Elictt Atwater
Mr. S. Aaron
Mrs. Aaron
Mr. R. E. Apelt
Mrs. A. Apelt
Miss Susan Austed
Mr. O. Alden
Mrs. Alden
Mr. B. M. Allen
Mr. Arthur A. Abbey
Mrs. Abbey
Miss Alice A. Abbey
Miss M. Artz
Miss Frances Alizio
Mr. J. Ace
Mrs. Ace
Miss C. Aqua
Mr. Augen
Mr. B. L. Bender
Mr. Bender
Miss Blackborn
Mrs. M. Bowen
Mrs. C. L. Brookins
Miss M. Beagan
Mr. N. Biern
Mr. Harold Barnes
Mr. Paul Brown
Mrs. Brown
Capt. Frank Brown
Mrs. Brown
Miss H. F. Beck
Mr. L. Brust
Miss M. Breeman
Mrs. R. L. Bradshaw
Miss Lena Brintzinghoffer
Mrs. L. Brintzinghoffer
Miss H. C. Brewer
Mrs. G. M. Brown
Mr. George Bray
Mrs. Bray
Mr. George R. Bock
Mrs. Bock
Mr. H. W. Burger
Miss C. V. Buchanan
Miss H. Brown
Miss J. Brown
Mr. E. Bode
Mrs. Bode
Mr. W. L. Brooks
Mrs. Brooks
Mrs. Charles C. Berry
Miss Berry
Miss Helen L. Beckwith
Miss S. Bigclow
Mr. George S. Barker
Mr. A. E. Benton
Miss Hazel Brown
Miss Evelyn Baer
Mr. J. Buchanan
Mrs. Buchanan
Miss Braham
Miss J. Bowne
Miss V. Burke
Mr. J. Corbin
Mr. W. H. Chapman
Mrs. Chapman
Miss M. Career
Miss H. C. Clarkson
Mr. Thomas Campbell
Mr. E. Collins
Mrs. Collins
Mr. G. W. Curtiss
Mrs. Curtiss
Mr. W. Cook
Mr. Connover
Mrs. Connover
Mr. H. M. Cobb
Mrs. Cobb
Mr. R. C. Conyers
Mrs. Conyers
Mr. Gilbert Cooper
Mr. Jack Curran
Miss L. Conklin
Mr. G. Clifton
Mrs. Clifton
Mrs. T. Cushing
Mr. H. Canal
Mrs. Canal
Mr. Jack H. Clement
Mrs. Clement
Mr. P. J. Connell
Miss Marg. Carroll
Miss Marietta Crane
Mrs. H. L. Chapman
Miss Sarah L. Chapman
Mr. John Codrano
Mrs. I. Cunningham
Miss Betty J. Cunningham
Miss Mary S. Coe
Miss Elmina Coe
Miss R. Casey
Miss M. Congdon
Mr. George Deyell
Miss Del Monte
Miss M. Driscoll
Mr. Thos. J. Davis
Mrs. Davis
Mr. Diamond
Miss G. Doherty
Miss F. Day
Miss E. Drun
Miss A. Darrows
Miss L. Donnelly
Miss J. D'Amatto
Mrs. E. L. Dickeson
Miss L. Dreyer
Mr. A. Dreyer
Miss A. Delaney
Mr. Maxwell De Voe
Mrs. De Voe
Miss Florence C. Delasent
Mr. F. M. Dorsch
Mrs. Dorsch
Dr. C. G. D'Onech
Mrs. D'Onech
Capt. T. A. Enson
Mrs. Enson
Mrs. A. Edwards
Mr. J. Ellis
Mrs. Ellis
Mr. I. Eliasberg
Mr. A. Eberhart
Mrs. Eberhart
Mrs. R. Everlove
Mrs. L. Everlove
Miss K. Eagan
Miss F. A. Eldridge
Mr. H. Evers
Mrs. Evers
Mr. H. A. Formbals
Mrs. S. Fetfer
Mr. J. Flood
Mr. M. Friedman
Mrs. Friedman
Miss G. Feldman
Mr. Joseph R. Funk
Mrs. Funk
Miss Delia Fahey
Mr. Frederick Forde
Mrs. Forde
Mr. Chas. P. Figueira
Mr. A. N. Farries
Mrs. Farries
Mr. Fred Ford
Mrs. Ford
Miss Dorothy Franklin
Mrs. C. A. Frith
Mr. E. Guest
Mrs. Guest
Mr. Griffin
Miss C. Goldman
Mr. C. G. Greenbalgh
Mrs. Greenbalgh
Mr. Gutlenberg
Mr. H. A. Greenberger
Mr. H. W. Grosselli
Mrs. Grosselli
Mr. David S. Garland
Mr. C. W. K. Gibbons
Mrs. Gibbons
Master C. K. Gibbons
Miss Rose M. Gibbons
Miss Gibson
Mr. A. Gaubis
Miss B. Guion
Miss Helen Gannun
Mr. V. Ganong
Miss M. Greenwood
Miss A. Gloster
Mr. J. D. Howard
Mr. J. Heher
Mr. E. E. Hutchinson
Mrs. Hutchinson
Mr. George Hutchinson
Master A. Hutchinson
Miss C. Hogan
Miss B. Howard
Mr. Hill
Mrs. Hill
Mr. S. L. Howard
Mrs. Howard
Miss M. Howard
Miss H. Howard
Miss E. Hediger
Hon. J. P. Hand
Miss E. L. Harmon
Mrs. E. Harihan
Mrs. Harry Holt
Miss Eliz. Horiharn
Miss M. E. Hungerford
Mrs. Eliz. Horender
Miss E. E. Humphrey
Mrs. Fred Hunt
Mrs. C. V. C. Horne
Miss B. Haydes
Miss C. Haydes
Mr. R. D. Holman
Mrs. Holman
Mr. Earl Holzman
Mr. R. M. Houk
Mrs. Houk
Miss M. E. Harlow
Miss Ruth W. Hummell
Miss M. K. Hansen
Miss Lillian Horwath
Miss Eliz. Hamlin
Miss Marg. Hallenbeck
Miss O. A. Hurley
Miss Emily Hauck
Mrs. Chas. Hauck
Miss P. Hildebrand
Miss K. Holland
Mr. Chas. Henry
Mrs. Henry
Mrs. A. Iles
Mr. R. B. Jarrett
Mrs. Jarrett
Mrs. A. T. Jaffe
Miss Lilly L. Jarrett
Mr. W. E. Johnston
Mr. M. C. Jeffers
Mrs. Jeffers
Mr. Chas. E. Jones
Miss Isabelle Johnston
Miss E. D. Johnson
Dr. J. B. Jacobs
Miss S. Jablow
Mrs. Jacobs
Mr. W. Kydd
Mrs. Kydd
Miss Lorraine Krogman
Miss M. Kuschert
Mr. L. P. Kirkbride
Mrs. Kirkbride
Miss M. Kane
Miss J. Kane
Miss Marg. Kenny
Mr. S. Khouri
Miss E. L. King
Mr. H. G. Kraus
Mr. A. B. Lynch
Mr. L. B. Lewis
Mr. E. H. Lorenz
Master R. Lee
Mrs. Lorenz
Mrs. R. Little
Mr. H. H. M. Lee
Mrs. Lee
Mr. George Levin
Mrs. Levin
Miss I. Limberg
Mr. Arthur M. Levy
Mrs. Levy
Miss C. Levy
Miss H. Lemke
Miss E. Lemke
Mr. H. W. Lee
Miss Helen Lask
Miss I. Lerned
Mr. M. O. Lange
Mrs. Lange
Mr. L. Larsen
Mr. L. F. Lambert
Mr. H. H. Lambert
Miss Thelma A. Lacey
Miss A. G. Lynch
Mr. O. Middleton
Miss S. Mitchell
Miss H. Moss
Hon. Clay Merrill
Mrs. Merrill
Mr. G. Morton
Miss E. Mourer
Miss B. Mitchell
Mr. Henderson Matthews
Mrs. Matthews
Miss F. Markgraf
Mr. C. C. Moskowitz
Mrs. Norman Munro
Mr. John G. Murray
Mrs. Murray
Mr. A. A. Mueller
Mrs. Mueller
Mr. A. F. Mitchell
Mrs. Mitchell
Mr. Alfred G. Metlass
Miss M. Murphy
Miss A. Murphy
Mr. C. R. Meyrick
Mr. E. M. J. Morrissey
Mr. M. M. Malvy
Mrs. Malvey
Mr. H. Martens
Miss B. Mathews
Mrs. Robt Murray
Master Robt. Murray
Miss C. Murray
Mr. Edw. R. May
Miss A. R. Mazzei
Mr. H. R. Miller
Mr. A. Main
Miss Helen Munson
Mr. C. G. McClarin
Mrs. McClarin
Mrs. R. J. McDonald
Mrs. K. McEvoy
Miss C. McEvoy
Miss L. McGreechan
Mrs. R. B. MacDowell
Miss C. McDonnell
Mr. M. J. McSweeney
Miss H. McKinney
Miss C. McCullough
Mr. W. J. McBride
Miss A. V. McGowan
Mr. H. J. MacKenzie
Mrs. M. E. MacDougall
Miss C. MacDougall
Mr. W. Nield
Miss Mae Nick
Mr. A. . Nisbet
Mrs. Nisbet
Miss A. Noll
Mr. George Nelson
Mrs. Nelson
Miss B. M. Noll
Miss B. O'Leary
Miss L. Odencrantz
Miss Eileen O'Connell
Miss Mary O'Donnell
Mr. C. A. O'Brien
Miss E. W. Owens
Miss M. Olsey
Miss B. O'Sullivan
Mr. W. Powers
Mrs. Powers
Mr. W. J. Pakinham
Miss E. Pikarch
Miss G. Pike
Mr. W. E. Pierce
Mrs. Pierce
Mr. Ed. Pierson
Miss Helen Phelps
Miss M. Palmer
Rev. A. T. Peters
Mrs. Peters
Master Peters
Miss Beryl Paynter
Mr. C. D. Phipp
Mrs. A. Preusser
Miss Elsa Preusser
Mr. R. M. Pinkerton
Dr. F. Prives
Mrs. Prives
Miss D. Planker
Mr. F. E. Quinn
Mrs. Quinn
Mr. T. M. Robertson
Mrs. Robertson
Mr. E. Rauenbuehler
Mr. Robinowitz
Miss M. Robinson
Mrs. L. Rowe
Mr. H. J. Reiner
Mr. Herman Richter
Mrs. Richter
Dr. W. E. Ross
Mrs. Ross
Mr. Lester Rowe
Mr. Clarence L. Roberts
Mrs. Roberts
Miss A. Ryan
Miss Marie Rowley
Miss Florence Rachlow
Mr. C. Rathenacher
Mr. Andrew S. Ross
Mrs. Ross
Mr. W. Richardson
Miss M. Rosenberg
Miss M. Reynolds
Mrs. G. Ribeiro
Mr. 0, Ribeiro
Miss E. Z. Ryder
Miss Z. L. Ryder
Miss Elsie Richardson
Miss Eleanor Richards
Mr. K. C. Randall
Mr. R. A. Russell
Mrs. Russell
Mrs. Eliz. A. Richter
Mr. A. G. Smith
Mrs. Smith
Mrs. S. A. Samuels
Mrs. M. O. Stockbauer
Miss R. Strauss
Miss Helen Steden
Mrs. Anna Steden
Miss B. Spero
Mr. John F. Simons
Mrs. Simons
Miss Simons
Mr. I. Schwartz
Mrs. Schwartz
Mr. Harold Shaffer
Miss F. Smith
Mr. T. A. Stanford
Mrs. J. Summers
Mrs. R. Schneider
Mr. A. T. Schniedt
Mrs. Schniedt
Mr. W. Sondheim
Mrs. Sondheim
Mrs. Stetson
Miss Frances Smith
Miss Mary Storm
Mr. C. B. Staats
Miss R. Shephard
Miss Cath. Stihick
Miss F. A. Smolan
Miss L. M. Stedman
Miss Clara Stetson
Mr. Albert E. Seep
Mrs. Seep
Miss B. L. Swarz
Miss B. Schwartz
Miss E. E.V. M. F. Sidney
Mrs. Jemima L. Smith
Mrs. Fred W. Smith, Jr.
Mr. G. R. Smith
Mr. H. D. Syle, Jr.
Mrs. Syle
Miss Claire Stark
Miss M. V. Say
Miss W. Say
Miss J. Strecker
Miss Ruth Searing
Miss Helen Slater
Miss N. Schmidt
Mr. F. F. Stockwell
Mrs. Stockwell
Mr. V. Stortz
Mr. G. H. Talbot
Mrs. Talbot
Miss E. Thielsman
Comm. G. T. C. Turner
Mrs. J. W. Tighe
Miss Laura Theall
Mr. Frank Trout
Mrs. Trout
Mr. H. F. Tucker
Mrs. Tucker
Mr..N. R. Tukey
Mr. Clyde Ulric
Mrs. Uihlein
Miss K. P. Van Ness
Miss Hazel Voorhis
Miss M. B. Vogts
Miss D. Vielkind
Mrs. E. Vickey
Mr. George W. Vilain
Mrs. Vilain
Mr. E. Wagner
Mrs. Wagner
Mr. C. C. Watson
Mrs. Watson
Miss T. Wormsley
Mr. G. H. Walters
Mrs. Walters
Miss E. Woods
Miss Lety Weber
Miss A. L. Weiman
Miss G. Wilson
Mr. C. D. Wright
Miss F. Wasservogel
Miss E. Wilson
Mr. H. S. Wilson
Mrs. Wilson
Miss W. Weinstein
Miss A. Webster
Miss Carrie Wall
Mr. D. F. Warwick
Mrs. Warwick
Master D. F. Warwick
Mr. H. C. Williams
Mrs. Williams
Mr. A. Westerberg
Mr. T. W. Walker
Mr. Harry Weiss
Mrs. Weiss
Miss Willis
Miss M. Walsh
Miss G. Wilson
Miss M. Ward
Mr. Raymond Yerg
Mrs. Yerger
Mr. G. Yazetta
Mrs. Yazetta
Mr. W. N. Zippier
Mr. E. Zurn
Miss Clara Zoble
Information for Passengers
Baggage. All inquiries regarding baggage should be made in New York or Bermuda or on board ship of the Baggage Master. Passengers are recommended to insure their baggage as in the event of loss or damage the Company cannot accept liability beyond th_ limit specified on the steamer contract ticket.
Customs. Passengers are cautioned to be particularly careful to inform themselves of the Rules and Regulations of the Custom Authorities and to exercise all care in filling out the Customs Declarations.
Coin plaints. Passengers having any cause for complaint are requested to communicate particulars to the Captain, Purser or Chief Steward at once and not wait until the end of the voyage.
Dogs. Proper and suitable quarters for the care of dogs and other small animals are provided aboard the Company's ships. Therefore they cannot be allowed in staterooms and other places provided for the comfort and convenience of Passengers.
Life Belts will be found in every stateroom. They should be put on in the same manner as a jacket and tied firmly in front.
Library Books may be obtained on application to the Library Steward. A charge of $2.00 per volume will be made for books lost from the library.
Table Reservations may be secured at the Chief Steward's Office during the hours of embarkation. Passengers holding advance reservations should claim their tables before sailing, otherwise they will be released.
First Sitting
Breakfast from 8 A. M. to 10 A. M.
Luncheon 12 Noon
Dinner 6 P. M.
It is respectfully requested that the Passengers on the First Sitting will attend the Dining Room punctually, to enable the Second Sitting service to be operated promptly.
Second Sitting
Breakfast from 8 A. M. to 10 A. M.
Luncheon 1 P. M. Dinner 7 P. M.
It is impossible to provide facilities for the general serving of meals on deck, but a limited deck menu has been specially prepared for those who are unable to use the dining saloon.
Pillows, Blankets, Etc., are not to be removed from staterooms.
Passengers should obtain a receipt on the Company's form for any additional passage money or freight charges paid on board.
Purser's Office will be open at the following hours:
9:00 A. M. to 11:00 A. M. 4:00 P. M. to 6:00 P. M.
8:00 P. M. to 9:00 P. M.
Ports are under the supervision of the Chief Steward and Passengers are requested not to open them without his permission.
Steamer Chairs may be hired at a cost of one dollar per trip on application to the Deck Steward.
St. George Hotel. Passengers for St. Georges and the St. George Hotel will transfer by Tender at Murray's Anchorage. They are requested to hand in their names at the Purser's Office and secure Tender tickets.
Steamer Rugs may be hired at a cost of SO cents per trip on application to the Deck Steward.
The Surgeon is authorized to make customary charges, subject to the approval of the Commander, for treating any passenger, at their request, for any illness not originating on board the ship. In case of sickness occurring on board no charge will be made and medicine in all cases will be provided free.
Valuables. A safe is provided in the office of the Purser in which Passengers may deposit Money, Jewelry or other valuables. As no charge is made for carriage, the Company cannot accept any responsibility for loss or damage. Property retained by the passenger in cabin or upon person must not be left lying about the ship or cabin, but, when not in actual use, must be locked in trunk, etc. Failure of Passengers to observe these requirements shall, in case of loss, etc., be deemed negligence of the passenger.
Smoking is strictly prohibited in any of the Staterooms, Library and Dining Saloon.
Reservations for return trip to New York should be engaged as much in advance as possible, and Passengers are especially requested to call at the office of the Agents, Messrs. Watlington & Conyers, in Hamilton, within twenty-four hours after arrival and claim accommodations reserved, or make reservations if accommodations not already secured.
Wireless Messages are accepted at the Marconi office only.
Warning: It has come to the knowledge of the Furness Bermuda Line that some Passengers, on arriving at New York, or subsequently, have been communicated with at private addresses by a person representing himself to be one of the ship's personnel who has offered to supply them with liquor. The Furness Bermuda Line desire to warn Passengers against this, and to inform them that no member of the ship's personnel is permitted to indulge in such a practice.
The Barber Shop is located on "B" deck aft. The following charges have been authorized:
Ladies GENTS
Marcel Waving $1.00
Waving and Curling .75
Cutting and Singe 1.00
Shampoo 1.00
Shampoo Special 1.25
Face Massage .75
Scalp Massage .50
Manicure 1.90
Haircutting $ .60
Shaving .25
Shampoo .50
Shampoo Oil .75
Singeing .25
Face Massage .60
Face Massage Oil .75
Scalp Massage .50
Tonic Dressing .15
Manicure 1.00
Souvenirs and Perfume Are Sold at the Barber Shop