SS Atlantic Passenger List - 17 July 1954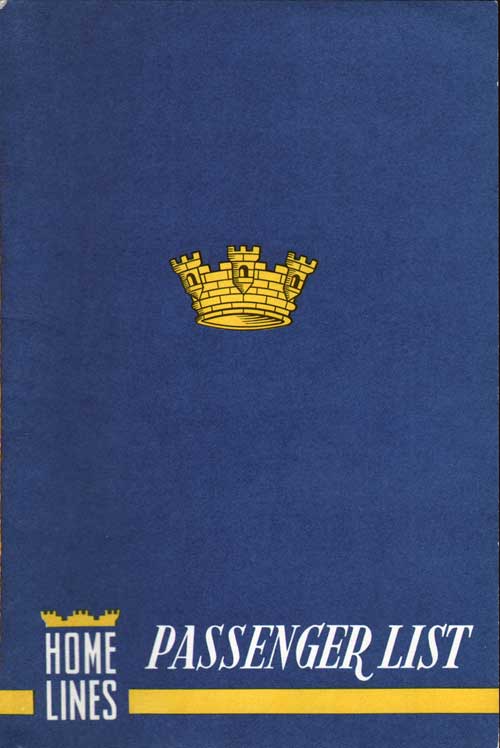 Front Cover, Tourist Passenger List for the 17 July 1954 voyage of the SS Atlantic from the Home Lines, Sailing from Quebec to Southampton via Le Havre, Commanded by Captain Giovanni Ruffini.
Senior Officers and Staff
Captain Giovanni RUFFINI, Master
Staff Captain DEMETRIO CONTI
Chief Engineer ANGELO VENETSIANOS
Staff Engineer ITALO MONTINI
Chief Surgeon Dr. GIULIO ALCOZAR
Chief Purser GUIDO BULLANI
First Purser EDOARDO GRANDI
Second Purser LUCIO SULLIGOI
Tourist Officer HELMAR SEEMAN
Hostess LADA Dr.SCOVIC
Chaplain Msgr. Luigi RIDOLFI
Chef de Cuisine Mario Ratio
Chief Steward Cailisto Bertola
Maitre d'Hotel Gicvanni Modetta
Tourist Class Head Waiter Antonio Campi
Orchestra Conductor Mo. A. Corradi
The Home Lines welcome you on board the SS "Atlantic" ... All members of the ship's staff are anxious to assist you in every possible way and it is hoped that the facilities service and cuisine meet with your entire satisfaction.
Tourist Class Passengers
to Le Havre
Abbott Mrs. R. C
Abbott Miss Sandra
Abbott Mstr. Ronald
Alberti Mr. Vincenzo
Amtola Mrs. Louise
Antonirdes Dr. Harry
Antonirdes Mrs. Harry
Arezzi Mr. Diego
Bagno Mr. Schmul
Banton Miss Bertha
Baretta Mr. Bruno
Barrage Mr. Munir
Berrett Mrs. Mathilda
Barringer Miss Frances
Barstow Miss Frances
Batard Mrs. Georgette
Batard Mstr. Claude
Batard Mstr. John
Baughman Mrs. Ruth
Beauregard Rev. Paul
Beauvais Rev. Joseph
Beddew Mr. Noel
Beddew Mrs. Noel
Belanger Miss A
Belanger Miss Madeleine
Benoit Mrs. Noemie
Berati Mr. Albert
Berlinsky Mr. Joseph
Bernard Mr. Pierre
Bigelow Miss Betty
Birchmeier Mrs. Verena
Boccaccio Mr. Marco V
Bohn Prof. Harold C
Bohn Mrs. Harold C
Bohn Miss Erika
Bomhoff Mrs. Augusta
Boule Miss Cecile
Boule Miss Jeannine
Boule Mgr. R. P. A
Boussat Miss Marie Jose
Brault Chanoine L
Brazzoni Mr. Amilcare
Brazzoni Mrs. Ester L
Brazzoni Mstr. Ottorino
Brazzoni Miss Paola
Brazzoni Mstr. Federico
Brecher Mr. Albert
Brecher Mrs. Gusta
Brecher Miss Else
Brookes Mrs. Leona
Campanella Mrs. Rosella
Campanotto Mrs. Anna
Campanotto Mr. Valter
Camposarcone Mrs
Campbell Miss Elizabeth
Canow Mstr. Kurt
Canow Mrs. Maria
Caron Mrs. Damase
Cassou Mr. Edmond
Cecire Mrs. Marie
Chambefort Mr. Louis A
Chambefort Mrs. Louis A
Champagne Mrs. Juliette
Cignac Miss Simane
Colaotti Mr. Gino
Combs Mrs. Gertrude
Cote Mr. Yvon
Cote Mrs. Colette
Courtois Miss Andree
Courtois Miss Francine
Courville Miss R
Couture Miss G
D'Ambrosio Mr. Nicola
Dages Mr. Adrien
D'Antoni Mrs. S
D'Aza Miss Brunilde
Debus Mr. M
Deforest Miss Helen
Delmar Mr. Marcel
Delorenzie Mr. D
Delorenzie Mrs. D
Delorenzie Mr. J
Delorenzie Mr. P
Del Pup Anilo
Defkzen Van Angeren Mr. A
Despot Mr. Y
De Vore Mr. Charles
De Vore Mrs. Charles
Dextraze Mrs. Josaphine
Di Carlantonio Mr. G
Di Lembo Mr. Vernino
Ditto Miss M. Rebecca
Di Zazzo Mr. Antonio
D'Onofrio Mrs. C
Dubrulle Miss S
Durand Miss Solange
Fnea Miss Maria
Edgard Miss Helen
Farina Mr. Gennaro
Farinelli Mr. Antonio
Favretto Mr. Armand
Favretto Mr. Luigi
Favrelto Mrs. Angelina
Feer Mr. Heinrich
Fekter Mr. Jacob
Fekter Mrs. Jakob
Feleppa Mrs. Elvira
Felicitti Mrs. Gisele
Flaux Mr. Jean-Marie
Funk Mrs. Alice
Funk Mstr
Funk Mstr
Gaborieau Miss Marie B
Gagne Mr. Roland
Gagnon Miss A
Gallop Mr. Joseph
Gallop Mrs. Joseph
Galy Mr. Robert
Galy Mrs. Robert
Gangemi Mrs. Theresa
Gardner Mr. O. A
Gardner Mrs. O
Gauthier Miss Francois
Gauthier Mrs. Y
Gauthier Miss L
Gendron Rev. Clement
Genest Mrs. Germaine B
Germele Mr. Michefe
Germele Mrs. Philomena
Giansanti Mr. Renato
Giesinger Mr. August
Giesinger Mrs. Gertrud
Giesinger Miss Ellen
Gigon Mrs. Louise
Giguere Mr. Roland
Giguere Mrs. Roland
Giordano Mrs. Emilia
Gragnani Mr. Santa
Greiner Miss Dorathy E
Grosfils Mr. Emile
Grothe Miss Josseline
Guenneau Mr. Rene
Gysel Mr. Lucien
Harrington Miss Mary
Haussmann Mr. Richard
Haussmann Mrs. Marie T
Haussmann Miss M
Hermel Mrs. Raymonde
Hermel Miss Lillian
Hermel Mstr. Alain
Hermitte Mr. Roymond
Hone Miss Elizabeth
Hone Miss Marie Solange
Honce Mrs. Anna
Honce Miss Joan
Hubermann Mr. Philip
Hudelot Miss Dominique
Hudelot Miss Catherine
Hurteau Miss Aimee
Infantino Mrs. J
Jette Mrs. Victoria
Jodoin Miss Annette
Julien Miss Madelein
Julienne Mr. Roger
Kapon Mr. Leon
Keroack Mr. Arsene
Keroack Mrs. Adrienne
Kerschitz Mr. Leopold
Kerschitz Mrs. Leopold
Kirshenbaum Mr. Max
Kirshenbaum Mrs. Selma
Kirshenbaum Miss Norith
Knautz Mr. Adolf
Knautz Mrs. Adolf
Knautz Miss Dorothy
Knautz Mstr. Richard
Knowles Mrs. Katherine
Koibe Mrs. Fay
Krinstensen Miss M
Labonte Mr. Joseph
Labonte Mrs. Laura
Laboure Mr. Jules
Lafreniere Miss R
Lamontagne Mr. A
Lamontagne Mrs. A
Lamont Miss Mary Louise
Langedoc Miss Adele
Lanoix Mrs. Marguerite
Lanzasama Mr. A
Larue Mrs. P. E
Larue Miss Armande
Larue Mstr. Michael
Larue Mstr. Charles
Laumaille Mrs. A
Launs Bury Mrs. Helen
Leboeuf Mrs. Marie
Lecuyer Mr. Paul
Leder Mr. Rudolf
Lefebvre Mr. Albert
Leinenkugel Miss Roberta
Lemaitre Mr. J. L
Lemirande Miss Gertrude
Licsauer Mrs. Therese
Licsauer Miss Mary
Liva Mr. Ray
Liva Mr. Raymond
Lucas Mr. A
Luisi Mr. Silvestro
Luisito Miss Maria
Lusczcynski Mrs. Bianca
Lusczcynski Mstr. Gino
Lymburner Miss Lucette
McLean Mr. Adelard
McLean Mrs. Marie A
MacPherson Miss Muriel
Mainville Mrs. Blanche
Mainville Mr. Jean Louis
Maiorino Mrs. Elisa
Malo Miss Therese
Malvaud Mr. Paul
Malvaud Mrs. Paul
Marcello-Carli Mr. Luigi
Marcello-Carli Mrs. Esther
Marcon Mr. Abramo
Marcotte Miss M
Matricardi Mr. Paolo
Matthews Miss Mildred
Mazzoni-Trigari Mrs. Iole
Mazzoni-Trigari Miss G
Mazzoni-Trigari Miss S
Meduri Mr. Santo
Meister Mrs. Annette H
Merker Mr. Ewald G
Merker Mrs. Ewald G
Meslages Mrs. O
Meslages Mstr. Gerard
Messina Mrs. Maria
Metz Miss Elizabeth
Milissich Miss Alma
Molluzzo Miss Mary
Moore Mrs. Naomi
Moreau Mr. Roland
Mortellet Mr. R. L
Mortellet Mrs. R. L
Mortellet Miss Catherine
Morussi Mr. Benedetto
Mothe Mrs. Simone
Munro Mr. John
Munro Mrs. Lisette
Munro Miss Mary
Nagy Mrs. Marie
Neuf eld Mrs. Anna
Nichols Miss M. Doreen
Nobile Mrs. Anna
Olsen Mr. Oscar
Olsen Mrs. Oscar
Olsen Miss Louise
Orsini Mr. Salvatore
Ouellet Mr. Charles
Ouellet Mrs. Eugene
Overstreet Mrs. Ada
Pantazopoulos Mr. E
Papailler Rev. H
Passera.Arma Mrs. E
Patton Law D. S
Paulin Mr. Giuseppe
Peguy Miss D
Pella Mr. Riccardo
Petitdidier Mr. Maurice
Petitdidier Mrs. Simonne
Petitdidier Miss Janini
Piniero Mrs. Susi
Piro Mr. Antonio
Piro Mrs. Maria
Podevyn Mr. Robert
Polionato Mr. Antonio
Quinn Miss Gwen
Radawiec Miss Anastazia
Radawiec Miss Mana
Radawiec Miss Lillian
Radisis Mr. Pericles
Rainone Mr. Anthony
Ramau Mr. Roger
Reinhardt Mr. Wm. O
Reinhardt Mrs. Wm. O
Reinhardt Mstr. William
Reinhardt Miss Susan
Renoux Mr. J. P
Ribcke Miss Rita
Roberts Mrs. Millicent
Robin Mrs. H
Robin Mstr Marc
Roiron Mr. Francois
Rouault Mr. J
Rouault Mrs. J
Rouyer Mr. Paul
Russo Mrs. Angel
Salihbegovic Miss Nicol
Sandlin Miss Mary G
Saxby Mrs. Elizabeth M
Saxby Miss Elizabeth L
Schimmer Mr. Herbert
Schnabel Mr. George L
Schnabel Mrs. George L
Schrader Mrs. Charlotte
Scida Mr. Antonio
Scott Mr. Ralph E
Shaw Mr. Don J
Shumko Miss Jacqueline
Simon Mrs. Renee
Simon Mstr. Patrick Sprague F'S R. E
St. Germain Mrs. Florida
Ste Marie Mr. Edouard
Ste Marie Mr. Georges
Stevenson Mrs. Marjorie
Stinziani Mr. Emilio
Storto Mr. Giuseppe
Stojanovic Mr. Cirilo
Suriano Mrs. Pauline
Taus Mrs. Adele
Taylor Mrs. Mabel
Telge Mr. Frederich
Tibodeau Lac J. N
Thompson FiS H T
Thompson Mrs. H. T
Thompson Miss Barbara
Thompson Miss Linda
Thompson Miss Susan
Thompson Miss Margaret
Tomlin Miss Pauline
Toso Mrs. Ida
Touzery Mr. Gabriel
Trahan Miss Aldea
Trentin Mr. Primo
Truppe Mrs. Christine
Truppe Miss Hermine
Uguggioni Mr. Ennio
Uza Mr. George
Uza Mrs. Anna
Valegant Mr. Charles
Vandermeershen Rev X
Vendrame Mrs. Lina
Veri Mr. Antonio
Verin Mrs. Sarah
Vernaz Miss Marthe
Villette Mrs. Genevieve
Wagner Mr. Richard
Wasvburn Mrs. Florence
Weil Mr. Elmer
Weil Mrs. Elmer
Weinberg Mrs. R
Wendling Mr. Siegfried
West M. C. D
Worrell Mr. Guy
Worrell Mrs. Guy
Yanchurich Mr. V
to Southampton
Adam Mr. Alex
Addison Mstr. W. J
Agostino Mr. Michele
Alder Miss Mildred
Allan Miss M. A
Allanson Mr. John
Allanson Mrs. John
Allanson Miss Anne
Allanson Mstr. Georg
Allen Mr. David
Allingham Mr. W
Allingham Mrs. S. J
Appleton Mr. T. E
Appleton Mrs. T. E
Ash Mrs. Mary
Ash Mstr. James
Ash Miss Marg
Autti Mr. P
Bardsley Miss Nan
Barker Mrs. Bertha
Beeching Mr. Jack L
Beeching Mrs. Gertrude
Belanger Mrs. H
Beliveau Rev. Sr. M. L
Bell Miss Gwen
Bull Mrs. Jean
Burgess Mr. Charles
Burgess. Mrs. T
Bell Mr. Wm
Bellinger Miss Joyce
Berwick Mr. Jess
Berwick Mrs. Emily
Bevis Mr. William
Bevis Mrs. Mary
Bevis Mstr. Paul
Blaikie Mr. J. A
Blouin Mrs. J
Blouin Mstr. P
Blouin Mstr. D
Bonwick Miss Frances
Bowen Mr. Carroll
Bowen Mrs. Carroll
Boyle Miss Eileen
Bradford Miss Betty A
Britton Miss Amy
Brock Mrs. M
Brock Miss Carol
Brock Miss Donna
Brookes Mr. John
Brosnohan Miss Mary
Brown Mr. Albert A
Brown Mrs. Laura
Brown Mr. W. W
Browne Miss Josephine
Bruce Miss Heather
Bruce Miss Irma L
Brummitt Mrs. H. J
Brummitt Mstr. J
Brummitt Mstr. R
Brummitt Mstr. L
Buckle Mr. H. C
Buckle Mstr. Allan
Buckle Mrs. H. C
Burless Mrs. Olive F
Copp Miss Carolyn
Burr Mrs. R. W
Corrin Mrs. S
Burr Mstr. Robert
Cram Miss Elizabeth
Burr Miss Sharon
Croker Miss Jean
Bury Mr. Richard
Crowe Mrs. Harriet J
Butcher Mr. Frank
Culley Mrs. Rose Marg
Butcher Mrs. Frank
Curtis Miss Irene
Cabeiy Miss Patricia
Calder Miss J
Cameron Mr. John
Campbell Mr. Daniel
Campbell Mr. J
Caul Mr. John
Chambers Mr. Chas T
Chambers Mr. Frederick
Chambers Mrs. Mildred
Chambers Mrs. Euphmia
Chamings Mr. E. J
Chamings Mrs. E. J
Chiapasso Miss Ida
Cilia Mrs. Emmy
Cilia Mstr. Roland
Clarke Mr. J. C
Clarke Mrs. J. C
Clarke Miss Verna
Coe Miss W
Cole Mr. C. W
Colley Mrs. Mary
Collie Mrs. Minnie
Collie Miss E. M
Collins Mr. R
Cockerill Mr. B
Collins Mr. W
Conklin Miss Barbara
Conklin Miss Mary
Cook Mrs. E
Dack Mrs. N
Dagg Mrs. C
Dagg Mstr. A
Dagg Mstr. A
Daleidem Miss Rosemary
Dane Mrs. A
Dane Miss
Dane Mstr. R
Dane Miss L
Davidson Mr. Thomas I
Dearlove Mr. W. C
Dengler Rev. Sr. J
Dennes Mrs. Alys
Denton Mrs. Nellie
Denton Miss Jean
Derrick Mr. John
Derrick Mrs. Katherine
Derrick Mstr. Michael
Dervenis Mr. Victor
Desormeaux Mrs. L
Desormeaux Miss D
Devitt Dr. James
Devitt Mrs. Rosemary
Devitt Mstr. Hugh
Dickson Miss Jessie
Donaldson Mr. James
Donaldson Mrs. James
Dorange Mr. Robert
Dorian Mr. Wm
Dowd Mr. Ronald
Dowell Mrs. D
Dowell Mstr. C
Dowell Mstr. W
Dowell Mstr. V
Dowell Mstr. R
Dowkes Miss Helen
Dubuc Mr. Richard
Duncan Mr. John L
Duncan Mrs. Mabel
Eastwell Brig Clara
Ellerby Miss B
Elliott Miss Nan
Elson Miss Selena
Erickson Miss Easther
Evans Mr. D. C
Evans Mr. William
Evans Mrs. Gertrude
Evans Mstr. Richard
Eveleigh Miss Romany
Fairon Mrs. Daisy
Fenton Mrs. Allison
Filiatrault Rev. Sr. E
Fisher Mrs. Darrel L
Fisher Mrs. Muriel
Fisher Mstr. Richard
Fleming Mr. John
Forbes Mrs. Jane
Forbes Miss Margaret
Forrest Miss E R
Fox Mr. B
Fox Miss Gladys
Francis Miss Susan
Fraser Miss Florence A
Frendo Mr. Anthony
Gannon Mrs. Edith
Garnett Mr. Henry C
Garnett Mrs. Henry C
Gauthier Mrs. J
Gauthier Miss M
Gauthier Mstr. J
Gayfer Miss Margaret
Geeson Mrs. Ester G
Gentle Mr. Allan
Gerrity Miss Margaret
Gerrity Miss Helen
Gibs Mrs. Janet
Girard Mrs. Nellie
Girard Miss Jeannette
Gladu Mrs. M
Gordon Miss Bryn
Haigler Mrs. J
Haigler Mstr. R
Hammond Mrs. Beatrice
Hardy Mr. F. A
Hardy Mrs. F. A
Harley Mrs. Eliz
Harrington Mr. Thomas
Harvie F/0 David C
Harvie F/L Helen
Harrington Mrs. Eliz
Hatch Mr. K. M
Hatch Mrs. V
Hauchen Mrs. Marjorie
Haycox Mrs. W
Haycox Mstr. W
Henderson Mr. Wm
Henderson Mrs. Marg
Hesse Miss E. H
Hesse Miss June
Hewer Mr. Wm. P
Heywood Mrs. Dorothy
Heywood Mstr. R. C
Hill Mrs. Eileen
Hill Miss Janet
Hill Mstr. Robin
Hill Mr. Wm. T
Hill Mrs. W. T
Hirsch Miss Sally
Hitch Miss Marjorie
Holden Miss Helen J
Houghton Mr. Frederick
Houghton Mr. Michael
Houghton Mstr. Patrick
Houghton Mstr. Anthony
Houghton Mrs. Mary
Hughes Mrs. Mrs. W. H
Hughes Miss Karen
Icenoge Miss Ruth A
Illarde Mr. Laurence
Illarde Mrs. Angela
Ives Mr. Roy
Jackson Mrs. F
Jackson Miss S
Jackson Miss J
Jackson Miss T
James Mr. William R
James Mrs. Esther
Jensen Mr. E. B
Jensen Mr. Vagn
Johnson Mr. Frederick B
Johnson Mrs. Frances
Jones Mr. J. M
Jones Mr. Glyn
Jones Mrs. J. M
Jones Mrs. Glyn
Jones Mstr. Philip
Jones Miss Mary
Jones Miss Marg
Jordan Mr. W. R
Kahn Miss Roberta
Karch Mrs. Patricia
Karch Miss Janet
Keefe Mrs. M
Keefe Mstr. W
Keefe Miss J
Keefe Mstr. R
Keefler Miss Suzette
Keir Miss Elsie
Keilty Mr. Joseph
Kent Miss Sherrin
Kerr Mr. F. C
Kerr Mrs. Mary
Kingham Mrs. Mary
Klepak Mr. John
Klepak Mrs. John
Klepak Miss Rolla
Klepak Mstr Robert
Knox Miss Kay
Knox Miss F
Korhonen Mr. Veikko
Kruse Mrs. Unice
Kuhl Miss Vivian
Kuhn Mr. Herbert P
Kuhn Mrs. Verena
Labelle Mrs. J
Labelle Mstr. R
Labelle Miss S
Labelle Mstr. M
Labelle Miss E
Lacroix Law F. B
La Giovine Mr. Nicholas
Lambert Mr. J
Lane Mr. Edwin I
Lane Mrs. Helen C
Lane Mrs. Esther
Lang Mrs. D
Lang Mstr
Lanneville Mrs. M
Large Mr. L. E
Large Mrs. L. E
Large Mstr. Hugh
Laroche Mrs. C
Laroche Miss M
Lawrence Miss Helen
Lawton Miss Lyra
Lecompte Miss
Lee Mrs. Nellie
Liess Mrs. Jean
Liess Miss Cynthia
Liess Mstr. Dennis
Lepper Miss Betty
Levy Mrs. Annie
Licinio Mr. Samuel
Liddy Mr. P. T
Liddy Mrs. F. E
Lilburn Miss Hilma B
Lindsay Miss Marlene
Lockerbie Miss Marg
Lord Mr. Wm
Lord Mrs. Esther
Lynch Miss Ann
Lyons Miss E. M
McAllister Mr. Brian
McAnulty Mrs. M
McAnulty Miss M
MacBrayne Mrs. Kate
MacBrayne Mr. Lockie
MacBrayne Miss B. L
McCallum Mr. A
McCarthy Mrs. L. S
McCarthy Miss Eliz
McCarthy Miss Jessie
McCleary Mrs. Helen
McCleary Mstr. J
McCormick Miss Mary
McDanpel Miss Judith
MacDonald Mr. Allen
MacDonald Mrs. Allen
McDonald Mrs. Molly
McDonald Miss H
McDonald Mstr. F
McDougall Mr. Alfred
McDougall Mrs. Ethel
McGee Mrs. N. F
McGee Miss M. V
McGee Miss Pat
Mcllroy Mr. David
Mclvor Mrs. Rosemary
Mclvor Mstr. James
Mclvor Mstr Glen
MacKay Miss Adelaide
McKay Mrs. Mary
McKay Mrs. Beatrice
McKee Mr. Wm
McKee Mrs. Wm
McKemie Miss Sandra
McKemie Miss Hope
McKenzie Mrs. D
McKenzie Mstr. R
McKenzie Miss J
MacKenzie Miss Audrey
MacLean Mrs. Janet
McLean Mrs. M
McLean Mstr. D
McLean Mstr. K
McNeil Mrs. D
McNeil Miss Carol
McNeil Miss Linda
McNeil Mstr. Richard
McNicol Mr. John
MacPhee Mr. M. A
MacPhee Mrs. Elsie
MacPhee Miss Helene
MacPhee Mstr. David
Magee Mr. Frank
Magee Mrs. Eliz
Magee Mstr. Brian
Manuel Miss D. M
Marquis Miss J. M
Marsh Mrs. Marjorie
Marshall Mrs. Rosa
Mascall Mrs. Jean
Meadwell Mr. A. L
Meadwell Mrs. Elsie
Meek Major Patrick
Meers Mrs. Joan
Meers Mstr. A
Meierhofer Mr. E
Metelski Mrs. Barbara
Michaud Mrs. J
Michaud Miss J
Michaud Miss L
Miles Mr. E. A
Miller Mr. Thomas
Minot Mr. George O
Minot Mrs. George O
Minot Miss Nancy
Moberley Mrs. Shirley
Moberley Miss Carrie
Montgomery Mrs. E
Montgomery Mstr. J
Montgomery Miss M
Moore Mr. E. H
Moore Mrs. E. H
Morgan Mrs. Eileen
Morgan Mstr. R. H
Morgan Mstr. Ralph
Morgan Miss Gillian
Morrisey Rev. Sr. S. P
Morrow Mr. Alex
Morton Miss Joan
Moss Miss A. L
Mountfield Mr. R. J
Mountfield Mrs. R. J
Mountfield Miss J. P
Myhr Mr. Johannes
Nairn Mstr. A
Nairn Mrs. Doris
Nally Mrs. Hanna
Neal Mrs. A. J
Neal Miss Donna
Neal Mstr. Ian
Neil Mr. Rowland
Newland Mr. A
Newton Mrs. B
Newton Mstr. John
Newton Mstr. Michael
Niblett Mrs. Russel
Nicholls Mr. C. W
Nilsson Miss Ann-Marie
Noakes Mr. Amos
Noakes Mrs. Daisy
Noakes Mr. Chas
Northam Mr. Bruce
Norton Mr. G. E
Norton Mr. Peter
Norville Mr. I
Norville Mrs. H
Norville Mstr
Norman Mr. C
Oldham Miss S
Oldham Miss T
Opperud Miss Ida
Parkinson Mrs. M. A
Paterson Miss Geannie
Patterson Miss Mary
Pattison Miss M
Peirce Mrs. Minnetta
Penn Mrs. Minnie
Perkowski Mrs. Marg
Perreault Mrs. L
Perreault Mstr. R
Petch Mrs. Jean
Petch Mstr. Roger
Phelps Mrs. Rose May
Piche Miss Germaine
Piche Miss Marcelle
Plante Miss Cyntia
Plez Mrs. M
Plez Mr. M
Plummer Miss Johanna
Popovich Mr. W
Poppinghaus Mr
Porter Mr. V. J
Post Miss Marilee
Prangnell Mrs. Dorothy
Pratley Mrs. Grace
Rabnette Reb. Sr. Isabelle
Ray Mr. George A
Redburn Mr. Wm. Oliver
Redburn Mrs. Agnes
Reed Mrs. T. C
Reed Mr. T C
Reed Mr. K
Reece Mrs. Clara
Renforth Mr. John M
Reynolds Mr. Reginald
Reynolds Mrs. R
Reynolds Miss Grier
Reynolds Miss Gail
Roach Mrs. D
Roach Mstr. C
Roach Mstr. K
Robert Mr. Ivor
Rogers Mrs. L. A. H
Rosenberg Miss Flora
Ross Mrs. Janet
Rowson Miss Janice
Rutherford Miss Irene
Rutherford Miss Marjorie
Saunders Mrs. Doris
Saville Mr. Albert
Sawer Mr. John
Schnoeblen Mr. F. W
Schnoeblen Mrs. F. W
Schofield Mr. John
Schofield Mrs. John
Scott Miss Jessie
Sedlock Miss Margaret
Szumelas Mrs. Catherine
Sewell Mrs. Alice
Shaw Mrs. R. V
Shelton Mr. Charles
Shepherd Mr. G
Shore Miss J. E
Short Mrs. Jenny
Shrimpton Mrs. Mary
Shrimpton Mstr. Andrew
Simpson Mrs. M
Simpson Miss M
Simpson Mstr. L
Sinclair Mr. Robert I
Smalldon Mr. John
Smalldon Mrs. Alice
Smellie Miss Mary
Smith Miss Fern
Smith Mrs. Jean
Smith Mr. Wm
Smith Mrs. Wm
Snyder Dr. Ralph
Soriano Mr. Henry
Spraggett Miss Joyce
Stares Mr. Ronald
Stewart Mr. J
Stewart Mrs. J
Stewart Miss Elizabeth
Stewart Miss Irene
St. Hubert Rev. S. M
Strachan Miss Elizabeth J
Sugarman Mr. Leon
Sugarman Mrs. Jula
Sugarman Miss Estella
Sugarman Miss Marie
Sugarman Mstr. Phil
Sutton Mrs. Glen
Sutton Mstr. Glen
Swabey Rev. Henry S
Swabey Mrs. Hilda
Swabey Miss Katherine
Swabey Miss Cheryl
Sweeney Mr. John
Teague Mr. George
Thibeault Mrs. C
Thomas Mr. Wm. R
Thompson Mrs. Mary
Thompson Mr. Gordon
Thompson Dr. O. R
Thompson Mrs. O. R
Thompson Miss Orma
Todd Mrs. Florence
Toulson Mrs. Wm
Trethewey Mr. Joseph
Trethewey Mrs. Isabel
Trethewey Miss Margot
Trethewey Mr. Joseph T
Trevor Miss Ellen
Trevor Miss Judith
Turner Mr. J. M. 0
Upshall Mrs. Mary
Upshall Miss Patricia
Valentine Mr. H. S
Valentine Mr. H. A
Vandenberghe Mrs. A
Varley Mrs. Alice
Vossmeyer Mrs. Sophia
Walker Mr. Herbert
Walker Miss Norma
Walther Mrs. Milton
Ward Mr. Thos. E
Ward Mrs. T. E
Weare Mrs. Elsie Jean
Wedeles Miss Rosalind
Weeden Mr. Ruben C
West Mr. Edward G
White Mr. T. D
White Mrs. T. D
Williams Miss Drid
Wiseman Mr. H
Wood Miss Olive
Woodward Mrs. M. Ethel
Wrigglesworth Mrs. M
Wrigglesworth Mstr. A
Wrigglesworth Mstr. D
Wrigglesworth Mstr. R
Wyard-Scott Mr. Alfred
Wyard-Scott Mr. George
Wyban Mr. John
Wyban Mrs. John
Young Miss Helen
Additional List
to Le Havre
Bardou Mrs. Judith
Johann Mr. Frederich
Krammer Mr. Alex
Larson Miss Pearl
Peterson Miss. M
Slotorup Mr. Jack
Vani Mr. Attilio
Yellenick Miss Mary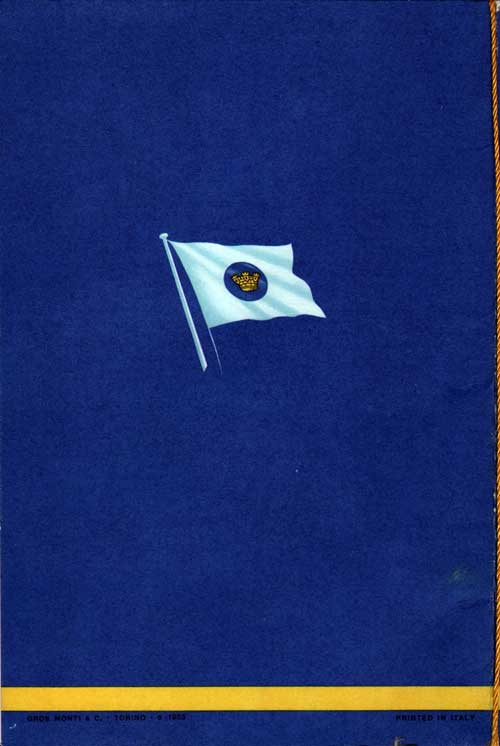 Back Cover, Tourist Passenger List for the 17 July 1954 voyage of the SS Atlantic from the Home Lines. GGA Image ID # 1e75d509bc
July 1954 Eastbound Voyage - SS Atlantic
Date of Voyage: 1954 July 17 - 23
Vessel: Atlantic
Class: Tourist Passengers
Route: Quebec » Le Havre » Southampton
Captain: Giovanni Ruffini
Number of Printed Pages: 23
Récapitulation:

Tourist Passengers: Count not Reported
Senior Officers and Staff: 16

Language(s): English
Dimensions: 13.5 x 20.2 cm
Binding: String
Provenance Information: Original Owner - Madeleine Belanger