SS Atlantic Archival Collection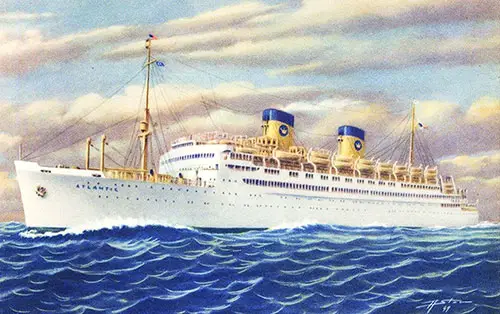 The SS Atlantic of the Home Lines circa 1948. GGA Image ID # 1dc6b49018
This Ship Sailed as the SS Atlantic from 1948-1955
Atlantic (1927) Home Lines
Built by Wm. Cramp & Sons Shipbuilding Co., Philadelphia, Pa. Tonnage: 20,553. Dimensions: 554' x 83'. Twin-screw, 22 knots. Steam turbines. Two masts and two funnels. Passengers: 173 first and 1,023 tourist. First voyage: Genoa- New York, May 14, 1949. Renamed: Queen Frederica (1955-1965). Ex-Matsonia (1937-1948), ex-Malolo (1926-1937).
SS Atlantic Content Links
Return to Content Links
Introduction
This ocean liner began life as the SS Malolo (Matson Lines) in 1926. She was built by William Cramp and Sons, Philadelphia, for the Matson Navigation Company of San Francisco, California.
The SS Malolo provided unsurpassed delight to her 1,200 passengers with her magnificent spacious cabins together, glamorous public accommodations, and a service staff of high standards.
In 1937, she was renamed the SS Matsonia.

The SS Malolo Sailing as the SS Matsonia for the Matson Navigation Company (1927-1948). GGA Image ID # 1dc66d96c3
In 1948, Home Lines acquired the ship. After extensive refurbishment and planning to have her sail from various European ports to New York and Quebec City, Home Lines appropriately renamed her SS Atlantic.
The SS Atlantic began her first voyage on May 14, 1949, sailing from Genoa (Italy) to New York.
Return to Content Links
Passenger Lists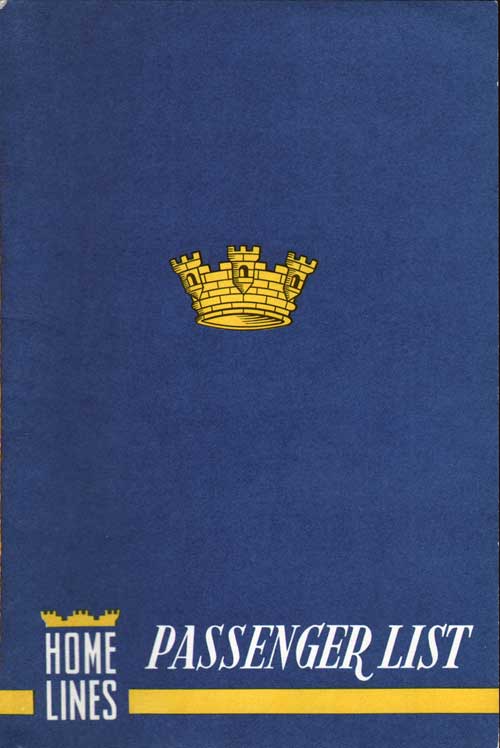 1954-07-17 SS Atlantic Passenger List
Tourist Passenger List for the 17 July 1954 voyage of the SS Atlantic from the Home Lines, Sailing from Quebec to Southampton via Le Havre, Commanded by Captain Giovanni Ruffini.
Return to Content Links
Sailing Schedules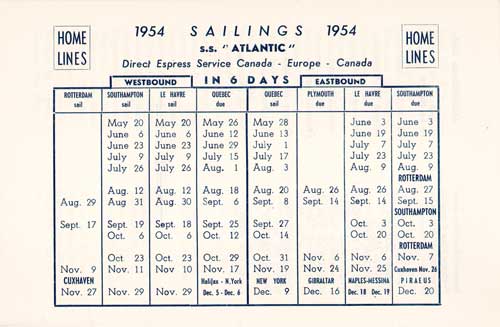 Sailing Schedule for the SS Atlantic from 20 May 1954 to 20 December 1954. GGA Image ID # 1dc7c70375
Return to Content Links
Other Ephemera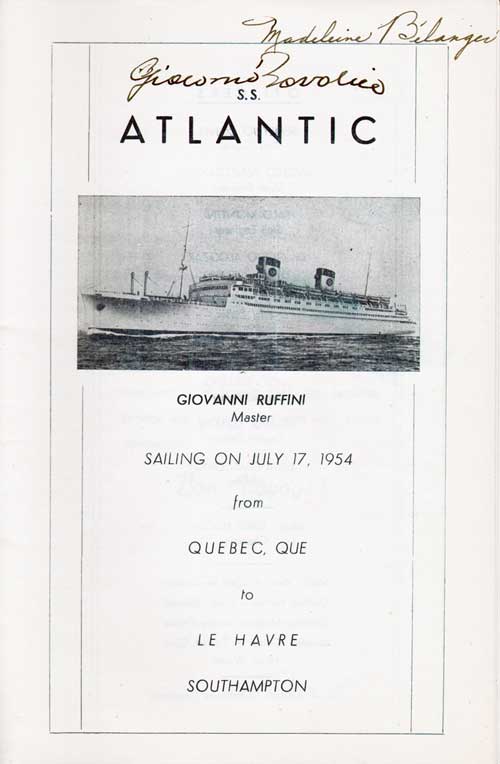 Title Page with Photo of the SS Atlantic and Signatures of Original Passengers That This List Once Belonged To, 17 July 1954. GGA Image ID # 1dc7231d42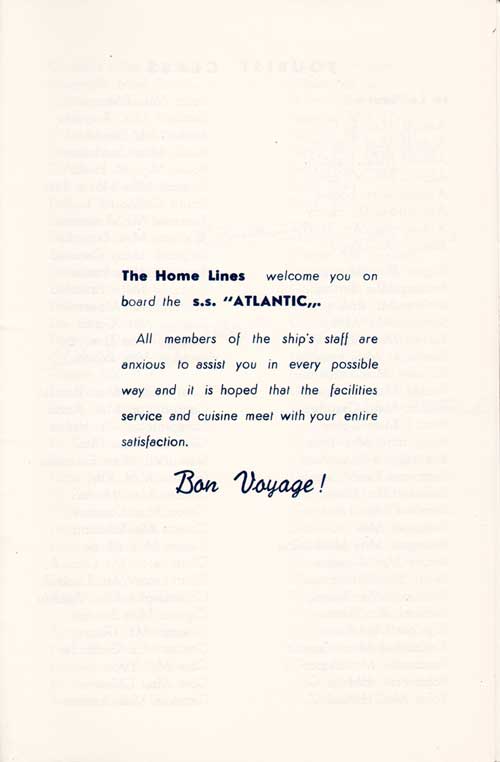 Welcome Message from the Home Lines to Passengers of the SS Atlantic, 17 July 1954. GGA Image ID # 1dc7b67163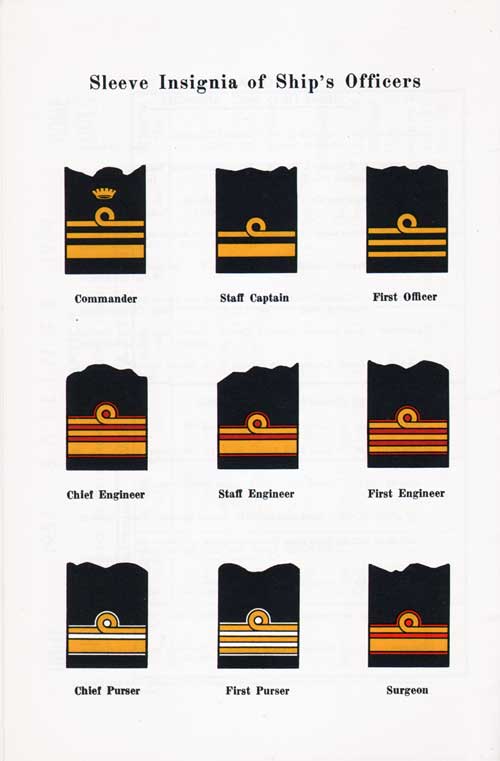 Sleeve Insignia of the Ship's Officers on the Home Lines Ship SS Atlantic. GGA Image ID # 1dc7f70cd6
Return to Content Links
Postcards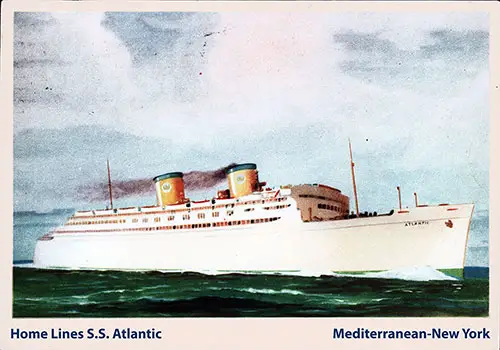 Home Lines SS Atlantic Serving Ports in the Mediterranean and New York. Postally Used 15 December 1949. Cosulich/Cosmopolitan Shipping Company, Inc. GGA Image ID # 1dd7fe6295
Return to Content Links
Back Cover Images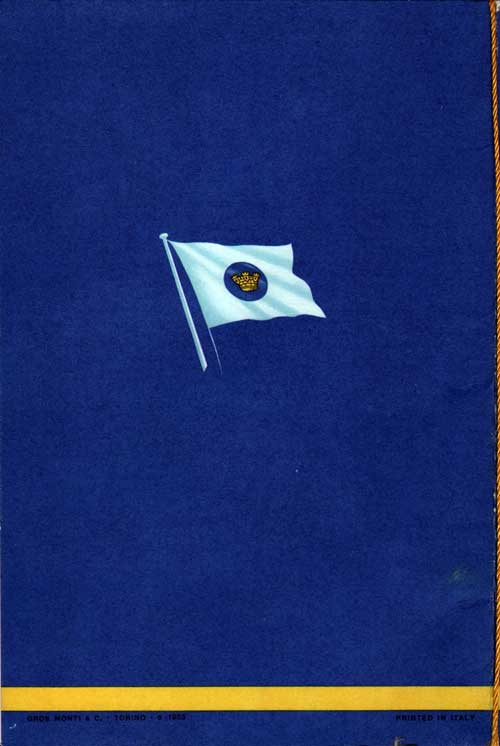 Back Cover, Tourist Passenger List for the 17 July 1954 voyage of the SS Atlantic from the Home Lines. GGA Image ID # 1e75d509bc
Return to Content Links