SS American Merchant Collection
American Merchant (1920) American Merchant Lines.
Built by American International Shipbuilding Corp., Hog Island, Penn. Tonnage: 7,430. Dimensions: 436' x 58'. Single-screw, 15 knots. Two masts and one funnel. Ex-Aisne. Renamed: Ville de Namur. Torpedoed and sunk in June 1940. Sister Ships: American Banker, American Farmer, American Importer, American Shipper, American Trader and American Traveler.
Ephemera for the SS American Merchant are available at the GG Archives, including Passenger Lists, Menus, Brochures, Event Programs, and more.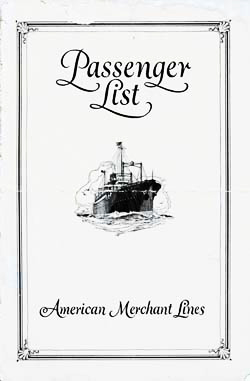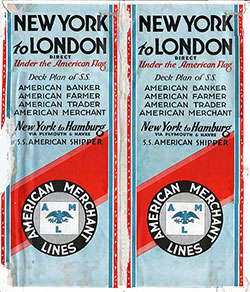 American Merchant Lines to Europe - 1932
These are some of the attractions of an American Merchant Lines crossing. . . every day of it memorably pleasant from the minute you go on board in New York until you sail up the famous Thames right into the City of London.