SS Anchoria - History, Accommodations, & Ephemera Collection
Anchoria (1874) Anchor Line.
Built by Vickers Sons & Maxim, Ltd., Barrow-in-Furnace, England. Tonnage: 4,168. Dimensions: 408'x 40'. Single screw, 14 knots. Three masts and one funnel. Broken up in Germany in 1922.
All Digitized Ephemera for the SS Anchoria available at the GG Archives. Common items of ephemera in our maritime collection include passenger lists, brochures, event and entertainment programs, and other memorabilia produced for a voyage or ship.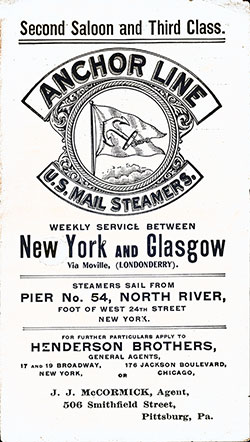 1902 - Anchor Line Second & Third Class Accommodations
Six-Panel Flyer from the Anchor Line promoting their weekly service between New York and Glasgow. Brochure provided information pertaining to the Second Saloon and Third Class passengers only including rates of passage and rail rates to or from Glasgow to points in the UK. Ships Covered: Anchoria, Astoria, Columbia, Ethiopia, and Furnessia.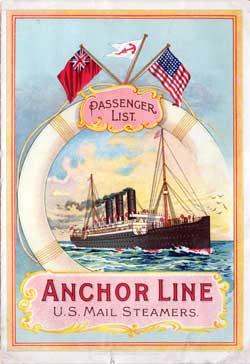 1903-06-04 SS Anchoria Passenger List
Steamship Line: Anchor Steamship Line
Class of Passengers: First and Second Cabin
Date of Departure: 4 June 1903
Route: Glasgow to New York via Moville
Commander: Captain F. H. Wadsworth
Ephemera contained in the GG Archives collection represent the souvenirs provided to the passengers of each voyage. Many of these souvenir ephemeral items have disappeared over the years.
Our selection varies considerably by ship, and likely contains only a sampling of what was originally produced and printed by the steamship lines.
Bookmark pages you're researching and check back periodically for additions as we continue to digitize our extensive ephemera materials.