SS Anchoria Archival Collection
Anchoria (1874) Anchor Line Ship's History (Brief)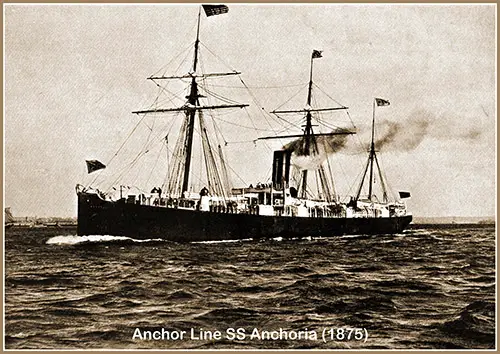 SS Anchoria of the Anchor Line, 1875. History of the Anchor Line, 1911. GGA Image ID # 1f97435447
Built by Barrow Shipbuilding Co., Barrow-in-Furness, England. Tonnage: 4,168. Dimensions: 408'x 40'. Propulsion: Single-screw, 14 knots. Compound engines. Masts and Funnels: Three masts and one funnel. Passengers: 200 first, 100 second, 800 third. Maiden voyage: Glasgow-New York, November 13, 1875. Service: The ship was primarily used for transatlantic voyages, sailing between Glasgow and New York. It was occasionally used for trips to other destinations, such as Boston and Montréal. Ownership Change: Vessel sold in 1906; German owners. Fate: Scrapped in 1922. Sister Ships: Bolivia, Circassia, Devonia and Ethiopia.
Return to Content Links
Passenger Lists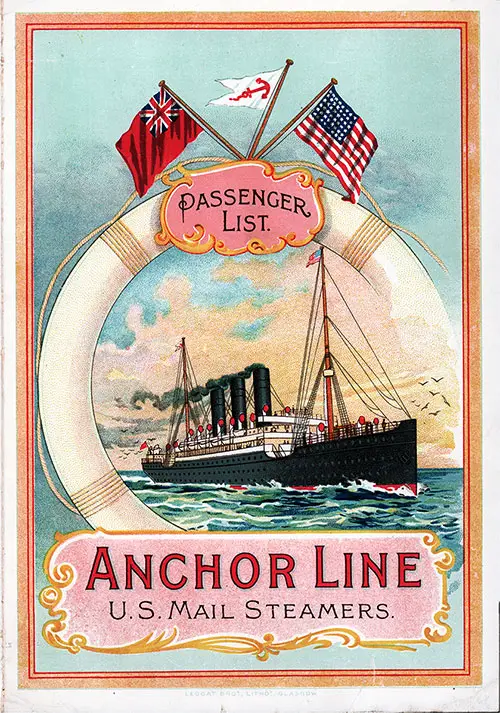 1903-06-04 SS Anchoria Passenger List
First and Second Cabin Passenger List for the SS Anchoria of the Anchor Line, Departing Thursday, 4 June 1903 from Glasgow to New York via Moville, Commanded by Captain F. H. Wadsworth.
Return to Content Links
Brochures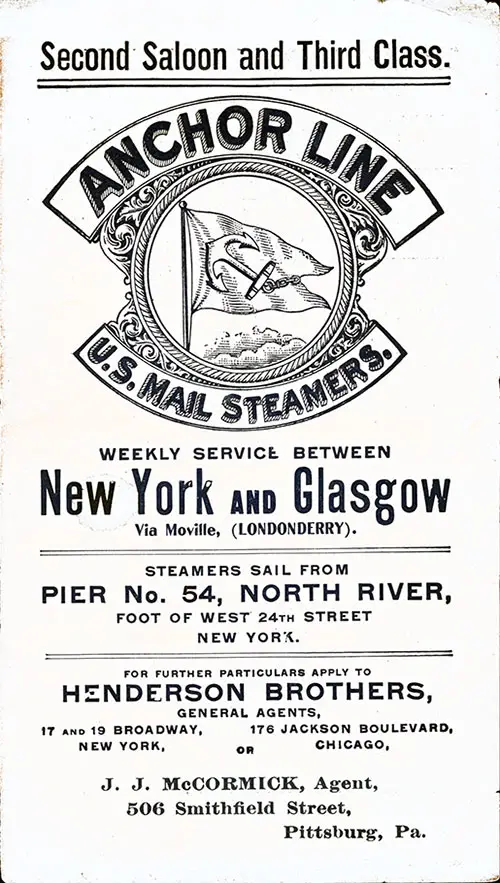 1902 - Anchor Line Second and Third Class Accommodations
Six-Panel Flyer from the Anchor Line promoting their weekly service between New York and Glasgow. Brochure provided information pertaining to the Second Saloon and Third Class passengers only including rates of passage and rail rates to or from Glasgow to points in the UK. Ships Covered: Anchoria, Astoria, Columbia, Ethiopia, and Furnessia.
Return to Content Links
Title Pages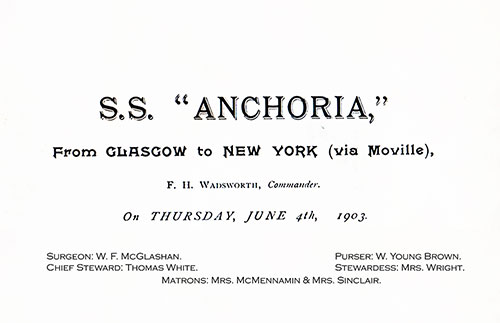 Constructed Title Page, SS Anchoria First and Second Cabin Passenger List, 4 June 1903. GGA Image ID # 1f974189fc
Return to Content Links
Route Maps, Track Charts, Abstract of Logs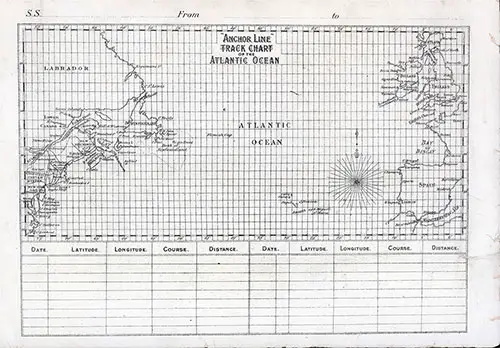 Back Cover, Track Chart and Extract of Log (Unused) from Cabin Class Passenger List of the SS Anchoria dated 4 June 1903. GGA Image ID # 12f3d44068
Return to Content Links
Sailing Schedules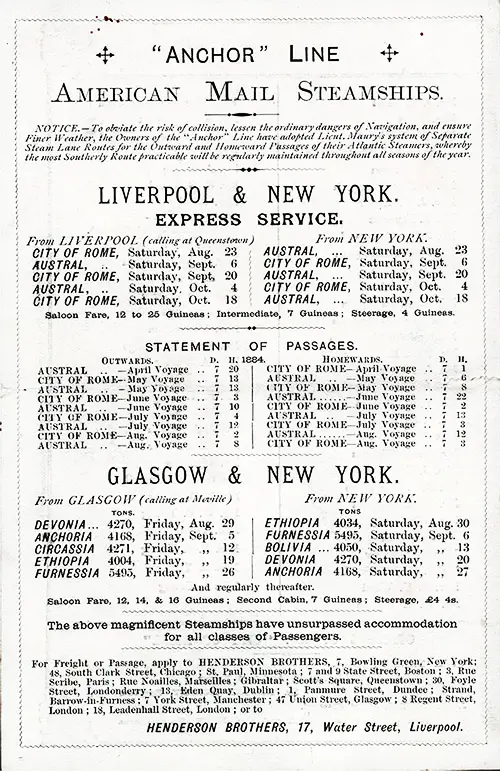 Sailing Schedule, Liverpool-New York and Glasgow-New York, from 23 August 1884 to 18 October 1884. Ships Included the Anchoria, Austral, Bolivia, Circassia, City of Rome, Devonia, Ethiopia, and Furnessia. Includes Selected Passage Times in Days and Hours for the Austral and City of Rome During 1884. SS City of Rome Passenger List, 23 August 1884. GGA Image ID # 15b76cfaec,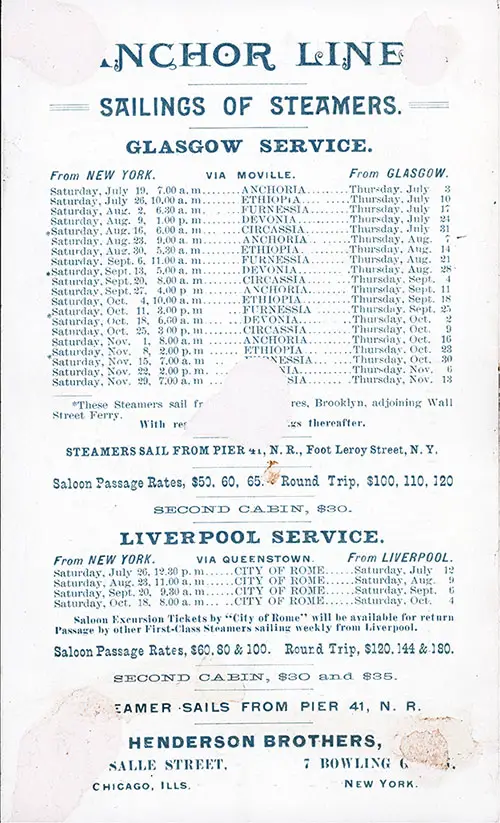 Sailing Schedule, Glasgow-Moville-New York Service, 19 July 1890 to 29 November 1890. Ships Included the Anchoria, Circassia, City of Rome, Devonia, Ethiopia, and Furnessia. Saloon Passage Rages Glasgow-New York, One Way: $50, $60, or $65. Round Trip Rates: $100, $110, or $120. Second Cabin Rate is $30 (One Way). Liverpool-New York Saloon Passage Rates (One Way): $60, $80, or $100. Round Trip Rates: $120, $144, or $180. Second Cabin Rates (One Way: $30 or $35. SS Circassia Passenger List, 12 July 1890. Obscurred Ships from 15 November to 29 November 1890 were the Furnessia, Devonia, and Circassia. GGA Image ID # 15b7db940b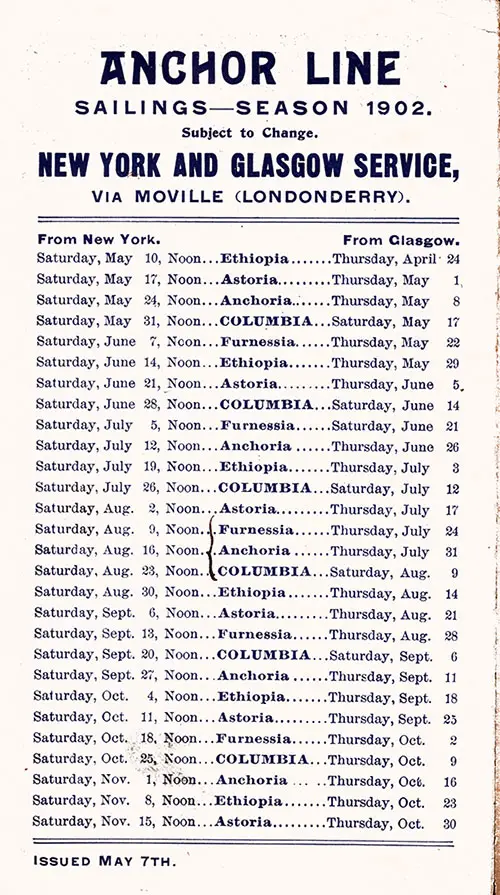 Sailing Schedule, New York-Glasgow Service via Movile (Londonderry), from 24 April 1902 to 15 November 1902. Ships Included the Ethiopia, Astoria, Anchoria, Columbia, and Furnessia. Issued 7 May 1902. Second and Third Class Accommodations, 1902 Brochure. GGA Image ID # 114b905df3
Return to Content Links
Passage Rates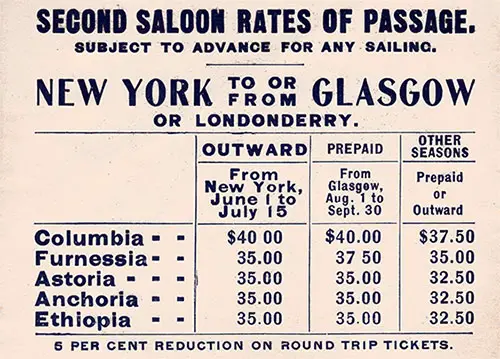 Second Saloon Rates of Passage For New York -- Glasgow or Londonderry. Published 7 May 1902. GGA Image ID # 114ac8fbae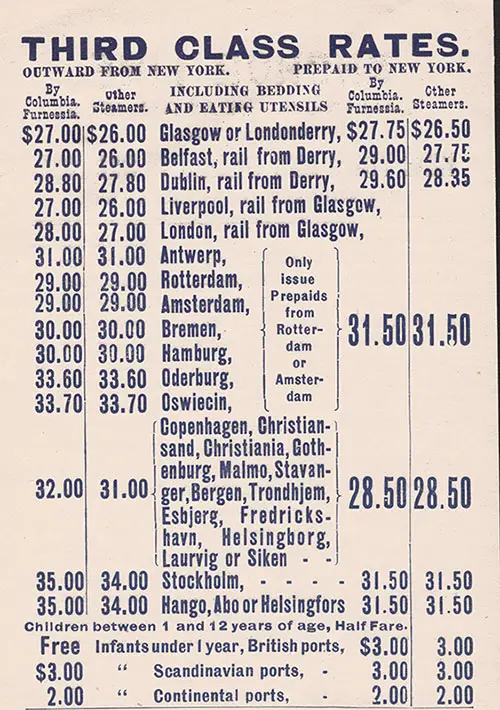 Third Class Rates. Outward from New York. Prepaid to New York. Published 7 May 1902. GGA Image ID # 114add2db0
Return to Content Links