SS Anchoria Collection
Anchoria (1874) Anchor Line
Built by Vickers Sons & Maxim, Ltd., Barrow-in-Furnace, England. Tonnage: 4,168. Dimensions: 408'x 40'. Single screw, 14 knots. Three masts and one funnel. Fate: Broken up in Germany in 1922.
Ephemera for the SS Anchoria are available at the GG Archives, including Passenger Lists, Menus, Brochures, Event Programs, and more.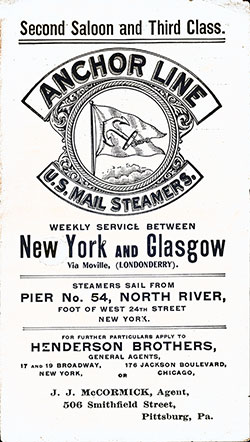 1902 - Anchor Line Second & Third Class Accommodations
Six-Panel Flyer from the Anchor Line promoting their weekly service between New York and Glasgow. Brochure provided information pertaining to the Second Saloon and Third Class passengers only including rates of passage and rail rates to or from Glasgow to points in the UK. Ships Covered: Anchoria, Astoria, Columbia, Ethiopia, and Furnessia.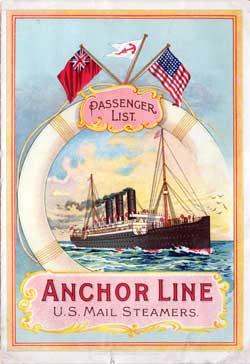 1903-06-04 SS Anchoria Passenger List
Steamship Line: Anchor Steamship Line
Class of Passengers: First and Second Cabin
Date of Departure: 4 June 1903
Route: Glasgow to New York via Moville
Commander: Captain F. H. Wadsworth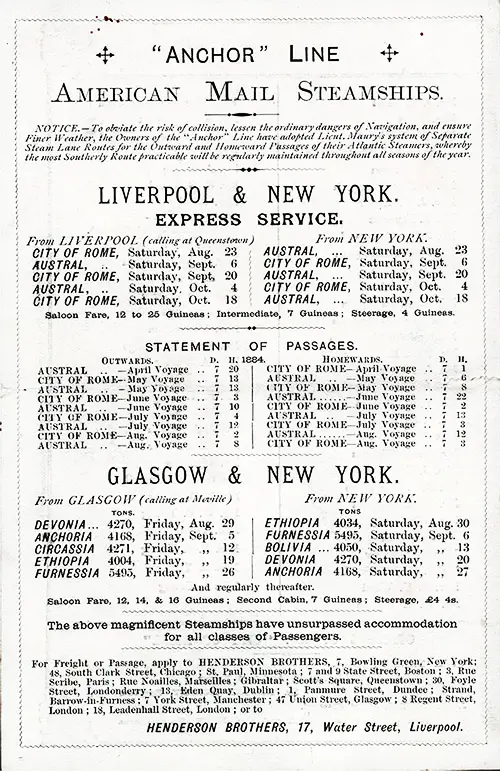 Sailing Schedule, Liverpool-New York and Glasgow-New York, from 23 August 1884 to 18 October 1884. Ships Included the Anchoria, Austral, Bolivia, Circassia, City of Rome, Devonia, Ethiopia, and Furnessia. Includes Selected Passage Times in Days and Hours for the Austral and City of Rome During 1884. SS City of Rome Passenger List, 23 August 1884. GGA Image ID # 15b76cfaec,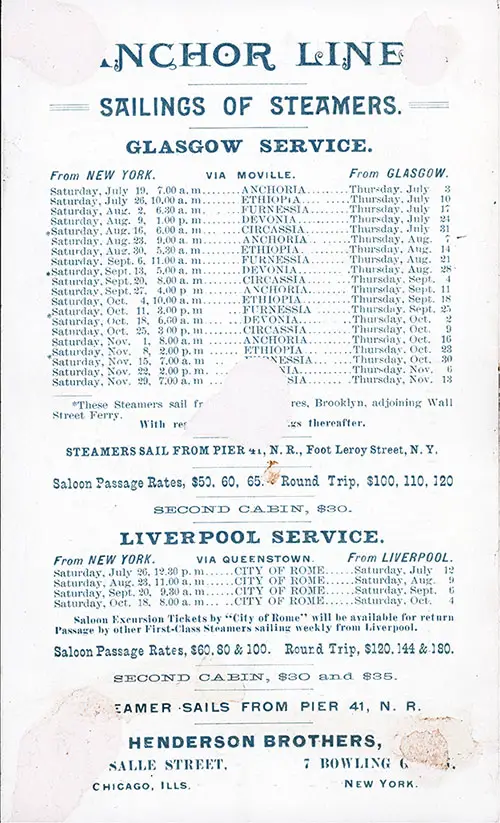 Sailing Schedule, Glasgow-Moville-New York Service, 19 July 1890 to 29 November 1890. Ships Included the Anchoria, Circassia, City of Rome, Devonia, Ethiopia, and Furnessia. Saloon Passage Rages Glasgow-New York, One Way: $50, $60, or $65. Round Trip Rates: $100, $110, or $120. Second Cabin Rate is $30 (One Way). Liverpool-New York Saloon Passage Rates (One Way): $60, $80, or $100. Round Trip Rates: $120, $144, or $180. Second Cabin Rates (One Way: $30 or $35. SS Circassia Passenger List, 12 July 1890. GGA Image ID # 15b7db940b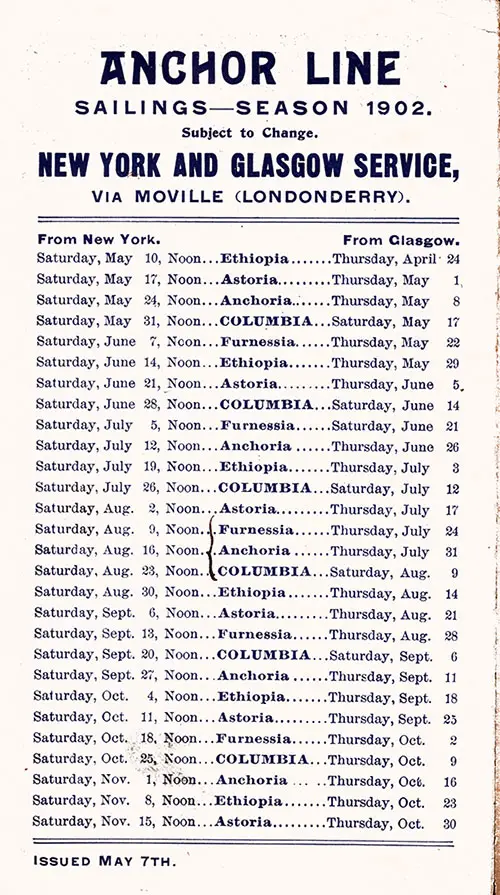 Sailing Schedule, New York-Glasgow Service via Movile (Londonderry), from 24 April 1902 to 15 November 1902. Ships Included the Ethiopia, Astoria, Anchoria, Columbia, and Furnessia. Issued 7 May 1902. Second and Third Class Accommodations, 1902 Brochure. GGA Image ID # 114b905df3
Passage Rates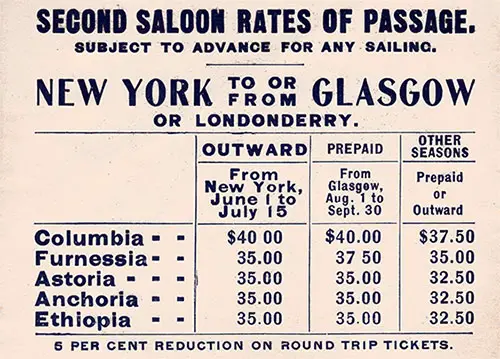 Second Saloon Rates of Passage For New York -- Glasgow or Londonderry. Published 7 May 1902. GGA Image ID # 114ac8fbae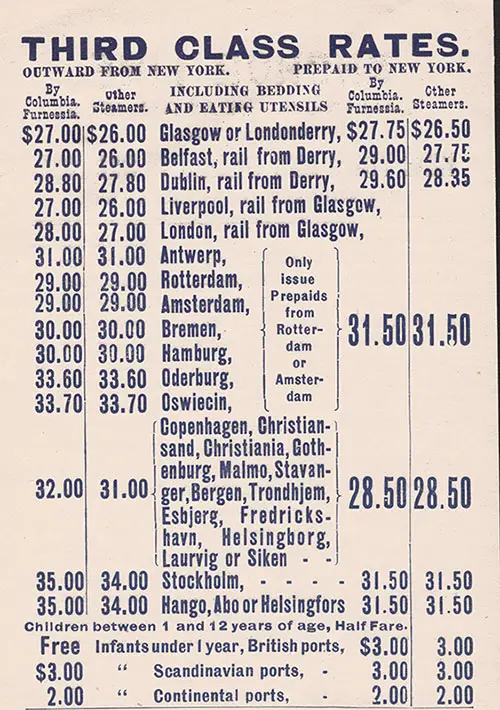 Third Class Rates. Outward from New York. Prepaid to New York. Published 7 May 1902. GGA Image ID # 114add2db0