RMS Armadale Castle Collection
Ephemera for the RMS Armadale Castle are available at the GG Archives, including Passenger Lists, Menus, Brochures, Event Programs, and more.
Armadale Castle (1903) Union-Castle Line
Built by Fairfield Shipbuilding Co., Glasgow, Scotland. Tonnage: 12,973. Dimensions: 570' x 64' (590' o.l.). Twin- screw, 17 knots. Quadruple expansion engines. Two masts and two funnels. Service: England-South Africa. Passengers: 260 first and 300 second. Scrapped in 1936. Sister ship: Kenilworth Castle. The first liners ordered after the merger in February 1900 of the Union Steam Ship Co. with the Castle Mail Packets Co.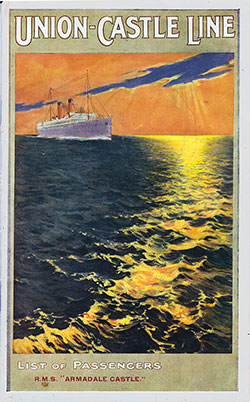 1920-11-19 RMS Armadale Castle Passenger List
Steamship Line: Union-Castle Line
Class of Passengers: First and Second Class
Date of Departure: 12 November 1920
Route: Southampton to Natal via Madeira, Cape Town, Algoa Bay and East London
Commander: Captain J. W. Hague, R.N.R.