SS Athenic Archival Collection
Athenic (1901) Shaw Savill Line
Built by Harland & Wolff, Ltd., Belfast, Ireland. Tonnage: 12,234. Dimensions: 500' x 63' (520' o.l.). Twin-screw, 13 knots. Reciprocating engines. Four masts and one funnel. The Athenic was built for the White Star Line. Sale: Sold to Norwegian owners and converted to whale- oil factory vessel. Renamed: Pelagos. Sister ships: Corinthic and Ionic.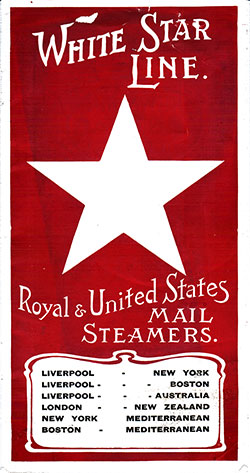 1907 - White Star Line Fleet, History, and Services
Excellent brochure from the White Star Line covering all three classes of services at the height of the transatlantic immigrant trade. Profusely illustrated with many photographs of the ships and accommodations. Featured Ships: Arabic, Athenic, Baltic, Canopic, Cedric, Celtic, Corinthic, Cretic, Cymric, Ionic, Majestic, Oceanic, Republic, Romanic, Runic, and Teutonic.
Images of the SS Athenic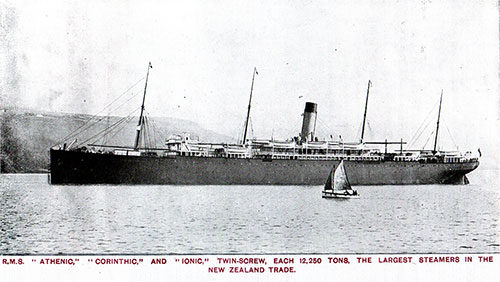 Sister Ships: RMS Athenic, Corinthic, and Ionic, Twin-Screw, Each 12,250 Tons. The Largest Steamers in the New Zealand Trade. GGA Image ID # 145063c7ea