SS Arawa Archival Collection
Arawa (1884) Shaw, Savill & Albion Co.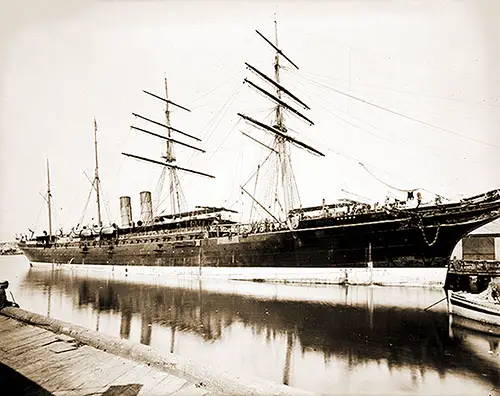 SS Arawa of the Shaw, Savill & Albion Company, 1884. Photo Courtesy of The Encyclopedia of New Zealand. GGA Image ID #
This Ship In Service for Shaw, Savill & Albion Between 1884 and 1896.
Built by Wm. Denny & Bros., Ltd., Dumbarton, Scotland. Tonnage: 5,026. Dimensions: 439' x 46'. Propulsion: Single-screw, 13 knots. Triple expansion engines. Masts and Funnels: Four masts and two funnels. Steel hull. Clipper bow. Service: England-Australia- New Zealand. Comments: This pioneer steamer made three voyages in the trans-Pacific service from 1893-95. Renamed: (a) Colon (1896), (b) Arawa (1899), (c) Lake Megantic (1900), (d) Port Henderson (1905), (e) Anapo (1912), Porto Said (1913). Fate: Torpedoed and sunk by submarine in December 1915. Sister ship: Tainui.
Arawa (1907) Shaw, Savill & Albion Co.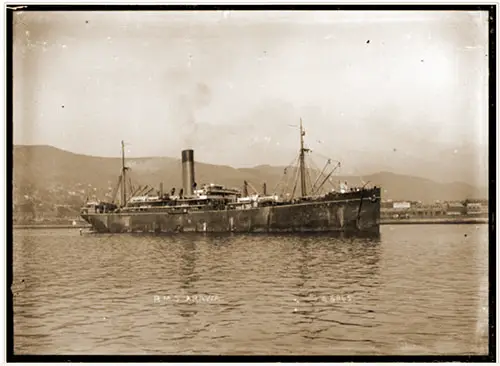 The Steamship RMS Arawa, Photographed by David James Aldersley between 1907-1928. Location Unidentified. Photographer's Title on Negative - Bottom Center: Rms Arawa ©a 5845. Glass Negative. Ref: 1/2-012137-G. Alexander Turnbull Library, Wellington, New Zealand. /Records/22692599. GGA Image ID # 1fa1e531c4
This Ship In Service for Shaw, Savill & Albion Between 1907 and 1928.
Built by Swan, Hunter & Wigham Richardson, Ltd., Newcastle, England. Tonnage: 9,372. Dimensions: 459' X 59'. Propulsion: Twin-screw, 14 knots. 5,000 I.H.P. Triple expansion engines. Masts and Funnels: Two masts and one funnel. Passengers: 44 first, 70 second, 200 third. Ownership Change: Sold in 1928. Renamed: (a) Konigstein (1933), (b) Gandía (1938) Belgian. Fate: World War II casualty, January 22, 1942.
Arawa (1922) Shaw, Savill & Albion Co.
This Ship In Service for Shaw, Savill & Albion Between 1936 and 1955.
Built by Wm. Beardmore & Sons, Ltd., Dalmuir, Glasgow. Tonnage: 14,462. Dimensions: 530' x 68'. Propulsion: Twin-screw, 15 knots. Turbines. Masts and Funnels: Two masts and one funnel. War Service: Employed as an armed merchant cruiser at the beginning of War II. Later was converted to troopship. Passengers: Accommodation for 680 passengers. Services: In service by way of Capetown to Australia and New Zealand in 1953. Fate: Scrapped in Great Britain, 1955. Previously Named: Ex-Esperance Bay (1936). Ownership Change: This liner was purchased from Aberdeen & Commonwealth Line in September 1936, and was a sister ship to the Jervis Bay, Hobsons Bay, Largs Bay and Moreton Bay.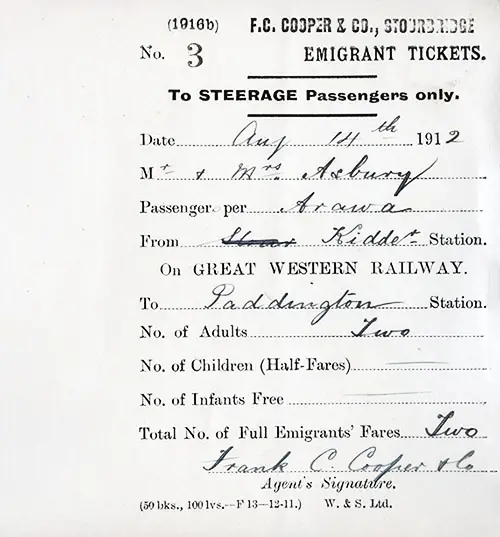 Great Western Railway Emigrant Ticket - United Kingdom: Kidderminser to Paddington Station, 14 August 1912. Very rare receipt for Emigrant Tickets purchased for travel on the Great Western Railway from F. C. Cooper & Co., Stourbridge, for Steerage Passengers Mr. & Mrs. Asbury from Kidderminster to Paddington Station in London to board the RMS Arawa bound for New Zealand. GGA Image ID # 1fa12eedf4
Arrival of the Arawa
The Shaw, Savill, and Albion liner Arawa arrived at Hobart early on Saturday morning from London, via Teneriffe and Capetown. She discharged 360 tons of cargo here, and disembarked 71 passengers for transhipment, sailing for Wellington at 5:20 a.m. yesterday.
The Arawa left London on August 15, arrived Hook of Holland for coal on the 16th, sailed the next day for Plymouth, and arrived there on the 18th, sailing the same day after taking in mails and passengers.
Teneriffe was reached on August 23, and after bunkering coal, the vessel sailed the same day, reaching Capetown late on September 7. Coal was bunkered and mails and passengers taken on board before she sailed for Hobart at daylight on the 9th.
Very rough weather prevailed for the most part of the voyage, and the last two days were marked by strong westerly gales, with very heavy seas.
The Arawa has over 300 passengers for New Zealand ports, besides 3,000 tons of cargo, 1 brood mare, 6 horses, 2 bulldogs, and a number of fowls.
On the voyage out, the Arawa was in touch with the following vessels by wireless: SS Demosthnes, RMS Ruahine, SS Kia Ora; Sydney, Melbourne, and Adelaide land stations. Hobart was also "spoken" at a distance of 1,160 miles.
With Captain H. Clayden are the following officers: Chief, J. Bosdet; Second, J. Wilson; 3rd, A. Curtis; 4th, G. Price; Chief Engineer, C. Cleaton; Chief refrigerator engineer, B. Dunn; Surgeon, J. Cierke; Purser, F. Hammond; Marconiaman, G. Cookson.
The Mercury, Monday, 30 September 1912, Page 4: Arrival of the Arawa