SS Alesia Collection
Alesia (1906) Fabre Line.
Built by Blohm & Voss, Hamburg. Tonnage: 9,720. Dimensions: 475' X 55'. Twin-screw, 15 knots. Two masts and one funnel. Ex-Montreal, ex-Konig Friedrich Auguste.
Ephemera for the SS Alesia are available at the GG Archives, including Passenger Lists, Menus, Brochures, Event Programs, and more.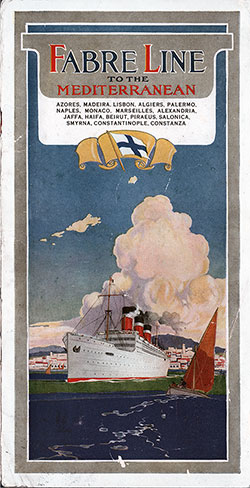 1930-06-19 SS Alesia Passenger List
Steamship Line: Fabre Line
Class of Passengers: Cabin Class
Date of Departure: 19 June 1930
Route: New York and Providence, RI to Ponta Delgada (Azores), Madeira, Piraeus (Athens), Salonica (Thessaloniki), Constantinople (Istanbul), Constanza (Romania?), Jaffa (Haifa), Beirut, and Marseilles
Commander: Captain Edmond MacQuin