SS Athenia Collection
Athenia (1923) Donaldson Atlantic Line, Ltd.
Built by Fairfield Shipbuilding and Engineering Co., Ltd., Glasgow. Tonnage: 13,465. Dimensions: 526'x 66'. Twin-screw, 15 1/2 knots. Two masts and one funnel. Note: She was the first ship to be sunk during World War II. It was on September 3, 1939 that she was torpedoed and sunk 200 miles west of the Hebrides with the loss of 93 lives from the 1,104 passengers on board. Sister ship: Letitia.
Ephemera for the SS Athenia are available at the GG Archives, including Passenger Lists, Menus, Brochures, Event Programs, and more.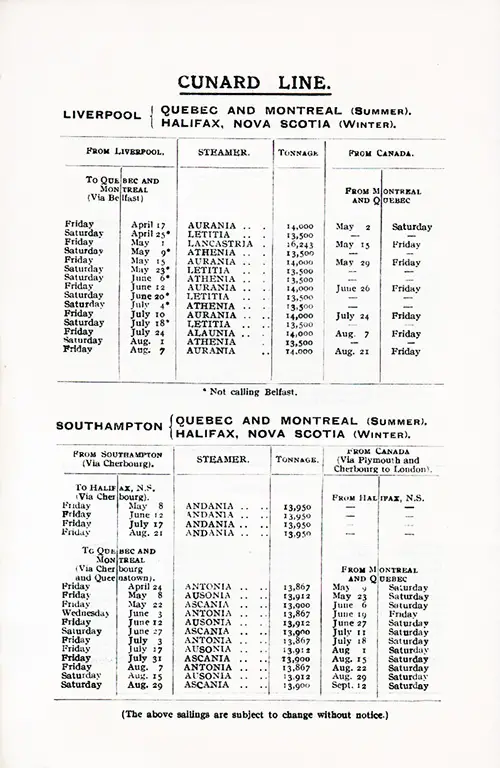 Proposed Sailings, Liverpool-Quebec-Montreal, Liverpool-Halifax, Southampton-Quebec-Montreal, and Southampton-Halifax, from 17 April 1925 to 12 September 1925. Ships included the Alaunia, Andania, Antonia, Ascania, Athenia, Aurania, Ausonia, Lancastria, and Letitia. RMS Andania Passenger List, 6 May 1925. GGA Image ID # 1e1063298c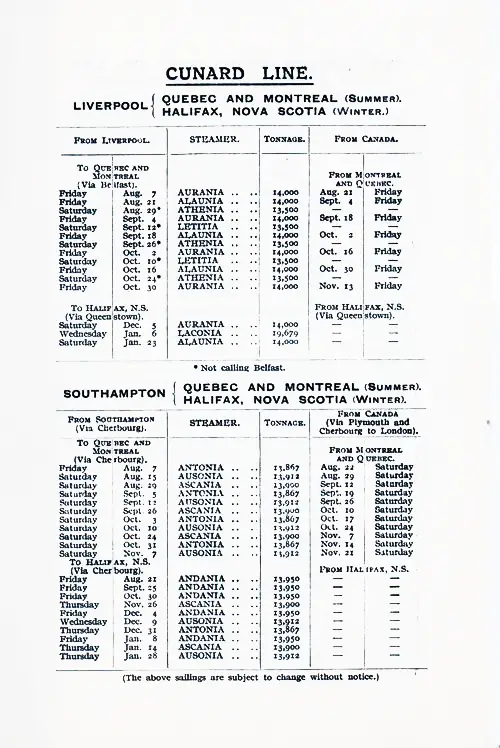 Cunard Line Canadian Service, Liverpool-Canadian Ports, or Southampton to Canadian Ports, from 7 August 1925 to 28 January 1926. Ships Included the Alaunia, Andania, Antonia, Ascania, Athenia, Aurania, Ausonia, Laconia, and Letitia. RMS Alaunia Passenger List, 21 August 1925. GGA Image ID # 1dff527901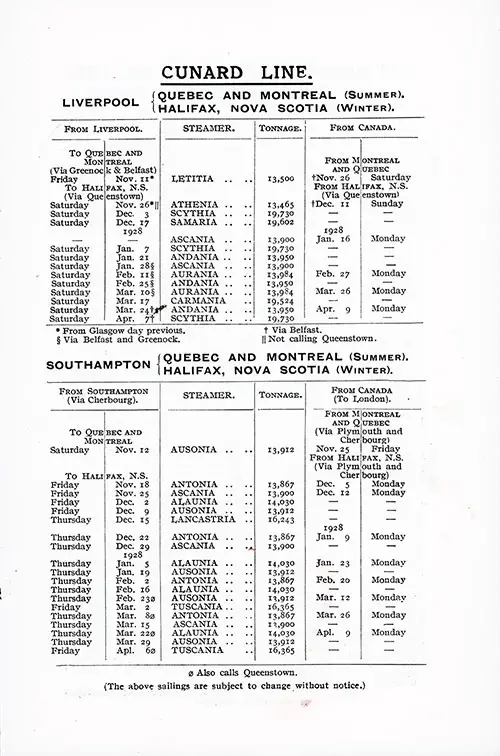 Sailing Schedule, Liverpool-Canadian Ports, from 11 November 1927 to 9 April 1928. Ships Included the Alaunia, Andania, Antonia, Ascania, Athenia, Ausonia, Carmania, Lancastria, Letitia, Samaria, Scythia, and Tuscania. RMS Aquitania Passenger List, 26 November 1927. GGA Image ID # 1e11e04456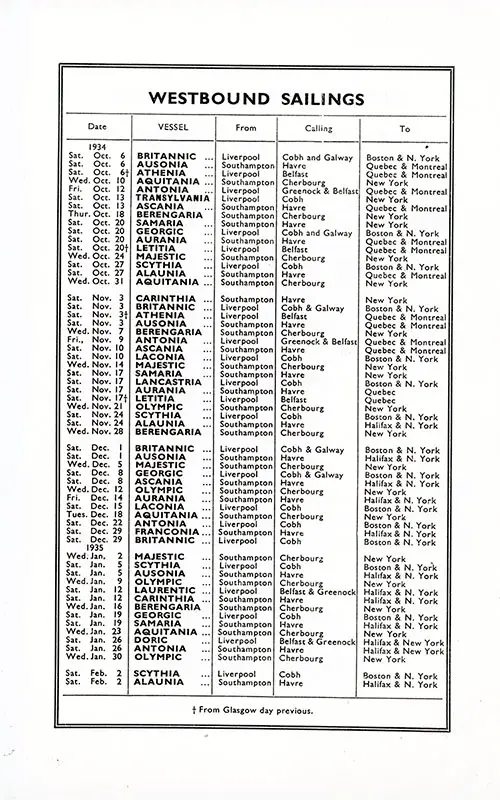 Westbound Sailings of the White Star Line from 6 October 1934 to 2 February 1935. Ships Included the Alaunia, Antonia, Aquitania, Ascania, Athenia, Aurania, Ausonia, Berengaria, Britannic, Carinthia, Franconia, Georgic, Laconia, Lancastria, Laurentic, Letitia, Majestic, Olympic, Samaria, Scythia, and Transylvania. The Schedule Includes Originating, Calling, and Destination Ports for Each Voyage. RMS Britannic Passenger List, 6 October 1934. GGA Image ID # 1e3159e0ee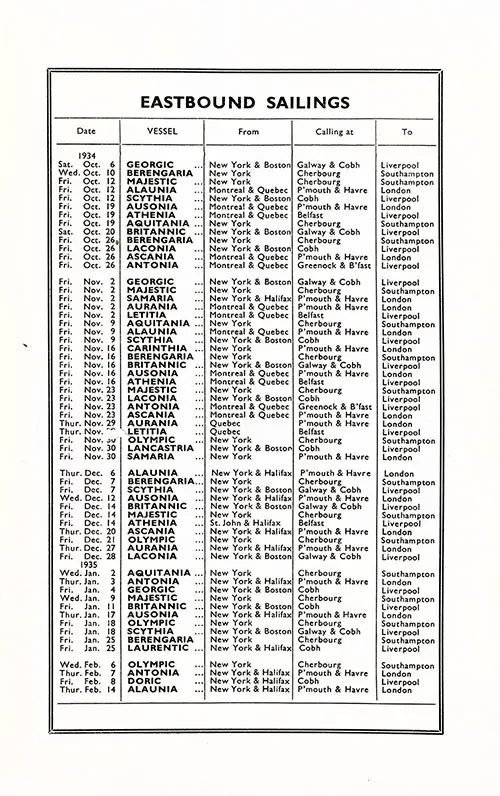 Eastbound Sailings of the White Star Line from 6 October 1934 to 14 February 1935. Ships Included the Alaunia, Antonia, Aquitania, Ascania, Athenia, Aurania, Ausonia, Berengaria, Britannic, Carinthia, Doric, Franconia, Georgic, Laconia, Lancastria, Laurentic, Letitia, Majestic, Olympic, Samaria, Scythia, and Transylvania. The Schedule Includes Originating, Calling, and Destination Ports for Each Voyage. RMS Britannic Passenger List, 6 October 1934. GGA Image ID # 1e3178f51a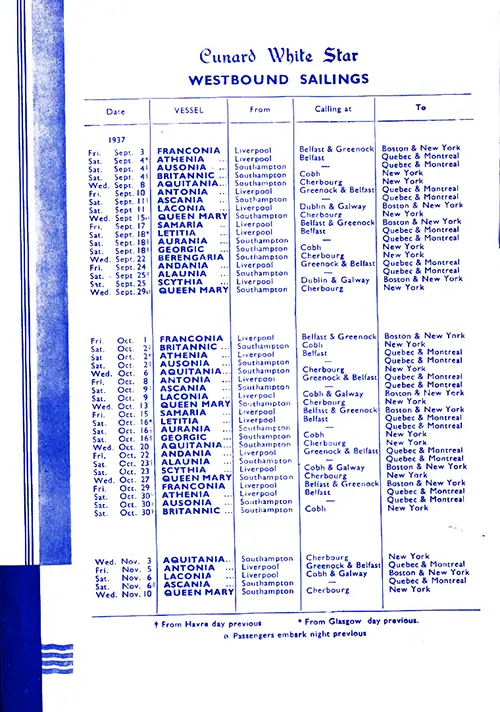 Cunard White Star Westbound Sailing Schedule for September to November 1937. Ships Include the Alaunia, Andania, Antonia, Aquitania, Ascania, Athenia, Aurania, Ausonia, Berengaria, Britannic, Franconia, Georgic, Laconia, Letitia, Queen Mary, Samaria, and Scythia. GGA Image ID # 1db7e0cf97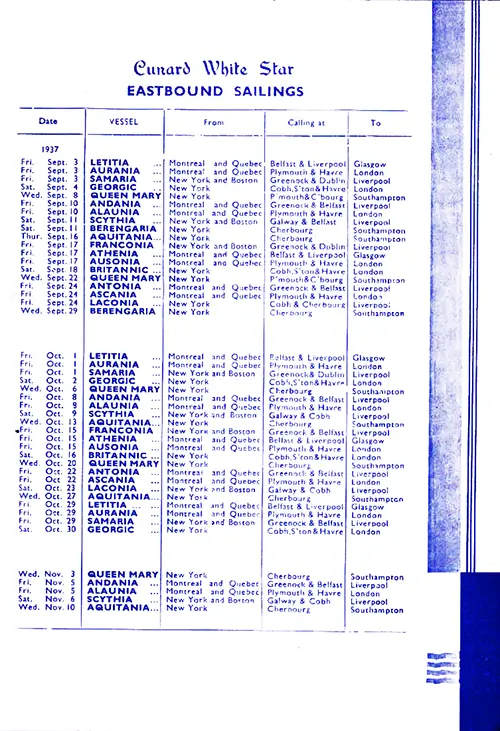 Cunard White Star Eastbound Sailing Schedule for September to November 1937. Ships Include the Alaunia, Andania, Antonia, Aquitania, Ascania, Athenia, Aurania, Ausonia, Berengaria, Britannic, Franconia, Georgic, Laconia, Letitia, Queen Mary, Samaria, and Scythia. GGA Image ID # 1db80746e8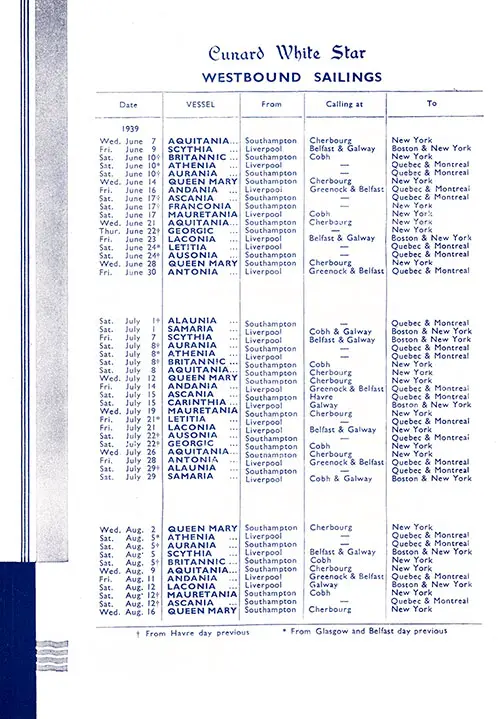 Westbound Sailing Schedule from 7 June 1939 to 16 August 1939. Ships Included the Alaunia, Andania, Antonia, Ascania, Athenia, Aquitania, Aurania, Ausonia, Britannic, Carinthia, Franconia, Georgic, Laconia, Letitia, Mauretania, Queen Mary, Samaria, and Scythia. RMS Aquitania Passenger List, 7 June 1939. GGA Image ID # 1e141a92c5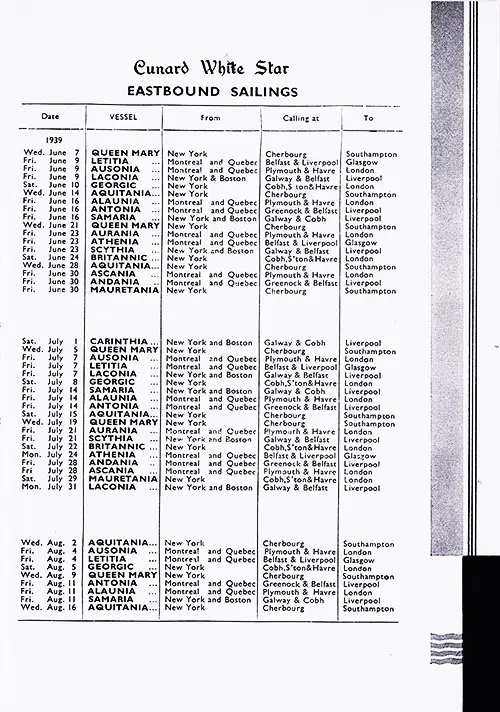 Eastbound Sailing Schedule from 7 June 1939 to 16 August 1939. Ships Included the Alaunia, Andania, Antonia, Aquitania, Ascania, Athenia, Aurania, Ausonia, Britannic, Carinthia, Georgic, Laconia, Letitia, Mauretania, Queen Mary, Samaria, and Scythia. RMS Aquitania Passenger List, 7 June 1939. GGA Image ID # 1e1424c50b