SS Auguste Victoria Collection
Auguste Victoria (1888) Hamburg-American Line.
Built by Vulcan Shipbuilding Co., Stettin, Germany. Tonnage: 7,661. Dimensions: 461' x 56'. Twin-screw, 18 1/2 knots. Three masts and three funnels. Note: In 1896 she was lengthened to 522 feet and further altered by having her original three masts replaced by two new ones, lier gross tonnage thus increased to 8,479 tons. Sold to the Russians in 1904 and renamed Kuban. Used as an auxiliary cruiser during the Russian-Japanese War. Broken up by ship- breakers in May, 1907. Sister ship: Columbia. Note: These two liners were very similar in appearance to the Fürst Bismark and Normannia.
Ephemera for the SS Auguste Victoria are available at the GG Archives, including Passenger Lists, Menus, Brochures, Event Programs, and more.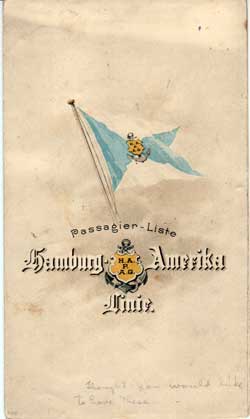 1897-08-26 SS Auguste Victoria Passenger List
Steamship Line: Hamburg Amerika Linie / Hamburg American Line (HAPAG)
Class of Passengers: Cabin
Date of Departure: 26 August 1897
Route: Hamburg to New York via Southampton
Commander: Captain C. Kaempff
Excerpts from Information for Passengers
Pleasure cruising has been another important branch of the Company's business ever since, in the early [eighteen] nineties, the "Augusta Victoria" of the Hamburg- American Line sailed on the world's first pleasure cruise.
SS New York Passenger List -- 11 May 1939