SS Auguste Victoria - History, Accommodations, & Ephemera Collection
Auguste Victoria (1888) Hamburg-American Line.
Built by Vulcan Shipbuilding Co., Stettin, Germany. Tonnage: 7,661. Dimensions: 461' x 56'. Twin-screw, 18 1/2 knots. Three masts and three funnels. Note: In 1896 she was lengthened to 522 feet and further altered by having her original three masts replaced by two new ones, lier gross tonnage thus increased to 8,479 tons. Sold to the Russians in 1904 and renamed Kuban. Used as an auxiliary cruiser during the Russian-Japanese War. Broken up by ship- breakers in May, 1907. Sister ship: Columbia. Note: These two liners were very similar in appearance to the Fürst Bismark and Normannia.
All Digitized Ephemera for the SS Auguste Victoria available at the GG Archives. Common items of ephemera in our maritime collection include passenger lists, brochures, event and entertainment programs, and other memorabilia produced for a voyage or ship.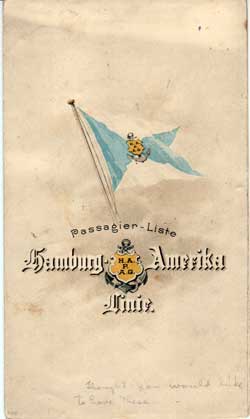 1897-08-26 SS Auguste Victoria Passenger List
Steamship Line: Hamburg Amerika Linie / Hamburg American Line (HAPAG)
Class of Passengers: Cabin
Date of Departure: 26 August 1897
Route: Hamburg to New York via Southampton
Commander: Captain C. Kaempff
Ephemera contained in the GG Archives collection represent the souvenirs provided to the passengers of each voyage. Many of these souvenir ephemeral items have disappeared over the years.
Our selection varies considerably by ship, and likely contains only a sampling of what was originally produced and printed by the steamship lines.
Bookmark pages you're researching and check back periodically for additions as we continue to digitize our extensive ephemera materials.