SS Aller Collection
Aller (1886) North German Lloyd.
Built by Fairfield Shipbuilding and Engineering Co., Ltd., Glasgow. Tonnage: 5,217. Dimensions: 437' x 48'. Single Screw, 17 knots. Four masts and two funnels. Note: First Atlantic express steamship with triple expansion engines. Fate: Broken up in 1904. Sister ships: Saale and Trave.
Ephemera for the SS Aller are available at the GG Archives, including Passenger Lists, Menus, Brochures, Event Programs, and more.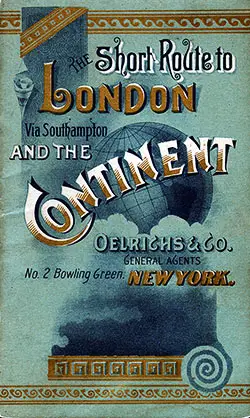 1889 - North German Lloyd - Short Route to London
Brochure prepared by the New York Agents of the Norddeutscher Lloyd Bremen Steamship Line in 1889 - The year of the Paris Exhibition. As a convenient pocket-size guide, the brochure provided a lot of useful information about the Norddeutcher Lloyd, their fleet and accommodations for First and Second Cabin passengers. Featured Ships: Lahn, Eider, Trave, Aller, Ems, Fulda, Saale, Werra, and the Elbe.