SS Trave Collection
Ephemera for the SS Trave are available at the GG Archives, including Passenger Lists, Menus, Brochures, Event Programs, and more.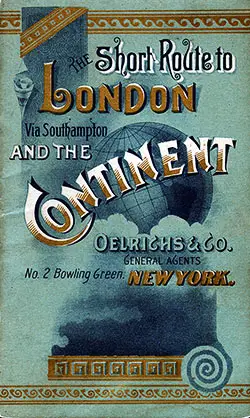 1889 - North German Lloyd - Short Route to London
Brochure prepared by the New York Agents of the Norddeutscher Lloyd Bremen Steamship Line in 1889 - The year of the Paris Exhibition. As a convenient pocket-size guide, the brochure provided a lot of useful information about the Norddeutcher Lloyd, their fleet and accommodations for First and Second Cabin passengers. Featured Ships: Lahn, Eider, Trave, Aller, Ems, Fulda, Saale, Werra, and the Elbe.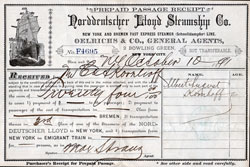 1891-10-10 Prepaid Passage Receipt - 3rd Class, Bremen to New York
Beautifully engraved "Prepaid Passage Receipt" from the North German Lloyd. The passenger has to wait at home until the Norddeutscher Lloyd in Bremen sent him instructions and the required tickets and traveling papers. Arrived in New York on 25 August 1893 on the SS Trave of the Norddeutscher Lloyd.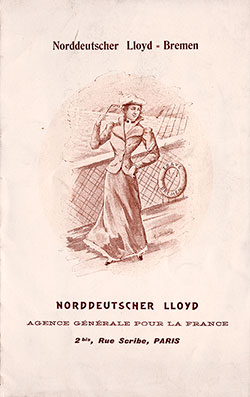 1900-08-30 SS Trave Passenger List
Steamship Line: Norddeutscher Lloyd (North German Lloyd)
Class of Passengers: Cabin
Date of Departure: 30 August 1900
Route: Cherbourg to New York
Commander: Captain H. Christoffers