SS Tuscania Archival Collection
Ephemera for the SS Tuscania available may include Passenger Lists, Menus, Brochures, Sailing Schedules, Route Maps, Photographs, and more.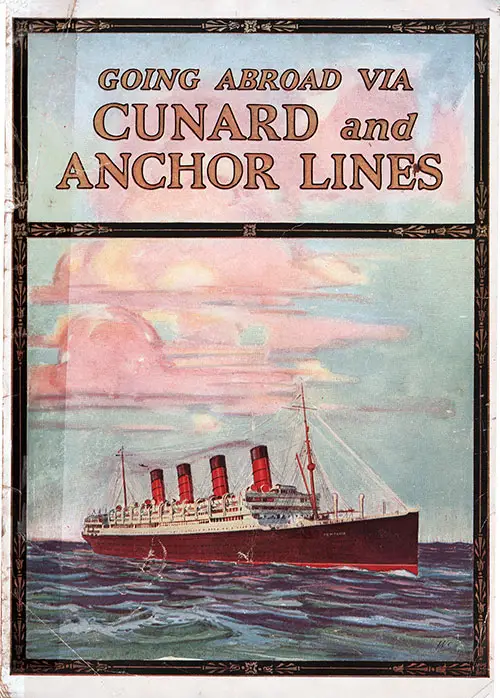 Going Abroad via Cunard and Anchor Lines - 1923
Excellent brochure from 1923 provides numerous photographs, the majority interior views of the many steamships in the fleets of the Cunard and Anchor Lines. Ships covered include Albania, Aquitania, Assyria, Berengaria, Cameronia, Carmania, Caronia, Columbia, Franconia, Laconia, Mauretania, Samaria, Saxonia, Scythia, Tuscania, Tyrrhenia, and "A" Class Ships. Additional features included Cold Buffets, Assorted Staterooms, and a large format Map of "Strange Lands and Foreign Ports Reached by Cunard and Anchor Passenger Services."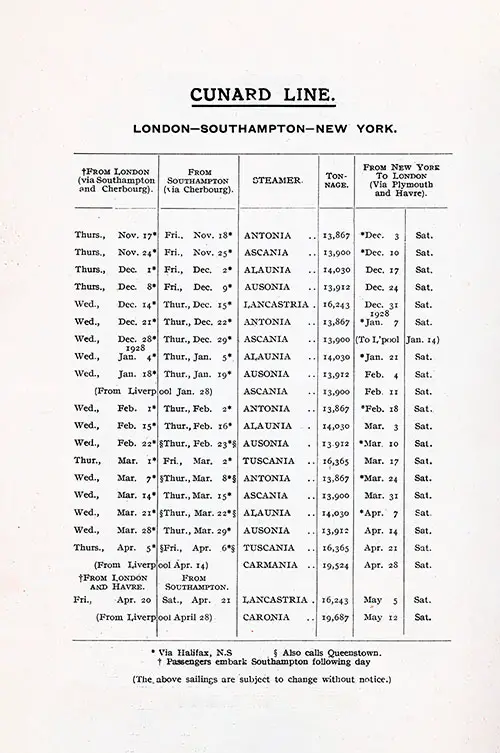 Sailing Schedule, London-Southampton-New York, from 17 November 1927 to 12 May 1928. Ships Included the Alaunia, Antonia, Ascania, Ausonia, Carmania, Lancastria, and Tuscania. RMS Aquitania Passenger List, 26 November 1927. GGA Image ID # 1e1136df31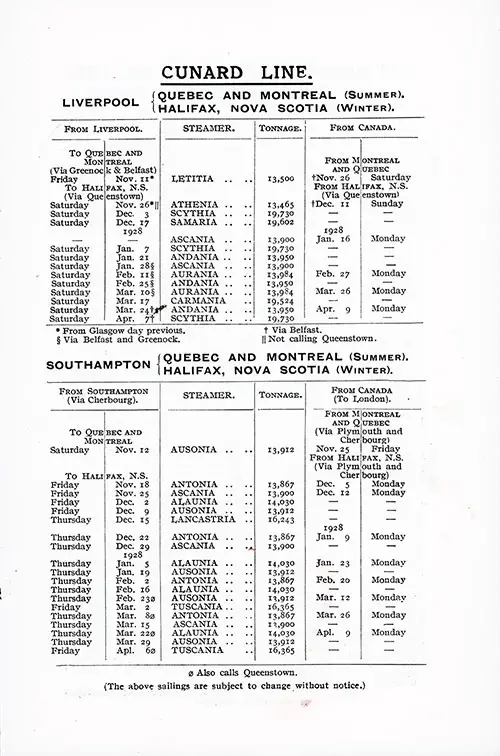 Sailing Schedule, Liverpool-Canadian Ports, from 11 November 1927 to 9 April 1928. Ships Included the Alaunia, Andania, Antonia, Ascania, Athenia, Ausonia, Carmania, Lancastria, Letitia, Samaria, Scythia, and Tuscania. RMS Aquitania Passenger List, 26 November 1927. GGA Image ID # 1e11e04456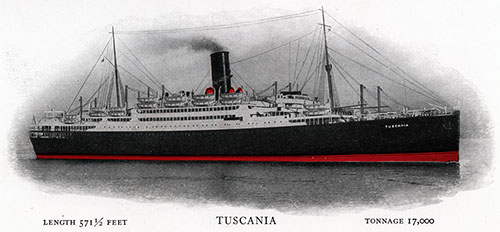 The RMS Tuscania of the Cunard-Anchor Line. Length: 571 1/2 Feet; Tonnage: 17,000. Going Abroad, 1923. GGA Image ID # 1bc97f8b85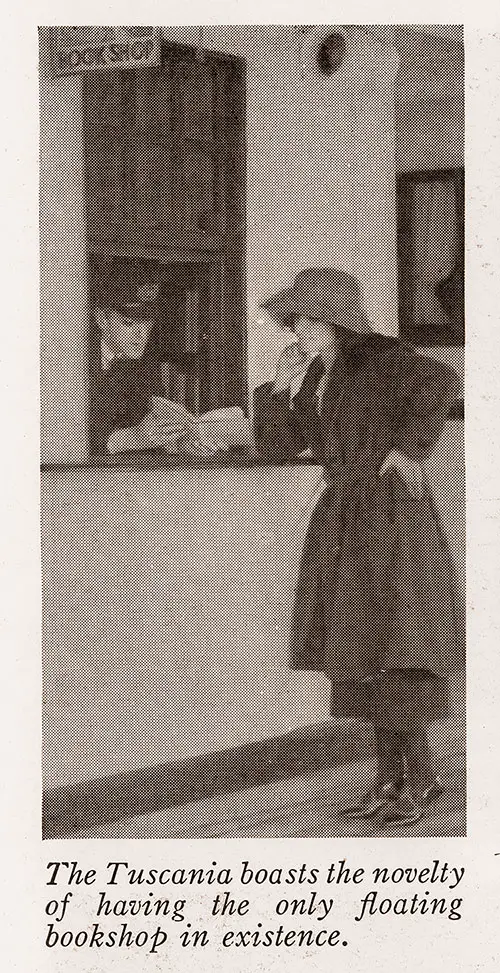 The Tuscania Boasts the Novelty of Having the Only Floating Bookshop in Existence. Going Abroad, 1923. GGA Image ID # 1bca29eb0a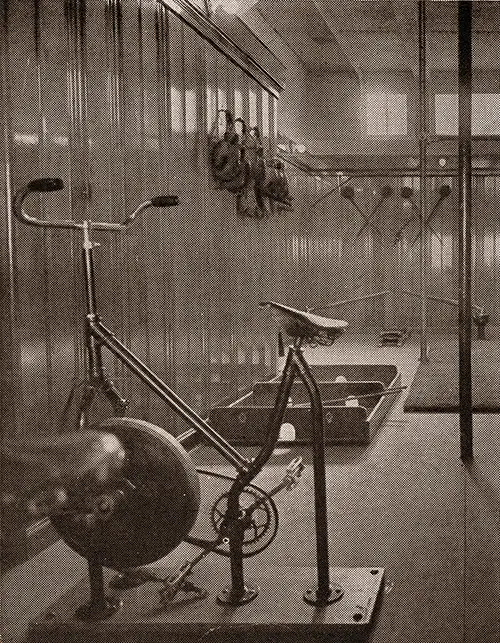 The Gymnasium on the Tuscania Is an Effective Contradiction to the Premise That a Sea-Voyage Is a Lazy Man's Holiday. You May He as Active Here as You Like. Going Abroad, 1923. GGA Image ID # 1bca4c8c24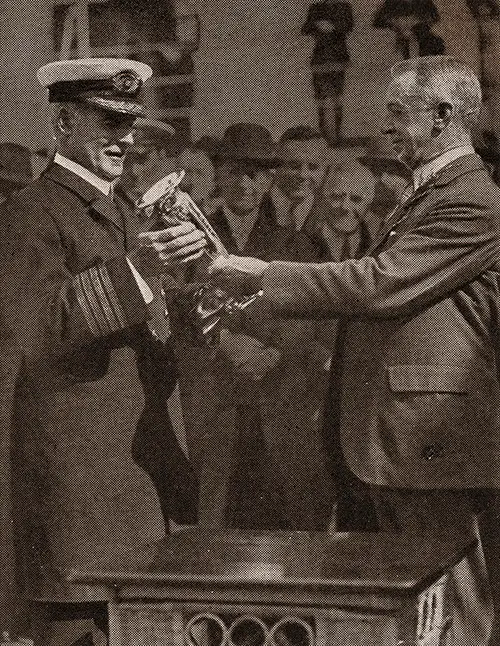 The Tuscania Is Proud of Its Skipper, Captain Bone, Who Is Here Seen Receiving a Silver Loving Cup from Scottish-American Friends in New York. Going Abroad, 1923. GGA Image ID # 1bcaa2a157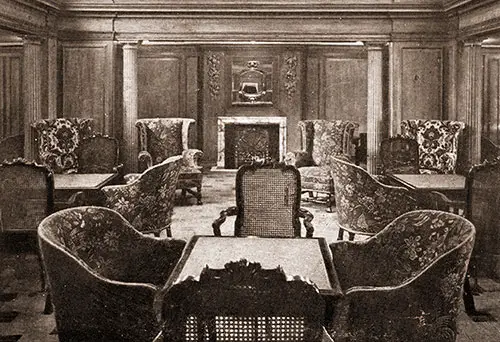 The Smoking Room on the Tuscania Puts You in Mind of Some Fine Old Club, Where a Man May Lean Back Luxuriously, Smoke His Favorite Brand, and Be Happy. Going Abroad, 1923. GGA Image ID # 1bcb03b365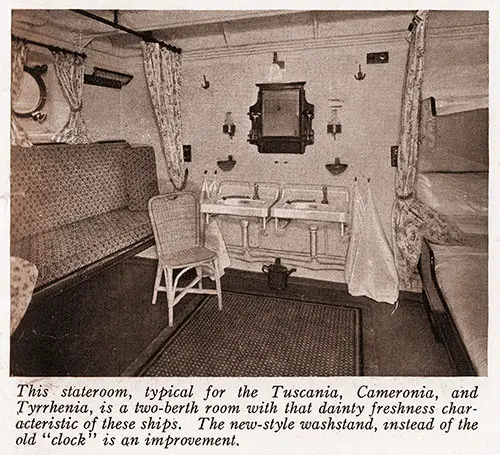 This Stateroom, Typical for the Tuscania, Cameronia, and Tyrrhenia, Is a Two-Berth Room with That Dainty Freshness Characteristic of These Ships. The New-Style Washstand, Instead of the Old "Clock," Is an Improvement. Going Abroad, 1923. GGA Image ID # 1bd238bb95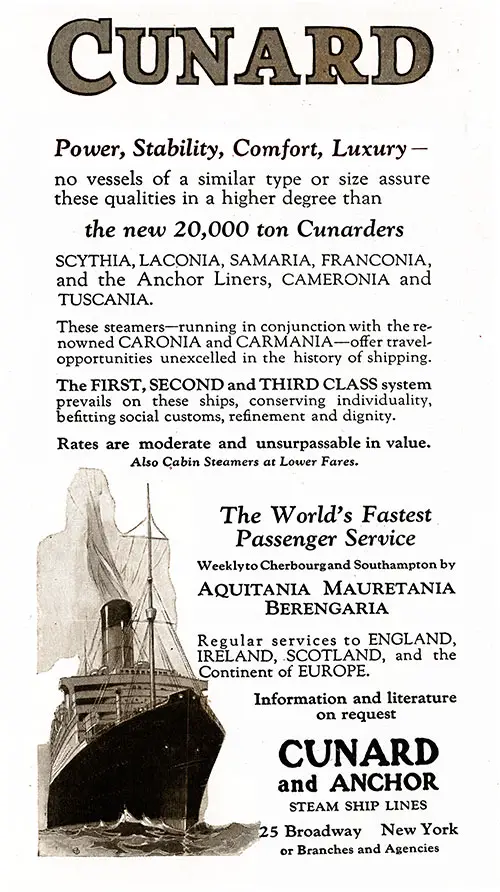 Advertisement: Cunard Anchor Lines, Power, Stability, Comfort, Luxury in 1923 -- The New 20,000 Ton Cunarders Scythia, Laconia, Samaria, Franconia, and the Anchor Liners Cameronia and Tuscania. These Steamers--Running in Conjuction with the Renowned Caronia and Carmania--Offer Travel Opportunites Unexcelled in the History of Shipping. The World's Fastest Passenger Service, Weekly to Cherbourg and Southampton by the Aquitania, Mauretania, and Berengaria. Ocean Records, May 1923. GGA Image ID # 1e687406f0