Cunard Tourist Third Cabin Accommodations - 1920s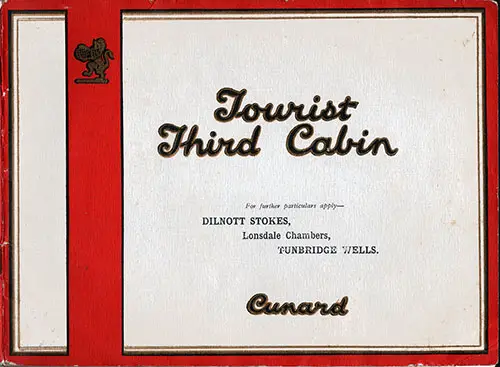 Front Cover, Cunard Tourist Third Cabin Accommodations Brochure. Undated, Circa Late 1920s. GGA Image ID # 1191268c64
Tourist Third Cabin replaced the old Third Class on the Cunard Line Steamships, the refinished accommodations attracted students, professors, young business people, and bargain-hunters filling the cabins left mostly empty from the decline of the immigrant trade. This is a photo journal of the accommodations found in the new Tourist Third Cabin class.
What is Tourist Third Cabin? Accommodations for this class have been designed specifically to meet the needs of travelers who cannot afford higher-rated accommodation. Yet this traveler still requires comfort, good service, spaciousness, and a pleasant, friendly atmosphere.
It has its own separate accommodation, its own personnel, its own particular high standard of comfort. It does not promise the luxury of the most expensive hotels, but it does provide the best travel value for money that can be obtained.
The cost for an ocean voyage is moderate î in fact, very economical. While there is a reduction for a round-trip voyage, it is equally satisfactory for the one-way trip.
Menus are varied and extensive. Accommodation includes, apart from the spacious dining saloons, libraries, private staterooms for two or three persons, numerous bathrooms, an open-air swimming pool, open and glass-enclosed promenades and ample spaces for deck games.
There is an orchestra, and during the voyage, there are always dances, sports, concerts, and carnivals. Tourist Third Cabin is, in the opinion of many, the most fruitful accomplishment in Atlantic travel for a generation.
It is increasing the number of travelers — and it is making it possible for older travelers to have two journeys where only one could be made before.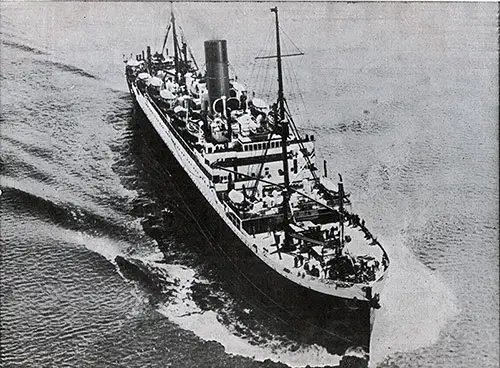 A Cunard "A" Liner (14,000 Tons) Passing Up the St. Lawrence. A Striking Photograph Taken from the Quebec Bridge. GGA Image ID # 1192fa152f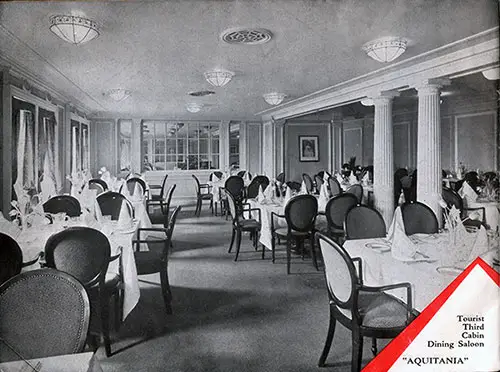 Tourist Third Cabin Dining Room on the Aquitania. GGA Image ID # 1191347961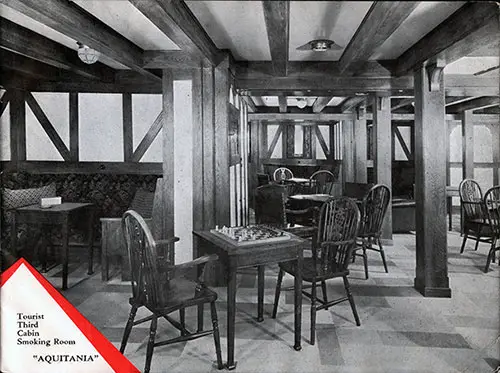 Tourist Third Cabin Smoking Room on the Aquitania. GGA Image ID # 11916ad833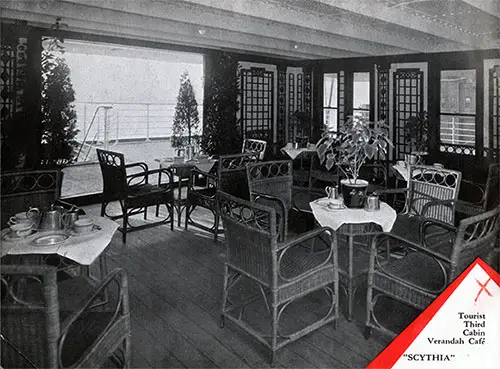 Tourist Third Cabin Verandah Café on the Scythia. GGA Image ID # 1191b2ef24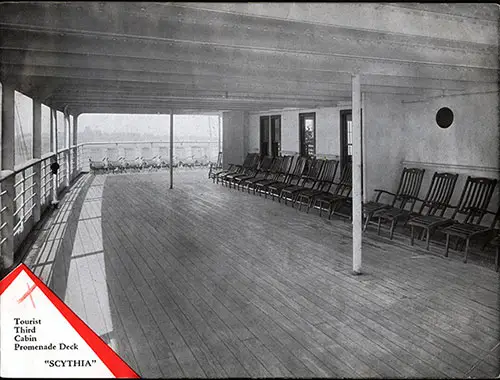 Tourist Third Cabin Promenade Deck on the Scythia. GGA Image ID # 1191be1967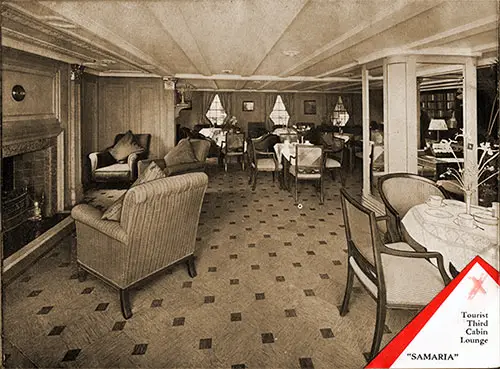 Tourist Third Cabin Lounge on the Samaria. GGA Image ID # 119256f2c1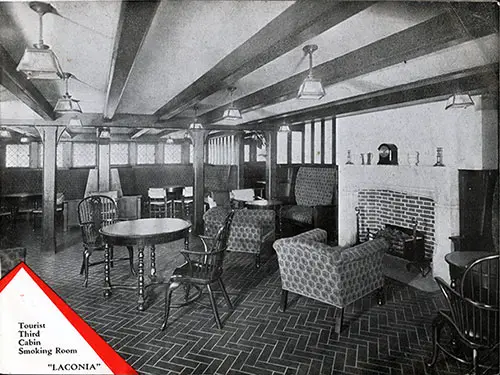 Tourist Third Cabin Smoking Room on the Laconia. GGA Image ID # 11926d7ec0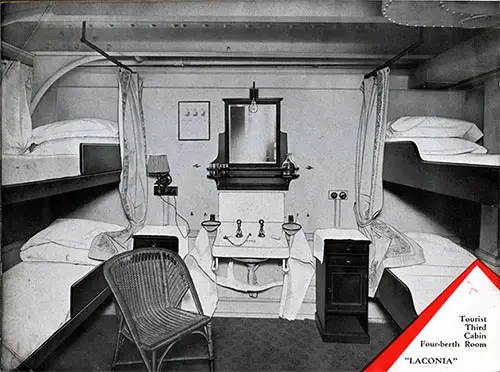 Tourist Third Cabin Four-Berth Room on the Laconia. GGA Image ID # 1192de20dc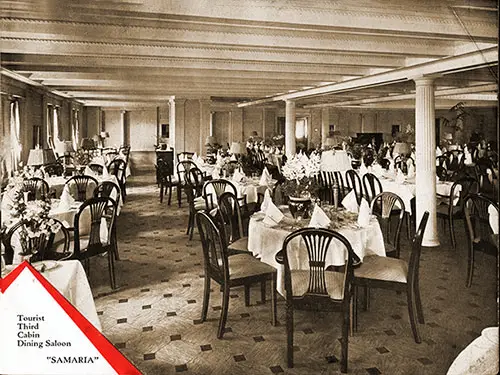 Tourist Third Cabin Dining Saloon on the Samaria. GGA Image ID # 119304066e

RMS Berengaria. 52,300 Tons. The Largest of All Big Cunarders. GGA Image ID # 11931dd1bc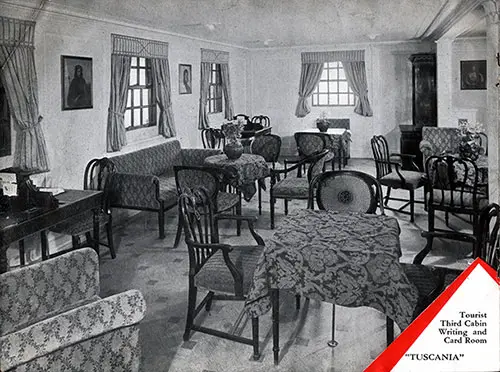 Tourist Third Cabin Writing and Card Room on the Tuscania. GGA Image ID # 11933b8fc8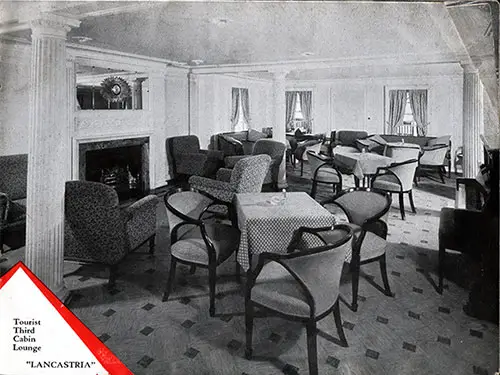 Tourist Third Cabin Lounge on the Lancastria. GGA Image ID # 11934d42b1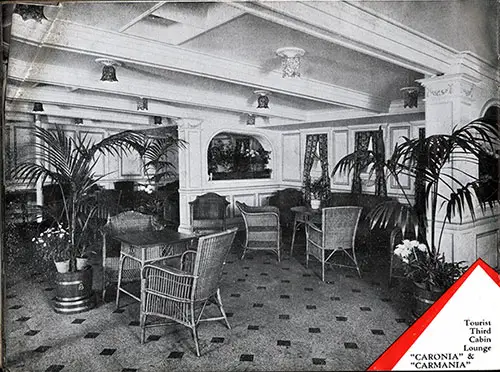 Tourist Third Cabin Lounge on the Caronia and Carmania. GGA Image ID # 11934fedc2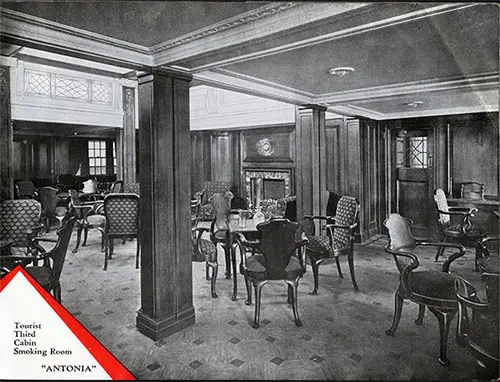 Tourist Third Cabin Smoking Room on the Antonia. GGA Image ID # 1193797cb6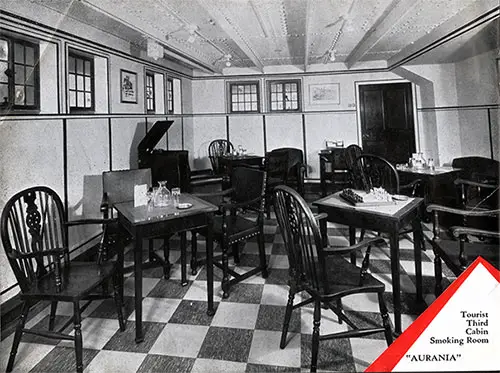 Tourist Third Cabin Smoking Room on the Aurania. GGA Image ID # 119455568e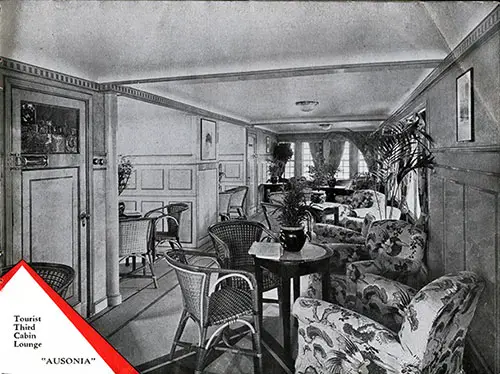 Tourist Third Cabin Lounge on the Ausonia. GGA Image ID # 11949614d7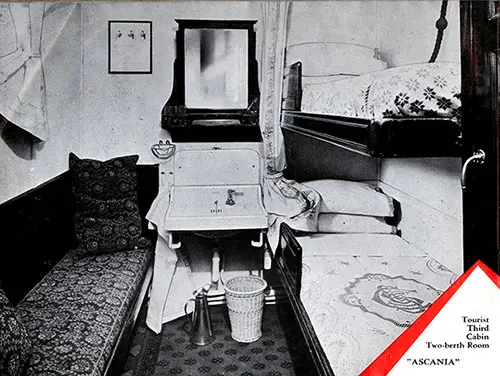 Tourist Third Cabin Two-Berth Room on the Ascania. GGA Image ID # 1194af61a3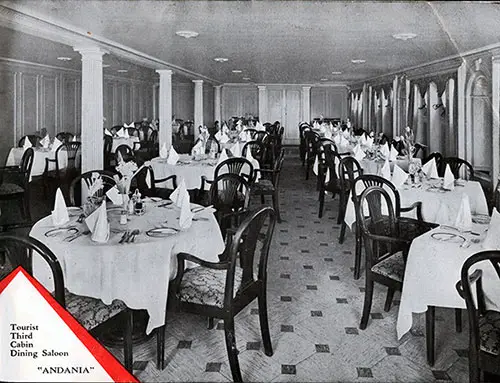 Tourist Third Cabin Dining Saloon on the Andania. GGA Image ID # 11951b88b0
Brochure Information
Date Published: Undated, but believed to date from the late 1920s.
Publisher: Cunard Steamship Company, Ltd.
Distributor: Dilnott Stokes, Lonsdale Chambers, Tunbridge Wells.
Number of Pages: 26 (Unpaginated)
Number of Photographs: 18
Dimensions: 21.7 cm x 15.5 cm