SS Belgenland - Red Star Line - 1924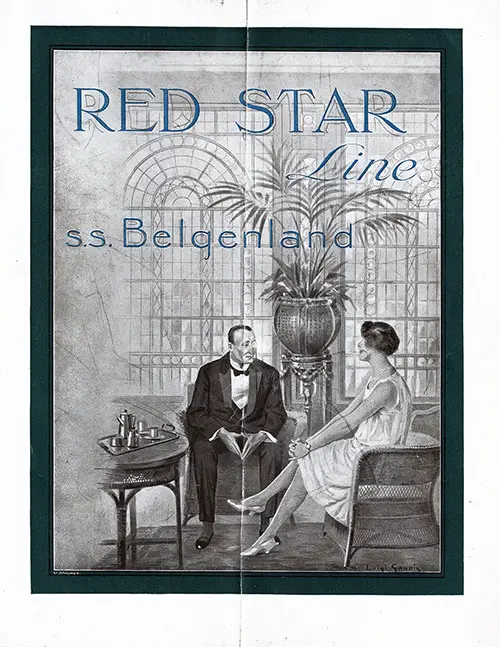 Front Cover of 1924 Brochure on the Red Star Line Flagship SS Belgenland 27,200 Tons. GGA Image ID # 1206601c61
A 1924 brochure from the Red Star Line features their flagship, the SS Belgenland, and its many amenities available for first-class passengers. Numerous photographs and illustrations document the opulence and service provided by the Red Star Line.
RED STAR LINE SHIPS AND SERVICES
EVERY needful comfort of ocean travel and many of the fashionable luxuries of grand voyages are to be had in the Red Star Line's transatlantic service.
The Red Star Line ships are large, powerful, and modern. With a background of more than fifty years of successful operation between the United States and Europe, the service in which they are engaged is possessed of both character and distinction.
The Red Star Line offers high-class accommodation, at rates below the highest, on vessels unexcelled in their class.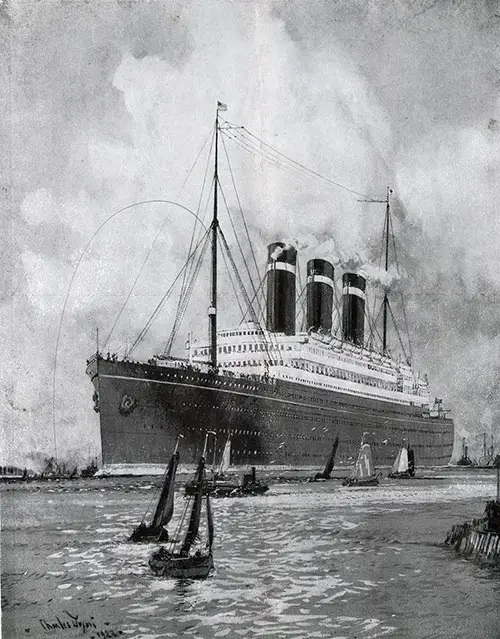 The SS Belgenland, 27,200 Tons - (From a Drawing by Charles Dixon R.I.). GGA Image ID # 12068cc6ab
The Red Star Line Heel consists of the
Belgenland 27,200 Tons
Lapland 18,694 Tons
Pennland 16,322 Tons
Arabic 16.786 Tons
All are known for their steadiness and the regularity of their voyages.
Distinctive contributions to enjoyment on these ships are service of a personal, thoughtful kind, and social life has an air of cheerfulness and friendliness.
In the character and arrangement of their passenger accommodations and how the service is maintained, the Red Star Line ships appeal to the passenger who likes intimate, home-like comforts. They are models of cleanliness.
Red Star Line ships ply between Antwerp and New York — calling at Southampton and Cherbourg on their westbound voyages and at Plymouth and Cherbourg on their eastbound voyages.
Antwerp — only 4 1/2 hours journey from Paris and easily reached from all other continental centers — is a most convenient port of embarkation for travelers bound for America.
Foreign baggage can be forwarded to and from the steamers without customs inspection at the frontiers.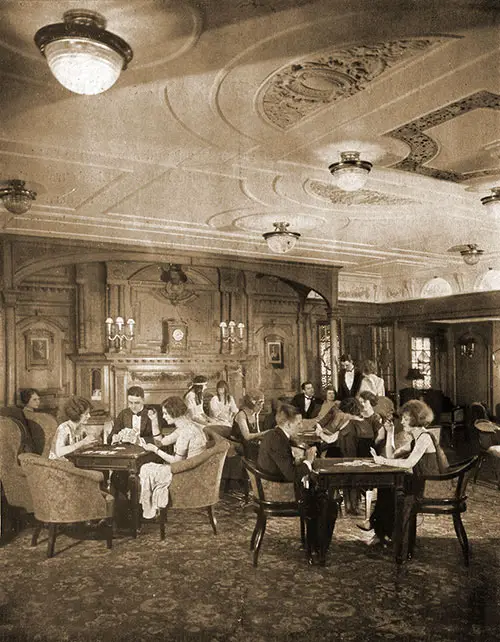 The First Class Lounge — a Noble Saloon. The Lounge — a Saloon of Noble Proportions—Is Essentially a Cheerful Room. Here Are Tables for Bridge, Quiet Corners for Letter Writing and a Generous Library. GGA Image ID # 120697df95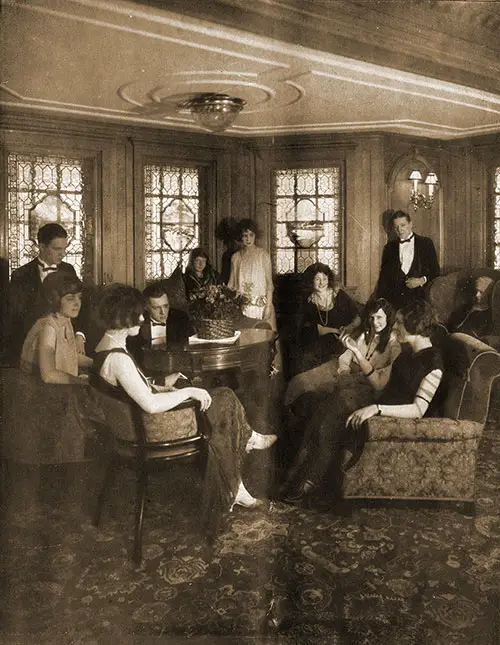 Elegant Bay Window in the First Class Lounge. Joyous Youth Finds Kindred Spirits on Red Star Line Ships, in an Atmosphere of Merriment and Fellowship. Under Such Conditions, the Sea Voyage Is an Adventure of Delight and an Open Door of Opportunity. GGA Image ID # 12069c146d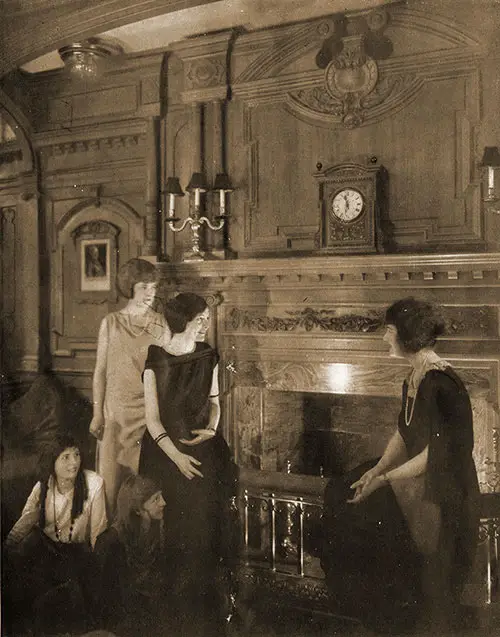 The Broad Hearth in the First Class Lounge. The Generous Hearth in the Great Lounge Is Snug and Cheery with Its Ruddy Glow. Large Autographed Portraits of King Albert and His Queen Flank the Wide Oak Mantel. GGA Image ID # 1206b5333c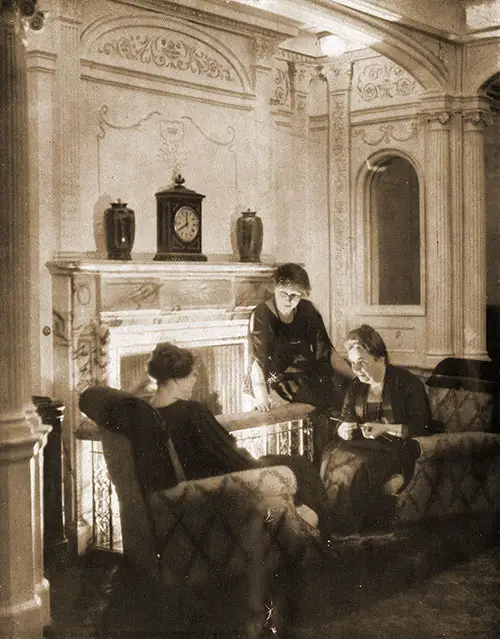 Women Having a Firelight Chat in the First Class Drawing Room. Home Firesides Are Suggested by This Inviting Scene in the Drawing Room on the Belgenland, a Charming Apartment Designed for the Particular Use of Ladies. GGA Image ID # 1207303f16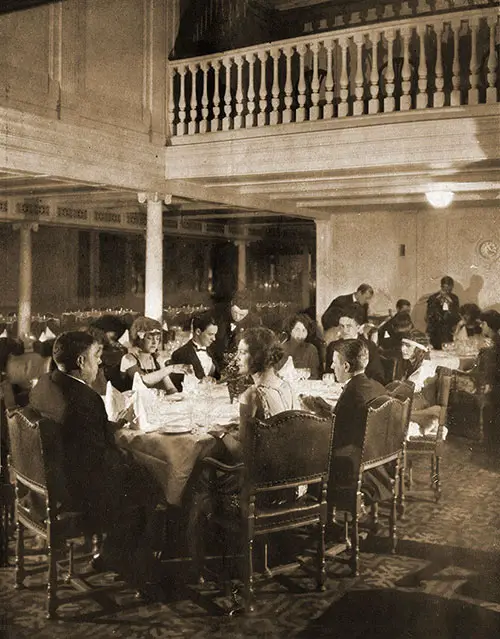 First Class Passengers Enjoy Service at Small Tables. The Dining Saloon Is Particularly Spacious. Artistically Decorated in Light Tones, It Can Accommodate 390 Passengers at One Sitting. A Pleasing Feature Is Individual Service at Small Tables. GGA Image ID # 1207550a41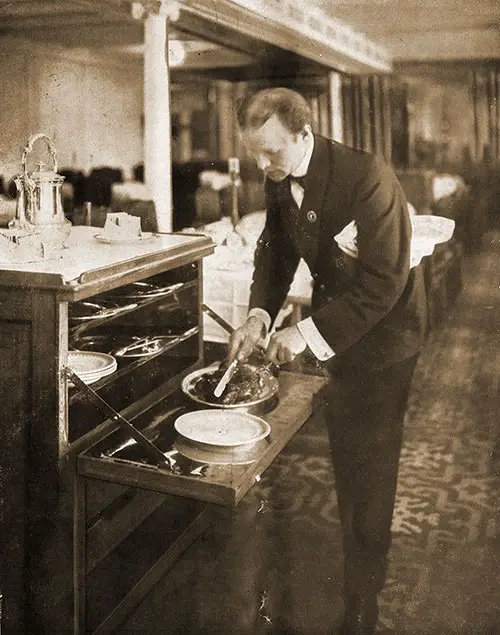 Electric Buffets That Keeps Food Warm Is 0ne Novel Feature in the Dining Room Service and is the Means Employed for Keeping Plates and Food at the Right Temperature. GGA Image ID # 120784b536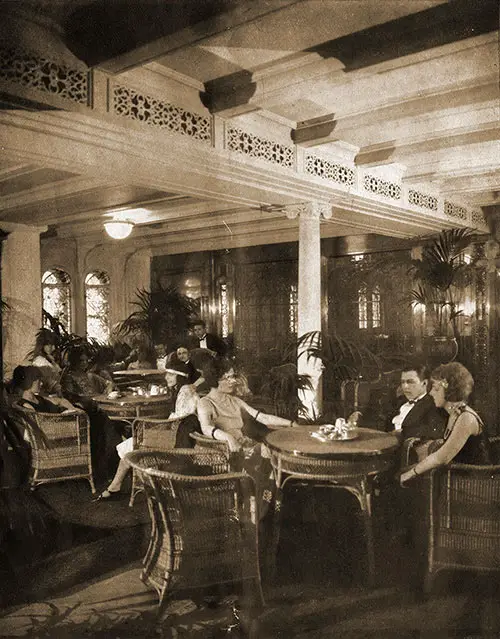 Opulence in First Class Palm Court Ballroom. The Palm Court and Ball Room Extends the Full Width of the Ship and Is Separated from the Dining Saloon by a Screen of Crystal and Bronze. On Its Perfect Parquetry Floor There Is Dancing Every Night to Music by a Continental Orchestra. GGA Image ID # 1207937330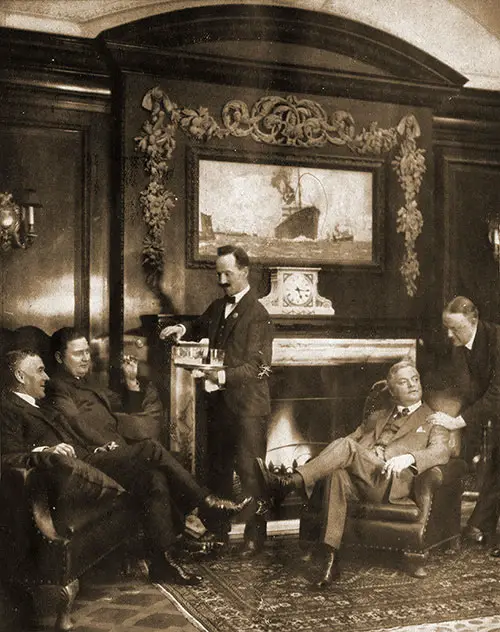 The First Class Smoking Room Has Old World Charm. A Reproduction of a Room in Hampton Court Palace, Paneled in Ripely Tinted Cedar with Carvings of Lime Wood. The Furniture Is Cushioned in Pliant Levant. GGA Image ID # 1207c4dba1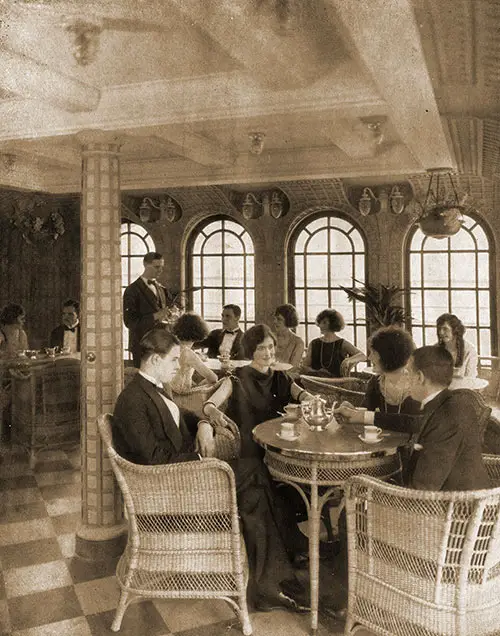 First Class Passengers Enjoy Socializing in the Verandah-Café — a Summer Garden. Commanding a view of the Sea, the Verandah-Café Is an Airy Though Enclosed Summer Garden with the Grace of the Loggia of an Italian Villa. GGA Image ID # 1207f66180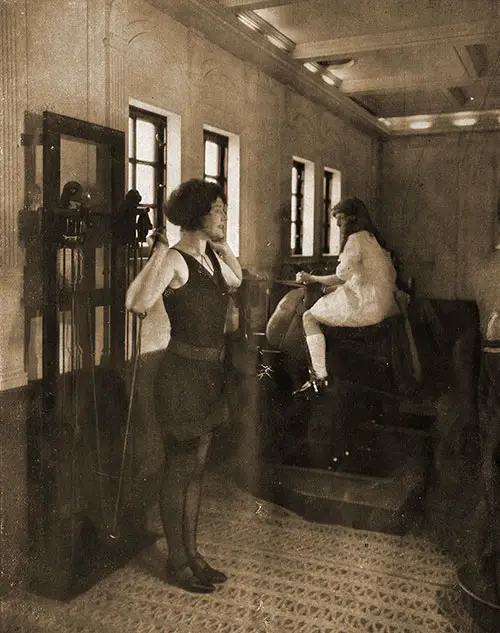 All Ages Find Pleasure in the First Class "Gym." A Few Minutes Brisk Exercise in the Gymnasium, Under the Instruction of a Physical Director, Brings the Bright Color to Beauty's Cheek and Does Much Towards Keeping the Average Passenger Fit for the Voyage. GGA Image ID # 120810962a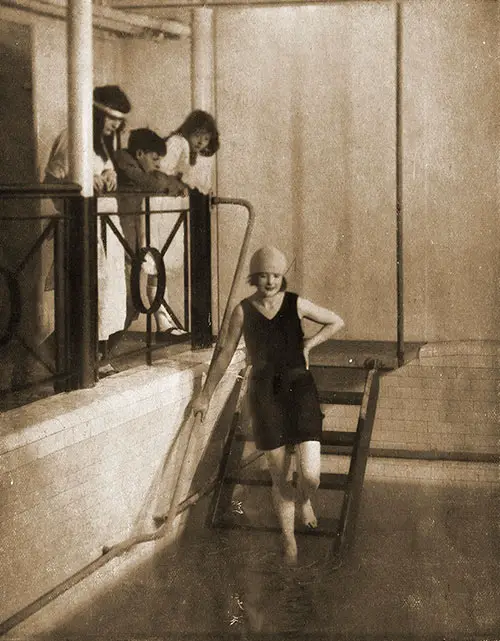 The Joy of Using the First Class Swimming Pool on the Belgenland. How Delicious a Plunge in Pure Sea-Water! The Swimming Bath Is Filled Every Morning Directly from the Ocean's Waves, the Water Being Heated to Suitable Temperature. GGA Image ID # 12085c6734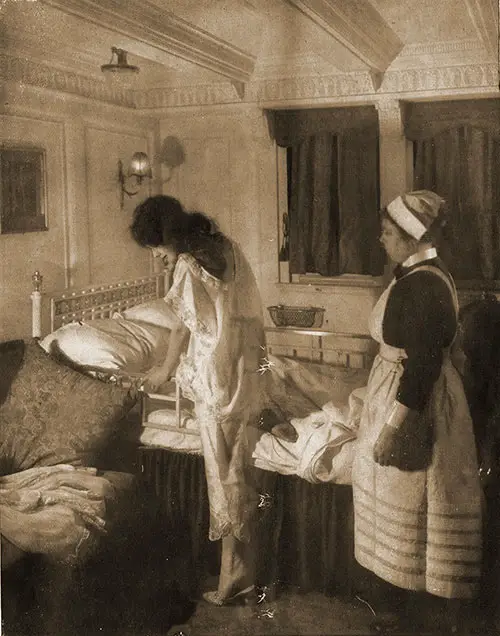 In the First Class Stateroom Where the Beds Are Fresh and Inviting. The Beds on Red Star Line Ships Are Comfortable, Fresh and Inviting; Staterooms Are Immaculately Clean; They Are Quiet and Well Ventilated. GGA image ID # 120875923e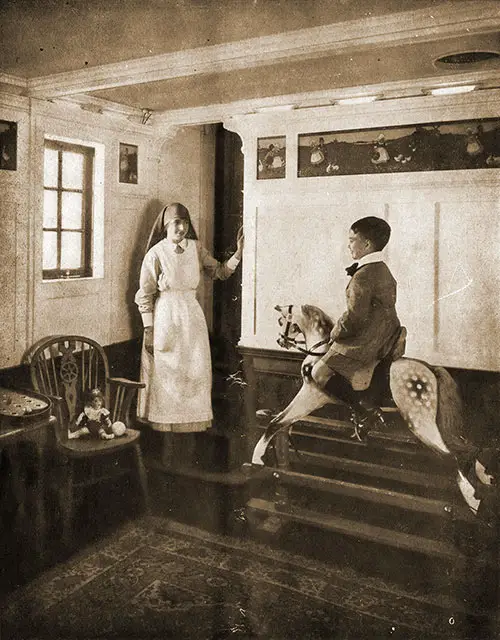 In the Children's Playroom, Rocking Horses, Mechanical Swings, and the Latest Games Are Provided in the Two Playrooms on the Belgenland. Nurses and Mothers Warmly Approve of This Novel Feature. GGA Image ID # 120879d23f
Types of Suites and Staterooms
From the rooms shown here, one may gather that the Belgenland has private accommodation of wide variety. Whatever your taste or purse, a room can be found for you on the Belgenland.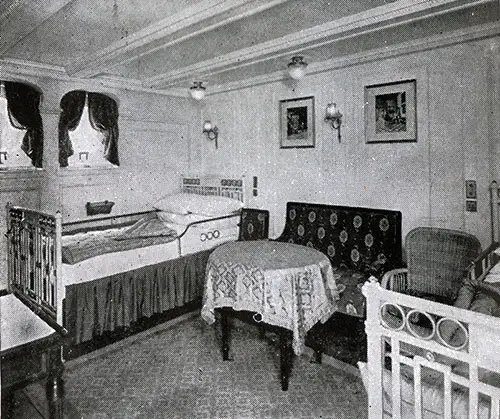 Bedroom in a Suite on C Deck. GGA Image ID # 12087b978e
Bedroom in a Suite on B Deck. GGA Image ID # 120889299b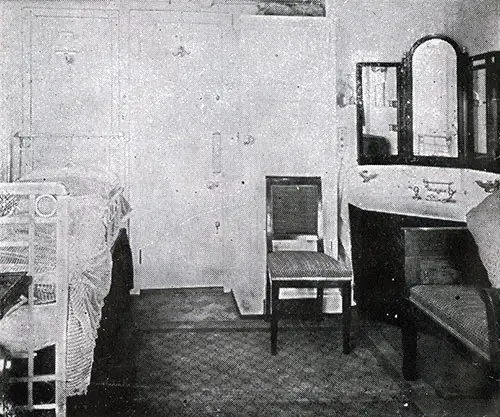 Type of Stateroom with a Single Metal Bed. GGA Image ID # 1208ac928f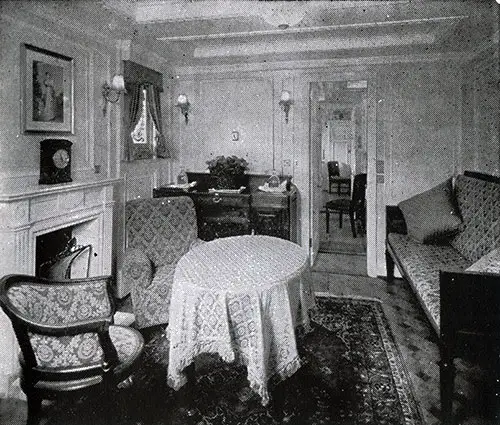 The Drawing Room in a Suite on B Deck. GGA Image ID # 1208cf1553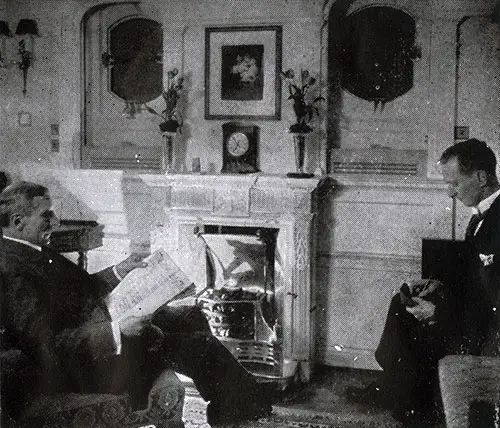 Gentlemen Enjoy a Private Fireside at Sea. GGA Image ID # 1208eb8517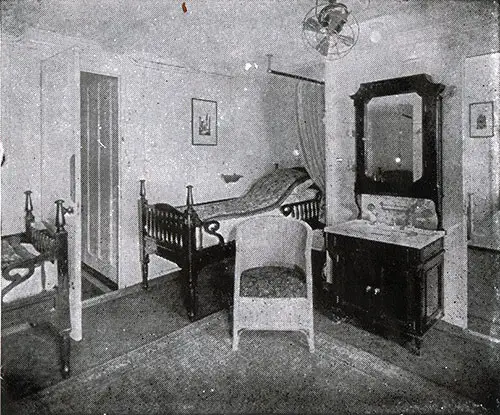 Type of Two Bed Stateroom on C and D Decks. GGA Image ID # 1208f170b0
General Views of Public Rooms
These views of public rooms on the Belgenland give an idea of their extent. Experienced travelers can vouch for the comfort of our ships, and will not be disappointed in the Belgenland.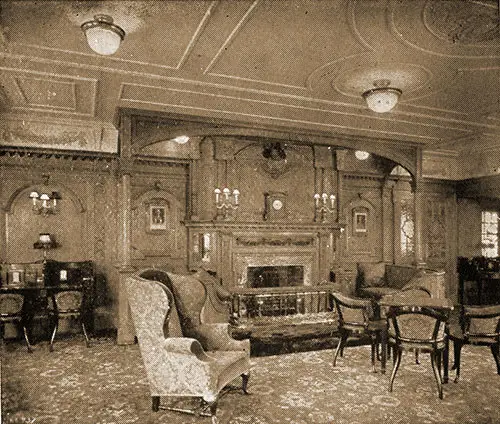 View of Lounge Including Fireplace. GGA Image ID # 12095d6dad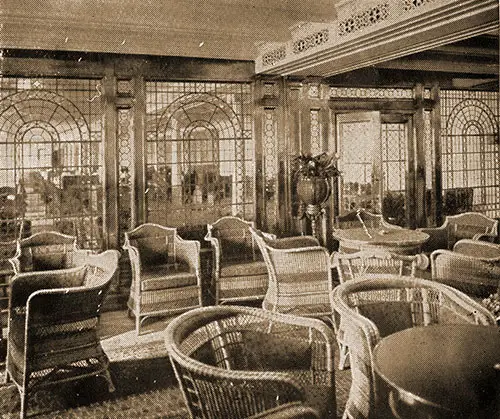 Ball Room Showing a Clear Glass Screen. GGA Image ID # 120971adfe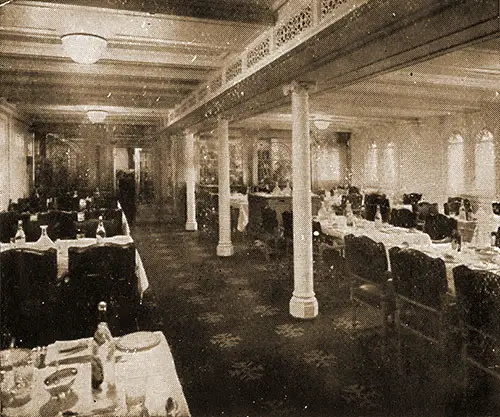 Partial View of the First Class Dining Room. GGA Image ID # 1209c750e0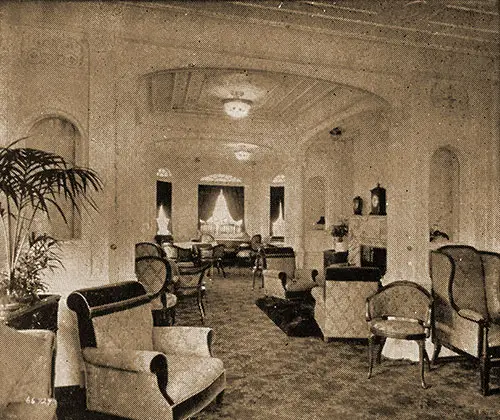 Attractive and Spacious Drawing Room. GGA Image ID # 1209d1ed98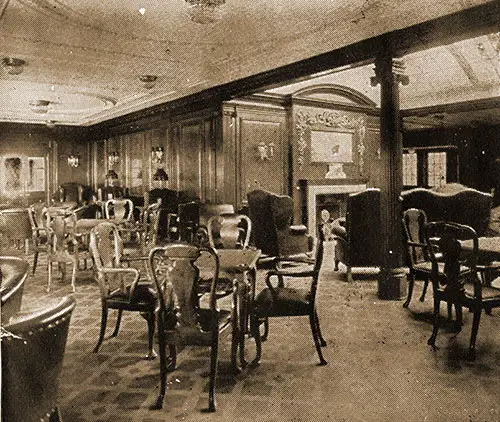 Elegant Smoking Room in the Old English Style. GGA Image ID # 120a032ed7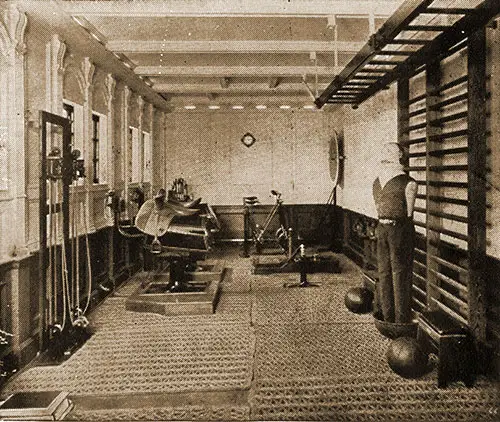 Large Gymnasium for First Class Passengers. GGA Image ID # 120a361efd
Brochure Information
Publication Date: circa 1924
Publisher: Red Star Line, Antwerp-New York
Pages: 22
Photographs:/Illustrations: 26
Dimensions: 20 cm x 25 cm