Spring and Summer Travel 1938 - United States Lines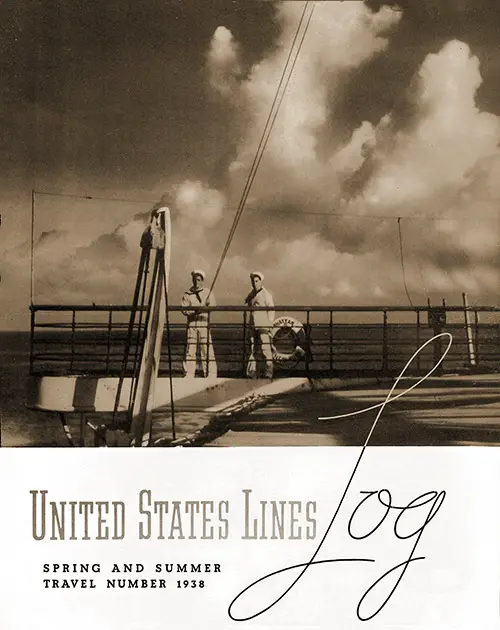 Front Cover, United States Lines Brochure, Spring and Summer Travel Log Number, 1938. GGA Image ID # 1bdeaee7a4
Every year, especially at the peak season during the summer months, we he had to disappoint many of our former passengers simply because there were no accommodations left.
So if you are planning a trip to Europe. this year, we are taking this opportunity to urge you to make your reservations at the earliest possible moment.
Even though passenger lists for summer sailings are rapidly reaching capacity, there are a number of good accommodations still available. But once again—see your Travel Agent now so that you can get just the type of stateroom you want.
Staff Members
Life on board an Ocean Liner of the United States Lines shown in these photographs taken on the SS Washington and SS Manhattan including a photo of Commodore Albert J. Randall of the Manhattan.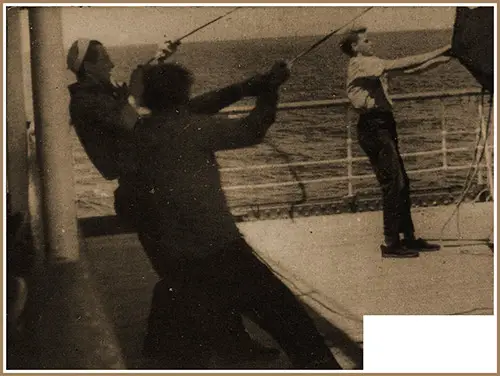 "Yo-Heave-Ho" Is Not an Outmoded Expression, Even on Modern Ships, When Awnings Are Spread. Sailors on the SS Washington Spread Awnings on the Deck. USL Spring & Summer Travel Number, 1938. GGA Image ID # 1bdf4b19e7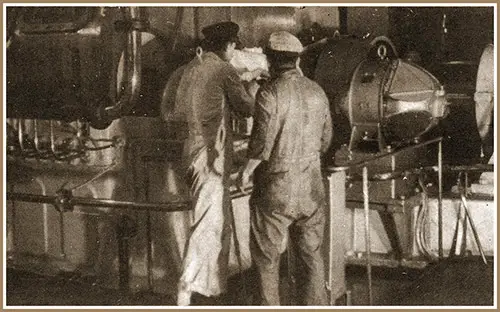 The Engine Room of the Manhattan — Shining and Spotless. USL Spring & Summer Travel Number, 1938. GGA Image ID # 1bdf5e0b99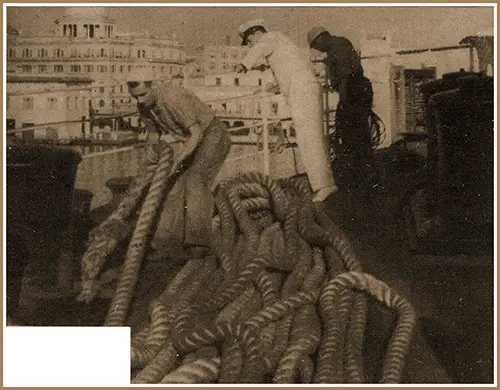 "All Hands on Deck." The Thousand and One Details of "Warping" a Ship into Dock Requires Speed, Skill and Teamwork. USL Spring & Summer Travel Number, 1938. GGA Image ID # 1bdf8f0173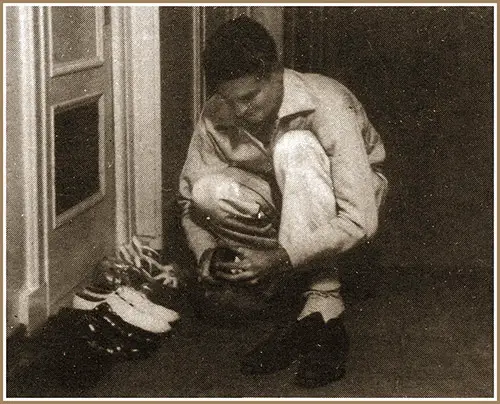 "Boots" Works While You Sleep. That's Why Shoes Left outside Your Cabin Door Turn Spic and Span by Morning. USL Spring & Summer Travel Number, 1938. GGA Image ID # 1bdfbaf605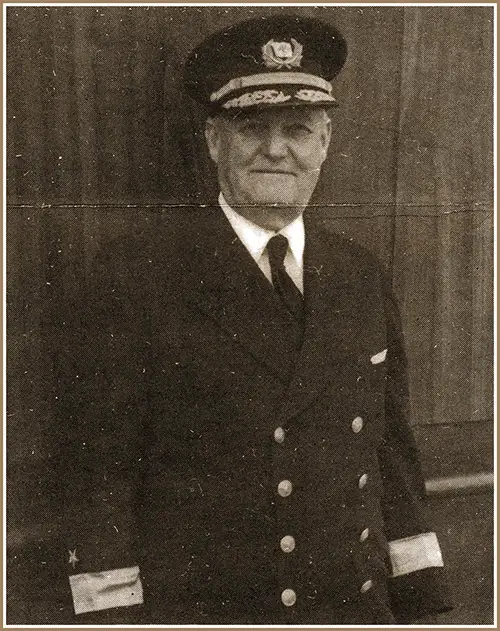 Commodore Albert J. Randall of the Manhattan Needs No Introduction to the Thousands Who Have Sailed with Him throughout His Long and Brilliant Career as Commander of America's Finest Vessels. USL Spring & Summer Travel Number, 1938. GGA Image ID # 1be0083caa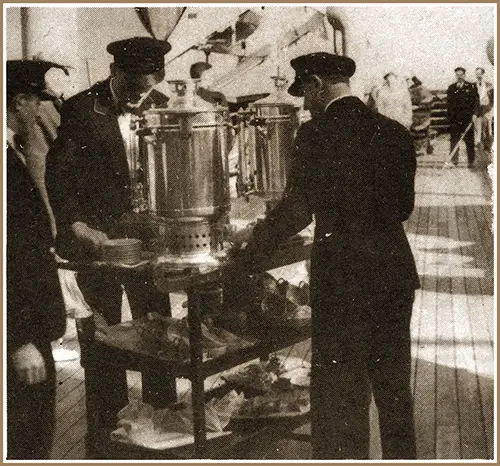 The Tea Wagon's All Set to Bring Afternoon Refreshments Right to Your Deck Chair. USL Spring & Summer Travel Number, 1938. GGA Image ID # 1be0249cba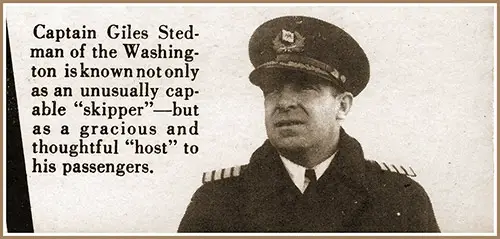 Captain Giles Stedman of the Washington Is Known Not Only as an Unusually Capable "Skipper"—but as a Gracious and Thoughtful "Host" to His Passengers. USL Spring & Summer Travel Number, 1938. GGA Image ID # 1be04533a8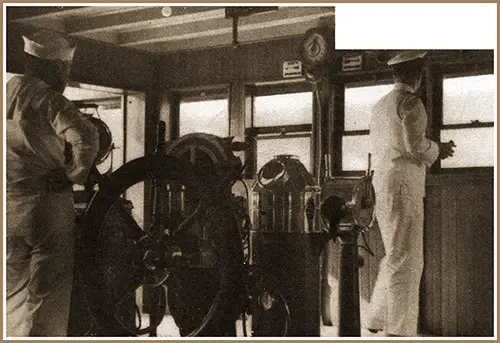 On the Bridge. Although a Quartermaster Stands Constant "Watch," There's a Mechanism That Automatically Keeps the Ship to Its Course. USL Spring & Summer Travel Number, 1938. GGA Image ID # 1be049b69c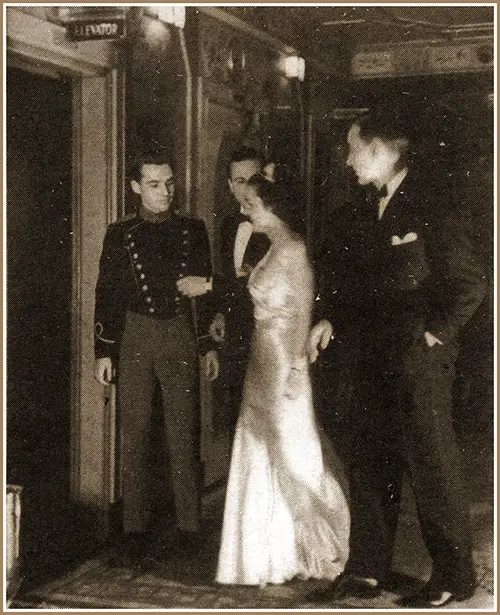 Bell Boys Operate the Elevators. Others Are on Watch, in the Public Rooms, Companionways, and Even on Deck, Ready to Serve You. USL Spring & Summer Travel Number, 1938. GGA Image ID # 1be04b3704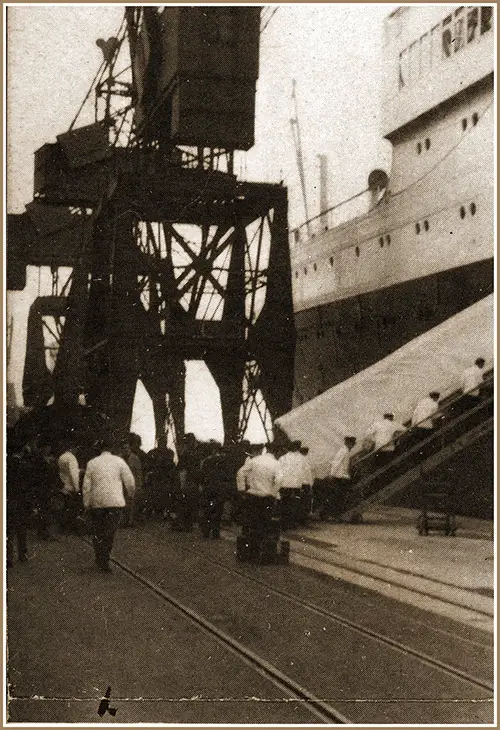 The USL Pier at Southampton. The Small Army of White-Coated Men Are the Ship's Stewards Putting Luggage on Board to Be Delivered Directly to Your Stateroom. USL Spring & Summer Travel Number, 1938. GGA Image ID # 1be04e9655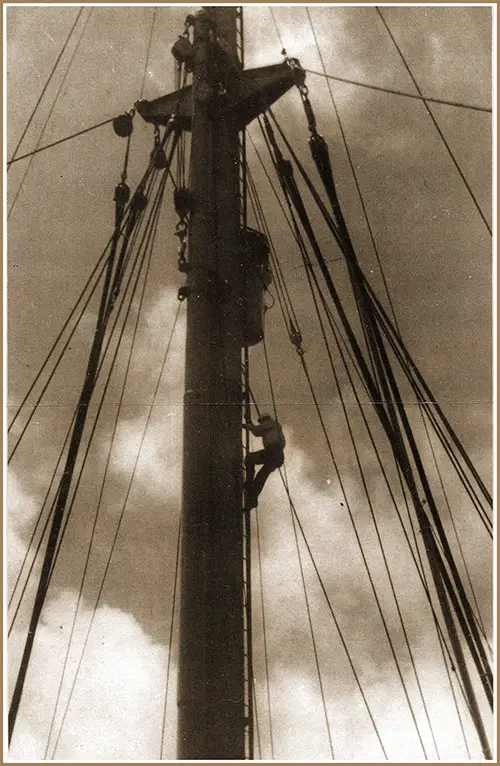 Relieving the Lookout in the Lofty "Crow's Nest." Every Two Hours -- Both Day and Night. USL Spring & Summer Travel Number, 1938. GGA Image ID # 1be17aef99
Scenes from the Voyages
Below are photographs taken from the ocean liners of the United States Lines showing views of the harbors, sea and activities nearing the ports of call.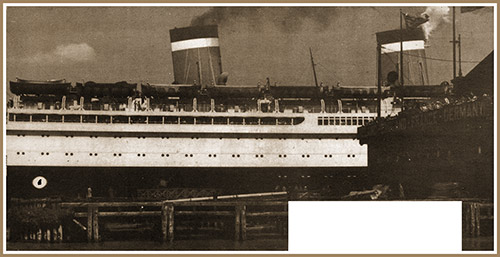 Here's an Enjoyable "Shot" of the SS Washington Taken on Sailing Day. Those Puffs of White by the Forward Funnel Are the Blasts of the Whistle as the Colossal Ship Backs from Her Pier, Her Band Playing Gaily, and Her Rails Lined with Voyagers Waving Last "Au Revoirs" to Their Friends on Shore. USL Spring & Summer Travel Number, 1938. GGA Image ID # 1be05b3119
The SS Washington and her sister ship, the Manhattan, are the largest and fastest vessels flying the American flag. Their graceful lines and trim proportions have earned their recognition as two of the most beautiful ships afloat.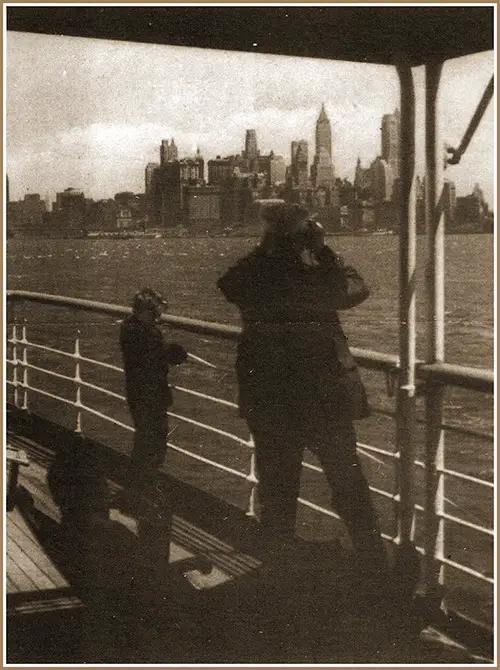 So Long, "New York." Out on Deck to See the Towering Skyscrapers of Manhattan's Skyline Rapidly Disappearing in the Distance as the Ship Steams Down the Bay. USL Spring & Summer Travel Number, 1938. GGA Image ID # 1be064413d
The First View of the Old World, Roches Point Light, and the Green Rolling Hills Are Surrounding Cobh's Beautiful and Spacious Harbor. USL Spring & Summer Travel Number, 1938. GGA Image ID # 1be099542e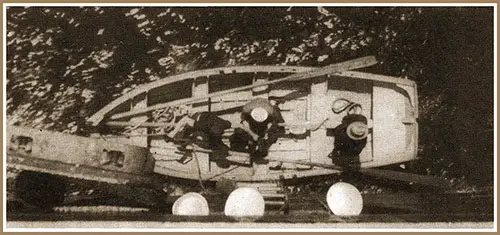 At Sandy Hook, the Pilot Is Dropped and Rowed Back to His Station Ship on This Tiny Boat. He Takes a Bag of Last-Minute Letters. Next Stop, Ireland. USL Spring & Summer Travel Number, 1938. GGA Image ID # 1be09c20e5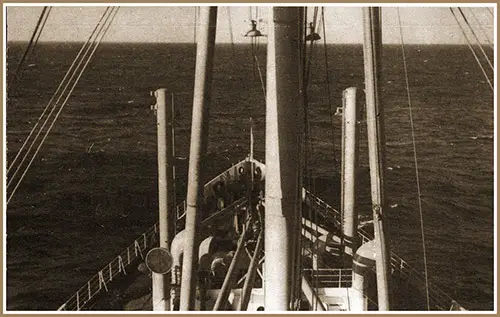 "Beyond the Blue Horizon" Lies Europe. Here Is a View from the Sunny Upper Deck, 72 Feet above the Waterline. USL Spring & Summer Travel Number, 1938. GGA Image ID # 1be0d7c261
Passenger Activities On Board USL Ocean Liners
See passengers engage in a number of activities and events on board the ocean liners of the United States Lines. From dancing to relaxing on the promenade in a deck chair to playing a game of deck tennis. It's all here.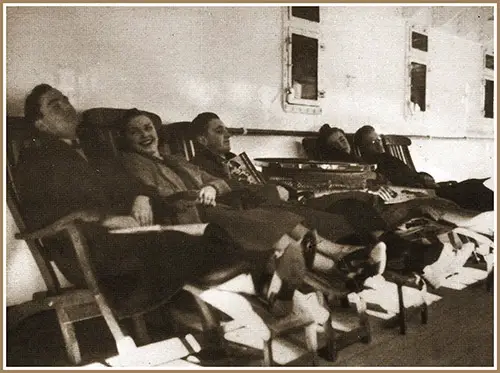 Forty Winks before Dinner, and a Comfortable Deck Chair Certainly Is "Tops" for This Purpose. GGA Image ID # 1eac89e769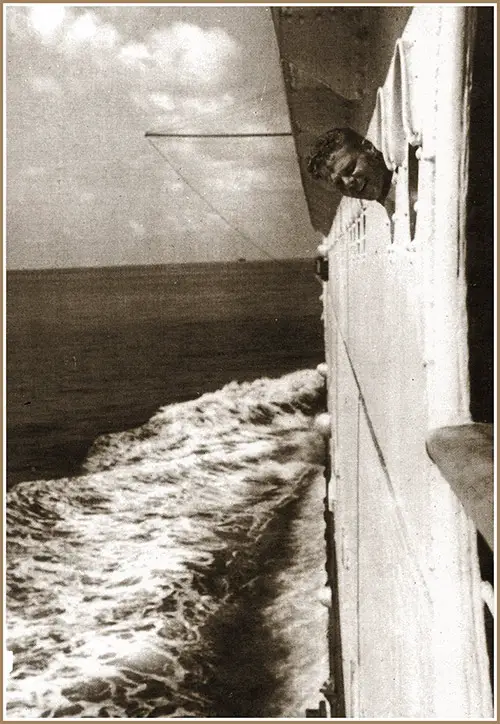 A Porthole Portrait to Send Back to the Crowd at Home. (And It Allows Us to Point Out the Size of the Huge Portholes.) USL Spring & Summer Travel Number, 1938. GGA Image ID # 1be0dd03d5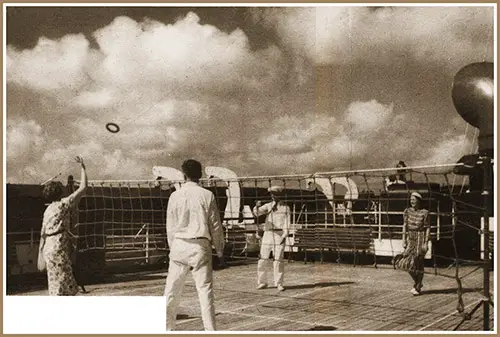 The Sun Deck Is a Fantastic Setting for a Game of Deck Tennis. Two Full-Sized Courts Provide Ample Room. And There Are Plenty of Seats for Those Who Just like to Be in the Sun. USL Spring & Summer Travel Number, 1938. GGA Image ID # 1be0ead359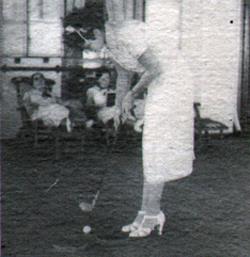 Deck golf is becoming increasingly popular—especially with real followers of the game who don't want to lose their touch. GGA Image ID # 1eac8a44b8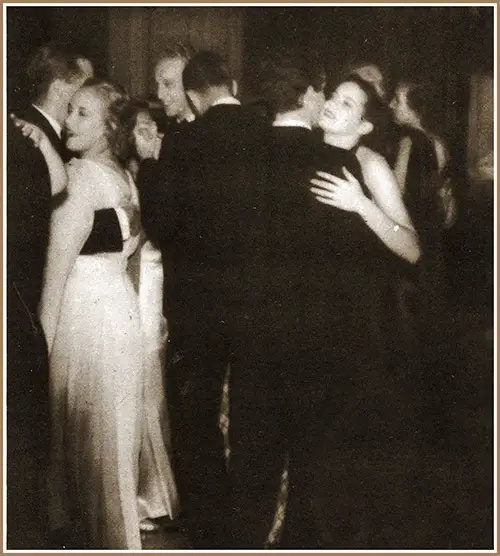 There's a Good Dance Floor in the Verandah Café — And a Top-Notch American Orchestra That Will Gladly Play Any Tune You Request. That's a Combination That Just Makes You Want to Dance. USL Spring & Summer Travel Number, 1938. GGA Image ID # 1be132f1c3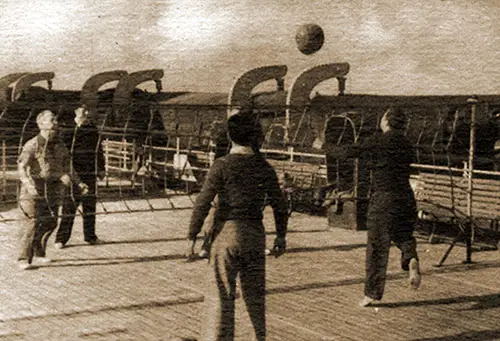 Substituting a medicine ball in place of the light deck tennis quoit is great sport if you survive. It looks like a game for he-men only. GGA Image ID # 1eacb05d0f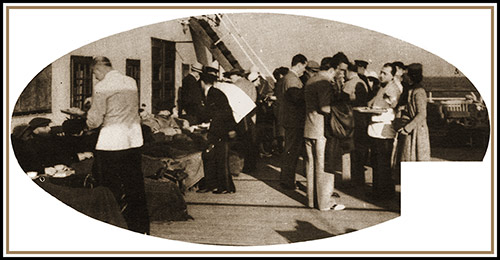 Morning Bouillon on Deck Tides over Sea-Going Appetites until Lunch. GGA Image ID # 1eacc7d187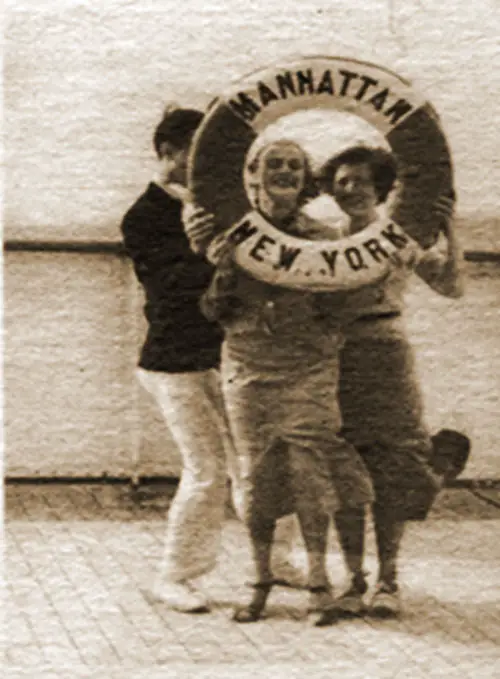 On Each Voyage the Life Preservers Work Overtime as Picture Frames. Passengers Have Their Photo Taken on the Manhattan. GGA Image ID # 1eace6ffda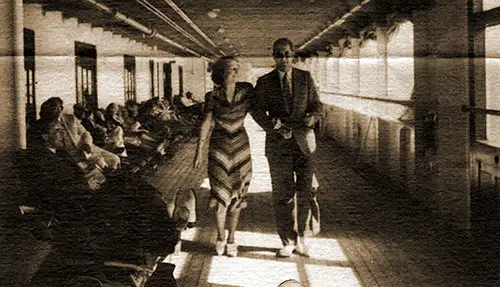 Mr. And Mrs. Curtis and Rebecca Rea Enjoy an Afternoon Stroll on One of the Broad and Airy Promenade Decks of the SS Washington. GGA Image ID # 1eacee4b13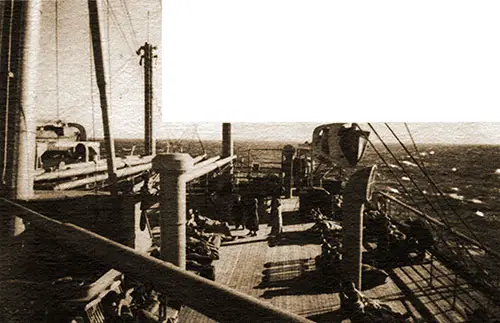 Looking "Aft" from the Boat Deck onto the Broad and Sunny Game and Recreation Deck for Which the Manhattan and Washington Are Especially Noted. GGA Image ID # 1ead8c86ac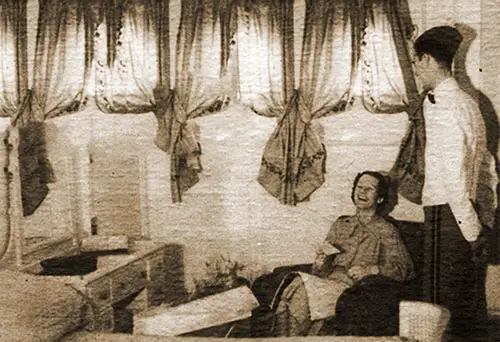 The Bellboy Has Just Delivered a Bon Voyage Gift. And if the Person Who Sent the Flowers Could See This Picture, He'd Certainly Feel Amply Repaid. GGA Image ID # 1eade42e2f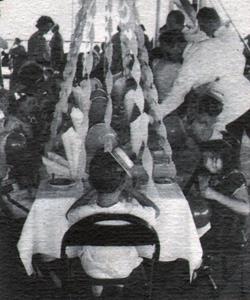 Children Aren't Overlooked When Gala Parties Are Planned. Decoration, Favors, as Much Ice Cream and Cake as Parents Will Allow, and a Table All to Themselves. GGA Image ID # 1eae6dd021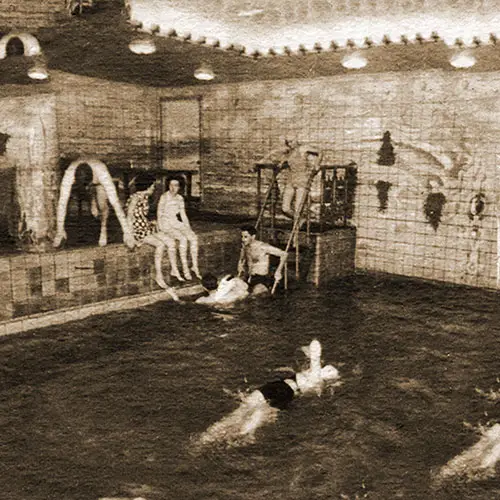 Morning Swim On The Manhattan And Washington. The Pools Are Not Only Huge and Handsomely Tiled Throughout, but Conveniently Located Right Next to the Gymnasiums. GGA Image ID # 1eae969751

A Corner of the Beautiful, Air-Conditioned Dining Room on the Manhattan. We Should Talk Here About the Grand Food on These Ships, but Once Having Tasted It We Don't Think You Have to Be Told. GGA Image ID # 1eaebcccce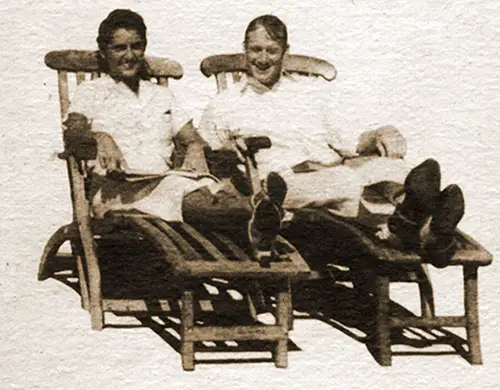 "This Is the Life," Anyone Will Agree. Mr. And Mrs. William Duncan Bask in the Sunshine on One of the Open Decks. GGA Image ID # 1eaee53212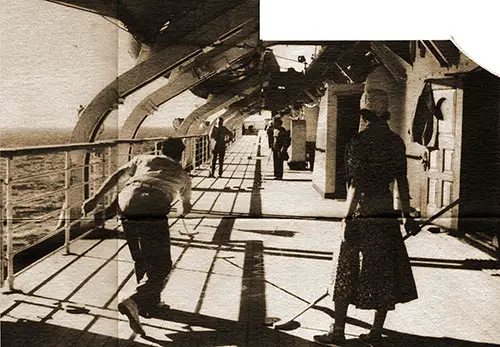 Shuffleboard on the SS Washington's Sunny Sports Deck. For People Who Like to Walk, It's Only Eight Laps to a Mile and This Picture Just About Proves It. GGA Image ID # 1eaf3c9d6e
Excitement of a Transatlantic Voyage
Feel the excitement of planning and embarking on a transatlantic voyage onboard one of our luxurious ocean liners or even an economy voyage in our one-class ships of the American Merchant Line. We'll Get You There In Style.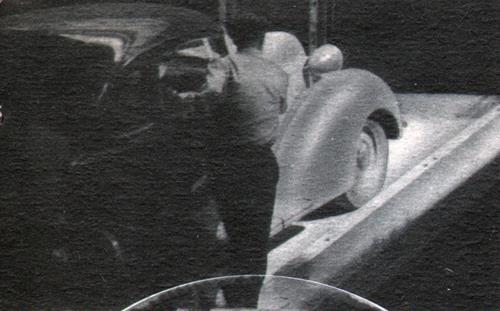 Take Your Car To Europe Via United States Lines. Through Europe in Your Car — Easily and Inexpensively. You Drive onto the Pier in New York and off the Pier in Europe. You Can Travel over Modern European Highways, See New Places and New People, and at the Same Time "Know the Car You're Driving." There's No Better Way to See the Countries You Visit. GGA Image ID # 1eaf3da961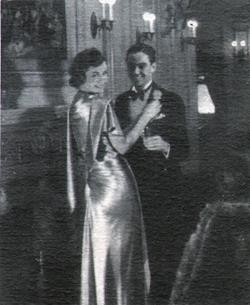 Passengers on the Roosevet Socialize On USL Liner. Putting on the Crowning Touch for a Picture, but This Time the Roosevelt's Cameraman Was a Bit Ahead of Schedule. GGA Image ID # 1eaf70f551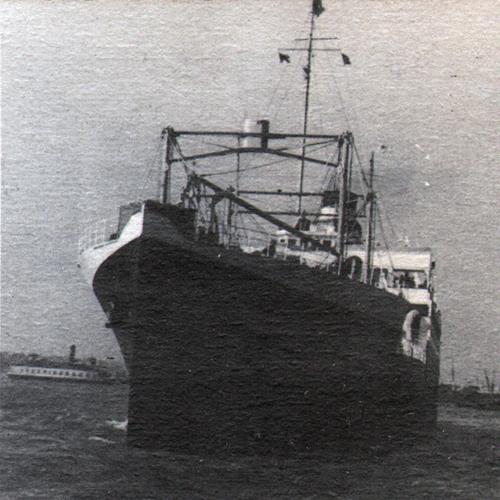 American Export Line: American "One Class" Ships -- The American Banker, American Trader, American Merchant, American Farmer, American Shipper and the American Importer Are a Fleet of Smaller Ships That Have Won a Wide Following, Especially Among Two General Types of Travelers—Those Who Want a Very Inexpensive One Class Passage to Europe and Those Who like More Time at Sea Than the Larger, Express-Type of Liners Provide. GGA Image ID # 1eafc92ac7
While they can't offer the same degree of luxury as the Manhattan or Washington, these ships have every facility for ar thoroughly comfortable crossing and are noted for their completely informal atmosphere and delicious food. There's a sailing every Friday direct to London — fortnightly on Saturdays to Cobh and Liverpool — with rates as low as $105. ($110 in summer)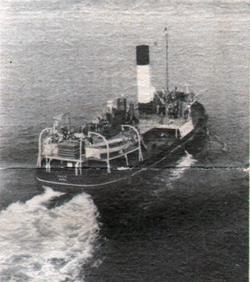 At Cobh, a Roomy Tender Picks up Passengers for Destination in Ireland. GGA Image ID # 1eb022d3e3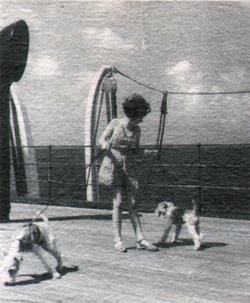 A Private Deck For Dogs. Even Dogs Have a Private Deck for Strolls with Their Owners. Kennels Are Large a Steward Is in Constant Attendance. GGA Image ID # 1eb03ffc22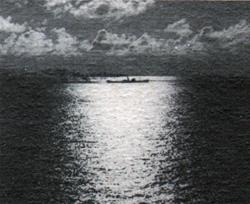 Ships That Pass in the Sunshine Are a Lot More Interesting — At Least from the Cameraman's Point of View. GGA Image ID # 1eb04de64d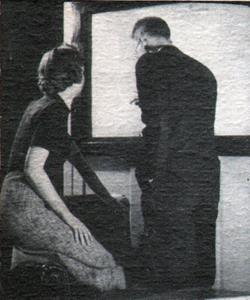 Charting The Daily Position of the Ship. There's a Big Chart in One of the Lounges of Each Liner Where the Daily Position of He Ship Is Posted Each Noon. If This Fellow's Reading Can Be Trusted, It's Only the Second Day Out. GGA Image ID # 1eb0bfae0a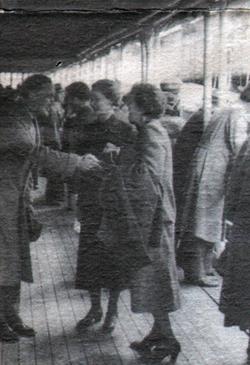 Visitors Depart Just Before Sailing. "All Visitors Ashore" Comes the Inevitable Announcement. Just Time Enough to Tell Those Sailing Not to Forget to Write. GGA Image ID # 1eb0fc59e4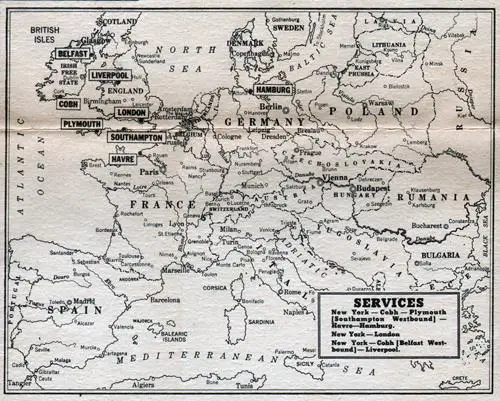 Map of European Services of the United States Lines, 1938. GGA Image ID # 1eb108bd18
Typical Staterooms And What They Cost - 1938
Some Typical Staterooms and their costs for transatlantic voyages onboard the Ocean Liners of the United States Lines or the American Merchant Line one-class ships.
(All rates quoted are for one-way "off-season" passage to British ports. Staterooms are on the Manhattan and Washington unless otherwise stated.)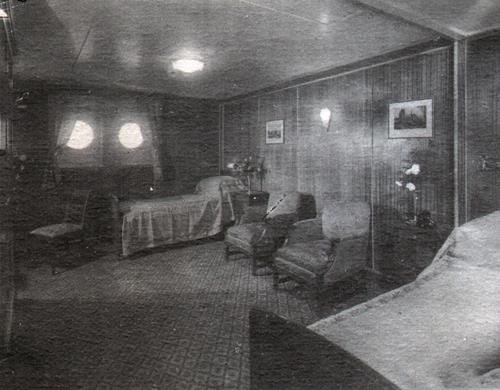 Luxurious Outside Room On A Deck $227. This Luxurious Outside Room on "A" Deck Measures 16' 7" X 11' 8". With It, a Sizeable Foyer Where Your Trunks Can Be Kept Out of the Way—a Tiled Bath with a Built-in Tub. Similar Rooms with Shower for $214. GGA Image ID # 1eb10b4334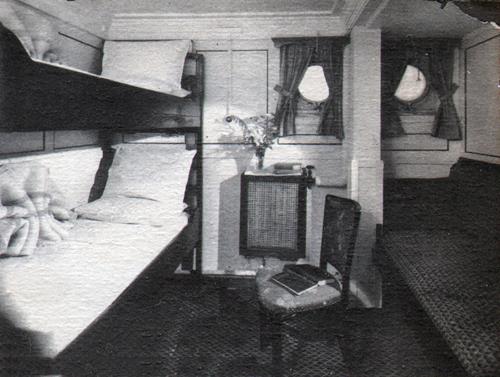 Comfortable Cabin On American Export Line $105. Here's One of the Comon the "American One Class" Ships. Every Room Is on the Promenade Deck. And for Only Five or Ten Dollars More, You Get a Private Shower or Bath. GGA Image ID # 1eb16d4c1d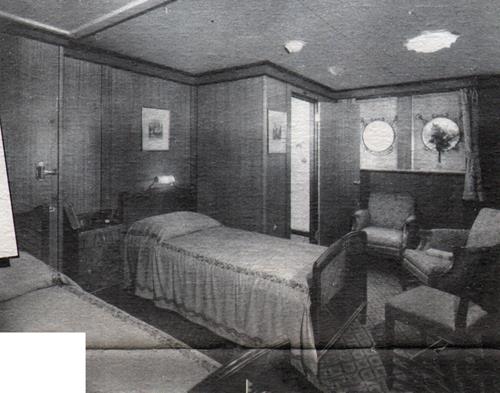 Handsome Room On B Deck $196. Just Ten Dollars Above Minimum for This Handsome "B" Deck Room with Private Shower and Toilet. Twin Beds, Three Easy Chairs, Large Wardrobes — And Still Plenty of "Elbow Room." GGA Image ID # 1eb185862b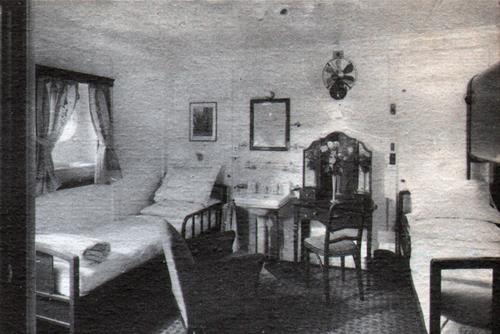 Large Tourist Outside Room For Three $127. Three People Live Comfortably in This Large Tourist Outside Room Its Spaciousness Avoids "Crowding." Bed Lamps, Thick Carpets, Triple-View Mirrors — Every Detail Shows the Thoughtful Planning That Adds So Much to Your Comfort. GGA Image ID # 1eb186f885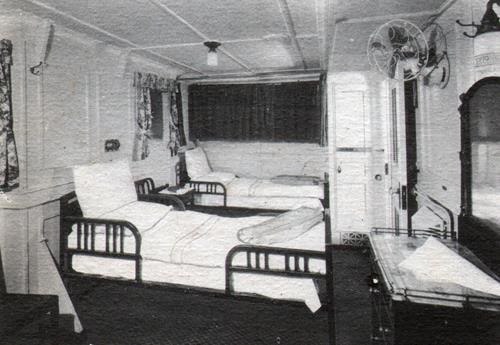 Outside Cabin Class Room President Harding And Rosevelt $147. Here's a Large, Airy Outside Cabin Class Room on the SS President Harding and President Roosevelt—a Real "Buy" for the Money. Twin Beds, Night Table, Full-Length Ward-Robes and Look at the Size of the Dresser. GGA Image ID # 1eb1994fee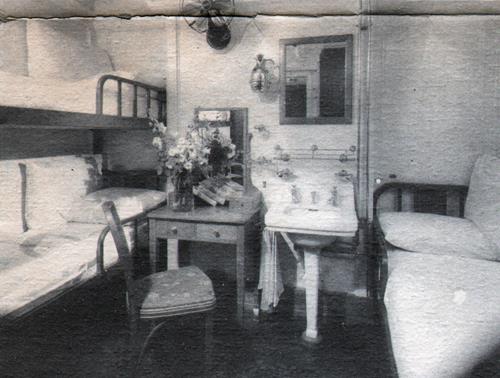 Typical Third Class Cabin $95. This Cabin Offers Every Comfort You Could Wish For. Hot and Cold Running Water, Real Simmons Beds with Beautyrest Mattresses, Wardrobes, and an Up-To-The-Minute Ventilation System. GGA Image ID # 1eb1acabe6
Spring & Summer Sailings To All Europe - 1938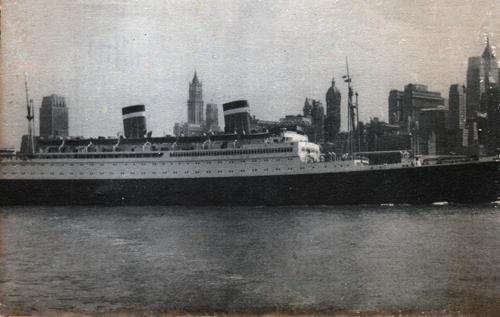 United States Lines Steamship with New York Skyline in Background. GGA Image ID # 1eb1ca6c15
Every Wednesday at noon a United States liner sails direct to Ireland, England, France and Germany, calling at Cobb. Plymouth, Havre and Hamburg. Here are the next sailings:
MANHATTAN: April 20, May 18, June 15, July 13, August 10.
WASHINGTON: May 4, June 1, June 29, July 27, August 24.
PRESIDENT ROOSEVELT: Apr. 27, May 25, June 22, July 20, August 17.
PRESIDENT HARDING: Apr. 13, May 11, June 8, July 7, August 3.
And sailing Fridays at 4 PM. direct to London:
American Merchant, Apr. 29, May 27, June 24;
American Farmer, Apr. 8, May 6, June 3;
American Banker, Apr. 15, May 13, June 10;
American Trader, Apr. 22, May 20, June 17.
Starting April 2nd, there will also be an "American One Class" ship sailing every other Saturday to Cobh and Liverpool.
The rates quoted below are for a one-way passage to or from British ports during the "offseason" which includes all sailings except those between May 23 to July 25, Eastbound, and July 25 to September 25, Westbound. At these periods there is an approximate increase of 5 to 10% in the cost of your passage.
Cabin Class accommodations on the Manhattan and Washington begin at $186 — rooms with private shower and toilet for as little as $190 per person. Tourist Class rates from $127, and Third Class from $95. Cabin Class on the President Harding and President Roosevelt. from $141; Third Class from $91. "American One Class" ships feature rates as low as $105.
Your Travel Agent will give you more complete information. Ask him about the special reductions for round-trip passages.
Your local TRAVEL AGENT is a specialist in his field—yet his services are free. He will be glad not only to supply all the necessary details about rates, sailing dates, itineraries, etc., but will also be very helpful in planning your trip from beginning to end. He "knows all the ropes," in other words, and you benefit from his knowledge and experience.
Brochure courtesy of Pat Taffany 2012