Cunard Line Second Class to Europe - 1927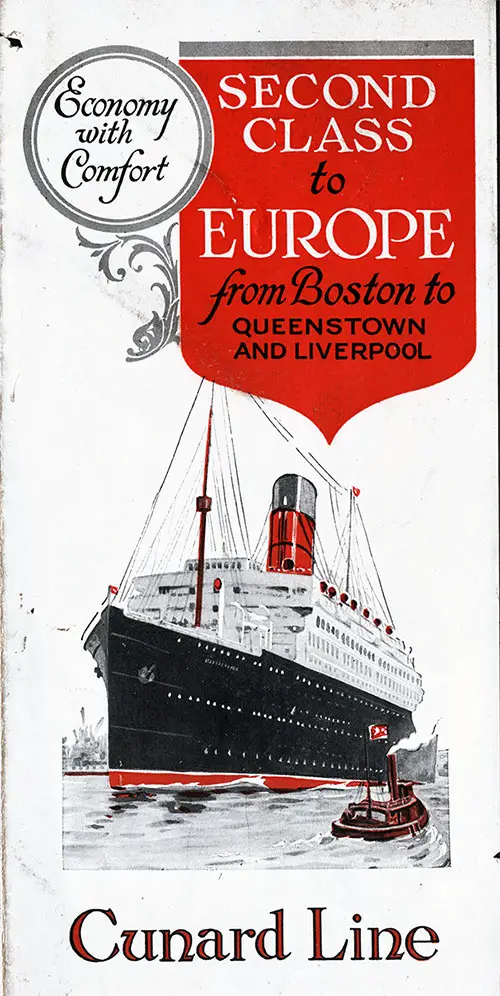 Front Cover, Second Class to Europe fromn Boston to Queenstown and Liverpool. Economy with Comfort from the Cunard Line - 1927. GGA Image ID # 1195e34e19
12-Page brochure covers the Boston to Europe route of the Cunard Line in 1927. Interior photographs help to illustrate the second class accommodations available on the Samaria, Scythia, and Laconia.
Economy with Comfort On a trip in the "Samaria," the "Scythia," or the "Laconia."
THREE large modern steamships, the "Samaria," the "Scythia," and the "Laconia," operate in the Boston-Queenstown-Liverpool service. Each vessel has a tonnage of 20.000; they are over 624 feet long, 40 feet deep, and 73 1/2 feet wide.
They are handsome, easy-riding ocean liners of the front rank, embodying all the recent improvements for the convenience and safety of their passengers. Like all the new Cunarders, they burn oil, so there is an entire absence of dust or cinders falling from the funnels.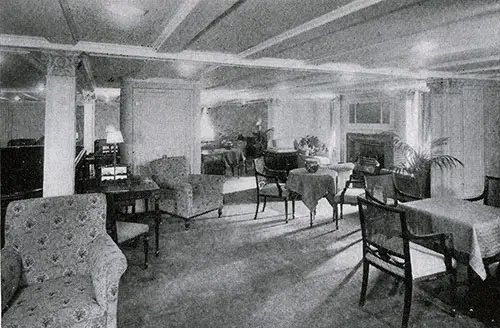 Second Class Writing Room on the RMS Scythia. GGA Image ID # 1195e75ca2
The accommodations, public living rooms, and the staterooms leave nothing to be desired, and the service rendered by efficient stewards is the best.
On "B" deck is the combination writing room, library, and lounge, a spacious, attractive apartment with windows either side that affords a view of the sea, cozy nooks for tête-à-tête conversations, and a delightful fireplace, around which the circle gathers, as at home.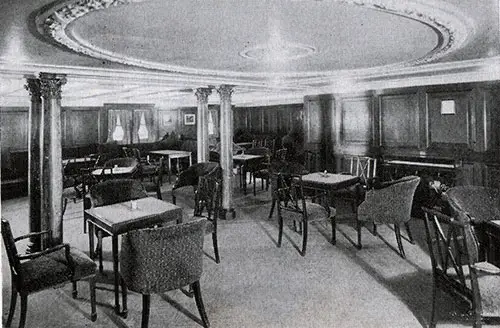 Second Class Smoking Room on the RMS Scythia. GGA Image ID # 1195f840d4
The Verandah Café is also on "B" deck, an attractive garden lounge furnished in wicker. This overlooks the stern of the vessel, and from it, the fascinating swirl of the water churned by the huge propellers may be watched with interest for hours. "B" deck also provides the open promenade, there being ample space for deck games and walking.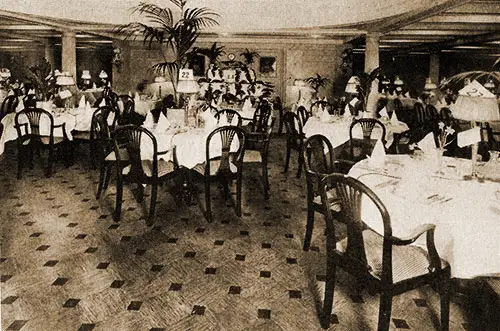 Second Class Dining Room on the RMS Samaria. GGA Image ID # 11962c1d90
At certain stipulated hours the gymnasium on "A" deck is open for second-class passengers. Here may be found a mechanical riding horse, a stationary bicycle, a rowing machine, punching bags, parallel bars, etc.
On "C" deck is the smoking room, a comfortable lounge for men, of such size that there is never any crowding. On this deck, there is also a covered promenade which is available for a walk when the weather is inclement.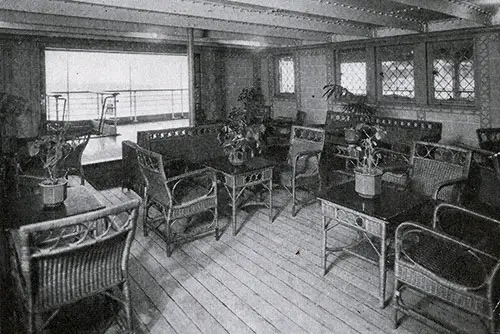 Second Class Verandah Café on the RMS Laconia. GGA Image ID # 11962e00d1
On "E" deck, extending from one side of the vessel to the other is the beautiful dining saloon with exquisite appointments. The tables are all small, suitable for parties of two, four, or six people.
This method of seating enables large families to dine together as they would at home. The food provided, the skill of the chef, and the service by the stewards are unsurpassed anywhere.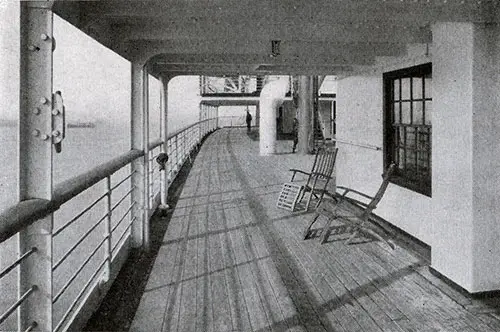 Promenade for Second Class Passengers on the RMS Scythia. GGA Image ID # 1196942e13
The staterooms are on decks "C," "D," and "E" and are arranged to accommodate two, three, or four persons in a room. Running water is provided in every cabin.
The appointments are modern, roomy, and convenient. Each ship offers well lit and well-ventilated staterooms. Strategically located bathrooms on the stateroom corridors make your voyage more enjoyable.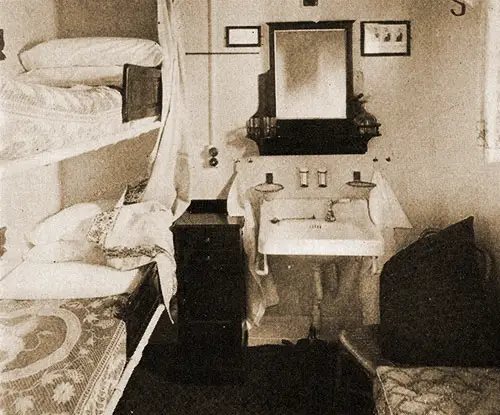 Second Class Two-Berth Stateroom on the RMS Samaria. GGA Image ID # 1196d3b273
Efficient stewards and stewardesses function most desirably and render a service that makes the passenger comfortable and entirely at ease.
While the pictures of the several apartments mentioned are photographic, they really do not adequately convey the features that so appeal to our passengers.
Beautiful dainty colorings, choice woodwork, beautiful coverings of furniture, and fine pictures on the walls may be mentioned as among those things not seen in the illustrations in this folder.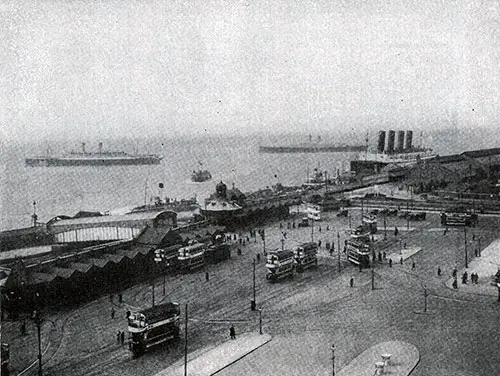 The Liverpool Landing Stage. GGA Image ID # 1196d79d0b
Above all, every officer and crew member of a Cunarder is thoroughly trained for his particular job, and a passenger can quickly feel a comfortable sense of security. This has been the aim of the Cunard Line since its inception eighty-five years ago.
The offices or agents of the Cunard Line will be happy to provide further information about sailing dates. They can also advise you on the use of travelers' checks, baggage insurance, and any other details that may add to your comfort and convenience, as well as inform you about securing passports. The agent who gave you this circular can arrange all the details of your trip.
Deck Plans for Second Class Passengers
The plans merely show the relative position of the staterooms.
Additional Second Class accommodations are as follows:
"B" Deck
Second Class Verandah Café
Second Class Lounge
Second Class Promenade
"C" Deck
Second Class Smoking Room
Second CLass Covered Promenade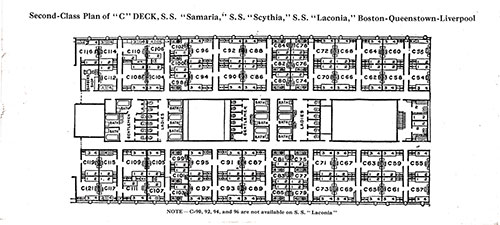 Second Class Plan of "C" Deck, SS Samaria, SS Scythia, and SS Laconia in the Boston-Queenstown-Liverpool Route. Note: C-90, 92, 94, and 96 are not available on SS Laconia. GGA Image ID # 1197980f1f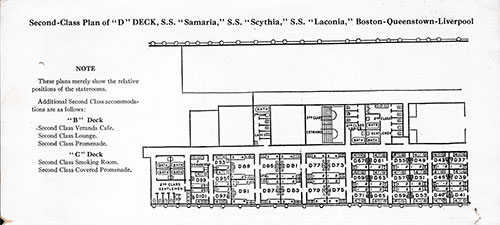 Second Class Plan of "D" Deck for the SS Samaria, SS Scythia, and SS Laconia, in the Boston-Queenstown-Liverpool Route. GGA Image ID # 1197aa5137
Second Class Plan of "E" Deck for the SS Samaria, SS Scythia, and SS Laconia in the Boston-Queenstown-Liverpool Route. GGA Image ID # 11982b8b8c
INFORMATION FOR PASSENGERS
PASSPORTS — Any passenger fourteen years of age or over desiring to enter Great Britain or Ireland must hold passport issued by his or her Government, to which passport holder's photograph must be attached.
Where passports issued to British subjects cover various members of a family, an officially certified photograph of each member must be attached. British children 16 years and over require separate passports.
Passengers traveling to or through countries of which they are not citizens or subjects must have their passports visaed by the Consuls of such countries with the following exceptions: Passengers traveling second-class, cabin, or third class booked through to Scandinavian, Finnish, or Continental points via England, will not require British visa.
All passengers, excepting French, British, and Belgian subjects, embarking for French ports, either direct or via England, must have French visa on their passports.
Also all passengers, excepting British, French, Italian, American, and Japanese subjects booked to Belgian ports, cither direct or via England, must have Belgian visa on their passports. See special passport Circular.
INCOME TAX REGULATIONS — This Does Not Apply to U. S. Citizens. Alien passengers will be required to present at the office of, the Internal Revenue Collector in the district in which they reside (Boston office, third floor of the Park Square Building, 31 St. James Ave.) documentary evidence showing that income tax for 1922, 1923, 1924. 1925. and 1926 to sailing date has been paid, or that they are exempt from such tax. They will then be given a Compliance Certificate, stating that all income tax regulations have been complied with.
ALIEN PERMITS TO RE-ENTER — Any alien lawfully admitted to the United States for permanent residence and who is about to depart temporarily for a visit abroad, may apply under Section 10 of the Immigration Act of 1924 for a permit to reenter the United States, which will establish the fact that he is returning from a temporary visit abroad.
Particulars and application blanks may be secured from the Company upon request. Applications should be filed at least THIRTY DAYS prior to departure with the Commissioner General of Immigration, Washington, D. C. Passengers possessing Permit to Re-enter are not required to call at the United States Consulate abroad for quota visa. Cost of Permit is $3.00.
RESERVATIONS — Berths and Rooms for eastbound or westbound passengers may be reserved in advance by applying to any agent of the Company. Application for reservation should state name, age, sex, and nationality of passenger, also relationship of individuals traveling in a party.
DEPOSIT — A deposit of $30.00 per adult is required to hold accommodations second class. Final payment to be made at least three weeks before sailing eastbound.
CANCELLATIONS — If reservation is canceled after Deposit Receipt? Passage Order, or Ticket has been issued, the accommodation will be placed on sale for the account of the passenger, and, if resold, refund will be made of amount paid, less expenses incurred.
STEAMER RUGS AND DECK CHAIRS may be rented for the voyage at a cost of $1.50 each.
DOGS, CATS, BIRDS — Dogs are carried only by special arrangement, and are admitted to Great Britain only when owner holds a license from the Board of Agriculture, 4 Whitehall Place, London, S.W. When such is held, the charge for conveyance is $20.00. Cats, S5.00, Birds (per cage), $5.00. Animals and Birds are carried entirely at owner's risk of death, injury, or escape.
MOTOR BICYCLES, when accompanying passenger, $25.00; Cycle Side Cars, $10.00; Motor Cycle and Side Cars combined, $35.00.
BICYCLES AND BABY CARRIAGES, when crated, are carried at $5.00 each at owner's risk. Go-carts (folding) free, but reckoned in baggage allowance.
SEWING MACHINES—are accepted as excess baggage at owner's risk, if properly crated; charge $10.00 each.
BAGGAGE — On Atlantic Ocean each adult. Cabin, or Second-Class passenger is allowed twenty cubic feet. Excess is charged for at 60c. per cubic foot.
Baggage should be plainly addressed marked for hold or stateroom, and claimed by passengers before embarking on steamer. Packages or trunks required on voyage should not exceed 14 inches in height, 2 feet in width, and 3 feet in length. Labels and tags furnished on application.
Passengers are recommended to have their names and addresses prominently placed inside their baggage as well as outside. This is a means of identifying same in case tags or labels become detached.
Personal effects, which will be carried as baggage, consist of wearing apparel, toilet articles, effects in actual use and necessary and appropriate for the wear, use, comfort, and convenience of passenger for the purposes of journey and not intended for any other persons or for sale, and must be enclosed in receptacles sufficiently strong to withstand handling.
Household effects, glassware, etc., should be forwarded as cargo, and no liability will be assumed for loss of, or damage to such enclosed as baggage.
Dangerous articles, such as fireworks, matches, gunpowder, gasoline, cartridges, moving-picture films, etc., must not be enclosed in baggage.
BAGGAGE INSURANCE — Passengers are recommended to insure their baggage as in the event of loss or damage the Company cannot accept liability beyond the limit specified on the Steamer Contract Ticket.
Policies can be procured through the Boston and Branch Offices of the Company and our principal agents. Coverage can be obtained for any specified length of time on land and sea to guard against loss through theft, pilferage, breakage, perils of fire and navigation, etc.
We can safely recommend this insurance as being unusually broad in coverage, and when purchasing from agents, passengers shoiîld be sure to ask for the CUNARD POLICY.
BAGGAGE ON EUROPEAN RAILWAYS —Passengers baggage consisting of personal effects is carried free as follows: Great Britain, 100 lbs.; France, Spain, and Portugal, 66 lbs. all classes. In Italy, Belgium, and Switzerland, no free allowance is granted, all baggage carried being subject to regular baggage rates.
Cabin and Second Class Rates of Fare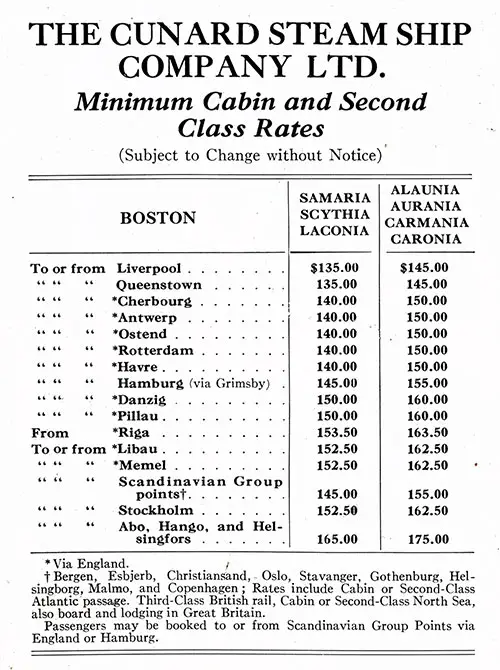 Cunard Steamship Company Ltd. Minimum Cabin and Second Class Rates for the Port of Boston to and From Other Ports, 1927. Port of Calls Include Liverpool, Queenstown (Cobh), Cherbourg, Antwerp, Ostend, Rotterdam, Le Havre, Hamburg (via Grimsby), Danzig, Pillau, Riga, Labau, Memel, Select Scandinavian Ports, Stockholm, and Abo, Hango, and Helsingfors. GGA Image ID # 1dbba4c74d
Brochure Information
Year Published: Undated. Calculated as 1927.
Publisher: Cunard Line
Distributor: The Cunard Steam Ship Company Ltd., Boston, MA.
Number of Pages: 12
Number of Photographs: 13
Number of Deck Plans: 3
Dimensions: 10.3 cm x 23 cm