American Line Southampton to New York Service - 1908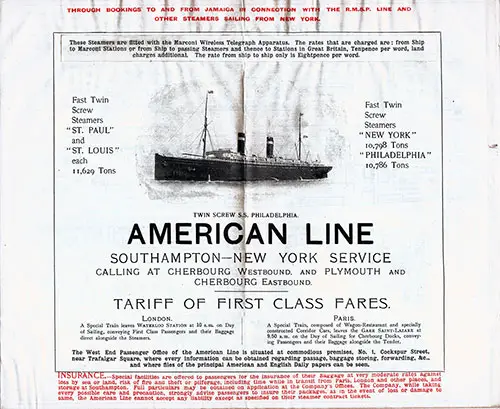 American Line Southampton -- New York Service with Tariff of First Class Fares. GGA Image ID # 114bd4e276
Broadside Flyer produced by the American Line promoting their Southampton - New York service. The flyer includes information for passengers, the tariff of first-class fares, and deck plans for the SS St. Louis, SS St. Paul, SS New York, and SS Philadelphia.
THROUGH BOOKINGS TO AND FROM JAMAICA IN CONNECTION WITH THE R.M.S.P. LINE AND OTHER STEAMERS SAILING FROM NEW YORK
These Steamers are fitted with the Marconi Wireless Telegraph Apparatus. The rates that are charged are : from Ship to Marconi Stations or from Ship to passing Steamers and thence to Stations in Great Britain, Tenpence per word, land charges additional. The rate from ship to ship only is Eightpence per word.
Fast Twin Screw Steamers
"St. Paul" and "St. Louis" each 11,629 Tons
"New York" 10,798 Tons
"Philadelphia" 10,786 Tons
American Line Southampton -- New York Service, Calling at Cherbourg Westbound, and Plymouth and Cherbourg Eastbound.
Tariff of Fist Class Fares.
London. A Special Train leaves Waterloo Station at 10 a.m. on Day of Sailing, conveying First Class Passengers and their Baggage direct alongside the Steamers.
Paris. A Special Train, composed of Wagon-Restaurant and specially constructed Corridor Cars, leaves the Gare Saint-Lazare at 9.50 a.m. on the Day of Sailing for Cherbourg Docks, conveying Passengers and their Baggage alongside the Tender.
The West End Passenger Office of the American Line is situated at commodious premises, No. 1, Cockspur Street, near Trafalgar Square, where every information can be obtained regarding passage, baggage storing, forwarding, &c., and where files of the principal American and English Daily papers can be seen.
INSURANCE.—Special facilities are offered to passengers for the insurance of their Baggage at very moderate rates against loss by sea or land, risk of fire and theft or pilferage, including time while in transit from Paris, London, and other places, and storage at Southampton. Full particulars may be obtained on application at the Company s Offices. The Company,while taking every possible care and precaution, strongly advise passengers to insure their packages, as in the event of loss or damage to same, the American Line eannot accept any liability except as specified on their steamer contract tickets.
General Information for Passengers
LONDON. The principal Office in London for passenger business is at No. i, COCKSPUR STREET, S.W., where letters and telegrams may be addressed and will be held until called for, or forwarded, according to instructions. The latest editions of the leading American and English papers are kept on file.
Passengers' baggage will also be received and stored if required.
The City Offices are at 38, LEADENHALL STREET, E.C., where all information can also be obtained. A Special Train from Waterloo Station, London, at 10 a.m., conveys Passengers direct alongside the Steamer in the Empress Dock, Southampton
SOUTHAMPTON EMBARKATION. The Steamers depart direct from the Empress Dock, at Southampton, at noon, embarking Passengers there without subjecting them to the inconvenience and discomfort of being transferred by a Tender.
PLYMOUTH. On the Eastbound voyages the Steamers call at Plymouth. The Special Train from Plymouth to London occupies about 4K hours.
Passengers have the option of landing at Plymouth, Cherbourg or Southampton. Steamers do not call at Plymouth Westbound.
PARIS. Paris Agency is at No. 9 RUE SCRIBE. Letters and Telegrams can be directed to care of this Office, and every information will be given to Passengers by the Agent, Mr. NICHOLAS MARTIN. Railway Guides, Tariffs, and other works of reference can be consulted at this Office. A Special Restaurant Corridor Train leaves Paris at 9.50 a.m. on Saturdays, connecting with Sailings from Cherbourg.
BERLIN. Berlin Agency is at 6, UNTER-DEN-LINDEN. Letters and Telegrams can be directed to care of this Office, and every information will be given to Passengers by the Agent, Mr. AL PETERS. Railway Guides, Tariffs, and other works of reference can be consulted at this Office. A large assortment of current American Newspapers always on file.
CHERBOURG. The Steamers, after leaving Southampton, call at Cherbourg the same afternoon, where Passengers must be ready to embark at 3.30 p.m.
On Eastbound passages the Steamers call at Cherbourg to land Passengers for the Continent. The Special Train from Cherbourg to Paris occupies about 6 hours.
BAGGAGE IN EUROPE. Labels are provided marked "WANTED" or " NOT WANTED," which should be placed on both ends, not on the tops or sides, of Trunks. This will ensure "WANTED " Baggage being available on board ship, and prevent delay in delivery. All pieces of Baggage should always bear Passenger's name and address.
Trunks or Packages for State Rooms should not exceed 13 inches in height, 2 feet in width, or 3 feet in length.
In order to avoid mistakes, Passengers are EARNESTLY requested to take care that all their Baggage is distinctly labelled "WANTED" or "NOT WANTED" BEFORE THEY TAKE TRAIN FOR PORT OF EMBARKATION. Labels can be obtained on application at any of the Company's Offices.
The following arrangements are made for the convenience of Passengers, but neither the Company nor its Agents accept any responsibility for damage, detention, or loss arising from any cause whatever.
Arrangements have been made in LONDON for collecting Baggage at domicile up to two days before Steamer's sailing, and forwarding same to Southampton by Freight Train at the risk and expense of the Owners of the Baggage.
Special arrangements have been made in PARIS for collecting Baggage at domicile up to two days before Steamer's sailing, and forwarding same for shipment at the risk and expense of the Owners of the Baggage. These Packages will be put on board without Customs' examination.
Baggage, if despatched in time to arrive at Southampton before sailing day, may be sent to the care of AMERICAN LINE, Southampton, they being advised whether carriage has been paid or not, the Carrier's name, how despatched, and whether wanted on voyage or not. This advice should be sent as early as possible. Baggage should not be sent to Cherbourg in advance for shipment, but in all cases to Southampton.
Special Labels for Baggage coming from the Continent will be sent on application. By arrangements with the British Customs Authorities, Baggage bearing these labels will be forwarded to Southampton in bond, without being opened for examination in England.
The Carriers to whom the Baggage is delivered should have their attention called to this. Very ample time should be allowed for transit of Baggage forwarded from the Continent.
Baggage is not Shipped until Passengers' Instructions are received. Such Instructions should be sent to Southampton 48 hours before sailing, and should give full particulars of the Packages to be shipped. For Rugs, or other Baggage deposited with the Company on arrival, the name of the Steamer and date of arrival should be given.
First Class Passengers are allowed 20 cubic feet free for each adult. 1/- per cubic foot will be charged for any excess.
Freight on Bicycles, which must be crated, 10/- each ; crates supplied at 5/- each. Dogs £2 to j£5 each. Arrangements for shipment must be made in advance.
BAGGAGE AT NEW YORK. On arrival at New York, passengers will find uniformed Agents of Mr. B. Biglin s New York City Transfer Express, who will arrange for prompt transfer of Baggage to Hotels, Residences, Railroad Stations, &c., in New York and vicinity.
Upon landing at New York, and upon application to the uniformed representatives of the Railroads, who meet all arriving American Line Steamers, Railroad tickets may be purchased, and baggage of First and Second Class Passengers may be checked from the Steamship Pier to any point along the lines of the Pennsylvania, New York Central, Lehigh Valley, and connecting Railroads.
Arrangements have now been completed by the American Railroad Companies for checking baggage "In Bond''from the Dock at NEW YORK through to Canadian points, and also baggage intended for immediate exportation by steamship from San Francisco or Vancouver, or for transfer by any coast line steamers sailing from New York, thus saving Customs' examination in the United States.
DECK CHAIRS. Deck Chairs can be secured, the Charge for which will be 4s. for the voyage.
SEATS AT TABLE. Seats at Table can be secured in advance upon application at any or the Company's Offices, or upon embarking from the Second Steward.
LETTERS AND TELEGRAMS. Letters may be addressed to the care of AMERICAN LINE, at any of their Offices, and they will be retained until called for, or forwarded according to instructions. Letters and Telegrams for Passengers on board Steamers should be addressed as under :—
M_____________
First Class Passenger per S.S. _______________
To (or from) New York, ___________ 190__
Care of AMERICAN LINE, Southampton.
Telegrams should be addressed c/o " American," Southampton, giving name of Steamer.
Letters for Cherbourg should be addressed :—
Care LE PONT & FILS, Agents, American Line, Cherbourg. Telegrams should be addressed c/o "American," Cherbourg, giving name of Steamer.
Letters for Plymouth should be addressed :—
Care AMERICAN LINE, Duke of Cornwall Buildings, Plymouth. Telegrams should be addressed c/o " American," Plymouth, giving name of Steamer.
LOCAL FARES.
Southampton to Cherbourg, Cherbourg to Southampton, Plymouth to Cherbourg £1 10 0
Plymouth to Southampton, via Cherbourg £2 0 0
The Company does not take any responsibility for baggage.
The Company will not be responsible for Valuables, Jewelry, or Money, unless given into the charge of the purser, and a receipt for same should be obtained from the purser.
Deck Plans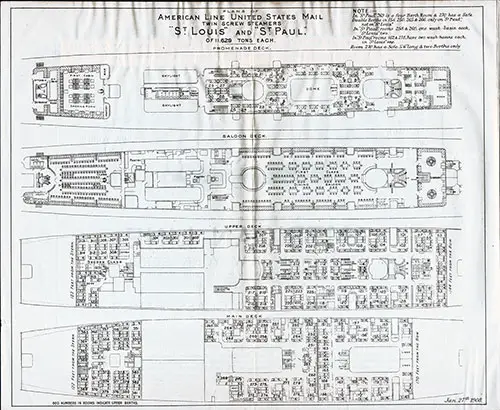 Deck Plans of American Line United States Mail Twin Screw Steamers "St. Louis" and "St. Paul" of 11,629 Tons Each. Diagram Includes Promenade, Saloon, Upper, and Main Decks. Dated 27 January 1908. GGA Image ID # 11492171b6
Notes:
In St. Paul, 269 is a Four-Berth Room and 270 has a Sofa.
Double Berths in 156, 250, 265, and 266 Only on St. Paul -- Not on the St. Louis.
In St. Paul, Rooms 258 and 250, One Wash-Basin Each, on the St. Louis, Two.
In St. Paul, Rooms 162 and 278 have Two Wash-Basins Each, on the St. Louis, One.
Room 210 has a Sofa, 5'6" Long and Two Berths Only.
Odd Numbers in Rooms Indicate Upper Berths
Locations of Public Rooms
Promenade Deck: First Cabin Smoking Room, Second Cabin Ladies' Room, First Cabin Lavatory for Men, Barber, Ladies Bath, and Drawing Room.
Saloon Deck: Men's Lavatory, Women's Lavatory, Dispensary, Second Class Dining Saloon, First Class Dining Saloon, and Library.
Upper Deck: Doctor's Office, Ladies and Gentlemen's Water Closets
Main Deck: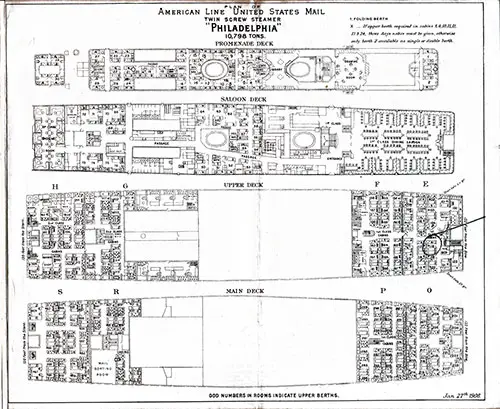 Deck Plan of American Line United States Mail Twin Screw Steamer "Philadelphia" of 10,796 Tons. Diagram of Promenade, Saloon, Upper, and Main Decks. Dated 27 January 1908. GGA Image ID # 1149664070
Notes
† Folding Berth
X If Upper Berth Required in Cabins 3,4,10,11,12,13, and 24, Three Days Notice Must be Given, Otherwise Only Berth 2 Available as Single or Double Berth.
Odd Numbers in Rooms Indicate Upper Berths
Public or Work Rooms
Promenade Deck: Baths, Library, Drawing Room
Saloon Deck: First Class Smoking Room, Barber Shop, Lavatories, Children's and Servant's Dining Room, Doctor's Office, Purser's Office, Chief Steward's Office, and First Class Dining Saloon.
Upper Deck: Lavatories, Baths, Stewardesses
Main Deck: Mail Sorting Room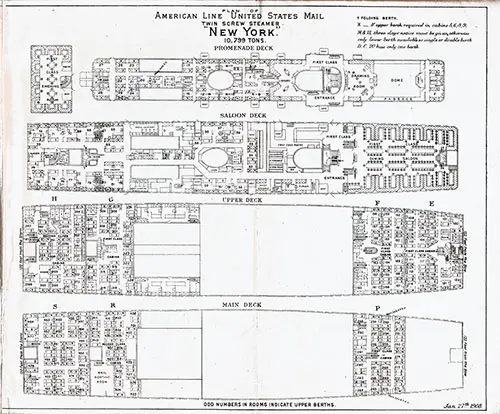 Deck Plan of American Line United States Mail Twin Screw Steamer "New York" of 10,799 Tons. Diagram of Promenade, Saloon, Upper, and Main Decks. Dated 27 January 1908. GGA Image ID # 11497f6b68
Notes
† Folding Berth
X If Upper Berth Required in Cabins 5, 6, 8, 9, 14, and 15, Three Days Notice Must be Given, Otherwise Only Lower Berth Available as Single or Double Berth.
D.C. 20 Has Only One Berth
Odd Numbers in Rooms Indicate Upper Berths
Public or Work Rooms
Promenade Deck: First Class Smoking Room, Baths, and Library
Saloon Deck: Barber, Serving Room, Lavatories and Baths, Chief Engineer's Office, Children's and Servants' Dining Room, First Class Pantry, Saloon Bar, Chief Steward's Office, Doctor's Office, Purser's Office, and First Class Dining Saloon.
Upper Deck: Stewardesses, Baths, Lavatories.
Main Deck: Mail Sorting Room
Tariff of First Class Fares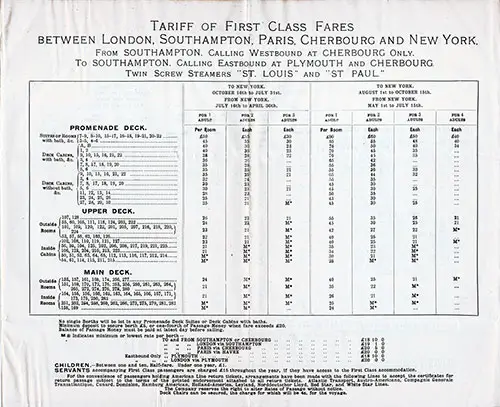 Tariff of First Class Fares Between London, Southampton, Paris, Cherbourg and New York. From Southampton. Calling Westbound at Cherbourg Only. To Southampton. Calling Eastbound at Plymouth and Cherbourg. Twin Screw Steamers "St. Louis" and "St Paul" - 1908. GGA Image ID # 11498fa506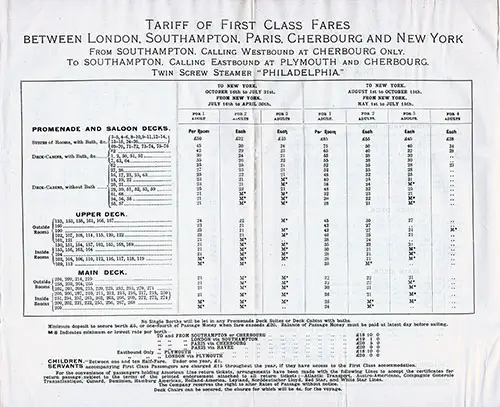 Tariff of First Class Fares Between London, Southampton, Paris, Cherbourg and New York. From Southampton. Calling Westbound at Cherbourg Only. To Southampton. Calling Eastbound at Plymouth and Cherbourg. Twin Screw Steamer "Philadelphia." 1908. GGA Image ID # 1149b879bb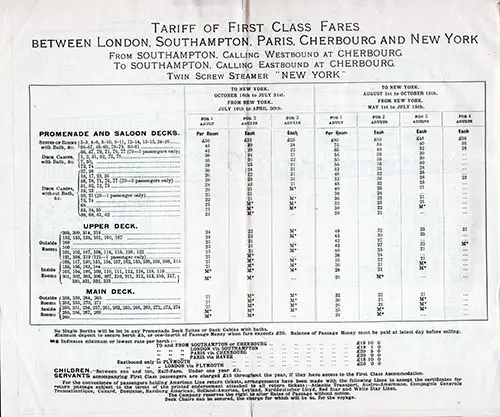 Tariff of First-Class Fares Between London, Southampton, Paris, Cherbourg and New York. From Southampton. Calling Westbound at Cherbourg. To Southampton. Calling Eastbound at Cherbourg. Twin Screw Steamer "New York." - 1908. GGA Image ID # 1149c49739
Broadside Flyer Information
No. 44 Dated 22 May 1908
Printers: Sir Joseph Cauton & Sons, Limited, London