Franconia and Laconia For The Boston Service - 1911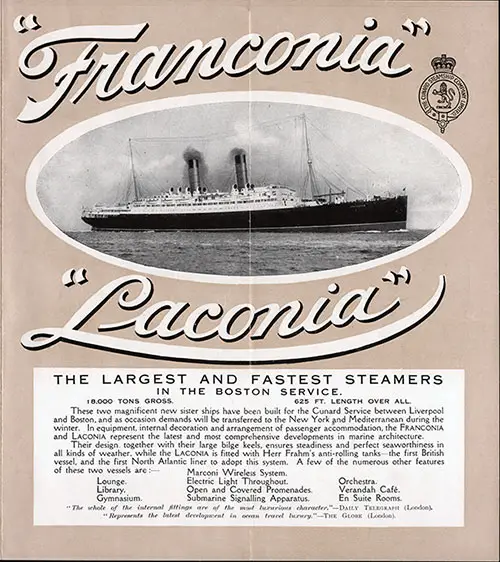 Front of Franconia and Laconia - The Largest and Fastest Steamers in the Boston Service Flyer from 1911. GGA Image ID # 119523036d
Flyer created by Cunard Line to announce two new steamships for the Boston service, 18,000 tons each. The ships were of the intermediate class and accommodations described in this flyer pertain primarily to the First Class.
THE LARGEST AND FASTEST STEAMERS IN THE BOSTON SERVICE.
18,000 TONS GROSS. 625 FT. LENGTH OVERALL.
These two magnificent new sister ships have been built for the Cunard Service between Liverpool and Boston, and as occasion demands will be transferred to the New York çind Mediterranean during the winter. In equipment, internal decoration and arrangement of passenger accommodation, the FRANCONIA and LACONIA represent the latest and most comprehensive developments in marine architecture.
Their design, together with their large bilge keels, ensures steadiness and perfect seaworthiness in all kinds of weather, while the LACONIA is fitted with Herr Frahm's anti-rolling tanks—the first British vessel, and the first North Atlantic liner to adopt this system. A few of the numerous other features of these two vessels are:
Marconi Wireless System
Lounge
Electric Light Throughout
Library
Open and Covered Promenades
Gymnasium
Submarine Signaling Apparatus
Orchestra
Verandah Café
En Suite Rooms
"The whole of the internal fittings are of the most luxurious character." — Daily Telegraph (London)
"Represents the latest development in ocean travel luxury." — The Globe (London)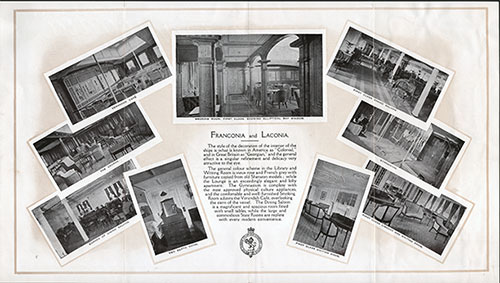 Photo Collage of the RMS Franconia and RMS Laconia. GGA Image ID # 11956befda
Photo Captions (Left)
Verandah Café
The Lounge
Conrer of Dining Saloon
Two Berth Room
Photo Captions (Right)
First Class Dining Saloon
Gymnasium
First Class Library and Writing Room
First Class Writing Room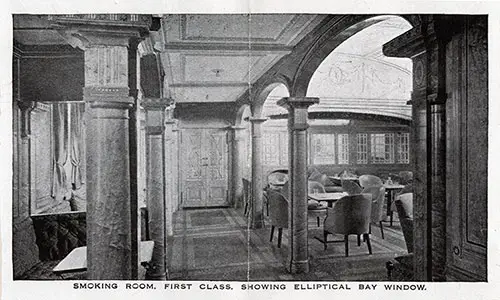 First Class Smoking Room on the RMS Franconia and RMS Laconia Showing Elliptical Bay Window. GGA Image ID # 1195825755
Franconia and Laconia
The style of the decoration of the interior of the ships is what is known in America as "Colonial," and in Great Britain as "Georgian," and the general
effect is a singular refinement and delicacy very attractive to the eye.
The general color scheme in the Library and Writing Room is vieux rose and French grey with furniture copied from old Sheraton models; while the Lounge is an exceedingly elegant and lofty apartment.
The Gymnasium is complete with the most approved physical culture appliances, and the comfortable and well-furnished Smoking Room adjoins the Verandah Café, overlooking the stern of the vessel.
The Dining Saloon is a magnificent and spacious room fitted with small tables, while the large and commodious State Rooms are replete with every modern convenience.
The LACONIA is scheduled lo leave Liverpool for New York next year on her maiden voyage on 13 January 1912. From New York she will proceed to the Mediterranean, and at the end of March 1912, take her place in the Boston Service.