The Famous Big 4 - New York-Liverpool Service - 1909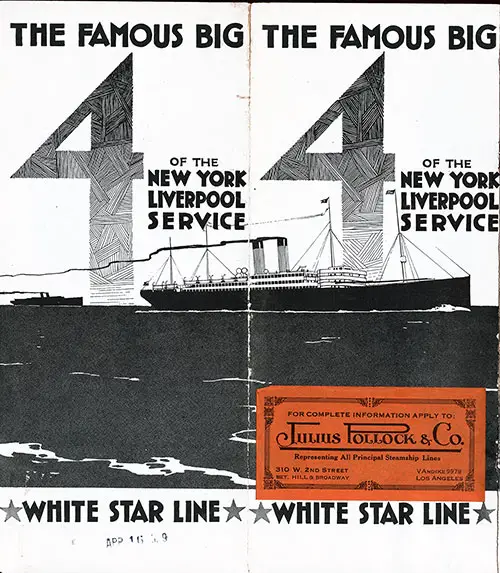 Front Cover, White Star Line Famous Big 4 - RMS Adriatic, RMS Baltic, RMS Cedric, and RMS Celtic dated 16 April 1909. GGA Image ID # 11adcf89ee
The 8-Page White Star Line brochure on the Famous Big 4 of the New York Liverpool Service - The Adriatic, Baltic, Cedric, and Celtic, is packed with incredible photographs (Interior and exterior), some with actual passengers.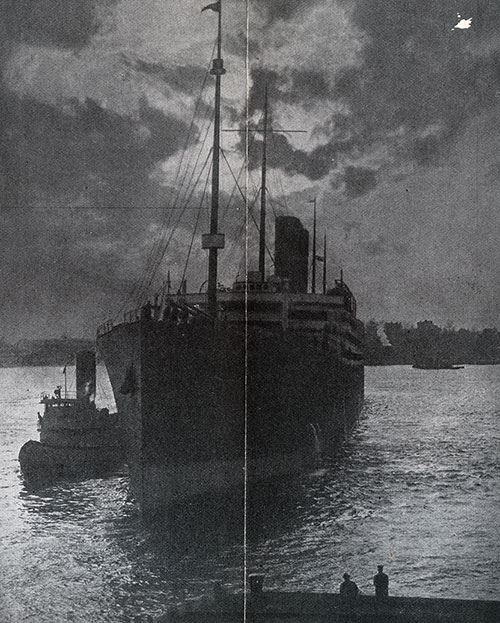 The RMS Adriatic off The White Star Piers at New York. GGA Image ID # 11aae42fb3
In this artistic photo, the leader of the White Star Line's Big Four is shown approaching her berth at Pier 60, North River, at the end of a voyage from Liverpool.
The photograph—which was a prize winner in a contest for professional photographers recently held at New York—is strongly suggestive of the size and steadiness of this distinguished ship.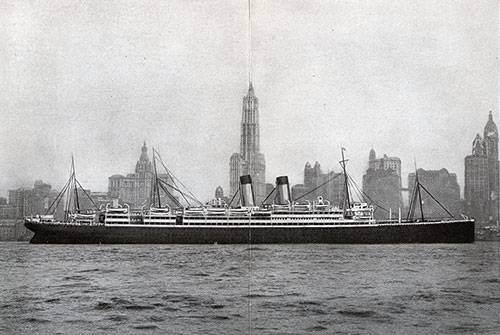 The Adriatic, Largest of the White Star Line's Big Four, Passing the Skyscrapers of New York City on Her Way to Sea. One of the Most Distinguished of Atlantic Liners, the Adriatic Is 24,541 Tons Register, 726 Feet Long and 75.5 Feet Wide. GGA Image ID # 11aaf24ce3
TRAVELERS who frequently cross the Atlantic nearly always acquire a preference for a specific ship, admiring it, perhaps, for many good qualities, such as steadiness in all weathers, reliable comfort, splendid cuisine, pleasant officials and efficient staff, or any of a dozen other equally good reasons.
Everyone of the White Star Line's famous Big Four—the favorite mammoth steamers ADRIATIC, BALTIC, CEDRIC and CELTIC—can boast of hosts of such passengers who choose these vessels for journey after journey, knowing that upon them—in any class—will be found precisely the satisfactory service and the perfection of courtesy they have so thoroughly enjoyed before.
The famous Big Four are the largest steamers sailing regularly between New York and Liverpool, calling at Queenstown both Eastbound and Westbound.
They are of robust and sturdy build, with graceful, stately lines, and if there is one comment about them heard more often than another, it is that these vessels are "so very steady."
The ADRIATIC and the BALTIC are each 725 feet long, the CEDRIC and CELTIC being 700 feet in length; all were constructed of the same model, and the accommodations are spacious, airy, and attractive throughout.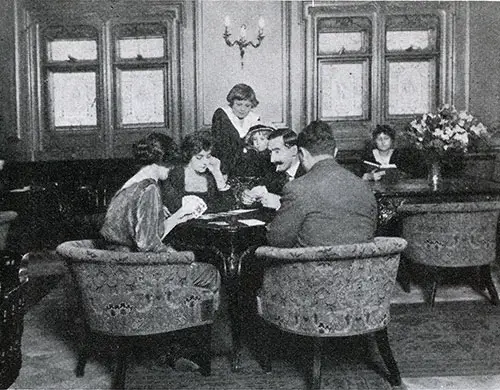 Passengers Enjoy a Game of Bridge in the Lounge. GGA Image ID # 11aaf4a53f
First Class Smoking Room on the Baltic. GGA Image ID # 11ab0cf97c
The public rooms aboard these four steamers are all excellently located to ensure comfort and are tastefully decorated and furnished. In the first class, the lounge is perhaps the chief indoor gathering place—always excepting the ever-popular dining saloon!
The cheery surroundings of the lounge make it an ideal spot for cards or conversation or for the leisurely after-dinner demi-tasse, and, with the ship's own orchestra of professional musicians discoursing catchy airs in the main foyer of the steamer.
Just outside the lounge doors, a pleasant sense of camaraderie is sure to be developed among the passengers, although they hail from many corners of the globe.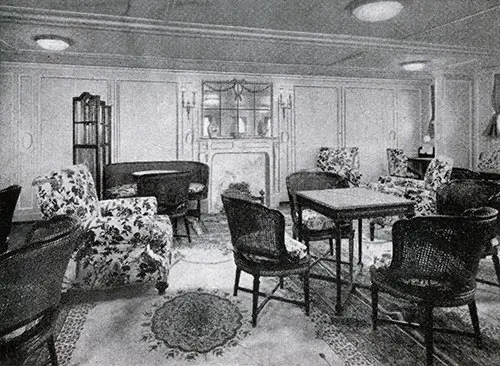 First Class Drawing Room on the Baltic. Harmony and Restful Seclusion Make This a Delightful Apartment in Which to Pass Quiet Hours with a Book or Friend. GGA Image ID # 11ab460ebd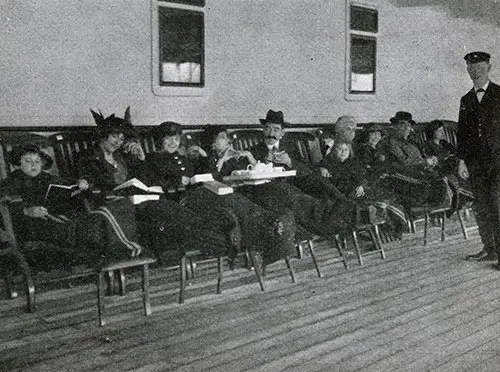 Passengers Relaxing on Deck Chairs. Happiness Is the Keynote of Days Spent on Deck Aboard the Big Four Ships of the White Star Line, for the Decks Are Unusually Spacious and the Ship Delightfully Steady. GGA Image ID # 11ac000a82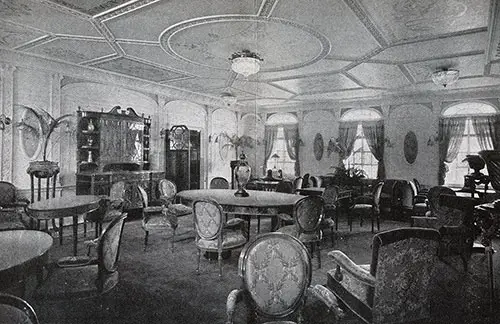 On Board the Big Adriatic the First Class Writing Room Is an Example of Harmony and Beauty in Design and Furnishings, Contributing to Restful Ease. the Large Windows Are Characteristic of the Writing Rooms on White Star Ships. the General Effect Strikes a Distinct Note of Elegance. GGA Image ID # 11ac59aa46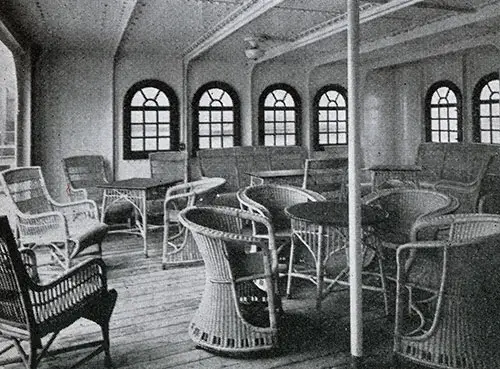 A Spacious Verandah Cafe. GGA Image ID # 11acc142cc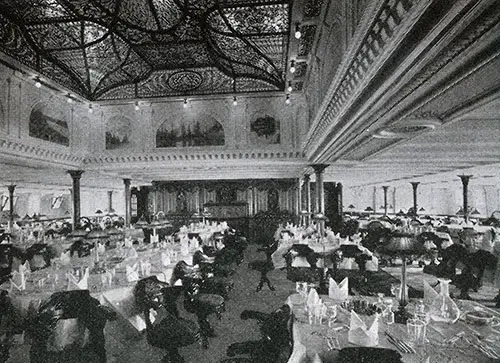 First Class Dining Saloon on the Adriatic. GGA Image ID # 11ace6508c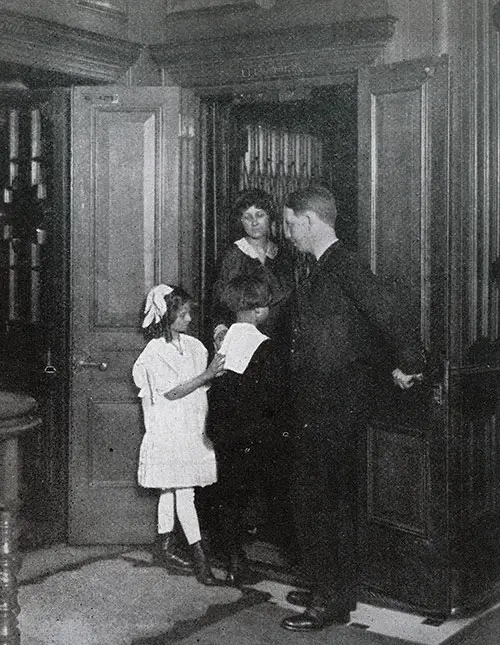 An Elevator Running the Passenger Decks Is an Added Convenience, to Be Found on Many Modern Liners. GGA Image ID # 11acfd4002
In the drawing-room, with its air of cozy comfort, the comfortable chairs beguile one to while away the passing hours amid these pleasant surroundings. Here is an intimate retreat, with evidence of the best taste and refinement and elegance in all its furnishings.
Soft Oriental rugs, often bright in their coloring, a glowing fireplace, beautiful hangings at the windows —all these please the eye and add to the attractiveness of this apartment.
The ship's smoking room always holds its own little world of interest for a man at sea. Here the raconteur exchanges quip and stories for the daring adventure tales of the hunter returning home after new conquests.
Here also the man of business forgets his cares and rests himself amid the friendly fellowship of other followers of the world's marts.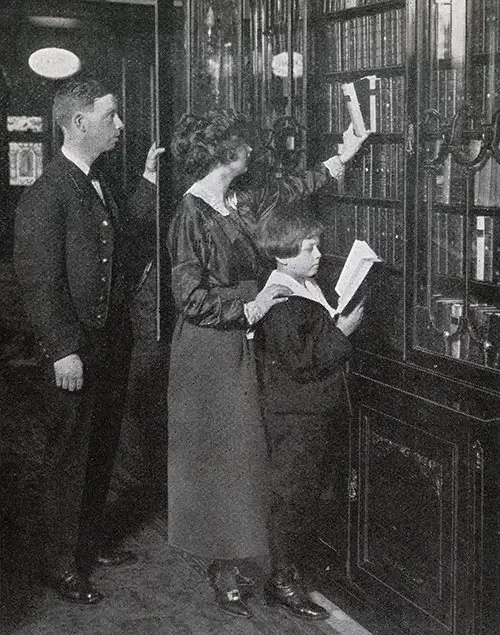 Each White Star Line Ship Has a Carefully Selected Library, with a Choice of Books Appealing to All Ages and Varied Tastes. Current Periodicals, Both American and European, Are Also Carried. GGA Image ID # 11ad34fc1c
There is also on each ship a cozy and well appointed writing room, or combination writing room and drawing room.
The first class accommodations are situated in the middle third of the ship, the part least subject to motion at sea. They have three passenger-deck promenades, that are unusually spacious. Their staterooms are of generous proportions, and are furnished in a style of substantial comfort.
An abiding first impression of these ships is one of great size, solidity and dignity, and of good taste and tone in their general effect. The traveler's good opinion of his ship is strengthened on a voyage by the atmosphere of refinement and quiet on board, by the well-chosen menus and excellent cooking, and by the perfection of service in every department.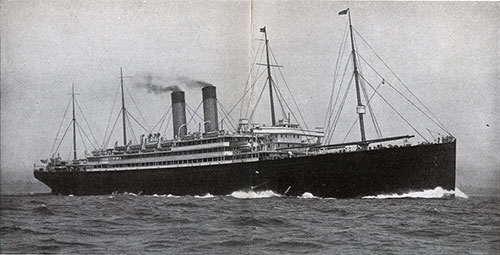 The Cedric and Celtic of the White Star Line's Big Four Convey at a Glance an Impression of Commanding Size and Abundant Power. They Are Sister Ships, and Only a Mariner Could Distinguish One from the Other When at Sea. the Illustration Shows the Cedric. GGA Image ID # 11ad5075b6
"Everything runs like clockwork" is a comment sometimes heard from appreciative passengers—a tribute to the efficiency of White Star standards, maintained through a half-century of successful catering to steamship travelers.
Amusements on these ships are a little less stressed, perhaps, than on the fashionable express liners, but they are not lacking. Each steamship carries a well-chosen orchestra, which gives daily concerts and also plays for dancing.
Passengers engage in games of various kinds in the lounge and smoking room, and there is generous deck space for outdoor sports.
Each ship has a carefully selected library and carries the leading current periodicals, both American and European.
The ships of the Big Four carry first, second and third-class passengers. Their second cabin accommodations are spacious and comfortable and are popular with travelers who are gratified to find that in this class they get much in return for moderate rates.
While not driven at the speed of the express steamers plying to Cherbourg and Southampton, the ships of the Big Four have abundant power for reliable, steady performance, which enables them to complete their voyages with the regularity of through trains on a railroad.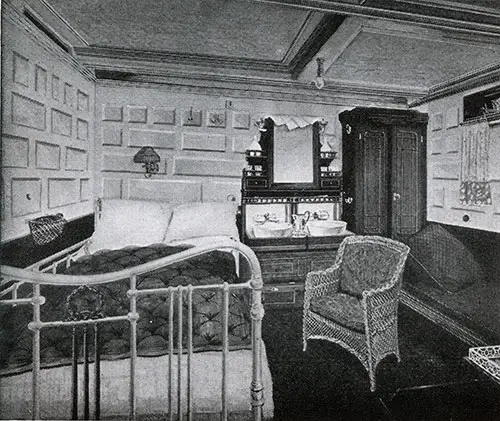 Stateroom with Double Bed. GGA Image ID # 11ad97765e
Passengers by this route are landed at Queenstown by tender and at Liverpool directly at the Riverside landing stage, from which special boat trains depart for London directly after the arrival of each ship.
The running time to London is about four hours. Frequent express trains also depart from Liverpool for various tourist centers, the English Lake District, the Shakespeare country and the Welsh mountains being within easy reach.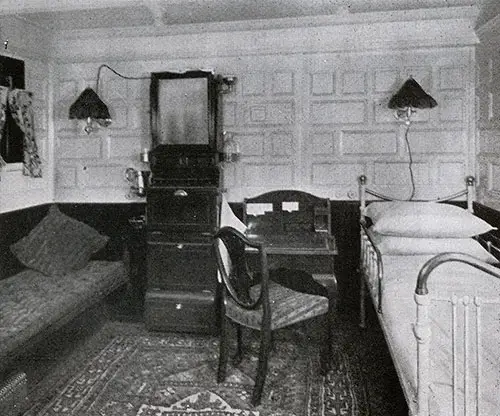 A Spacious Single-Bed Stateroom. GGA Image ID # 11ad9de4e1
To Americans planning a tour of places of scenic and historical interest in Great Britain, the White Star Line's Big Four ships cannot be too highly recommended.
Travelers Checks
The International Mercantile Marine Company's Travelers Checks, issued for the White Star Line, are admirably adapted to the use of tourists.
They are issued in denominations of $10, $20, $50 and $100, at face value plus 1/2 percent, and are payable at the current buying rate for bankers' checks on New York. American dollars being in high demand abroad, they are paid at the most favorable rates of exchange.
Each purchaser is furnished with a list of foreign banks, including White Star Line offices, etc., where checks will be cashed. They are also accepted by hotels, shops, etc., in payment of accounts.
White Star Offices in America
New York: 1 Broadway
Atlanta: North Forsyth & Poplar Streets
Baltimore: 308 North Charles Street
Boston: 84 State Street
Calgary, Alberta: Land Building
Chicago: 127 South State Street
Cleveland: Swetland Building, Euclid Avenue
Dallas: Cotton Exchange Building
Detroit: Majestic Building
Galveston: Cotton Exchange Building
Halifax: 93 Hollis Street
Houston: Hermann Bnilding
Los Angeles: Security Building, Fifth and Spring Streets
Minneapolis: 121 South 3rd Street
Mobile: 7 St. Michael Street
Montreal: McGill Building
Norfolk: Flat Iron Building
New Orleans: 219 St. Charles Street
Philadelphia: 1319 Walnut Street
Pittsbnrgh: Arcade, Union Trust Building
Portland, ME: 1 India Street
Quebec: 53 Dalhousie Street
St. John, NB: 108 Prince William Street
St. Louis: 1101 Locnst Street
San Francisco: 550 Market Street
Seattle: 619 Second Avenue
Toronto: 41 King Street, East
Vancouver: Granville & Hastings Streets
Washington: 1208 F Street, N.W.
Winnipeg: 286 Main Street
White Star Offices in Europe
Liverpool: 30 James Street
London: 1 Cockspur Street, S.W.
London: 38 Leadenhall Street, E.C.
Southampton: Canute Road
Queenstown: Scott and Company,
Paris: 9 Rue Scribe
Antwerp: 22 Rue des Peignes
Berlin: Georgenstrasse 24
Brussels: V. Bull, Agent, 26 Place de Brouckère
Bucharest: Str. Sarindar 12
Budapest: VII, Barosster 15
Genoa: 41 Piazza Nunziata
Hamburg: 39 Alsterdamm
Prague: Vaclayske Namesti 66
Naples: 59 Via Guglielmo Sanfelice
Vienna: 4 Karntnerring, I.
Warsaw: 144 Marszalkowska
The Dual Dating of this Brochure
The date we had for this brochure was stamped on the front cover (Apr 16, 09), presumably from the Agency that originally distributed the brochure.  The dating of brochures that lack date of printing is an inexact science.  In this particular era, there was little to gain from reproducing this brochure after the Olympic was launched.  The four ships in this brochure were Adriatic (1906), Baltic (1904), Cedric (1903), and Celtic (1901).    After this brochure was printed, they launched the Lurentic, Megantic, Olympic and Titanic.
The illustration of the skyline appears to take into account, the completed Woolworth building, making it likely that the brochure date of printing is circa 1913 rather than 1909.  What we believe is most plausible is that this brochure represents a second edition, where the text remained similar or exactly as the first edition and because of the Woolworth building's prominence in the New York Skyline, the image was replaced with an updated skyline.  What remains a mystery is why they would even bother – unless there was the encourage more ticket sales on these four ships.

1910 New York Skyline Featuring the Singer Building (Slightly Right of Center, Then the Tallest Skyscraper).

1913 New York City Skyline Featuring the New Woolworth Building (On Left) Which Is Now the Tallest Building in NYC.
Brochure Information
Publication Date: 1909 Printed in USA (See Above)
Publisher: White Star Line / The International Mercantile Marine Company
Publication Number: F7700
Pages: 8
Photographs: 14
Dimensions: 20.4 cm x 23.2 cm