Anchor Line Accommodations - 1902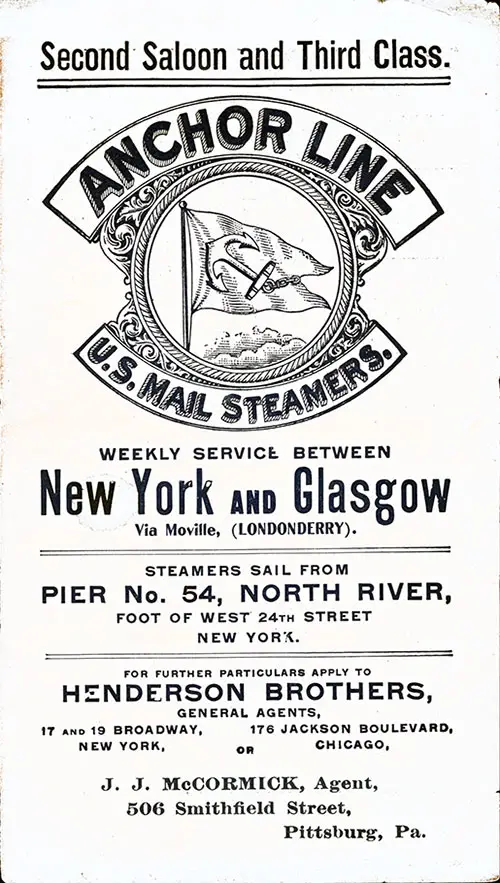 Front Cover, Second Saloon and Third Class on Anchor Line U.S. Mail Steamers. Weekly Service Between New York and Glasgow via Movile, (Londonderry). 6-Panel Flyer/Brochure from 1902. GGA Image ID # 1149d8b687
Six-Panel Flyer from the Anchor Line promotes their weekly service between New York and Glasgow. The brochure provided information about the Second Saloon and Third Class passengers only, including rates of passage and rail rates to or from Glasgow to points in the UK.
SECOND SALOON
Passengers are berthed in Staterooms, on the forward Main Deck of all steamers, except " Columbia" and " Astoria," on which they are situated in after part of Spar and Main Decks.
The rooms accommodate from two to six passengers each. Berths are allotted in rotation of purchase, and numbers marked on tickets. Passengers are provided with all necessaries for the voyage, including a liberal supply of well cooked provisions served as per bill of fare in special Dining Boom, but do not have access to Main Saloon, and are restricted in their use of the Promenade Deck.
THIRD CLASS
This accommodation is exceedingly well lighted and ventilated, and fitted up in rooms, married couples, single women and single men being berthed separately, and every comfort and attention is furnished that is possible on an ocean steamer.
Third-class passengers are provided, free of charge, with a mattress, bedding, mess tins (plate, mug, knife, fork, spoon and water can). Tables are set for meals, and passengers are waited upon by stewards who take care of eating utensils.
A liberal supply of provisions, properly cooked, will be served on the steamers three times a day by the steamers' stewards ; breakfast at 9, dinner at 1, supper at 6 o'clock.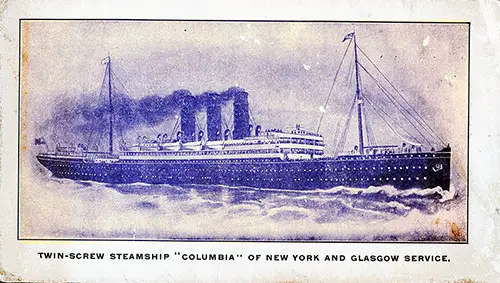 Twin-Screw Steamship "Columbia" of New York and Glasgow Service for the Anchor Line. GGA Image ID # 114ba1581c
BAGGAGE
Second Saloon 20 cubic feet, and Third Class 10 cubic feet, free; any excess will be charged for at rate of One Shilling sterling per cubic foot. All baggage before being «ent to Anchor Line Pier should be labeled with name oi passenger and steamer on which passage has been engaged.
No luggage will be put on board the steamers until dt has been claimed by passengers and marked "Wanted" or "Not Wanted," on the voyage, as may be desired bv owners.
Passengers should be on board with tneir baggage one hour prior to the time of sailing, as hurry and confusion are thereby avoided, and baggage less liable to be lost. Special Anchor Line labels can be obtained on application at the principal offices and agencies of the line.
BICYCLES $2.50 TO GLASGOW OR LONDONDERRY
NOTICE
PERSONS wishing to send for friends in the old country can be furnished with certificates of passage on remitting to us the amount of passage money, either by Express or Post Office Order, and giving the full names, ages and addresses of the parties for whom passage is desired. By special arrangement with Railroad and Steamship Companies, Passengers can be booked through at lowest rates to any Seaport or Railroad Station in America.
CHECKS can be purchased from the agents of the Line at lowest current rates, and will be found the safest and most economical way of transmitting money to friends in Great Britain and Ireland.
Rates of Passage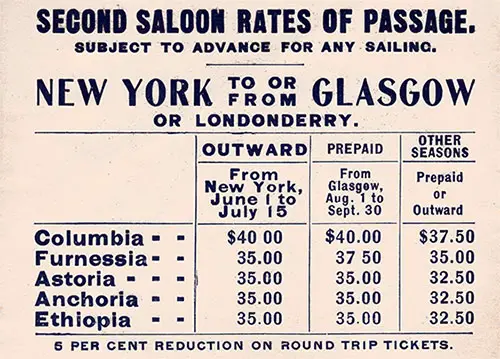 Second Saloon Rates of Passage For New York -- Glasgow or Londonderry. Published 7 May 1902. GGA Image ID # 114ac8fbae
5 PER CENT REDUCTION ON ROUND TRIP TICKETS.
Children over 1 year and under 12 years, HALF FARE.
Two berth rooms, $5.00 additional each passenger, each way.
Berths allotted and numbers given on application by letter or telegram. Deposit of $10 per berth must be paid when accommodation is accepted.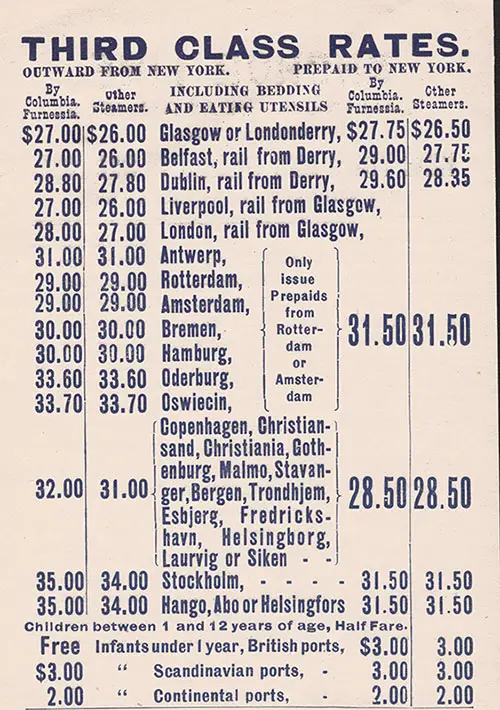 Third Class Rates. Outward from New York. Prepaid to New York. Published 7 May 1902. GGA Image ID # 114add2db0
Third Class Rail Rates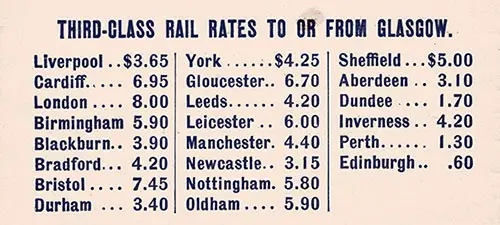 Third-Class Rail Rates to or from Glasgow to points in the United Kingdom. Published 7 May 1902. GGA Image ID # 114b7c9bc1
Third-Class Tourist Ticket, Glasgow to London and Return, with Stop-Over Privileges: $12.69
Schedule of New York and Glasgow Service by the Anchor Line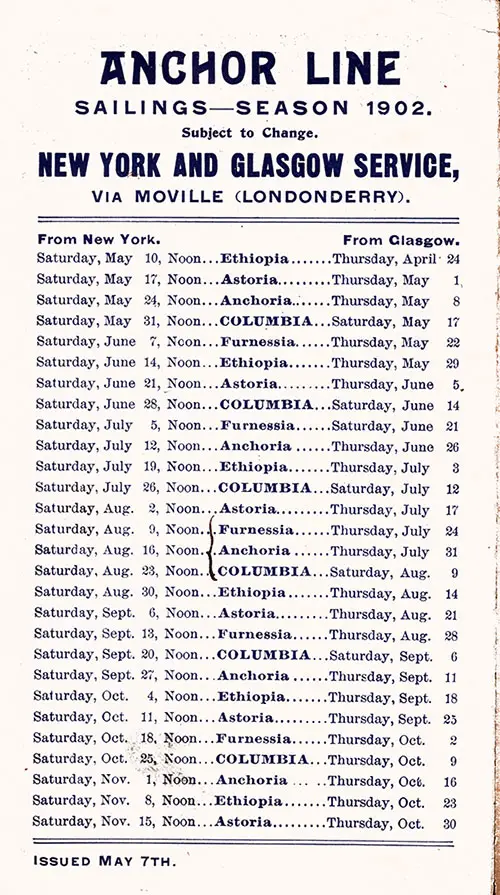 Sailing Schedule, New York-Glasgow Service via Movile (Londonderry), from 24 April 1902 to 15 November 1902. Ships Included the Ethiopia, Astoria, Anchoria, Columbia, and Furnessia. Issued 7 May 1902. GGA Image ID # 114b905df3