Sweden to America - Norwegian America Line - 1915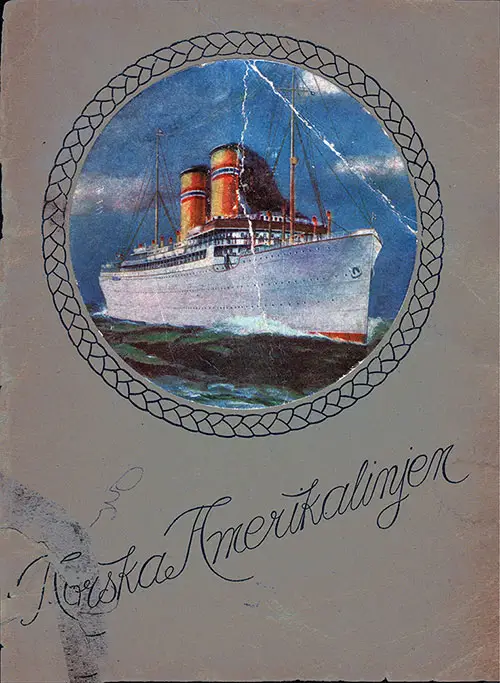 Front Cover, 1915 Brochure from the Norwegian America Line, Prepared for Swedish Immigrants Coming to America in the Third Class. GGA Image ID # 122e36f13f
This 1915 brochure, produced by the Norwegian America Line, promoted Immigrant traffic from Sweden to America in the Third Class. Many interior and exterior photographs and illustrations make this a superb booklet that is very useful for genealogy research.
SWEDEN AMERICA WITH
Norwegian American Line
For passengers who intend to make an island trip to America, the Norwegian American Line can safely be recommended, and the confidence and sympathies, with the different route of the traveling public included, are growing day by day.
Crossing Bergen— New ~ york sails about 8 1/2 days.
:: :: TABLE OF CONTENTS :: ::
Description of steamers Kristianiafjord and Bergensfjord
Description of the SS Stavangerfjord
3rd class amenities
General Guidance
Money Shipments etc
Bergensbanan
About luggage
United States Customs Regulations
Excerpt from U. S. Immigration Law
Warnings
"A little interpreter"
Map of U. S. A.
Route map
The agents of the Norwegian American Line
Deck Plan of 3rd class (appendix)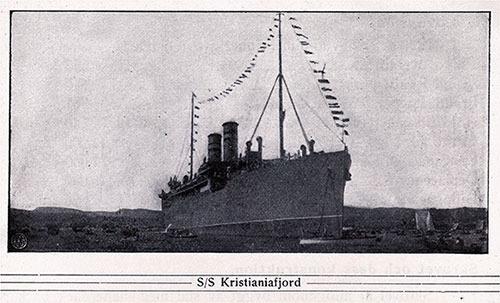 SS Kristianiafjord of the Norwegian America Line. GGA Image ID # 122e58ea29
Since ancient times, Norwegians have advanced across the seas. Many and long were the issues, which history tells us that old Norwegians undertook both inside and outside Europe.
Leiv Eriksson's American trip - "The Vinland voyage" - belongs here, and in this way it can reasonably be said that Norway's connection with "The New World" is of old date. Just as Leiv Eriksson's Viking ships denote the height of contemporary shipbuilding art, the Norwegian American Line's steamer "Kristianiafjord" and "Bergensfjord" stand at the height of the present.
These two sibling ships are built by the world-renowned firm Cammed, Laird & Co. - its shipyard at Tranmere Bay, Birkenhead. "Kristianiafjord" was delivered in May and "Bergensfjord" in September in 1913. These are the biggest steamers under the Norwegian flag. They hold the highest class in Norwegian Veritas and in English Lloyd and satisfy in every respect the requirements of the Norwegian Naval Control, the English Board of Trade's and the American Ship Inspectorate's demands on today's Atlantic sailors.
Construction.
The main dimensions of the vessels are as follows:
Height Overall 530 feet
Length of water line 510 feet
Width 61 ft
Height of Shelter deck 40 feet
Gross tonnage about 11,000 tons
Cargo capacity about 7,000 tons
Displacement about 16,000 tons
Depth 26 feet
Speed ​​16 1/2 knots.
The hull is always built of steel with shelter tires, slopes and long midship bridge deck in association with the poop aft. Large deck houses are housed on the jetty deck, housing the first-class cornering facilities.
There are three fully fixed decks, namely: Main deck, Upper deck and Shelter deck. The walking deck is about 250 feet long. Above this deck are two tugs separated from each other, the boat in connection with the command bridge. These two decks partially protect the walking deck.
With the exception of the boat decks, all tires are made of steel. In addition, shell decks and overlying decks are covered with wood. Main deck and upper main deck are covered with a layer of composition - Lito-silo 2 inches thick.
The hull is divided into 9 waterproof bulkheads through 9 waterproof bulkheads. These shots extend from the bottom of the ship to the upper main deck. In the waterproof bulkheads, there are a total of 5 waterproof doors, which can be closed from the upper deck.
The double bottom, which extends over the entire length of the vessel, is divided into smaller rooms intended partly for water ballast and partly for fresh water. The tanks together hold 1440 tons. Also, fresh water tanks were set up alongside the tunnel, holding 187 tons.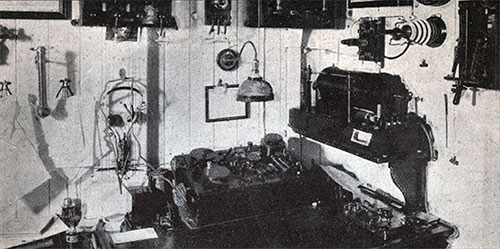 Interior of Wireless Telegraph Station. GGA Image ID # 122ebd282e
Large pendulums, one on each side, help to give the ship a calm movement in the lake.
The carboxes together hold 1850 tonnes, equally distributed on both sides of the ship.
Machinery.
The main machinery consists of two 4-cylinder triple expansion machines, balanced by Yarrow Schlick-Tweedy's system with a steam boiler truck of 220 lbs. and indicate about 9,500 horsepower at 95 beats per minute.
The dimensions of the cylinders are as follows: 26" x 37 1/2", 53" x 75", and the stroke 51".
The vessels have double, three-bladed propellers, which are of bronze, with a diameter of 16' 9" and 20' 3" pitch.
The steam boilers.
The steam to the machines is supplied by 8 pcs. single ended boilers, 11' 8" long and 16' in diameter with 4 fireplaces in each. The total roasting area is about 590 square feet and the heating surface is about 23,000 square feet.
It should be of interest to note that the height from the fireplaces to the top of the chimneys is 105 feet, and the two oval chimneys are 13 '6 "x 10'. The steam boilers are provided with Howden's forced pull.
The main mud pipe is made of steel and arrangerai in such a way that all boilers at one time, or one at a time, can leave steam to the machines.
The auxiliary machines on the deck obtain steam from any of the four middle steam boilers. In addition to common ash lifts used in port, there are so-called "ashejectors".
Various auxiliary machines etc.
The vessels are illuminated exclusively by electric light. The power is delivered from 3 pcs. dynamos. 2 of these are able to supply power to the entire installation at full load. All ship lanterns, night-light lamps, etc. are electric and for loading and unloading are electric tail lamps, located on deck.
The number of electric lamps on each vessel is 1,400.
Ventilation and heating of cabins and lounges etc. takes place through the so-called "Thermo-tank" system.
This consists in the fact that before the air is supplied to the various parts of the vessel through built ducts, first, with the aid of electric fans, it is forced to pass a tank, which is provided with spiral tubes, which are heated with steam. In each cabin the air supply can be regulated. In the summer, the same system is used only for ventilation.
In combination, specially operated electric fans are used for ventilation of toilets, kitchens etc.
All baths are provided with warm salt water, even those in the 3rd class. All drinking water on board is filtered.
In the middle deck, freezers are provided for storing meat, fish, game, cheese etc.
Wireless telegraph etc.
The vessels are equipped with wireless telegraph, "Marconi's system".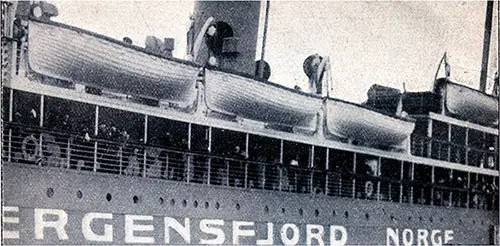 View of the Boat Deck of the SS Bergensfjord. GGA Image ID # 122f8e6b29
To serve this purpose, two telegraphists are employed with uninterrupted service day and night.
In addition, the vessels are provided with a telephone to be connected with land when the vessels are in port.
For loading and unloading from the 5 large cargo holds, there are two cargo bars, located at each door, designed for lifting up to 2 tonnes. The booms are able to swing the cargo 8 feet clear from the ship's side. A steam winch is placed at each boom. At the door No. 2 there is also a special constructed boom for larger lifting up to 15 tons.
Lifeboats are available in sufficient numbers for all passengers, as well as passengers and crew. The Batdavites are of WELIN's well-known construction.
For the ship's navigation, all modern devices are on board.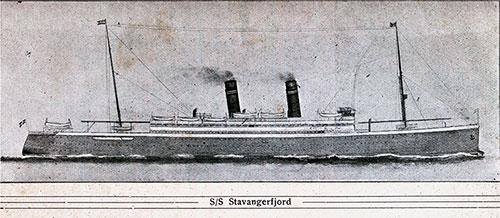 SS Stavangerfjord of the Norwegian-America Line. GGA Image ID # 122f92a601
The line's new steamer.
"Stavangerfjord" is now under construction and is expected to be put into service in early 1917.
The master in the obvious departure from "Kristianiafjord" and "Bergensfjord" also states that this ship receives a so-called "cruiser" aft, (cruiser stern). Furthermore, there is no well before, in which the walk-on deck continues over in the length of the vessel.
1st class cabins, also the comforts of the officers, the comfort of lying and resp. one deck higher, and on that deck, where 1st class amenities are located on "Kristianiafjord" and "Bergensfjord", part 2nd class cabins will be placed.
In addition, the vessel gets a slightly slimmer appearance through heavy hedge cladding instead of open railings.
Dimensions
While the line's current steamer is 510 feet in the waterline and largest width 61 feet, "STAVANGERFJORD" will have a length of 550 feet and a width of 64 feet. The height will be quite considerable, namely:
From keel to tire D 40'6"
From tire C to tire D 8'0"
From tire B to tire C: 8'0"
From tire A to tire B 8'3"
The deck houses on deck A 8'0"
Navigation Cabin 7'6"
Together 80'3" and above this height again a navigation bridge.
The Different Decks:
Top: Navigation cabin and cab for wireless telegraph.
On deck A: The officers' amenities, as well as between the chimneys, two luxury floors and 1st class hall.
On deck B. At the forefront of the superstructure: 1st class dining room and cabins for a total of 88 people, and on the rear: 1st: first class smoking lounge with porch and ladies lounge.
On deck C: The lower deck houses, which are reserved for 2nd class. At the forefront of the superstructure 2: draw class parlor, ladies' lounge and writing room; midships, 2nd class cabins and longer stern, office, barber cabin, 2nd class smoking lounge with porch.
On deck D: This deck is for the most part reserved for 2nd class passengers. Where the first class dining room is located in the other vessels, the 2nd class dining room will be furnished with space for 160 people. Furthermore, there are 37 cabins for 2 people and 30 cabins for 3 people, together 306 passengers in 2nd class.
There are cabins for the crew, 3rd class smoke room and aft part 3: third class cabins.
On deck E and F, 3rd class amenities are housed. These consist of 69 cabins for 2 people, 171 for 4 people and 15 for 6 people, thus cabin seats for a total of 912 3rd class passengers. The large dining rooms with seating for 475 people lie on the E deck. On this deck, the machine personnel also have their comforts, also lie here hospitals, operating rooms, ship doctor's and nurse's cabins etc.
On deck G are luggage compartments, cold storage for supplies and cargo, and again under this deck, cargo space.
The number of passengers for whom there are amenities is: on 1st class 88, on 2nd class 306 and on 3rd class 912. In addition, a crew of over 250 persons, there will be a considerable number of people this ship arrives to rhythm.
The cargo capacity will be about 5,000 tons, to which will be added approximately 2,000 tons of coal and 1,000 tons of fresh water in addition to supplies etc.
Machinery.
The machines will develop about 1,000 horsepower more than "Kristianiafjord" and "Bergensfjord", and the speed will be about 17 knots.
3 electric dynamo machines will supply power for lighting, of which about 2,000 lamps will be used.
The winches will be placed on top of the deckhouses, thus providing more spacious walk-in decks.
The cargo hatches will be fully integrated through the various passenger decks, thereby avoiding drag and discomfort during loading and unloading. Otherwise, "STAVANGERFJORD" is being improved in all areas.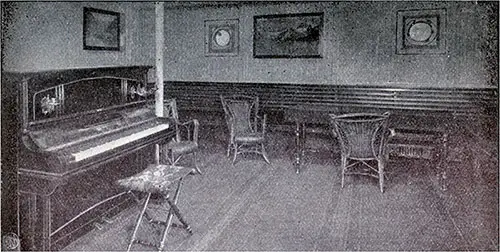 Third Class Ladies' Salon. GGA Image ID # 122fa89174
3rd class amenities to steamers Krisfianiafjord and Bergensfjord.
Cabins.
These are located on the upper main deck as well as on the main deck itself and leave room for 860 passengers in cabins for 2, 4 and 6 people. In the cabins are galvanized iron berths, which are healthiest for passengers in terms of health.
The beds are equipped with mattress, blankets and sheets, as well as in each cabin: wash basin, water decanter, glass and nets for light luggage.
The dining rooms.
The cabins are located both front and rear, and for each department there is a spacious dining room. In the stable benches are nice and comfortable swivel chairs placed at the tables, which allow the passengers to get to and from the tables during meals.
At meal times, the tables are provided with white tablecloths, and the serving is provided by attentive and competent, permanently employed caretakers.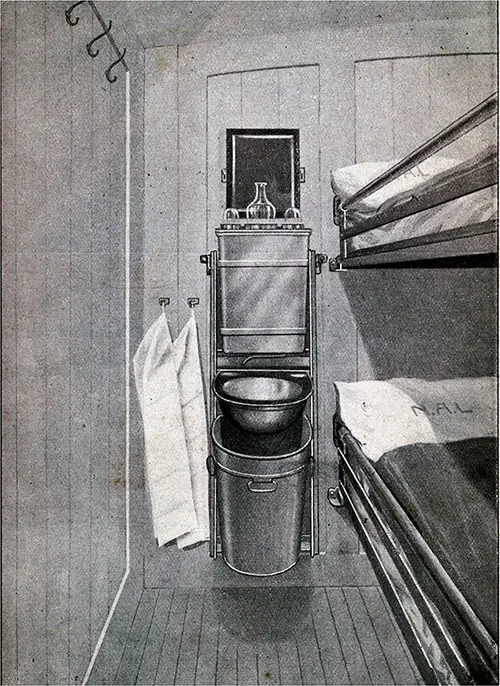 Third Class Two-Berth Cabin. GGA Image ID # 12300ca29c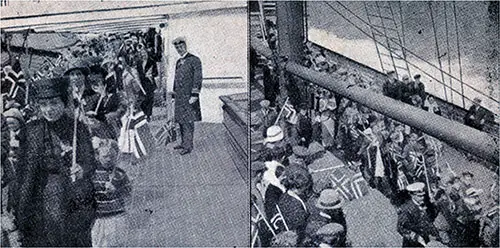 Fasteners on Board. Passengers on Deck Waving Norwegian Flags. GGA Image ID # 1e2c3fff80
Lounge.
For women and children there is a very nice, carpeted lounge with piano on the shelter deck. Here you will find comfortable wicker chairs, couches, etc.
For both the falls are arranged as smoking rooms with tables, sofas etc.
Refreshments etc. can be obtained from a "bar" set up for this purpose.
Bath etc.
Washrooms, restrooms and baths are in sufficient numbers, conveniently located for the passengers.
Library.
For the 3rd class of passengers there is a rich library, which is available free of charge.
In the dining room there are also organ to be used at times of worship.
Promenade deck.
Spacious walking decks are; even for the 3rd class there is a covered seed, well protected, as the weather prevents the stay on the open tires.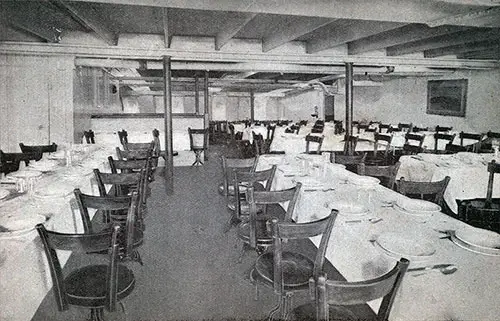 Third Class Dining Room. GGA Image ID # 123015fef8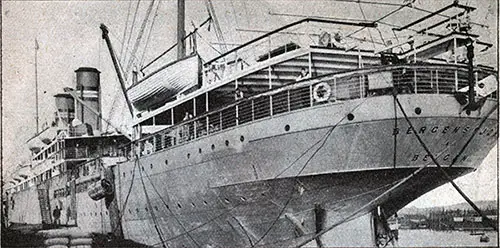 The SS Bergensfjord at the Landing Stage in Kirstiania (Oslo). GGA Image ID # 123024ddd0
Oldfru.
In order to practice supervision and to guide young girls, who travel alone, there is a special employee an "Oldfru". She is a member of the Women's International Association (l. C. W.)
Amusements etc.
For the comfort of the passengers, every musician comes with a music orchestra.
Doctors and hospitals.
On each ship, employed by the company is a licensed physician as well as a Red Cross nurse. In case of illness Passengers are provided all the help, care and medical assistance they could possibly need.
Airy hospitals, one for men and another for women, in addition to a special hospital for infectious diseases, are set up on board.
General guidance for Enrollment.
Passage should be booked as early as possible and reserved cabin space as soon as fares are paid. When ordering please state
Name (First and last name).
Age.
Place where ticket is wanted.
Whether the passenger is an American citizen or not and with which class the passenger wishes to travel.
Upon enrollment, a questionnaire is filled out with the information required by the American Immigration Act.
If the inquiry is made in writing, the passenger will be sent a questionnaire, which should immediately be returned to the office, fully completed and provided with the relevant passenger's signature.
Outgoing tickets are available at most locations in the United States and Canada at original prices.
Tickets purchased in America ("Prepaid").
Passengers who obtain tickets from America are requested to report to the office in Stockholm, Gothenburg or Malmö as soon as possible, and as soon as a decision has been made, with which steamers the journey will be undertaken, submit the ticket when the cabin is reserved, provided that it certain steamer is not already fully subscribed.
In this case, space is reserved with the following steamers.
Money on Hand at Landing
Neither the Immigration Act nor the Emigrant Authorities determine any best amount of money, which the immigrant must have to be allowed to land in the United States. As a rule, you should have enough with $ 25 - or SEK 100 in Swedish currency.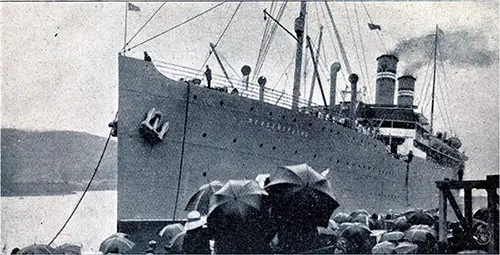 Departure of the SS Bergensfjord from Kristiania (Oslo). GGA Image ID # 12306f2658
Tickets for travel from America ("Homeward Orders").
Tickets from any place in America to Sweden can be obtained by contacting one of the NAL offices in Sweden. The cost of the ticket is paid and the ticket is provided to the appropriate passengers in America through the line's provision.
Money shipments and exchange.
US Dollars are bought and sold by the Norwegian America Line's Agents and Head Office. Instructions on the American pay agents in Latin America are also issued.
Exchange of money and payment of the Line's money orders are also provided on board the vessels by the Purser.
Money and valuables.
The company is not responsible for passengers' penalties, jewelery or valuables and passengers are warned against storing such items in the cabins.
Such items are likely to be handed over to the Purser on board who stores the same in the designated iron cabinets free of charge.
However, the company is not responsible for any loss or damage on such items stored.
Letters, other postal items and telegrams can be handed over to the Purser on board for promotion.
For ordinary postage letters etc., there are letter boxes.
Bergen Line.
Passengers can either board aboard Kristiania or Bergen, and the rail journey to Bergen takes place at the expense of the line.
By boarding at Bergen, passengers are given the opportunity to make a trip with the world-famous Bergen Railway, whose grandest station, Finse, lies approximately 4,000 feet above sea level, noted for its magnificent scenery.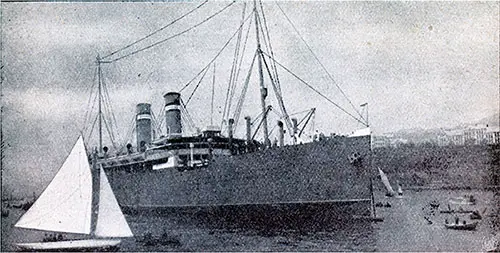 A Norwegian-America Line Steamer in Bergen. GGA Image ID # 12307336db
Baggage Check.
Passengers should ensure that the luggage is properly labeled and checked, and for each collier to be in the room, a check number which should be properly collected to be delivered upon arrival at New York upon collection of the luggage is not obtained without the said check number.
For loss of eher damage to checked luggage, which is directly caused by proven negligence on the part of the Company's officials, compensation is paid, though not with a higher amount than Kr. SEK 50 for each occurance.
No luggage will be left placed in the cabins, and no such luggage will be held by the Company.
Insurance.
The Company is not responsible for loss of eher damage caused by marine accidents. Insurance against such or other damage can be taken out with the Agents or at the Head Office at an inexpensive premium.
Firearms
Firearms or cartridges may not be packed in the luggage. Such items on boarding is handed over to the Purser. No halis but explosive or flammable substances are carried.
Bicycles.
For bicycles, which will be packed in solid wooden frames, a freight of Kr. 9-.
For a motorcycle, packed in one hand, a freight is paid by Kr. 38- and transport is carried out at the passenger's own risk.
Piano.
For a piano, for which a bill of lading must be issued, a freight is paid by Kr. 30-.
Compensation claims.
If, on arrival in New York, the passenger is missing any baggage, the notification must be made immediately to the captain of the ship or the second Offer to draw the claim.
If the passenger fails to report loss or damage to luggage within 24 hours of the arrival of the steamer, the Company's liability for the same ceases.
Complaints.
Complaints of one kind, which passengers find reason to do, should be brought to the captain.
Should the complaint of him not be prosecuted, written notification should therefore be made to the Norwegian America-Line Passenger Department in Kristiania.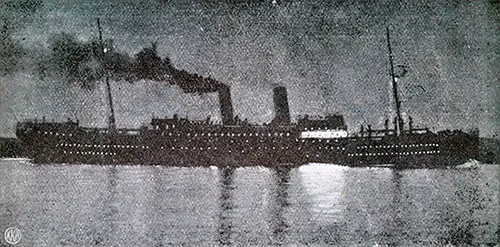 Departure from Bergen. GGA Image ID # 1230873eb3
United States Customs Regulations
The effects that passengers can introduce duty-free to the United States can be attributed to:
§ 642. Books, general literature, furniture and household articles belonging to persons or families from a foreign country, provided that the items have been in use for at least one year and are not intended for any other person or introduced for sale.
Footwear, jewelery, toiletries and similar fireproof effects, belonging to those arriving in the United States, but this exception applies only to items which are really included, and are used by, and which are necessary for the convenience and needs of passengers.
The provision does not apply to goods or articles that are introduced on behalf of another person or for sale.
American citizens returning from overseas may freely import, regardless of value, clothing and personal effects, brought from the United States to overseas, as the indigence of the items, in accordance with prescribed rules and regulations, is proven.
Of articles purchased abroad, American citizens are not allowed to import more than one hundred dollars (100) worth of duty-free.
Feathers
Feathers of wild birds (with the exception of ostrich feathers) is prohibited from importation.
Cigars.
Each adult passenger can duty-free introduce 50 cigars or 300 cigarettes, provided the same is for personal use.
Entry Prohibited by the American Immigration Act
The classes of foreigners who are denied entry into the United States are as follows:
Idiots, mentally or physically weak persons, those who suffer from falling asleep, insanity, persons who have suffered from mental illness in recent times or those who have previously had two or more seizures of said illness.
Poor youth and such persons who are expected to fall into poverty, caregivers, people suffering from tuberculosis or who are afflicted with a debilitating or dangerous infectious disease, including those suffering from trachoma (Egyptian eye disease).
Criminals or persons who have been punished for or committed crimes that rob moral destruction, followers of polygamy (Mormons), anarchists, prostitutes or persons who introduce women into the service of prostitution.
Persons who, by written agreement or contract, have undertaken to perform body work in the United States.
Persons whose tickets have been paid by any company, association or foreign country's state or municipality.
Persons over 60 years of age and children under 16, who are not in the company of one of their parents, single women with underage children, shrinking, blind, deaf, unmarried pregnant women and mothers with illegitimate children, further persons suffering from favus (skin disease) , hernia or heart failure, inflammation of the throat after glandular surgery, hip inflammation, large swelling of the neck or spinal cord suffering.
Note
However, in respect of some of the above mentioned persons, access may be granted to the United States under certain circumstances.
This applies mainly to those persons whose silence or malformation does not impede the person's ability to work. These are usually allowed to enter.
Children under 16,
who wish to depart to the United States without being accompanied by any of the parents, and who are not resident in the United States, are not accepted for entry unless they are able to show a relative of their immediate family to which they intend to travel; legal statement ("Affidavit").
For children under the age of 16 who are traveling to their parents residing in the United States, a similar explanation must be presented, however, such children are allowed to leave, as there is evidence that one of the parents meets upon arrival in New York.
Persons over 60 years of age
(with the exception of US citizens) who travel to their children living in the United States or close relatives must also be in possession of a similar legal document ("Affidavit"), which must clearly state that the person in America is willing and able to provide for for the passenger's stay there.
The said affidavit ("Affidavit") must be approved by the United States Immigration Authorities and legally drafted and also certified by the Notary Public of the County in which the exhibitor in question resides.
Warnings.
In America, it is especially important for the newcomer, who is unfamiliar with language and relationships, to be careful about who you are and what you are into.
Be careful when choosing doctors and specialists when their help is needed. You should always make sure in advance if possible that the person you are turning to is an honest and competent person.
One should take the lead in being so-called Patent Medicines (Patent Médecines) that are advertised and advertised everywhere under several attractive names and which promise cure for all possible ailments.
The various Medical Institutions, which in the newspapers mention their wonderful cures, should also be avoided.
Should one be in need of care other than the one that can be left in the home, one should turn to one of the public hospitals.
Likewise, it is important not to interfere with a lot of scammers, who, under the name of steamboat, rail and hotel agents, etc., offer their services, which are only the best in tricking well-off people from their money.
When turning to the representatives of the Norwegian America Line, you are always sure of real treatment and proper guidance.
Young women should be especially cautious about foreign men, who offer well-paid places, yes, and even marriage.
Be careful about the exchange of money, until you are familiar with the kinds of coins that are available and its appearance, so that you do not receive counterfeit instead of the genuine one you leave instead.
If you have money to spend, you should either send them home and place them in a bank in your home country, when they are in safe custody, or also in the local banks, which are considered safe by friends and acquaintances, who are familiar with the circumstances.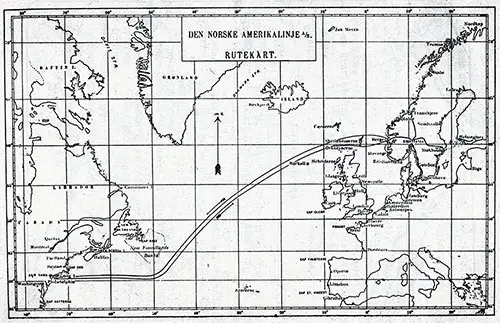 Track Chart of the Norwegian-America Line. GGA Image ID # 1230e102e1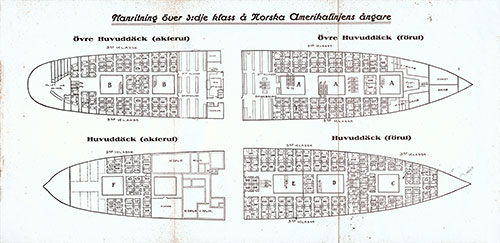 Floor plan over the 3rd class of the Norwegian American Line steamers: upper Main deck (rear window); upper main deck; (forward); Main deck (rear); and Main Deck (forward). GGA Image ID # 1231fa512d