Scandinavia to America - Scandinavian-American Line - 1912
Front Cover, 1912 Brochure "Scandinavia to America," From The Scandinavian-American Line. GGA Image ID # 1232fd7fad
50-Page brochure from the Scandinavian-American Line promoting their service from Scandinavia to New York focused on Third Class accommodations and persuading immigrants to cross the Atlantic on one of their steamships.
United Steamship Company Limited Company Scandinavia-America Line Only Direct Mail And Passenger-Steamship Connection Between Scandinavia And New York With New, Modern And Extremely Comfortably Furnished Double Propeller-Express-Steamship Oscar II, Holy Olavy, United States And CF Tietgen.
The Benefits of Direct Carriage
Scandinavia-America The line carries passengers directly from Scandinavia to New York. This direct promotion with the company's top-class dual-propeller steamer gives the passengers unmistakable benefits, that any further recommendation should be superfluous, which is why Scandinavia-America Iinia also enjoys the greatest confidence and recognition, and occupies the highest rank among these properties, which travels the ocean.
By making the first voyage with Scandinavia-America Linen's comfortable steamer, the passengers avoid all kinds of change during the transfer, an advantage of utmost importance and for Scandinavian emigrants, all use of interpreters is superfluous in all the steamers' crews and staff, including the captain and officers, Scandinavian.
Thus, it is possible for the passengers throughout the entire journey to serve themselves aboard their native language, which in all parts in particular guarantees a comfortable crossing.
Scandinavia-America Line
Scandinavia-America Line has employed every shipowner one of the authorities authorized ship physicians, as well as a graduated and experienced nurse accompany.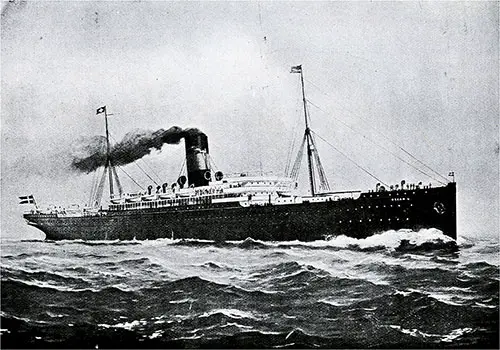 SS Oscar II, SS Hellig Olav, and the SS United States of the Scandinavian-American Line. GGA Image ID # 12336adfe9
In all cases of illness, these will provide the passengers with all necessary help free of charge. During the journey, in case of illness, free medicine is also provided to the passengers.
Thus, it would seem striking that no funds are saved from the Line when it comes to ensuring the well-being of passengers during the journey, which will be even more evident from the following.
Steamers Equipment and Supply
The steamer equipment and provisioning takes place under the supervision of the authority. In addition, it must be mentioned that both in Copenhagen and later on arrival in Kristiania, each steamer, before the departure is undertaken, is subject to the inspection required by the authorities. which is undertaken by qualified supervisors.
This leaves the passengers for each voyage the most satisfactory guarantee for the Vessel's seaworthiness and material equipment that is possible to provide.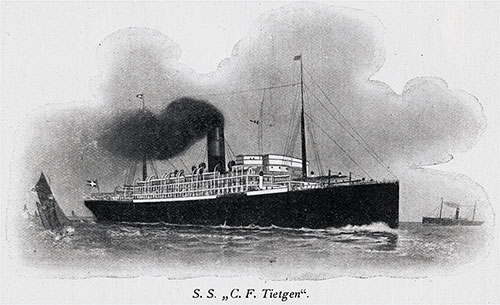 The SS C. F. Tietgen. GGA Image ID # 12347790c1
Scandinavia-American Line
Scandinavia-American Line ensures that passengers upon arrival in New York are received by the company's current Scandinavian officials, whose duty it is to guide the passengers and also ensure that the passengers who are provided with a rail ticket to the interior of America are forwarded to their destination.
If passengers, upon arrival in New York, express their wish, Scandinavia-America Lines will be available at the on-site staff, if telegrams are desirable to send to relatives in America, that they may be present at the arrival of the passengers in order to receive them. It should be seen from here that the Scandinavia-American Line shows the greatest possible care for its passengers.
The Direct Route
The direct route between Scandinavia and New York is in all respects fully in line with the demands of the time and lives of all Swedes who intend to go to America are preferred as the most convenient. The steamer furnishings throughout with unparalleled pattern love, and this applies to the third class as well.
The solid and excellent Scandinavian diet, of which subsequent excerpts from the food voucher give testimony, causes the passengers at the meals on board to feel as if the food was served to them there at home from their own home-made good in line with what may be required is self-evident, and Linen's well-known reputation is still, as yet, a guarantee for a fast as well as very caring and comfortable promotion across the Atlantic.
Eloquent and Fully Reliable Testimonies
It is obvious that a company such as Scandinavia-Amerika Linien, which occupies a leadership position in the special field: The promotion of emigrants, holds a number of very flattering statements about the excellence of the route and the excellent relationship that prevails aboard its steamboat. These eloquent and fully reliable testimonies are available to anyone at any time who intends to make the trip to America.
Every Scandinavian Emigrant
Therefore, any Scandinavian emigrant cannot doubt which line he should use. As irrefutable proof of the line's excellence and of the great sympathy it has embraced in the judgment of the emigrant audience, edge. ex. It is stated that during the years 1903-1911, more than 1/4 million passengers across the Atlantic were transported by the Scandinavian-America Line steamers. These numbers speak a clearer language than many words and should alone constitute a sufficient recommendation.
Every Passenger Wants to Use the Scandinavian-America Line's Direct Connection.
Every passenger, who wants a quick and comfortable journey and who wants to make the crossing in the company of fellow countrymen, whose language and customs he is familiar with, and every passenger who wants to maintain his usual good way of life and who do not want the comfort, except which the trip across the Atlantic would only prepare for inconvenience, should, for this reason, use the Scandinavia-America Line's direct connection.
The steamer departs from Copenhagen via Kristiania and Kristiansand to New-York, and the journey from port to port proceeds on a daily basis.
Steamers Construction and Furnishing.
The double propeller-Express steamer "Oscar II", "Hellig Olav" and "United States" are sister ships as well as the largest and most powerful passenger steamers in the Nordic and Baltic Sea ports. all the latest improvements and conveniences and all the advances of modern ship technology have come into use.
These impressive steamers are 515 feet long, 58 feet wide and have a displacement of 10,000 tons. At full load, each steamer displacement amounts to approximately 16,000 tons.
The steamer builder is the well-known firm of Alex Stephens & Son, Clyden, whose name is a sufficient guarantee for their practical furnishings and solidity. All the steamers are constructed exclusively of steel and in accordance with the rules of Bureau Veritas highest class, with double bottom throughout the length of the vessels and as a very safe safety device divided into several independent, watertight rooms. In order to keep the steamer's movements on the lake smooth and calm, the vessels are equipped with winding keels.
Double Propeller Steamer "C. F. Tietgen"
Double propeller steamer "C. F. Tietgen" has a length of 485 feet and a width of 53 feet. The carpenter is built by the world-famous company Harland & Wolff in Belfast. It is, like the other three steamers, constructed exclusively of steel and extremely strong. essentially the same as in "Oscar II", "Hellig Olav" and "United States".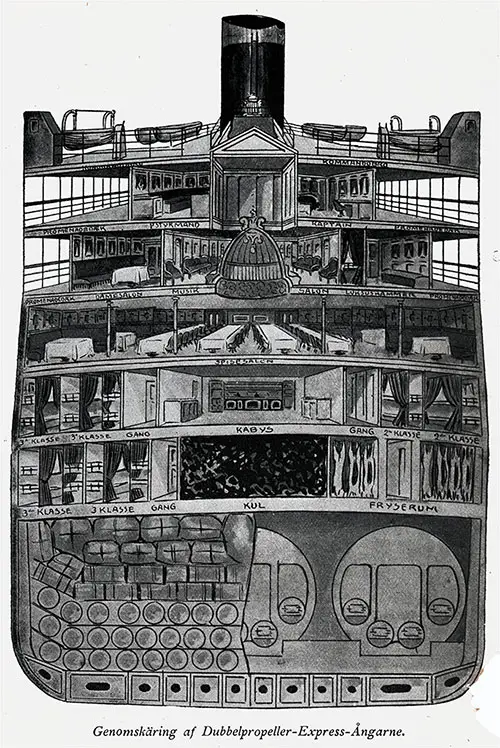 Cross-Section of Double Propeller-Express Steamers - C. F. Tietgen. GGA Image ID # 1234d0fa09
It can certainly be said that these giant steamers in every respect speak comparison with the best in the transatlantic steamship fleet.
In addition to passengers, each steamer can carry about 6,000 tons of cargo. Two triple expansion machines are used for the steamers' propulsion. Each of these has 3 cylinders as well as surface capacitor.
In order to effectively illustrate the dimensions of the smokestacks, e.g. It is stated that the double-propeller-express steam chimneys have a diameter of 17 feet and rise 115 feet above the ship's d. in other words, that they have the same height as the Round Tower in Copenhagen.
SEPARATE CABINS NOTE
All passengers get seats in separate cabins. One of our steamers is the entire third class with small cabins for 2, 4, and 6 people. The beds are made of galvanized iron according to Hoskin's patent and fully equipped with mattress, cushion and duvet, which are free for passengers' free use. Each cabin is also equipped with a dresser, mirror etc. etc.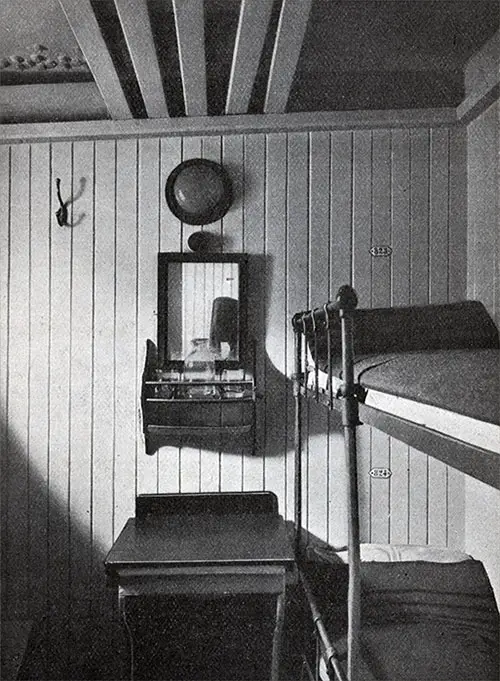 Third Class Two-Berth Cabin. GGA Image ID # 123523d223
The walking places for third class passengers are located both at the front and aft of the deck and are so arranged as to provide a free and magnificent view of the sea, as well as ample space for the passengers.
Large dining rooms are set up on the main deck, which extend over the entire width of the ship and on the intermediate deck there is space in each compartment for the passengers' dining.
Meals and Dining Areas
The meals at the inviting and appetizing, table setting and serving are provided by the Line's courteous and competent caretakers, who, in sufficient number, are employees on board to serve the passengers. Female servants are employed to assist families and ladies. In addition, the employee is an "Oldfrue", of which young girls and traveling women can always get advice and information.
All cleaning of cabins and departments is of course provided by the service, which is why the passengers do not have to worry about it.
On the steamers' over deck there are three lounges, which are exclusively available to ladies and gentlemen of the 3rd class.
As regards the more material and now indispensable, it must be stated that large storage rooms have been set up in the immediate vicinity of the kitchen for storage of the necessary and substantial supply of provisions.
On the deck below these are insulated cold stores and ice cabinets for supplies. That in such a versatile household as the one found on Scandinavia-America Line's giant steamers, not lacking an ice machine, is quite natural. Therefore, each steamer can produce up to 250 kg. ice daily.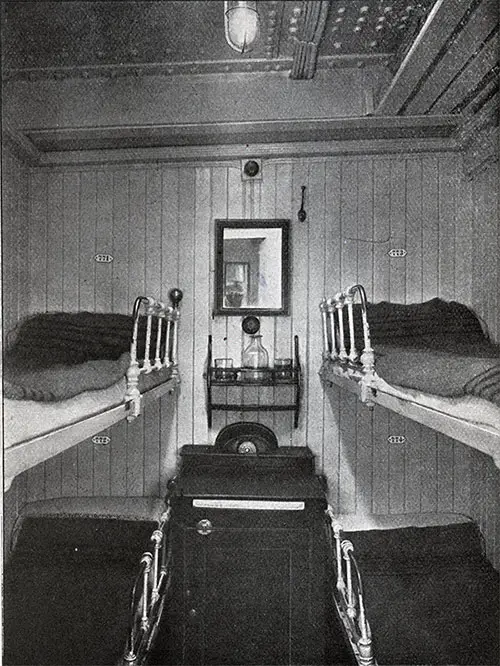 Third Class Four-Berth Cabin. GGA Image ID # 12355d7fa1
On All Steamers
At all the steamer electric cabins, corridors and lounges are installed; When everything is on, countless electric lights radiate aboard each and every one of these palace's steamers. Steam heaters are located everywhere in the steamers.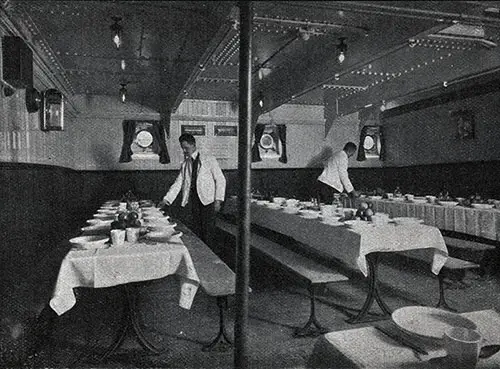 Attendants Prepare the Third Class Dining Room for the Next Meal. GGA Image ID # 12357f9760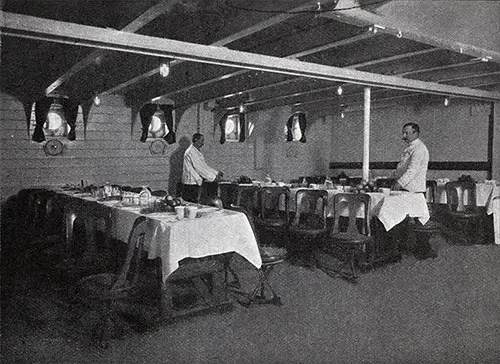 Another View of Preparing the Third-Class Dining Room for the Next Meal. GGA Image ID # 1235dec120
Since, as previously noted, nothing is saved from the company's side when it comes to increasing the well-being of passengers, it goes without saying that baths and toilet rooms as well as water closets are in large numbers, advantageously placed aboard the steamers; and it is just as obvious that the most recent improvements have come to fruition in these areas.
Any 3rd class passenger can, at any time, receive a refreshing hot or cold bath at no charge. In addition, there is plenty of ventilation everywhere on the vessels.
For further proof of the company's regard for passengers, each musician on the trip accompanies a music orchestra for the passengers' entertainment.
Following this, it is no exaggeration to declare that the Scandinavian-America Line is definitely on the cusp of what can be desired with today's claims by emigrants from Scandinavia to America and that it is able at all times to assert its first rank Through fast travel, friendly and very accommodating service to the passengers, as well as modern vessels, which are especially in the hygienic sense, to the fullest satisfaction.
All this has created confidence in this line, which is the most valid recommendation that can be given.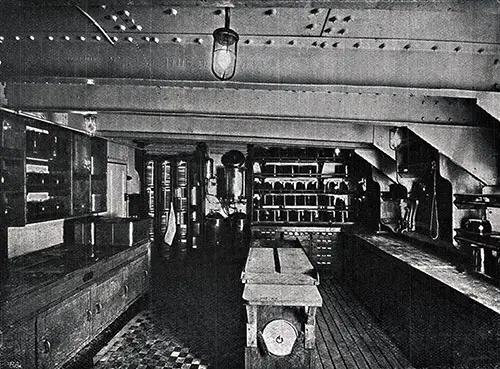 Third Class Pantry. GGA Image ID # 1236057beb
Excerpt of 3rd Class Food Note.
Sunday Breakfast: Oatmeal with milk, Calf Breast in Curry with rice, Coffee, The, Milk, Anchovies, Meat Sausage, Liver pie., Medwurst Sausage, Butter. Fruit Jam, Cheese, French Bread, Rye Bread.
Sunday Luncheon: Sausage Soup, Pork Roast, Sky Sauce, Pickles, Potatoes, Apple Cake, Fruit. At 3:00 pm, Coffee with Bread.
Sunday Dinner: Black pudding, Tea, Milk, Fresh steak, Marinated herring, Grill sausage, Liver pie, Medwurst Sausage, Cheese, Fruit marmalade, Butter, Shrimp bread, French bread, Crisp bread.
Monday Breakfast: Oatmeal with Milk, Fried Liver with Potatoes, Coffee, Tea, Milk, Marinated Herring, Meat Sausage, Liver Pie, Medwurst Sausage, Cheese, Fruit Marmalade, Butter, French Bread, Rye Bread.
Monday Luncheon: Fricas Soup with Green Peas, Grilled Veal, Sky Sauce, Pickles, Potatoes, Fruit Pie. At 3:00 pm, Coffee with Bread.
Monday Dinner: Irish stew, Tea, Milk, Corned beef, Liver pie, Meat sausage, Medwurst Sausage, Butter, Fruit marmalade, Cheese, Rye bread. French Bread, Crisp Bread.
Tuesday Breakfast: Oatmeal with Milk, Calf in Fricasé with Greens, Peas, Coffee, Tea, Milk, Salt Herring, Liver Pie, Corned Beef, Medvurst, Cheese, Fruit Jam, Butter, Rye Bread, French Bread.
Tuesday Luncheon: Fruit soup with crusts, Calf roast, Sky sauce, Pickles, Potatoes, Marmalade pie, At 3:00 pm, Coffee with Bread.
Tuesday Dinner: Irish Stew, Tea, Milk, Marinated Herring, Fresh Steak. Roll Sausage, Liver Pate, Medvurst, Butter, Fruit Marmalade, Cheese, French Bread, Rye Bread, Crisp Bread.

Wednesday Breakfast: Oatmeal with Milk, Salt Herring with Onion Sauce and Potatoes, Coffee, Tea, Anchovies, Medvurst, Liver Pie, Meat Sausage, Cheese, Fruit Marmalade, Butter, Rye Bread, French Bread.
Wednesday Luncheon: Gratin-Sweet Soup, Ox Roast with Gravy, Pickles, Potatoes, Apple Pie. at 3:00 PM, Coffee with Bread.
Wednesday Dinner: Labskaus [1], tea, veal, potato salad. Corned Beef, Medvurst, Butter, Fruit Jam, Cheese, French Bread, Rye Bread.
Thursday Breakfast: Oatmeal with Milk. Fried Veal with Potatoes, Coffee, Tea, Salt Herring, Corned Beef, Meat Sausage, Medvurst, Cheese, Fruit Jam, Butter, Rye Bread, French Bread.

Thursday Luncheon: Kale Soup, Salt Pork, and Fresh Meat, Spicy Sauce, Potatoes, Peach Pie. At 3:00 pm, Coffee with Bread.
Thursday Dinner: Oxtail Ragu, Tea, Liver Paté, Medvurst, Smoked Beef Fillet, Meat Sausage, Butter, Fruit Jam, Cheese. French Bread, Rye Bread, Crisp Bread.
Friday Breakfast: Oatmeal with Milk, Vienna Sausage with Mashed Potatoes, Coffee, Tea, Milk, Marinated Herring, Medvurst, Liverpastej, Meat Sausage, Cheese, Fruit Marmalade, Butter, Rye Bread, French Bread.
Friday Luncheon: Tomato Soup with Macaroni, Grilled Veal, Pickles, Potatoes, Marmalade Pie. At 3:00 pm, Coffee with Bread.
Friday Dinner: Stewed Fish, Tea, Milk, Macaroni Salad, Meat Sausage, Medvurst. Salt Meat, Butter, Fruit Marmalade, Cheese, French Bread, Rye Bread.
Saturday Breakfast: Oatmeal with Milk. Fish Balls, Dutch Sauce, Potatoes, Coffee, Tea, Milk, Salt Herring, Smoked Meat, Liver Paste, Butter, Fruit Marmalade, Cheese, Rye Bread, French Bread.
Saturday Luncheon: Rice Porridge with Sweet Beer, Cut Fish, Butter Mustard, Potato, Plum Pie, Fruit. At 3:00 pm, Coffee with Bread.
Saturday Dinner: Vienna Sausage with Mashed Potatoes, Tea, Milk, Liver Pie, Marinated Herring, Fresh Steak, Corned Steak, Medvust, Cheese, Fruit Jam, Butter, French Bread, Crisp Bread.
[1] Labskaus is a culinary specialty from Northern Germany and in particular from the cities of Bremen, Hamburg, and Lübeck. The main ingredients are salted meat or corned beef, potatoes, and onion. Some recipes put beetroot, pickled gherkin, or even herring into it, while others have these ingredients as side orders.
Every day at 10--3: Oat soup, milk for the sick and children. Changes are reserved.
As can be seen, the serving on board in the 3rd Class in each respect goes step by step with a good Swedish, bourgeois family's food voucher, and the Scandinavia-America Line has, as in many other areas from the passenger side, only received recognizable statements.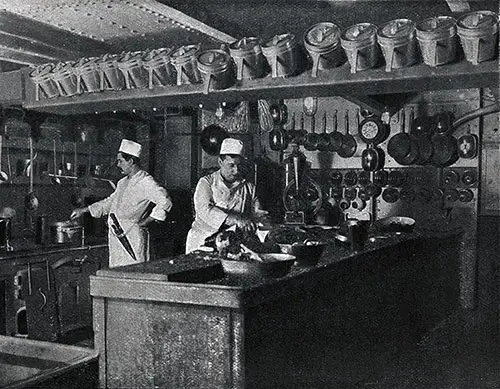 Cooks Preparing Meals for Third Class Passengers. GGA Image ID # 123661dbe7
PASSENGER ENTRY
Passengers are requested to respond very carefully to the various paragraphs of the questionnaire at check-in and to sign the same.
Reliable filling saves the passengers considerable inconvenience, and the list may be submitted to the agent as well as down payment. However, US citizens only need to state on their list their full name and full address in America, age, employment, place of birth and destination, after which they may state that they are "United States Citizens" (See Questionnaire).
It should be borne in mind that places can only be reserved after submitting down payment.

As long as a passenger is in doubt as to whether landing in America should be allowed to him, it would be safest to consult the agent before completing the questionnaire.
In the event that passengers wish to travel to a station in the United States of America, they are advised to redeem the ticket through the agent, thereby saving unnecessary expenses and, of course, unnecessary residence in New York.
The old saying: "Time is money" must also be remembered here.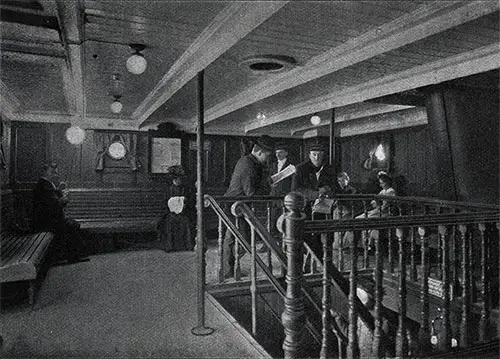 View of the Third Class Lounge. GGA Image ID # 1236648d17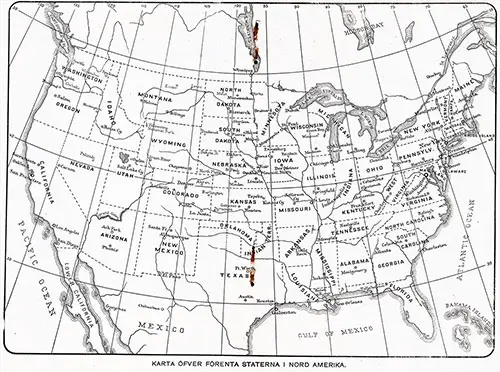 Map of United States of America (1912). GGA Image ID # 1236ff927e
The Boarding of the Steamer
The on-boarding of the steamer takes place in Copenhagen or Kristiania (Oslo).
Thus, there is no change of rail or steamship, before the actual ocean voyage begins, a convenience that cannot be more appreciated.
Wireless Telegraph
Marconi's telegraph station is installed in all dual-propeller steamers in such a way that the steamers during the trip can be in connection with land or with other steamers on the Ocean.
The tariff for telegraphing from the steamers to land stations is stated by the steamers' telegraphists.
Medical Examination
It should be of general interest to Swedish emigrants to admit that the medical examination of each particular passenger, who, in accordance with the American Immigration Act, is to be unconditionally undertaken in the European port cities, before boarding the emigrant ship is permitted by the city of the respective city of Copenhagen or Kristiania, which in a humane and gracious manner, presents to the passengers the necessary questions and, moreover, in the most considerate way, to examine the passengers.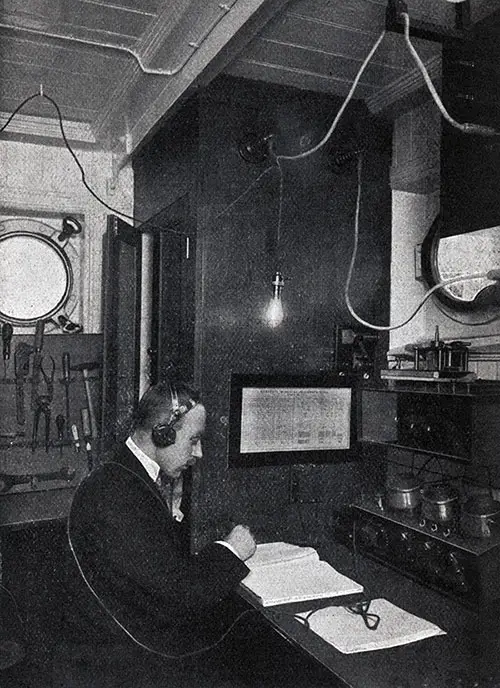 Marconi Wireless Operator at His Station. GGA Image ID # 123704e458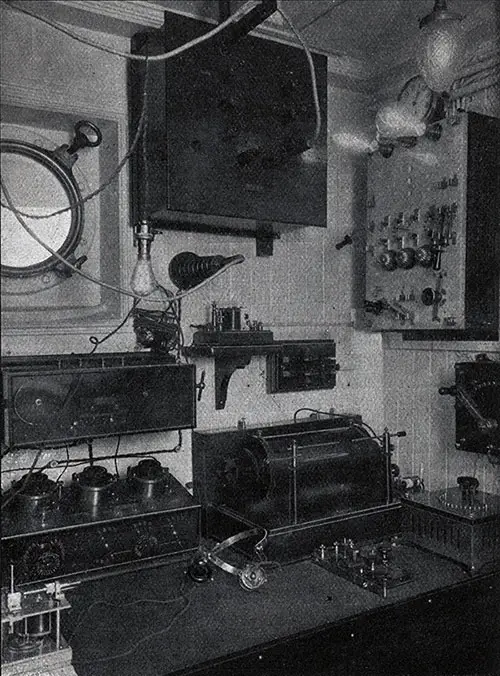 Wireless Station on Board a Steamer for Wireless Telegraphing. GGA Image ID # 12372dedc0
EXTRACTS FROM THE AMERICAN IMMIGRATION LAW
As a result of the new US immigration law, the following classes of foreigners are denied land immigration:
Idiots, mentally or physically weak people, those who suffer from falling sickness, insanity, people who have suffered from mental illness for the past five years or those who have previously had 2 or more bouts of such illness.
Poor youth, people who are expected to fall into poverty, caregivers, people suffering from tuberculosis or who are afflicted with disgusting or dangerous infectious disease.
Persons who have been punished for or committed crimes, who commit moral depravity, followers of polygamy, anarchists, harlots or persons who introduce women into immoral intent.
Any person who, by written or implied contract or agreement, has committed to work in the United States. (This provision does not apply to personal servants).
Persons who, after being rejected as a contract worker, must wait for one year before applying again.
Each promise of work is regarded as an implied agreement and many immigrants are rejected as they declare at the ascent that they have been informed that their friends have secured work for them in advance.
Persons whose ticket has been paid for by any community, association, municipality or government, or children under the age of 16, who are not accompanied by one or both parents.
For those who are considered to be in poverty, people over 60 are counted, single women with underage children, cripples, blind, deaf and unmarried women, and mothers with illegitimate children; further people who suffer from Favus (skin disease), trachoma (eye disease), tuberculosis, hernia or heart failure, inflammation of the neck after glandular surgery, hip inflammation, large swelling of the neck or spinal cord suffering.
The American Immigration Act translated into Swedish is available through all our agents.
Note. However, with respect to some of the said persons, conditions may be given under which access to the United States may be permitted. Thus, persons whose deformity or blemish is not of such a nature become such that it makes the person in question generally unable to deny land ascendancy, and likewise persons can be assumed to have access to the States when, from relatives or friends, they reside in the States as American citizens, with the will and ability to undertake a service obligation, obtained a lawful document that guarantees them maintenance for the time they will be staying in the United States.
Children under the age of 16 who arrive without being accompanied by parents, or whose parents are not resident in America, can only be accepted for promotion, a they travel to a close relative, e.g. brother, sister, aunt, uncle, grandparents, and then from such relatives there is a legal explanation ("Affidavit").
When children travel to parents who reside in America, parents may submit an affidavit in good time and a message to the immigration authorities in New York about the children's arrival, while the children will otherwise be detained until information is obtained from the parents.
The document ("Affidavit") mentioned above, in order to be approved by the US immigration authorities, must be issued in full legal form. It must also be certified by the Notary Public Order in the County where the exhibitor concerned resides and at the same time must be provided by Notary Public with sufficient confirmation that the exhibitor of the document is financially situated so that he is in position to fulfill their undertakings. In cases where children are under the age of 16, it may also be stated that the recipient undertakes to provide education and education.
Money Required at Landing
Note. Immigrants who land in America should be in possession of sufficient funds for their maintenance until they arrive at their destination and be able to find work.
Immigration Authorities now prefer to see that immigrants who cannot stay with relatives or acquaintances until they can get work, at the land rise, bring at least $ 25.
Immigrants who do not meet these conditions risk being delayed until their money can be sent to them or rejected by the authorities.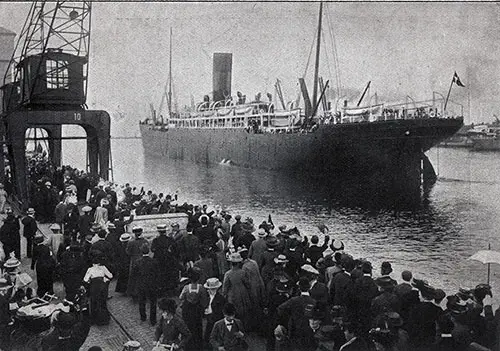 Crowds on the Scandinavian-American Line Pier Cheering Bon Voyage at the Steamer Departing from Copenhagen. GGA Image ID # 1237ddc546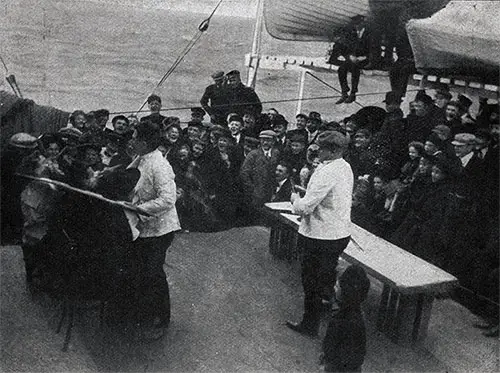 Amusements onboard. The emigrants perform a parody of "The Barber of Seville." GGA Image ID # 123837f8be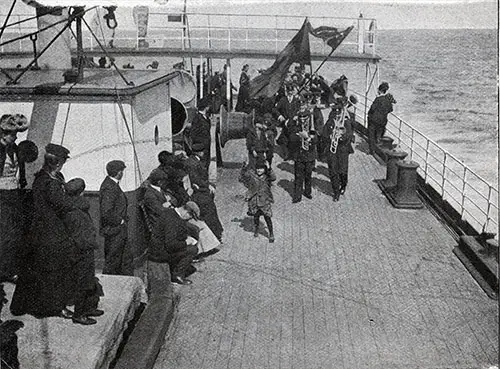 Band Plays Music on the Aft Deck. GGA Image ID # 12386560f1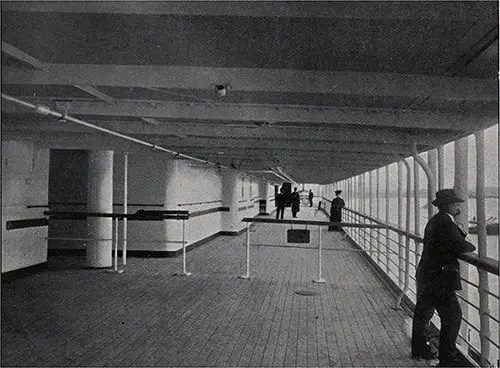 View of the Third Class Promenade Deck. GGA Image ID # 123878e666
RULES REGARDING PASSENGER TICKETS
Free tickets (Prepaids).
Passengers who have received tickets for the trip from America are advised. that as soon as they have decided to leave, send our agent notice and at the same time submit the questionnaire and the ticket, which are then stamped and authorized for departure with a certain particular steamer. The ticket was then sent back to the passenger in question.
Tickets from America to Sweden
Passenger transport here from any station in America can be done through Line's present office. The ticket is paid here and sent to the relevant passengers, whose full address in America may be stated. The ticket is valid and can be used for departure within one year. In the event the ticket is not used for any reason, the amount will be refunded to the buyer less any costs incurred.
Round Trip Tickets
When purchasing a ticket from here to America, a return ticket for the return journey can also be obtained. Such return tickets are valid for one year, counting from the date of their issue.
Combined Tickets
Ongoing tickets are exhibited to all coastal cities and railway stations in the United States, Canada, Mexico, etc. at original prices.
In conjunction with the various US rail lines to San Francisco and Vancouver, through tickets are exhibited to all locations in Japan, China, Manila, Saigon, Honolulo, Samoa, Australia and New Zealand.
On the same route, Earth tickets are also issued, combined according to the passenger's wishes at cheap original prices.
In connection with the New York steamer lines, tickets are sold to various locations in the Caribbean, Central America and South America.
Furthermore, through tickets are sold through Panama to all cities on the west coast of South America adjacent to Valparaiso and north to the western coastal cities of Central America, Mexico and California.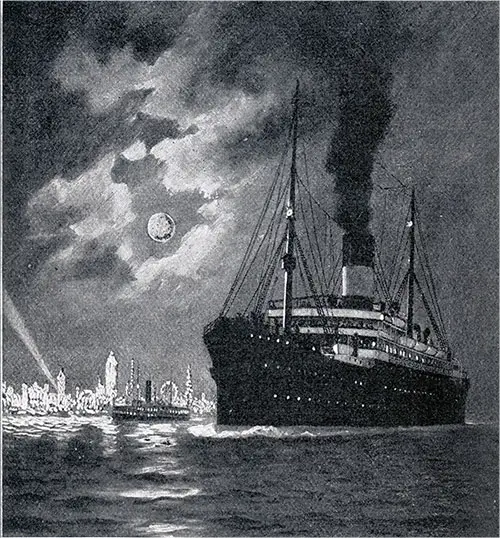 Scandinavian-American Line Steamship Approaching New York. GGA Image ID # 1238c644f5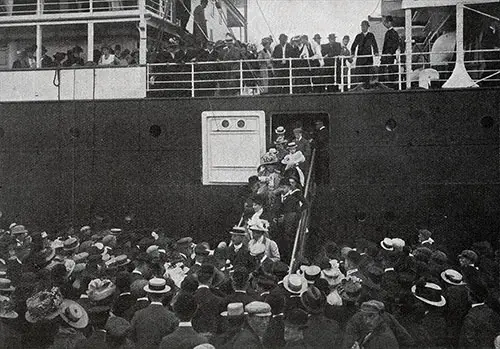 Passengers disembarking at the Scandinavian-American Line pier in New York. GGA Image ID # 1238dae8dd
Passenger Luggage Rules
Passengers' attention is drawn to the following:
Each adult passenger can freely carry up to 20 cubic feet of luggage. As far as more luggage is carried, for every excess cubic foot 50 SEK has to be paid.
On the American railways, each adult is allowed 150 lbs. = 68 kg. luggage free; children, for which half price is paid, half so. very. The price for the excess is dependent on the length of the railway journey and is stated when contacting the Office.
25 kg are carried on the Swedish state railways. free for each adult passenger. If the passenger has more luggage, this can be shipped here as cargo, addressed to the company's office. The freight for transport here must be paid in advance.
Bicycles are not considered passenger luggage. Shipping for a bicycle to New York costs Kr. 9.50. The bicycle must be packed in a solid wooden crate and transport is carried out at the passenger's own account and risk.
Merchandise, money, securities and jewelery must not be packed in the luggage. The company does not grant compensation for such things.
Valuable items, bearing the owner's name and address, can be handed over to the captain or the Purser to be stored during the trip, however without liability to the company in the event of a fire, accident or other accident.
Firearms and cartridges are not allowed to pack in the luggage; such may be delivered to the captain on board. Also, flammable or explosive substances must not be carried.
For damage sustained on the luggage, the company is only reimbursed if the damage is provably caused by negligence on the part of the company or its officials. Under no circumstances can compensation for other luggage be claimed, for which the company has provided proof of guarantee.
Compensation for damaged or lost luggage may in no case exceed 50 SEK. pr. Kolly. The company is not responsible for any loss caused by fire, stranding, collision or other marine accident.
All luggage must be securely packed and clearly marked with the owner's name and destination. In addition, it is most advisable to state the names of the respective steamers on each special luggage.
The luggage may be packed in suitcases, chests or drawers, these should not be too large, so that they will be very heavy, and should be fitted with sturdy handles and a proper lock, in addition, it would be appropriate to secure the lid with a rope, on that nothing may be seduced or lost, in the event that the lock breaks.
Before boarding, the passenger himself must make sure that the luggage has arrived, unless the passenger draws care to have a guarantee mark delivered for the luggage for which the company guarantees.
The luggage, which is thus guaranteed, is stowed down in the cargo hold of the steamers, and the passenger is not allowed to access it during the journey, which is why the cover bags to be used on the journey should be packed in a special suitcase, which, in case its size permits, may be included in the luggage for slept cabins. The passenger may himself bring that on board the steamer.
Note.
No guarantee is given for the luggage that the passenger keeps with him, nor for bags, suitcases, bedding and Handbags.
Handbags, suitcases and minor effects may be carried by the passengers themselves. The company is not responsible for this luggage.
Upon arrival in New York, the luggage is handed over for delivery and the guarantee mark.

If the passenger does not have any luggage, the notification may be made immediately to the captain of the steamer or the first mate, whereby the passenger may state the number of his guarantee mark, on the fact that the cabins in question can be searched.
Failure to comply with this precautionary rule will cease the company's liability.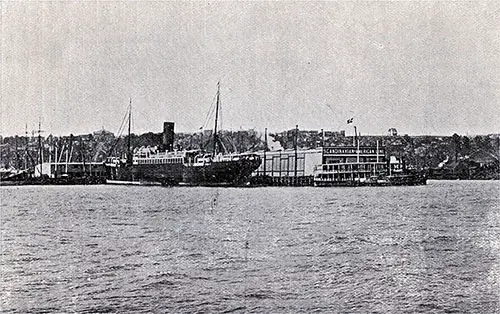 Scandinavian-American Line Docks in New York. GGA Image ID # 1238dba5a2
Handbags, suitcases and minor effects must be carried by the passengers themselves. The company is not responsible for this luggage.
Upon arrival in New York, the luggage is handed out against the delivery of the guarantee mark.
If the passenger does not have any luggage, the notification may be made immediately to the captain of the steamer or the 1st mate, whereby the passenger must state the number of his guarantee mark, that it may be possible to search for the luggage in question.

Failure to observe this precautionary rule will cease the company's liability.
GENERAL NOTES
Passengers are advised that as soon as possible, an order can be sent here on board the emigrant steamers.
Due to the preference of the direct route all emigrants are advised to travel across the Atlantic with Scandinavia-America Linen's solid and comfortable steamer "Oscar II" "Hellig Olav" "United States" or "C. F. Tietgen".
A glance at Linen's richly illustrated prospect, which is readily provided by anyone who takes an interest, must quickly convince that emigrants are unquestionably well served by entrusting the Scandinavia-America Line to the promotion.
Money shipments to any location in America are processed upon contacting them to the Scandinavia-America Line.
American money is bought and sold by Scandinavia-America Line's agents and offices; Instructions are also issued on America.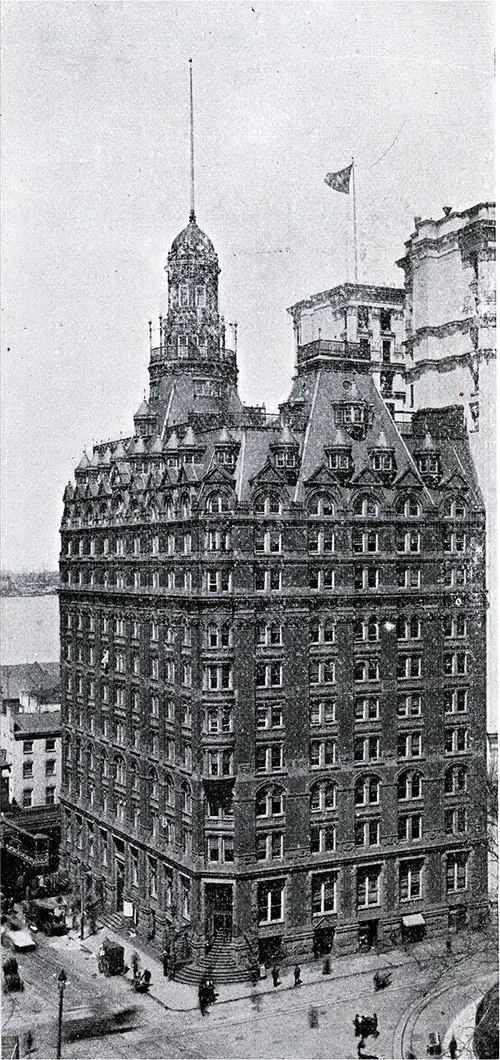 The Scandinavian-American Line Passenger Office in New York. GGA Image ID # 1238e3f9b9
It is sufficiently clear from the present overview that anyone who intends to travel to America in the 3rd class cannot doubt where he should turn if he wishes for a comfortable, fast and fully timed crossing. The election can only fall to Scandinavian-American Line!
All letters and requests are addressed to
GENERAL AGENCY of Scandinavian America Line, Norra Vallgatan 68, MALMO.
SCANDINAVIA-AMERICAN LINE is the Only Line that goes Directly from Scandinavia to New York.
SCANDINAVIA-AMERICAN LINE is the only line that exclusively carries Scandinavian passengers.
SCANDINAVIA-AMERICA LINE is the Only Line where passengers immediately board the ship in Scandinavia at the start of a large and modern Ocean steamer.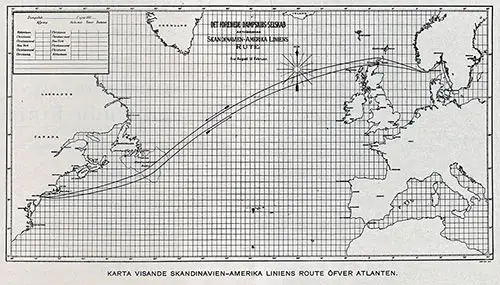 Track Chart Showing the Atlantic Route Taken by the Scandinavian-American Line. GGA Image ID # 12391e183d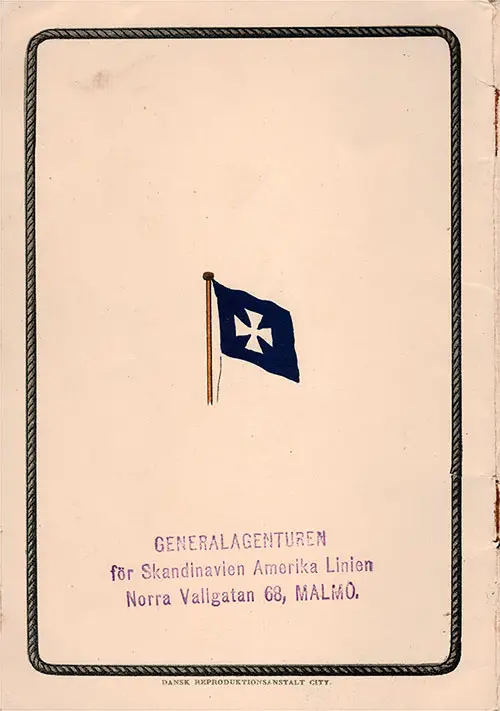 Back Cover, 1912 Brochure "Scandinavia to America," From The Scandinavian-American Line. GGA Image ID # 1239827d4c