Baltimore Mail Line Passenger Information - 1932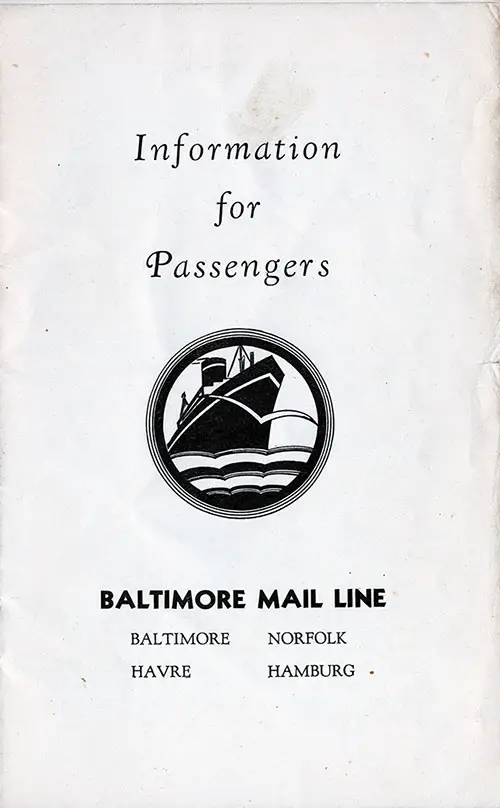 Front Cover, Baltimore Mail Line Information for Passengers. Published March 1932. GGA Image ID # 116c56945d
Rare Passenger Booklet from Baltimore Mail Line covers everything their patrons would need to know about their voyage. Unlike many passenger steamship lines, the Baltimore Mail Line printed the Information for Passengers separate from the Passenger Lists.
Baltimore Mail Line Information for Passengers
Meals, Etc.
Breakfast from 7.30 to 9 A. M.
Luncheon at 1 P. M.
Dinner at 7 P. M.
Lights are extinguished in the Lounge and in the Smoking Room at midnight.
Divine Service in the Lounge on Sunday at 11.00 A. M.
Information
All requests for information of a general character should be made at the Purser's office, located forward on "A" Deck.
Location of Public Rooms
Lounge:- Promenade Deck, Forward.
Smoking Room:- Promenade Deck, Aft.
Dining Saloon:- "B" Deck.
Barber Shop And Ladies' Hair Dressing Shop:- Promenade Deck Amidships.
Novelty Shop:- Promenade Deck Amidships. Maintained on board for convenience of passengers. Here may be purchased souvenirs, novelties, traveling requisites, camera supplies, etc.
Surgeon's Office:- "A'' Deck, Port side. The ship's Surgeon is authorized to make customary charges, subject to the approval of the Commander, for any illness not originating on the voyage. In case of sickness developed on the voyage, no charge will be made. Medicine prescribed by the ship's surgeon will be provided free in all circumstances.
Baggage must be claimed without delay at pier before the owner leaves the customs shed. A baggage room is maintained aboard ship for the convenience of passengers, which will be opened during stated hours each day upon application to the Purser. It is recommended that large trunks and excess pieces of baggage be kept in the baggage room. Passengers are advised that it is not always possible to arrange for the placing of wardrobe trunks in a convenient position in staterooms. Therefore, steamer trunks are more desirable for stateroom use.
Baths:- Upon application to Room Steward, passengers occupying rooms without private bath may arrange for use of Bath at a definite time each day.
Berthing Of Passengers-No changes whatsoever can be made on board except officially by the Purser.
Deck Chairs, Steamer Rugs and Chair Cushions may be hired from the Purser at $1.00 each for the voyage, 50c each between ports en route.
Dogs, Cats or other animal pets are not permitted in the staterooms or on the passenger decks.
Games And Amusements:- Shuffleboard, bull board, deck quoits, ping-pong and other games are provided on deck, in charge of the Deck Sailor. Chess sets, checker boards, dominoes, etc., may be obtained from the Lounge or Smoking Room Steward.
Information Forms:- It is respectfully requested that passengers co-operate with the Purser in the filling out of information forms for use in making up Ship's Manifests. Also in all matters pertaining to landing cards and landing arrangements, which are very important, particularly so at foreign ports.
While the Company's schedule provides for arrival and departure at the different ports at convenient hours, it may happen, due to unforeseen circumstances, that the ship may be delayed. At such times it is specially requested that our passengers co-operate with the Purser in making landing arrangements.
Insurance:- The Company's liability for baggage and valuables is strictly limited, but passengers can protect themselves by insurance which may be procured at any of the Company's Offices or Agencies and also from the Purser on board the steamer.
Letters, Telegrams, Radiograms, Cables and Packages are delivered to staterooms. The vessels of the Baltimore Mail Line are fitted with special long-range wireless apparatus, enabling passengers to communicate with their friends or business houses throughout the voyage. Radiograms, telegrams, and cables for dispatch should be filed at the Purser's office.
Passengers' Mail:- On the steamer's arrival, passengers should enquire personally whether there is any mail for them, and before disembarking they are invited to leave their addresses at the Purser's office in order that later dispatches may be redirected.
The Purser's Office:- Letters, Cables, Telegrams and Marconi grams are received or delivered. Postage Stamps can be had from Lounge Steward.
None of the ship's staff except the Purser is authorized to accept Letters or Telegrams for dispatch.
Charges Collected On Board:- Passengers are requested to ask for a Receipt on the Company's Form for any additional Passage Money, Chair, Steamer Rug or Cushion Hire, charges collected for Marconi grams, Cablegrams or Telegrams or Freight paid on board.
Valet Service:- The cleaning and pressing of clothes for Ladies and Gentlemen may be arranged for by applying to your bedroom steward.
Professional Gamblers:- Passengers are informed that professional gamblers are reported as frequently traveling on passenger steamers and are warned to take precautions accordingly.
Seats At Table may be reserved from the Chief Steward, who will be on duty in the Dining Saloon for this purpose, immediately after sailing. Children are not entitled to seats at table during the regular meal hours unless full fare is paid.
Shoes:- These will he cleaned if left outside the stateroom door.
International Traveler's Checks issued by the International Mercantile Marine Company can he purchased at all General Offices of the Baltimore Mail Line. These checks in denominations of $10, $20 and $50 are a safe and convenient means of carrying funds. They cost but 50 cents per $100, are cashable in all countries and are accepted on board the Baltimore Mail Line steamers in payment of accounts.
Dangerous Articles, such as fireworks, matches, gunpowder, gasoline, cartridges, moving picture films, etc., must not on any account be enclosed in baggage.
Cinema films, pianos, sewing machines, food supplies, etc., cannot be accepted as baggage, but should be sent as freight, for which rates will be quoted on application
Upper Berths:- Passengers occupying upper berths can obtain steps for getting in or out of same on applying to the Steward or Stewardess.
Valuables:- For the protection of Passengers, the Line has provided in the Purser's Office, a Safe in which money, jewels, ornaments, documents or other valuables may be deposited by Passengers. A receipt for any articles so deposited will be issued by the Purser, but the Line does not, having regard to the ticket conditions and to the provisions of Section 4281 of the Revised Statutes of the United States, accept any responsibility for the safe custody of any such articles. Passengers are accordingly advised to protect themselves by insurance.
Baggage:- Should bear initial label of surname and also label with owner's name and address. On arrival, baggage will he grouped alphabetically in Customs shed Passengers are required to attend personally to Customs' examination.
Accounts Incurred On Board Ship must be settled before arriving at Havre on the eastbound voyage and before arriving at Norfolk on the westbound voyage.
Barber:- The barber is authorized to make the following charges:
| Gentlemen | Price | Ladies | Price |
| --- | --- | --- | --- |
| Shaving | $ .25 | Hair Trimming | $ .50 |
| Haircutting | .50 | Singeing | .50 |
| Shampooing | .50 | Cutting And Singeing | 1.00 |
| Singeing | .50 | Part Waving | 1.00 |
| Face Massage | .50 | Waving And Curling | 1.20 |
| Scalp Massage | .35 | Shampoo (Ordinary) | 1.00 |
| Tonic Dressing . | 15 | Shampoo (Shingled Hair) | .60 |
|   |   | Facial Massage (Hand) | 1.00 |
Railway, Coastwise Steamship And Air Line Time Tables of the various Companies can be obtained on applying to the Library Steward.
Special Notice for Round Trip Passengers
All passengers holding return tickets are requested to communicate with our nearest office upon arrival, so that necessary formalities may be arranged in connection with their return passage. If this is done by letter, sailing on which return has been hooked and accommodation reserved should be specifically mentioned.
Passengers holding return tickets who are undecided about their addresses should advise same to our nearest office by mail or in person as soon as possible after arrival.
Immigration Officials - Notice
Landing Cards:- Before leaving the vessel the holder must present his or her Landing Card to the Immigration Officer for endorsement.
Wireless Telegram Rates
This Steamer is fitted with Marconi system of Wireless Telegraphy and also with Submarine Signaling Apparatus.
The Rates for Radiograms are:
United States via Mackay Coast Station, 18c. per word; land line additional.
France via Coast Station, 17c. per word; land line additional.
England via Coast Station, 20c. per word; land line additional.
Germany via Coast Station, 16c. per word; land line additional.
Telegraph Land Line Rates vary with distance of message destination from Coast Station.
Long Range Wireless Service
This vessel is equipped with Mackay Radio and Telegraph Company's system of long-range radio communication. Direct lines to Postal Telegraph are part of Mackay Radio Coast Station service.
This vessel is in direct communication with both Europe and America during the entire voyage, and messages are accepted for delivery to any part of the world.
Detailed information and rates gladly furnished at the Purser's and Radio offices.
Time on Shipboard
On the voyage to Europe, owing to the alteration in time as the ship proceeds Eastward, it is necessary to put the clock forward every 24 hours. Westbound the clocks are set back every 24 hours. The alteration in time is made at about midnight, and the clock is usually put forward (Eastbound) or backward (Westbound) from 53 to 45 minutes on each occasion, the exact amount of time depending upon the distance the ship is estimated to make by noon the next day.
Time on board is marked by the ship's bell being sounded as follows:
Bells Struck

Hour

Shift

Bells Struck

Hour

Shift

1

12:30 am

Middle Watch

1

12:30 pm

Afternoon Watch

2

1:00 am

2

1:00 pm

3

1:30 am

3

1:30 pm

4

2:00 am

4

2:00 pm

5

2:30 am

5

2:30 pm

6

3:00 am

6

3:00 pm

7

3:30 am

7

3:30 pm

8

4:00 am

8

4:00 pm

1

4:30 am

Morning Watch

1

4:30 pm

First Dog Watch

2

5:00 am

2

5:00 pm

3

5:30 am

3

5:30 pm

4

6:00 am

4

6:00 pm

5

6:30 am

5

6:30 pm

Second Dog Watch

6

7:00 am

6

7:00 pm

7 (Note 1)

7:20 am

7 (Note 1)

7:20 pm

8

8:00 am

8

8:00 pm

1

8:30 am

Forenoon Watch

1

8:30 pm

First Watch

2

9:00 am

2

9:00 pm

3

9:30 am

3

9:30 pm

4

10:00am

4

10:00pm

5

10:30 am

5

10:30 pm

6

11:00 am

6

11:00 pm

7 (Note 1)

11:20 am

7 (Note 1)

11:20 pm

8

12:00 Noon

8

12:00 Midnight
Note 1: Seven Bells in these two Watches are struck 10 minutes earlier to allow the Watch next for duty to have their breakfast and dinner, respectively.
One Bell is also struck at 3.45 and 7.45 a.m. and p.m. as warning to Watch below-i.e. off duty, to prepare to relieve the deck punctually at Eight Bells.
How to Know the Ship's Officers by Their Sleeve Stripes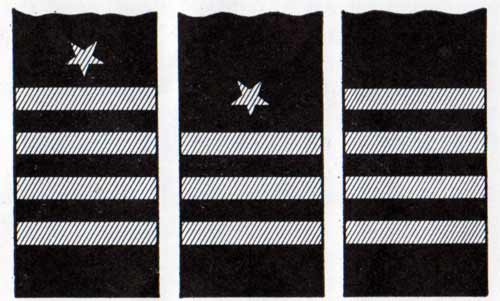 Commander, Chief Officer and Chief Engineer. GGA Image ID # 116cc23cb1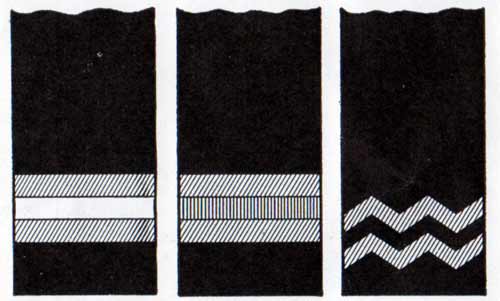 Purser, Surgeon, and Chief Steward. GGA Image ID # 116cde3c6f
COMMANDER: Four rows of gold lace with five-pointed star above.
CHIEF OFFICER - Three rows of gold lace with five-pointed star above.
CHIEF ENGINEER - Four rows of gold lace with purple velvet between.
PURSER - Two rows of gold lace with white velvet between.
SURGEON - Two rows of gold lace with red velvet between.
CHIEF STEWARD - Two rows of gold lace zigzagged.
Landing Hours
Landing hours for passengers at all ports are at the option of the Commander, whose decision will he final.
Approximate Distances
Baltimore to Norfolk - 172 Miles.
Norfolk to Cape Henry - 22 Miles
Cape Henry to Havre - Southern Track - 3436 Miles
Cape Henry to Havre - Northern Track - 3402 Miles
Bishop Rock to Cape La Hague - 176 Miles
Cape La Hague to Havre - 87 Miles
Havre to Dover - 121 Miles
Dover To Heligoland - 311 Miles
Heligoland to Cuxhaven - 33 Miles
Cuxhaven to Hamburg - 51 Miles
Havre to Hamburg - 516 Miles
Offices in Europe
Paris: United States Lines, 10 Rue Auber.
Hamburg: United States LineS, Alsterthor and Fer dinandstrasse
London: United States Lines, 14 Regent Street, S. W.
Antwerp: Red Star Line, 22 Rue Des Peignes.
Havre: Langstaff Erembert & Co., 67 Quai de Southampton.
Berlin: United States Lines, Unter den Linden 9.
Baltimore Mail Line
General Offices
Baltimore Trust Building, Baltimore
Passenger Offices
Baltimore - 340 North Charles Street
Norfolk - 111 E. Plume Street
New York - 1 Broadway
Atlanta - 75 Poplar Street
Boston. - 563 Boylston Street
Chicago - 180 North Michigan Avenue
Cleveland - 616 E. Superior Ave.
Dallas - Cotton Exchange Building
Detroit. - 1255 Washington Blvd.
Halifax - 126 Hollis Street
Houston - Second National Bank Building
Los Angeles - 715 West Seventh Street
Memphis, TN - Cotton Exchange Building
Minneapolis - 137 South 7th Street
Montreal - McGill Building
New Orleans - 1912 American Bank Building
Philadelphia - 1620 Walnut Street
Pittsburgh - Arcade, Union Trust Building
Quebec - 53 Dalhousie Street
St. John, NB - 143 Prince William Street
St. Louis - 1100 Locust Street
San Francisco - 687 Market Street
Seattle - 1333 Fourth Avenue
Toronto - 55 King Street, East
Vancouver - 738 Hastings Street, West
Washington - 1419 G Street, N. W.
Winnipeg - 224 Portage Avenue
Authorized Agents Everywhere.
Brochure Information
Title: Information for Passengers
Date of Publication: March 1932
Publication Number: No. 2 (3-32)
Number of Pages: 12
Dimension: 11.1 x 17.5 cm
Binding: Center Staples (Removed)