Economical Way to Europe - American Merchant Lines - 1932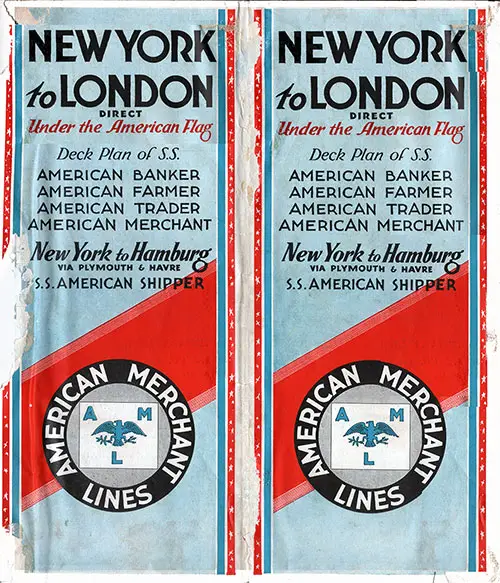 Cover - American Merchant Lines New York to London - The Economical Way to Europe. Published November 1932. GGA Image ID # 11637f12f0
These are some of the attractions of an American Merchant Lines crossing. Every day is memorably pleasant from the minute you go on board in New York until you sail up the famous Thames right into the City of London.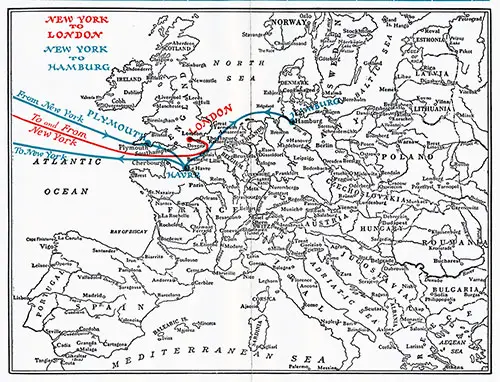 Map of Europe Showing Routes Taken by American Merchant Lines for New York to London and New York to Hamburg. GGA Image ID # 1163b0557a
ADMITTED that traveling or staying at home is a matter of dollars (or lack of them) with many of us.... But suppose you could go from New York to London . . .travel on a fine, modern American liner . . .have a comfortable stateroom for a home ...the whole ship for your kingdom . . . excellent food . . . interesting people as companions . . . for less than it costs to stay at home.
That is exactly what you can do on American Merchant Lines ships. And once you've been ushered up the gangplank and have actually set out on this marvelous voyage, you'll agree that staying at home is not so much more economical, and certainly not one-tenth as exciting!
Mere economy, however necessary and practical, is not the only intriguing feature of an American Merchant Lines crossing. Each of the four sister ships in this New York to London service is sturdily built with passenger accommodations for only eighty-seven people. There is only one class. You have full run of the ship ... do what you please, when you please and as you please.
After the first few days out you have made friends with all your fellow passengers. With them you rejoice in the delightfully informal atmosphere wherein everyone is so congenial and happy . . . well-trained stewards attend your bidding . . . and life has become effortless and sweet.
Even if the entire passenger list decided to play deck sports at one and the same time, there would be plenty of room on the broad sports deck. . . . You are served with delicious American food. . . . Each stateroom is an outside room.
These are some of the attractions of an American Merchant Lines crossing. . . every day of it memorably pleasant from the minute you go on board in New York until you sail up the famous Thames right into the City of London.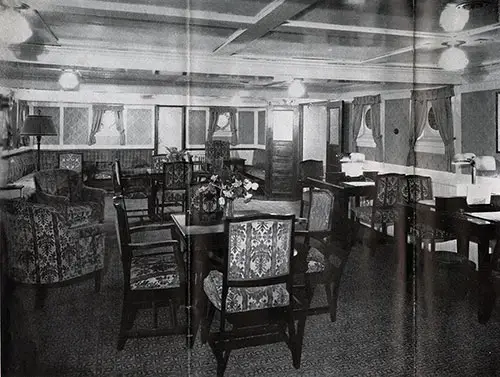 Lounge Typical of American Merchant Liners. GGA Image ID # 11645f810b
LOUNGE—If you can tear yourself away from a promenade in the moonlight... there are always plenty of interesting, amusing things going on in the Lounge. Even those hard-to-write letters somehow get themselves attended to.
Fleet of the American Merchant Lines
SS American Banker
SS American Farmer
SS American Trader
SS American Merchant
SS American Shipper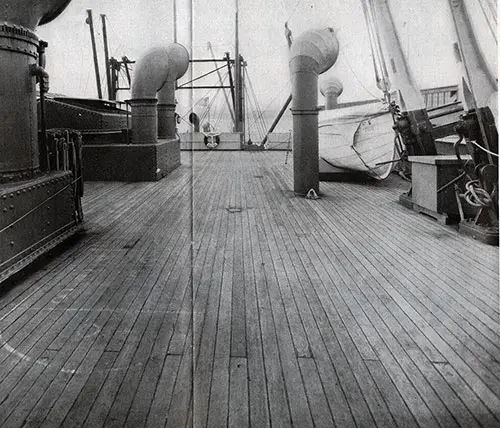 View of a Spacious Game Deck. GGA Image ID # 1164bb2120
SPORTS DECK—Soon after breakfast activities begin on the Sports Deckt and from then on until the setting sun exciting tourneys go on apace. After a few days of exercise in the bracing sea air and sunshine, life takes on an entirely new viewpoint.
IF you love the sea and prefer to accomplish your transatlantic crossing in a real nautical, shippy atmosphere, American Merchant Lines ships afford the perfect background.
Your stateroom is an outside room where you can breathe the real tang of salt air even when you sleep . . . and during the day sunshine floods it abundantly. A modern ventilating system and electric fans further insure plenty of clean, fresh air.
Your berth is deep and soft, inviting instant slumber. Electric lights and steam heat respond to a finger's touch. A wardrobe and plenty of drawer space keep your clothes orderly and neat. Thick carpets, comfortable chairs and gay curtains complete a cozy home-like room. There are both shower and tub baths for men and women, and for a small additional sum you may have a room with private bath.
The dining room with its many ports open to the sun and the sea air adds a festive note at meal times. And if you are an ardent campaigner for real United States food, prepared as only American chefs can prepare it, the bugle call will mean much more than satisfying a ravenous sea-appetite.
Ham and eggs .. . that standby of the American male . . . roasts, piping hot, that would make David Copper- field's mouth water . . . fresh fruits and vegetables . . . and that prime requisite, delicious American coffee. The finest of modern refrigerating plants assures absolutely fresh food throughout the trip.
Your drawing-room . . . cheery as a country club lounge ... is the center of many pleasant evenings on board. Tables for contract or auction . . . writing desks . . . lounges and deep, comfortable chairs make it an inviting spot to loaf.
The limited number of passengers insures plenty of space for everyone on the sports deck. All your favorite seagoing games are there . . . deck tennis, shuffleboard, quoits, bull board, golf.
You'll find cozy nooks for steamer chairs and lots of room for hiking on the promenade deck.
The days pass by so quickly and pleasantly that you probably won't realize, unless you are told, that these ships carry freight and mail as well as passengers.
The weight of the freight makes them unusually steady even in rough weather, while the U. S. mail service means a prompt departure, prompt arrival and a quick crossing.
You sail in safety as well as in comfort. Your ship has oil-burning, turbine-driven engines that are the last word in efficiency. The latest life-saving devices have been installed.
The equipment includes the marvelous Sperry compass and the automatic helmsman known as "Metal Mike" that keeps the ship on her course more accurately than can human hand or mind.
Safety, comfort and pleasure are all yours for nine glorious days to London, a distance of 3,300 miles ... for less than it would cost to take a vacation on shore.
You travel under the American flag . . . surrounded by American standards of living.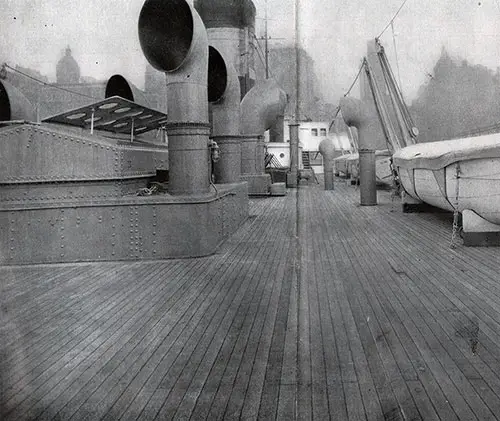 Spacious Sports / Boat Deck. GGA Image ID # 1164c5283e
The American Merchant Lines Fleet in the New York to London service consists of four smart modern sister ships— the S. S. American Banker, American Farmer, American Trader and American Merchant, and the American Shipper in the New York to Hamburg service.
Each is 448 feet long . . . with a bean» of 58 feet. Often it is a great convenience to the traveler to be able to sail direct from New York and dock at London ... a matter which cannot be accomplished on the giant ocean liners, because the channel of the Thames cannot accommodate the larger ships.
ONE of these four steamers sails from New York every Friday . . .
landing at King George Y Docks in London a week from the following
Monday.
The trip up the Thames, England's most famous river, is one of the thrilling episodes of the journey. But if you prefer to land at Plymouth, when these ships make this port of call, you will find yourself at the very edge of England's fascinating West Coast country . . . with a choice of almost countless little journeys through the picturesque countryside and along the wave-washed cliffs of Cornwall and Devon.
Then if you wish to go by rail from Plymouth to London, there is a special fast mail service that, in four hours, will take you straight across southern England to Paddington Station in the heart of London.
Westward sailings leave London every Friday from King George V Docks. No stop made at Plymouth, westbound.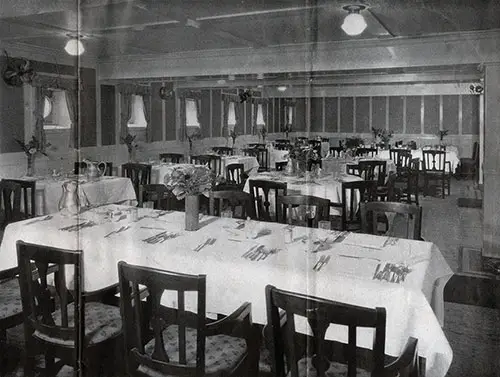 Elegant Dining Room. GGA Image ID # 1164e18b8c
DINING ROOM- Deft, attentive service in the Dining Room is almost as important at sea as a good cook and a well-filled icebox. With a limited passenger list, your dining room steward remembers all the things you like best and exactly how you like them.

Large Scale Drawing: American Merchant Lines - SS American Banker, SS American Farmer, SS American Trader, SS American Merchant, and SS American Shipper. Length 448 Feet, Breadth 58 Feet. GGA Image ID # 1164ea8472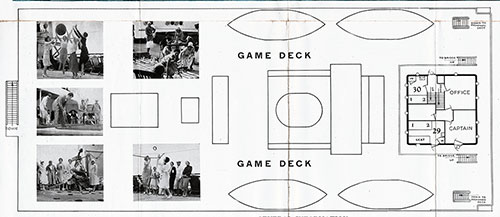 Plan of Game Deck. GGA Image ID # 116536ce84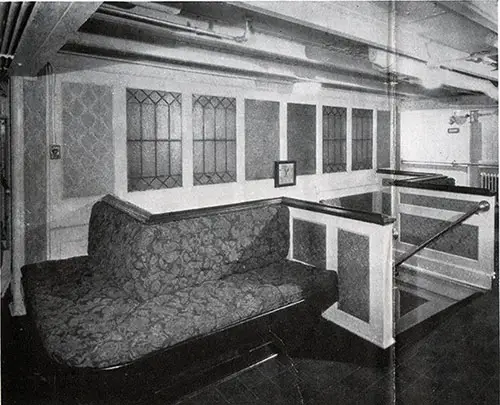 Foyer on an American Merchant Lines Steamship. GGA Image ID # 116545cad8
FOYER—Even the Foyer is as carefully and tastefully furnished as any part of the ship. Deep, upholstered lounges make it a favorite meeting place to plan the day's program of sports, bridge and other activities ... or just to sit and while away a pleasant half-hour.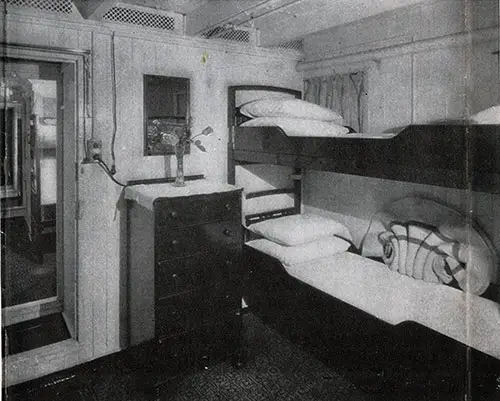 View 1 of a Typical Stateroom on an American Merchant Lines Steamship. GGA Image ID # 116568615f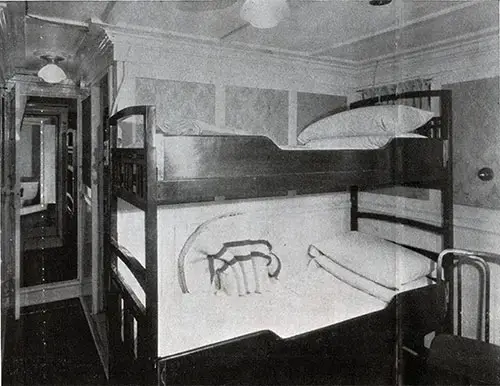 View 2 of a Typical Stateroom on an American Merchant Lines Steamship. GGA Image ID # 11658c8497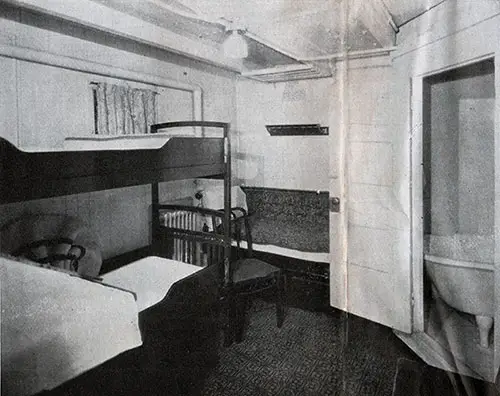 View 3 of a Typical Stateroom on an American Merchant Lines Steamship. GGA Image ID # 1165c7fe95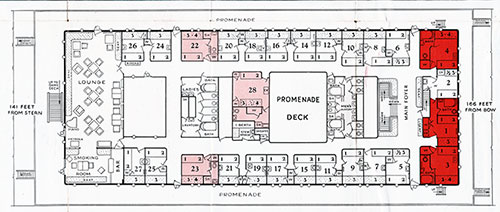 Plan of the Promenade Deck for all American Merchant Line Steamships. GGA Image ID # 1165e9a44b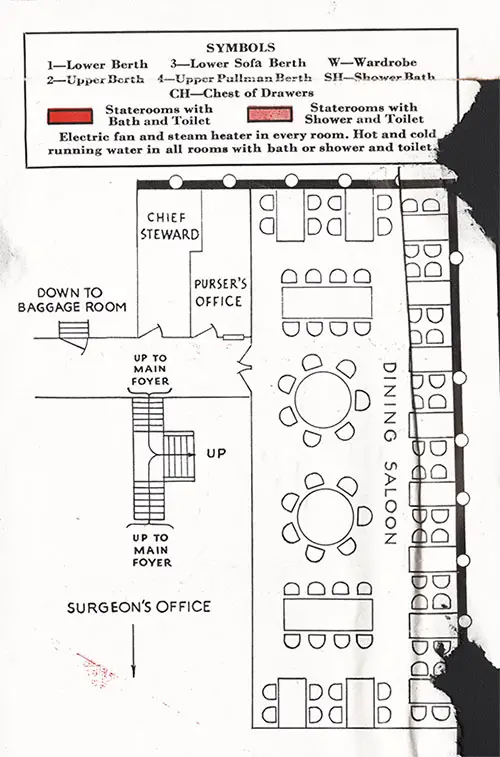 Key to Symbols and Colors Used on Deck Plans; Plan showing Dining Saloon, and Offices of the Chief Steward, Purser, and Surgeon. GGA Image ID # 1165ecfda6
GENERAL INFORMATION
Sailings
From New York, every Friday. Only steamers carrying U. S. mail discharge passengers at Plymouth. Westbound every Friday from King George V Dock,
London. No stop made at Plymouth westbound.
Deposit
A deposit of $25.00 is required on each reservation for which company will issue deposit receipt.
United States Head Tax
Every westbound passenger (excepting citizens of the United States, and children under 16 years of age accompanied by a parent) must pay a United Slates head tax of $8.00 in addition to westbound ocean fares.
Baggage
Each adult passenger is allowed 20 cubic feet of baggage and half fare 10 cubic feet. If baggage in excess of allowance is carried the excess will be charged for at current rates.
Baggage Insurance
can be purchased at all offices of the American Merchant Lines.
Visiting Days
Steamers may be inspected any sailing day without permit after 1:30 p.m.
Sailing Permits (Income Tax Clearance)
Aliens not holding Form 1040-C are required to secure Sailing Permits at port of departure.
Alien passengers who hold Certificates of Compliance Form (1040-C) issued by the Collectors of Internal Revenue in the various districts are not required to procure Sailing Permits at the port of departure from the United States. No income tax requirements to be met by United States citizens prior to leaving the United States.
Passports
All passengers, regardless of nationality, must hold passports, properly visaed by the consuls of the countries they intend to visit. Full particulars on application.
Special Bus Service
Passengers embarking and disembarking at London will be transferred by special motor coach to and from The Hearns Motor Coach Station, 234 Grays Inn Road. Rates on application.
Pets
As DOGS and CATS are not admitted into England without a license from the Ministry of Agriculture and Fisheries, London, they will not be received on board without this license. Particulars on application.
Travelers Checks
Our International Travelers Checks may be obtained through any of our offices or principal agencies and are cashable anywhere. We recommend these checks as the ideal medium for carrying money when traveling.
Brochure Published by American Merchant Lines, Roosevelt Steamship Co., Inc., General Agents, in November 1932. Publication Number K-285.