Berlin Trade Exhibition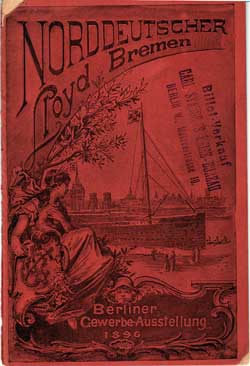 Brochure Contents are printed using a old German Script which cannot be deciphered by those unfamiliar with the script.
First 16 Pages contain mostly text with 5 photographs of interior views of steamships of the North German Line Fleet.

Der Norddeutscher Lloyd (History of Norddeutscher Lloyd)
Das Ausftellungsfchiff Des Norddeutscher Lloyd

Part II contains 9 Graphs of Passenger, Freight, Miles and other information.
Large Foldout Chart giving the schematics of a typical steamship of that era.
Brochure Information
Date of Publication: 1896
Published By: Norddeutscher Lloyd, Bremen
Total Number of Printed Pages: 28
Number of Photographs: 5
Number of Graphs: 9
Number of Illustrations: 1