Visit The Vikings - Norwegian America Line - 1920s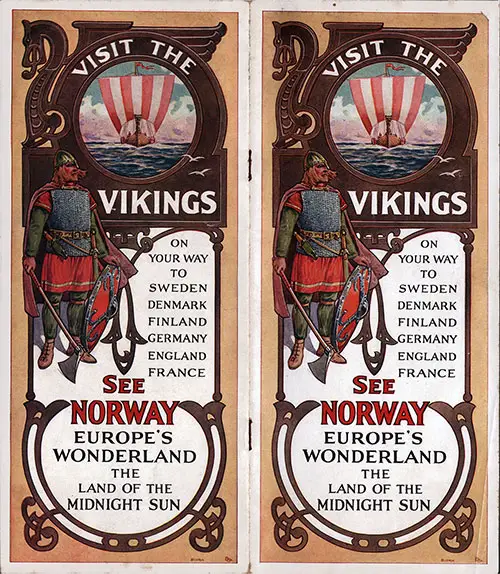 Front Cover, 1920s Brochure from the Norwegian America Line "Visit the Vikings" on Your Way to Sweden, Denmark, Finland, Germany, England, and France. See Norway, Europe's Wonderland -- The Land of the Midnight Sun. GGA Image ID # 12276d5851
The early 1920s brochure covers the ships and accommodations of the Norwegian America Line, tours of Norway, brief information about major cities in Norway, and many photographs that help promote a visit to beautiful Norway.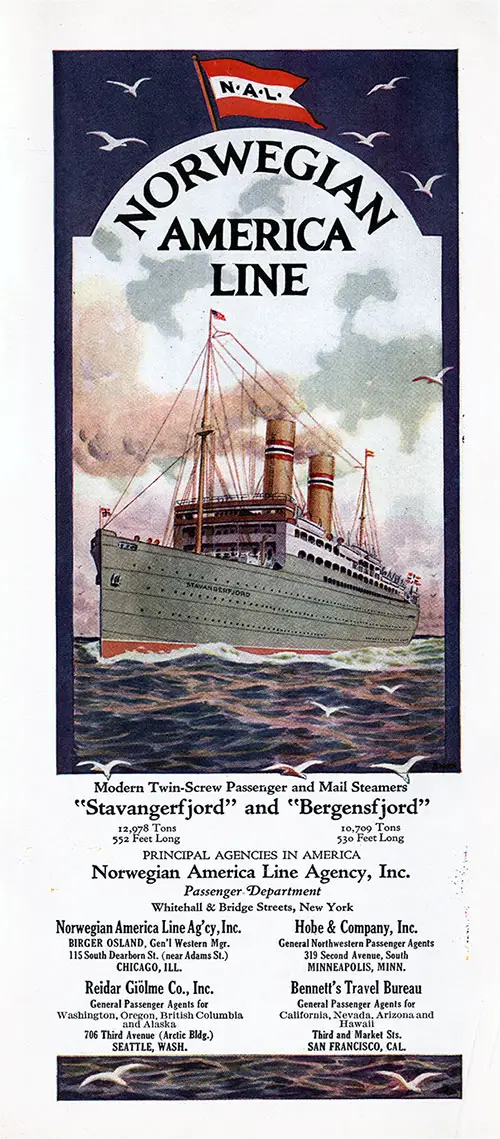 Title Page Featuring a Painting of the Modern Twin-Screw Passenger and Mail Steamers "Stavangerfjord" (12,078 Tons, 552 Feet Long). "Bergensfjord" (10,709 Tons, 530 Feet Long) is also Featured in Text. Visit the Vikings Brochure, 1920s. GGA Image ID # 12279023a1
Interior Views, SS Bergensfjord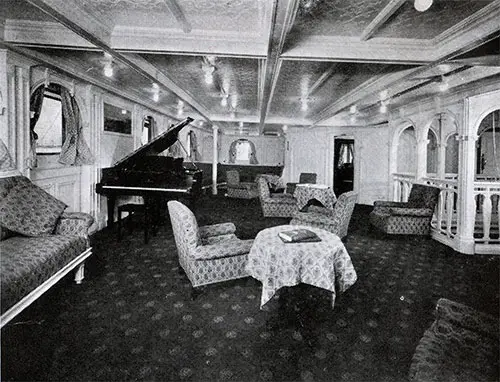 SS Bergensfjord Music Room. GGA Image ID # 1227ce1b9a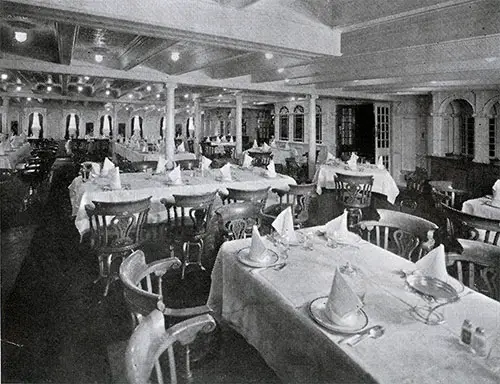 SS Bergensfjord Dining Room. GGA Image ID # 12280846ab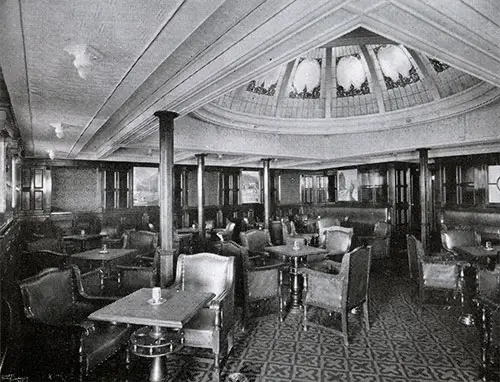 SS Bergensfjord Smoking Room. GGA Image ID # 1228defb78
Norway in Summer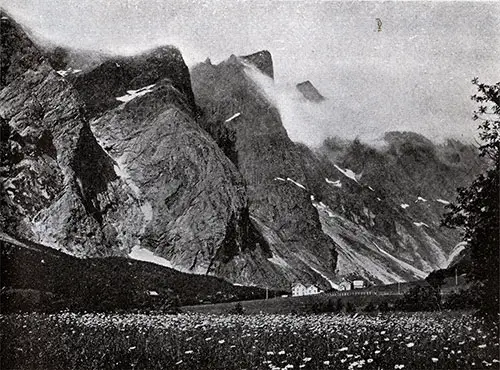 Trolltinderne (The Troll Peaks). Photo by Mittet. GGA Image ID # 12299f8ba5
THE health resort of Europe" is one of the synonyms for Norway. Situated nearly between the same lines of latitude as Labrador, Greenland, and Siberia, its location in the path of the Gulf Stream has transformed it into a country with a pleasant, temperate, invigorating climate and, particularly, has endowed it with a perfect summer.
Norway's summer is the ideal season. The weather is real spring weather such as comes to us in late May or early June. There is no stifling heat, and no torrential rains. Its summer differs from the summer in New England only in a more equable and tempered climate and its highlands, ranging from 2000 to 4000 feet above sea level, have a clear, dry and most bracing atmosphere.
Norway is a vast country in area, larger even than Great Britain and Ireland combined, but with scarcely three million inhabitants, who are too few and too scattered to alter, or even infringe upon the breathtaking panorama of enchantment and awe which Nature has composed.
Norway is no stranger to the American tourist except in physical contact. From the most ancient times, blood, language, history, laws, and customs have become commingled—Norse and Anglo-Saxon, Norse and French, Norse and Teutonic.
The Norse legends and sagas are part of our American heritage, and today the English language is almost universally understood and spoken by the educated Norwegian.
More and more, the American traveler, not wishing to lose his identity in a "conducted tour," prefers to spend a week or two of the summer with his cousins in Norway.
The cool, refreshing atmosphere of the sunlit mountains, or a few days of restful variety on the deep mysterious fjords seem to put the traveler "in better trim" to take up the beaten path thru interesting and lovely Europe.
Your steamship ticket via the Norwegian America Line to points in Sweden, Denmark, Finland, or Germany, includes a railroad journey across the Norwegian mountains from Bergen to Christiania, if desired, without additional fare.
One of Very Many
Mr. Frederick A. Halsey, the American author and scientist, writes in the National Geographic Magazine, Washington, D. C.
"Our party sailed by the Norwegian America Line. We, or at least, I, expected to find a strong, plain, rugged ship with all necessities but not much more, and we were both surprised and delighted to find what the most particular could ask. In addition to being an oil-burner, the ship was kept as clean as soap, water, and the scrubbing brush could keep her, and the excellence of the table was a subject of general comment. Extreme cleanliness is characteristic of all Norway."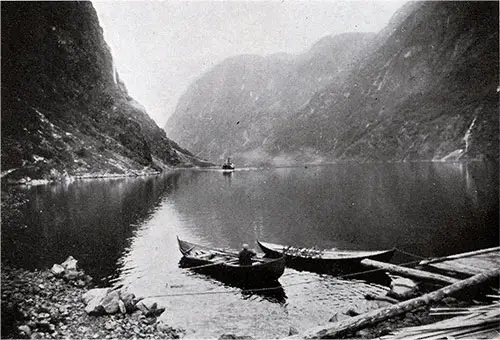 A View of Naeröfjord. Photo by Wilse. GGA Image ID # 1229ba0e72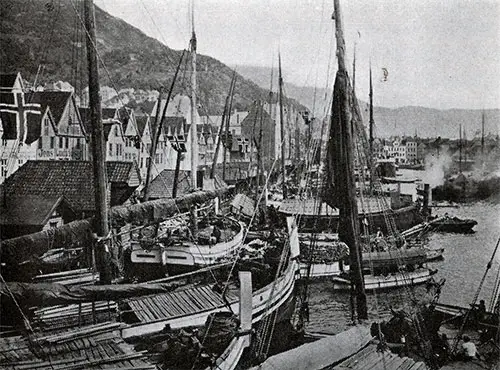 The Hansa Pier at Bergen. Photo by Mittet. GGA Image ID # 1229c5e654
Bergen and the Bergen-Christiania Railway
BERGEN, Norway's old Hanseatic town, one of the cities of medieval European history, is built on a hilly peninsula and isthmus with a background of lofty mountains. It still possesses relics of the old days, such as a Hanseatic Museum and a museum of northern antiquities, and its famous old fish market.
No tourist should leave Bergen without having enjoyed a trip on the mountain cog railway to the summit of Flöifjeldet which affords a panoramic view of the city and surroundings hardly to be equaled; and also a trip to the fantastic Ninth Century timber church at Fantoft, one of the quaintest relics of ancient Christianity.
The privilege of leaving the Norwegian America Line steamer at Bergen and proceeding toward the final destination in Norway, Sweden, Denmark, Germany or Finland via the Bergen-Christiania Scenic Mountain Railway (14 hours) to Christiania, includes stop-over privileges for a reasonable time both in Bergen and Christiania.
From Bergen to Voss the railway runs through scenery equaled nowhere except in Switzerland. The landscape presents an infinite variety of transformations. You see farms "hanging on the mountainsides," rocky gorges, and dizzy heights on which the very heavens seem to rest, fleecy waterfalls and rivers whipped into a foam in their hurry to reach the calm ocean.
Between Myrdal and the next station, Finse is only one hour's railway journey, but on this trip, the grandest and wildest scenery of the Bergen Line is viewed. From Finse, which is situated far above the tree limit, you descend past Haugastöl to Gjello, then through the Hailing Valley, where you may see Hallandale peasants, in their curious national costumes, past the pagoda-like stave church of Torpe and then through typical East-Norway scenery past Gulsvik and Hönefoss to Christiania.
The cost of this railroad trip across the Norwegian mountains is included in the price of the ocean ticket, and no extra expense is entailed except for meals on the train.
Passengers, if they prefer, may remain on board the ocean steamer, traveling along the coast and, calling at the ports of Stavanger and Christiansand, proceed to Christiania. From Christiania, all passengers travel, by rail, or water, as the case may be, to their destination in Sweden, Finland, Denmark or Germany.
Passengers for Germany also have the privilege of proceeding directly by steamer from Bergen to Hamburg.
The ocean trip New York—Bergen takes about 8 1/2 to 9 days.
A week spent in Norway on your way to the European Continent, may easily furnish the real gem in your memory of "A trip to Europe."
Stopover Privileges on Norwegian and Swedish Railroads
The railroad tickets from Bergen to Christiania, issued by the tourist office onboard the Norwegian America Line steamers and given free to passengers stopping off at Bergen, or continuing from Christiania to other points, are valid for three months from date of issue.
In Norway, stopovers may be made at any station without extra charge. The passenger must, however, present the ticket to the station master, immediately upon arrival, for revalidation. In Christiania, passengers may stop over without any formalities.
In Sweden, passengers may also make stopovers upon presentation of their tickets to the station master. Here, however, a small charge is made, ranging from a few cents to one dollar. At places where one ticket coupon ends and a new one begins, passengers may stop over without such revalidation.
Such places in Sweden are Mellerud, Oxnered, Göteborg, and Helsingborg, while Kornsjö in Norway and Helsingör in Denmark, are also places where stops may be made without revalidation and without additional expense. On a ticket from Christiania to Stockholm, no stops can be made en route without presenting the ticket for revalidation and payment of the fee.
It goes without saying that the passenger may not make his stops longer than will permit him to arrive at his destination before the expiration of the three months from date of issue.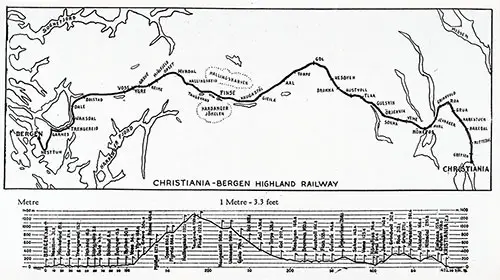 Map of Christiania-Bergen Highland Railway. GGA Image ID # 122a1198b5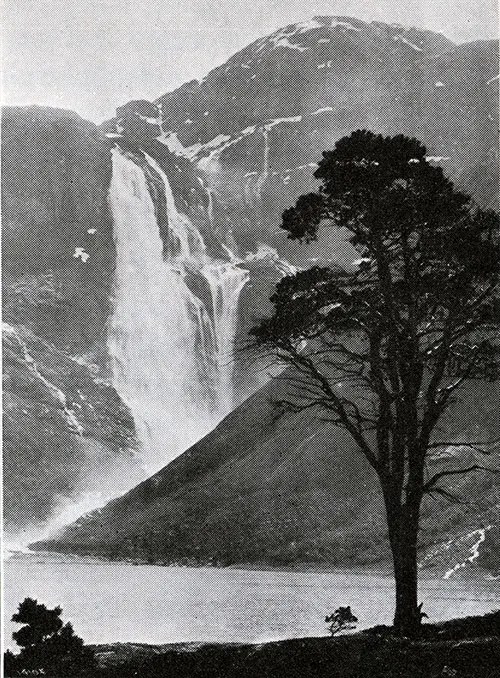 Skjæggedal Waterfall. Photo by Wilse. GGA Image ID # 122a224e49
To the Norwegian Fjords via Norwegian America Line
A CRUISE to the fjords means the enjoyment of all the pleasures of seafaring without any of the discomforts because you travel in sheltered waters all the time. In addition to this, it means an ever-memorable visit to a wonderland of beauty.
To sit on the deck of a coast steamer on a bright summer day, gliding over the blue, rippling water of the fjord is an experience which cannot be duplicated anywhere else on earth. With every turn of the steamer's prow in the tranquil waters, there arises a new and, it seems, ever more bewitching view.
One soon forgets the very meaning of the word "monotony" in these rapidly shifting panoramas. Here, the stark, overhanging granite wall seems to threaten the venturesome little steamer plodding along at its foot; there, beyond the next promontory, a smiling valley clad in the most luxurious verdure and with quaint, old farmhouses nestling on the hillside; next, a noisy waterfall which has been splashing its foamy spray into the fjord ever since the glacial formations receded from these latitudes.
The route of the steamer along the entire coast is sheltered, except in two or three stretches, by a girdle of islands fringing the Norwegian coast from Stavanger to North Cape, that majestic Sentinel Butte of the European Continent, facing the icy mists of the Arctic Ocean, yet, at this time of the year, bathed in the rays of a never-setting sun.
A few such fjord cruises on first-class tourist steamers and the approximate cost thereof, are indicated on the following pages merely as examples. There are a variety of other cruises which an expert Tourist Official onboard the Norwegian America Line steamers will arrange during the voyage across the Atlantic, on application, and he will make any desired reservations obtainable in Norway by wireless at passenger's expense.
The price quoted herein for each tour covers both living expenses and traveling, but does not include liquors (beer, wine, spirits, and aerated waters) nor gratuities.
Travelers may be furnished with "Travel Tickets" only, should they prefer it, but we beg to draw special attention to the fact, that for traveling in Norway the "complete-cost tours" are found to be a great convenience, and insure the travelers the best of everything.
The "Travel Tickets" cover second class rail (corresponding to American first class) and first-class on a steamer.
The number of days into which each of the succeeding cruises are apportioned must only be considered as approximate, the exact length of time being, of course, dependent upon connections with trains, steamers, and other means of conveyance.
Another Pleasant Message
Quincy, Ill., October 19, 1921 Norwegian America Line Agency, Inc.
Chicago, Illinois Dear Sirs:—
I feel that I must, because of my enthusiasm over my recent trip to Norway (having sailed from New York on the "Bcrgensfjord" on July 29th) write you of how much we enjoyed the magnificent scenery.
Surprisingly, so few American travelers realize how accessible Norway is, the incredible scenery in the Fjords and the comfortable traveling conditions they will find there.
We enjoyed our trip very much. Captain Ole Bull was one of the ablest and genial captains it has ever been my pleasure to meet, and as this was my 17th ocean voyage, I have met a few.
I am still enthusiastic over my first acquaintance with the "smorgasbord" or side table in the dining saloon with the "fifty-seven varieties" of delicacies. It is most enjoyable as an appetizer.
My enthusiasm is such that I strongly recommend any traveler to England or Northern Europe during the summer season Uncertainly go by way of Norway and spend at least a week there.
Thanking you for your many courtesies, I am Yours truly, J. W. GARDNER.
(President, The Gardner Governor Company)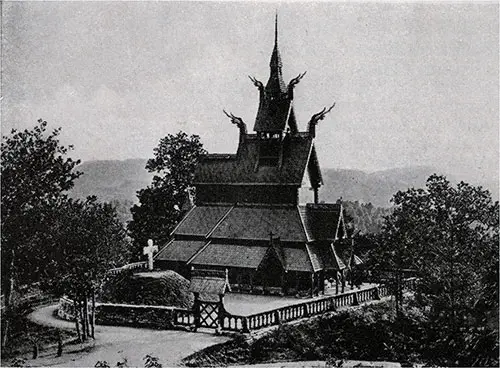 Fantoft "Stave Church." GGA Image ID # 122a2e64bb
Fjord Tours in Norway
(Prices indicated are subject to change without notice and are quoted merely to enable prospective tourists to approximately estimate expenses.)
TOUR A—3 DAYS
Rail from Bergen to Trengereid.
Auto from Trengereid to Noreimssund.
Steamer on Hardangerfjord to Eide.
Car to Voss.
Rail from Voss to Christiania.
Approximate Price, $35.00
TOUR B—3 DAYS
Rail from Bergen to Voss.
Auto from Voss to Stalheim.
Walk or drive down the hill (20 minutes).
Auto to Gudvangen.
Steamer on Naerofjord to Flaam.
Drive to Myrdal.
Rail from Myrdal to Christiania.
Approximate Price, $40.00
TOUR C—5 DAYS
Rail from Bergen to Finse.
Rail from Finse to Myrdal.
Drive to Flaam.
Steamer on Sognefjord to Balholm.
Steamer on Naerofjord to Gudvangen
Auto to Stulhcimsklev.
Walk up the hill (30 minutes).
Auto to Voss.
Rail from Voss to Christiania.
Approximate Price, $52.75
TOUR D—6 DAYS
Rail from Christiania to Fagernaes.
Auto from Fagernaes to Bygdin.
Motorboat across Bygdin Mountain Lake to Eidsbugarcn.
Drive to Tyinholmen.
Motorboat across Tyin Mountain Lake to Tyin
Auto to Maristuen.
Auto to Laerdal.
Steamer on the Sognefjord to Flaam.
Drive to Myrdal.
Rail from Myrdal to Christiania.
Approximate Price, $65.00
TOUR E—7 DAYS
Rail from Bergen to Finse.
Rail from Finse to Myrdal.
Drive to Flaam.
Steamer on Sognefjord to Balholm.
Steamer on Naerofjord to Gudvangen.
Auto to Stalheimsklev.
Walk up the hill (30 minutes) to Stalheim
Auto to Voss.
Auto to Eide
Steamer on Hardungcrfjord to Noreimssund.
Auto to Trengcreid.
Rail from Trengcreid to Christiania.
Approximate Price, $70.00
Schedule for North Cape Cruise
(Prices indicated are subject to change without notice, and are quoted merely to enable prospective tourists to approximately estimate expenses.)
Wednesday Departure from Bergen on a steamer at midnight.
Thursday Steaming up the coast between the islands. In the evening, enter Romsdalsfjord and arrive at Aandalsnes at about midnight.
Friday In the forenoon, an excursion up the Romsdal Valley. Leave, after luncheon, for Molde, arriving there in the afternoon. Leave for Trondhjem at 5 p. m.
Saturday Arrive in Trondhjem in the morning. Leave at 4 p. m.
Sunday In the forenoon visit the Svartisen Glacier. Pass the Polar Circle.
Monday Arrive at Tromsö. Depart in the evening at 9 p. m.
Tuesday In the forenoon arrive at Hammerfest. In the afternoon leave for the North Cape.
Wednesday Leave North Cape at 2 a. m. Proceed to Lyngenfjord. Depart from Lyngseidet at 9 p. m.
Thursday Among the Lofoten Islands, passing Raftsund, Troldfjord and call at Digermulcn, Svolvaer.
Friday Call at Torghatten.
Saturday Passing down the coast among the islands.
Sunday In the morning, enter Geirangerfjord and àrrive at Merok. Depart in the afternoon.
Monday Arrive at Loen in Nordfjord. Depart in the afternoon at 4 p. m. for Gudvangen.
Tuesday Arrive at Gudvangen in the morning. Depart at 5 p. m. for Balholm, thence proceeding to Bergen.
Wednesday Arrive in Bergen at 7 a. m.
APPROXIMATE PRICES
For cruise Bergen to Bergen
A berth in single-berthed staterooms $360
A berth in two-berthed staterooms $305
A berth in three-berthed staterooms $200
WHAT IS INCLUDED
The Price charged includes all expenses of the itinerary for which tickets and coupons can be issued. Exceptions are meals in large cities.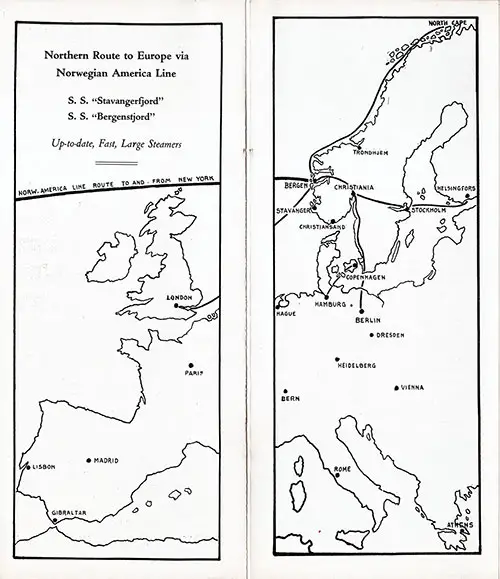 Map of Northern Route to Europe via Norwegian America Line. GGA Image ID # 122a50646a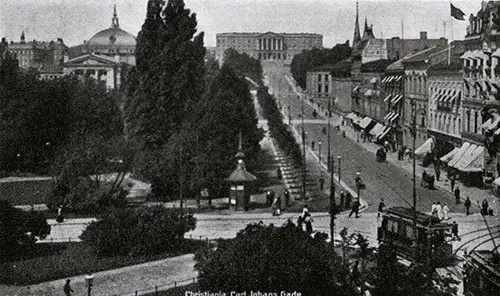 View of the City of Christiania (Oslo). Photo by Mittet. GGA Image ID # 122a7d7c89
Christiania and the Christiania Fjord
CHRISTIANIA is Norway's capital city with 260,000 inhabitants, situated in a beautiful valley surrounded by pine-clad hills and mountains.
In Christiania may be seen the two royal Viking Ships, buried for a thousand years in the ancient grave mounds whose air-proof blue clay preserved them almost entirely in every detail, together with the antique utensils, wearing apparel and weapons buried with them. (The Gokstad Ship and the Oseberg Ship.)
Other attractions in Christiania are. A National Picture Gallery, containing an excellent selection of samples of the vigorous Norwegian school of paintings; the National Museum possessing exciting collections of furniture, utensils and handiwork of ancient Norway; also several quaint houses with fantastic wood carvings and furniture centuries old, and, finally, one of the old timber churches built in the 12th Century, Gol Stavkirke (Stave-church). These ancient "Stave Churches" have no windows and the interior knows no daylight.
Norwegian America Line steamers "Stavangerfjord" and "Bergensfjord" are new, modern, large, and comfortable ships, of moderate speed (17 1/2 knots), unsurpassed by any.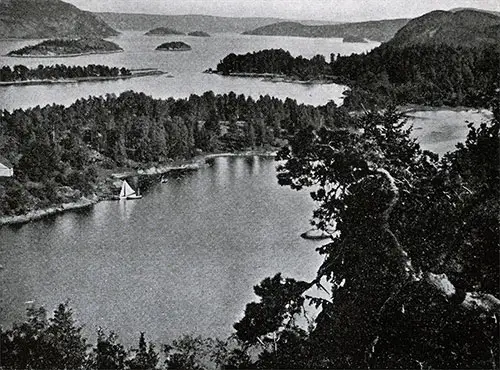 The Christianiafjord near the Capital. GGA Image ID # 122af509bc
Dovre Railway
In 1921, a new line of railroad, Dovre Railway, was opened for traffic between Trondhjem and Christiania. This is a typical Norwegian scenic railway, attaining an altitude of 3100 feet at Hjerkin station.
From Dombaas station tourists may travel by auto to the rugged Romsdalsfjord, where Col. George Sinclair and his Scottish auxiliaries landed in 1612 to fight for Sweden against Norway. They all found an untimely grave in the mountain passes of Gudbrandsdalen, where they met the Norwegian peasant.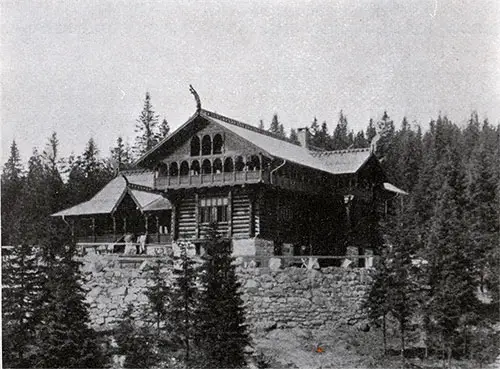 Frognersæter Inn Overlooking Christiania (Oslo). GGA Image ID # 122b6bf005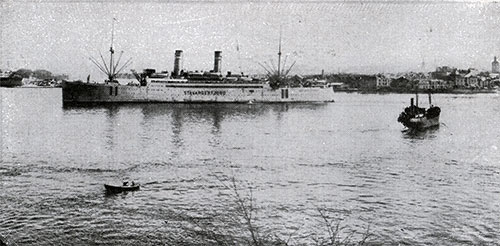 The SS Stavangerfjord in the Stavangerfjord. GGA Image ID # 122b91d023
Stavanger
AN ANCIENT city on the west coast of Norway of 50,000 inhabitants, the cradle of the Norwegian fish packing industry. Stavanger Sardines and Brisling are famous the world over. There is an old and beautiful Cathedral built in the 11th Century.
At Havsfjord, not far from Stavanger, was fought and won the final battle for Norwegian unity in 872 by King Harald Fair-Hair, and from this district hailed Erik the Red and his son, Leif Eriksson, who discovered the American Continent in the year of 998.
An American Industry Near Stavanger
At the end of one of Norway's coziest fjords, near Stavanger, is situated the village of Saude where the Union Carbide Company of Chicago and New York has erected its Norwegian plant which is utilizing the enormous electric energy generated at near-by waterfalls. There has been constructed an entirely new village with all modern improvements to house the employees and workmen.
Norwegian America Line steamers are owned partly by Norwegians and partly by Americans. SS. "Stavangerfjord" and SS. "Bergensfjord" are famous for discipline, cleanliness, service, and cuisine.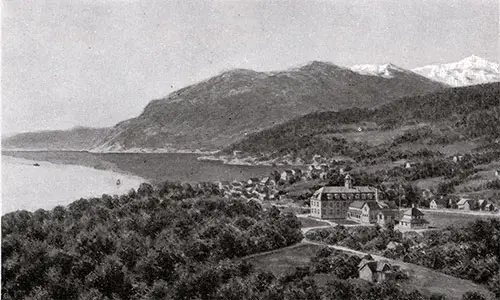 Picturesque Saude, Norway. GGA Image ID # 122b938df3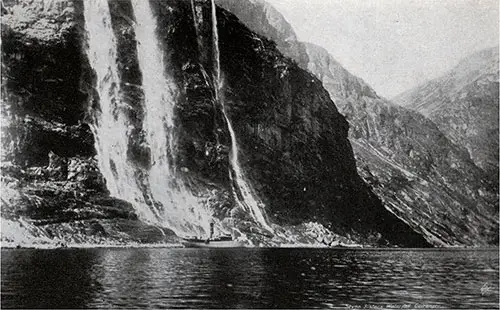 "Seven Sisters Waterfalls." Photo by Wilse. GGA Image ID # 122ba45b45
Trondhjem
NORWAY'S ancient capital city of 55,000 inhabitants, where the Kings of Norway still solemnize their coronation in a magnificent Cathedral built in the Eleventh Century, which remains one of the architectural marvels of Northern Europe, rich in shrines and sacred legends.
Trondhjem is reached either by steamer from Bergen or by rail from Christiania. A fjord cruise from Bergen to Trondhjem is fascinating. Reservations on fjord steamers should be made well in advance.
There is in Norway no more historic ground than the country surrounding Trondhjem, called "Tröndelagen," where the ancient Kings recruited armies and fought many of their battles. At Stiklestad in the year of 1030, Norway's patron saint, King Olav Haraldson (St. Olav) lost a battle for the introduction of Christianity and was killed.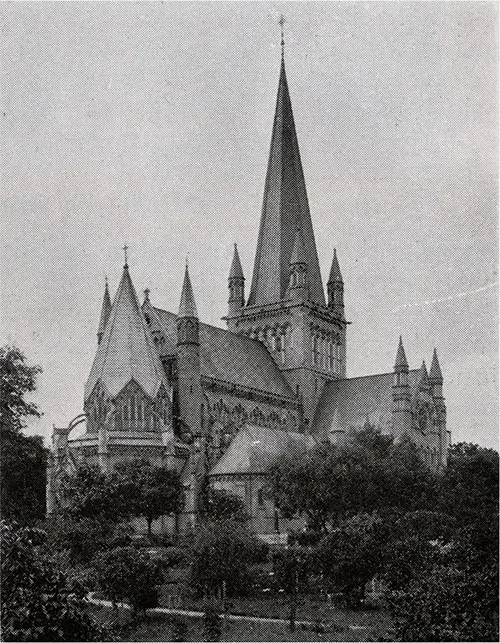 Trondhjem Cathedral. Photo by Snyder. GGA Image ID # 122bd0de79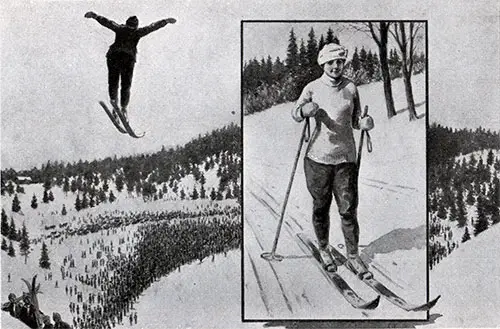 Ski Jumping and Cross-Country Skiers Dominate the Norwegian Ski Scene. GGA Image ID # 122c45ab80
Norway, the Homeland of The Ski-Sport
HOW could anyone think of visiting Norway in Winter? Do not the polar bears travel along highways and byways in quest of the food which a frozen ocean denies them?
The winter in Norway is no colder than the winter in our middle western States, but the winter climate is much steadier and more invigorating.
The Creator of the universe has imposed on America the task of tempering Norway's winter climate employing an excellent, never-failing hot water system, commonly called the "Gulf Stream," which spreads its life-giving warmth along the Norwegian coast up to the Arctic regions.
Norway's winter landscapes, studded with pine, spruce, and birch, in their scintillating snow mantles, uphill and downhill, are the paradise of the full-blooded, deep-chested lovers of the ski-sport, ski- running, ski-jumping, ski-kjöring, etc., all of which branches of the sport are becoming very popular with our American boys and girls.
(Note: Pronounce "ski" as though spelled "she.")
In Switzerland, the Norwegian ski-sport has already been adopted as an integral and essential part of their winter sports, but one must travel to Norway in winter to witness the real ski-sport in its homeland.
An annual International Ski Tournament is held at Holmenkollen near Christiania in the latter part of February each year, and this is the "peak" ski- event of the world. Tens of thousands from everywhere come to witness it.
You may leave New York late in January or early in February via Norwegian America Line steamer direct to Christiania for this event.
Norway -- Europe's Wonderland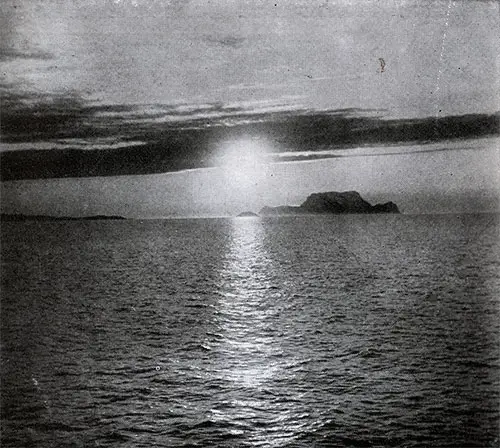 Land of the Midnight Sun. GGA Image ID # 122c55de97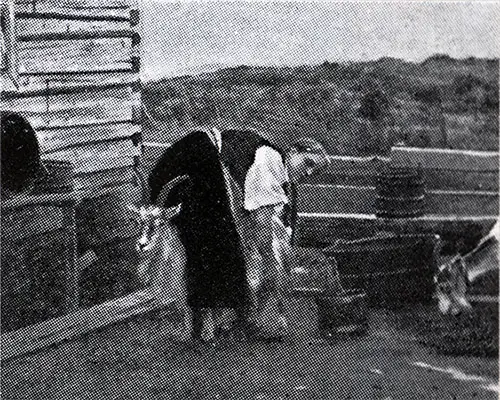 Milking the Goat. GGA Image ID # 122c6e5da4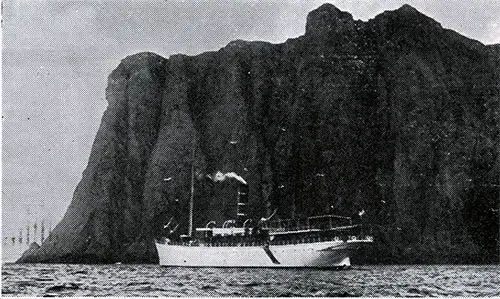 Ship Cruising in the North Cape. GGA Image ID # 122d113776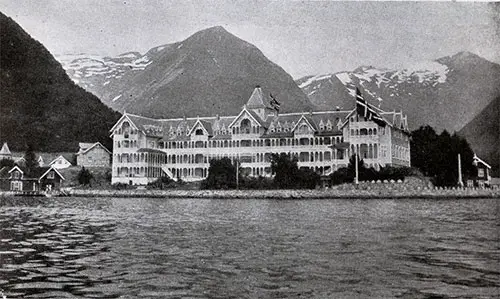 The Famous Balestrand Hotel in Blaestrand, By the Sognefjord. GGA Image ID # 122d175e35
Travel Accommodations in Norway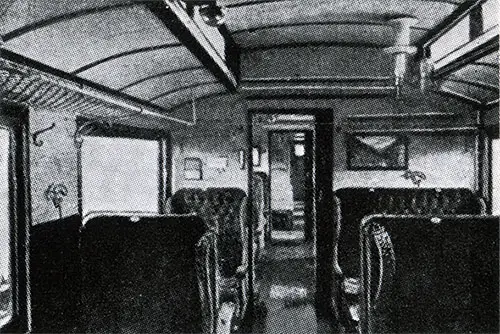 Tourist Car, Norwegian Railroad. GGA Image ID # 122d42531a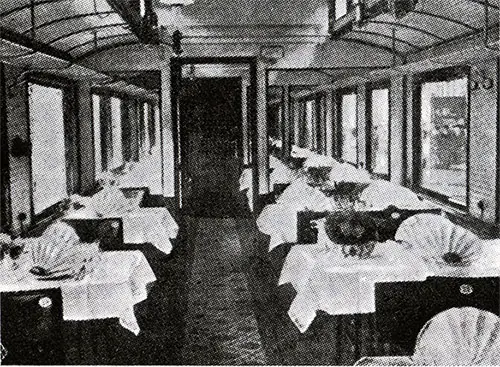 Railroad Dining Car. GGA Image ID # 122d6bbbc1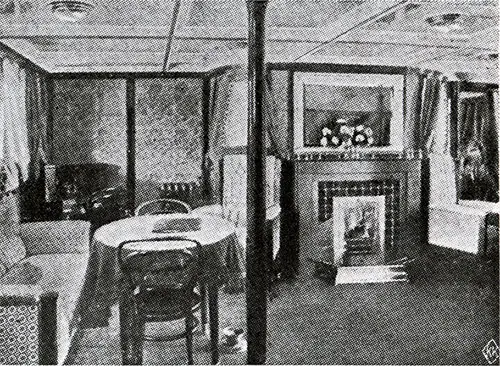 Ladies' Room on a Fjord Steamer. GGA Image ID # 122d8bedc1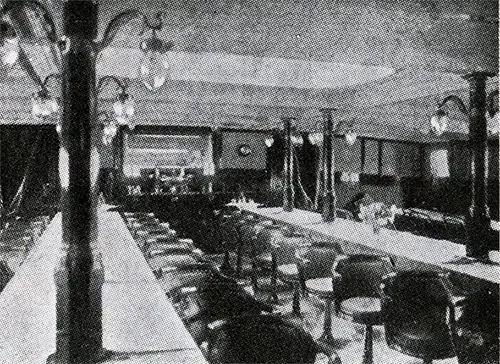 Restaurant on a Fjord Steamer. GGA Image ID # 122db1e7e0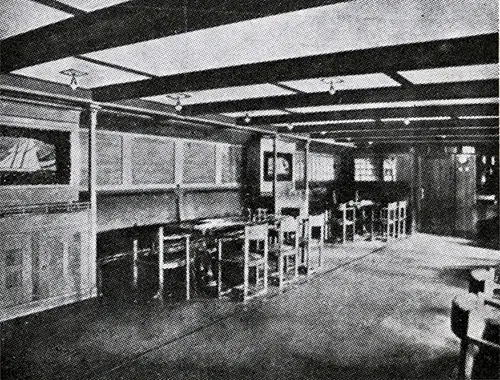 Smoking Room on a North Cape Steamer. GGA Image ID # 122dc26cb6